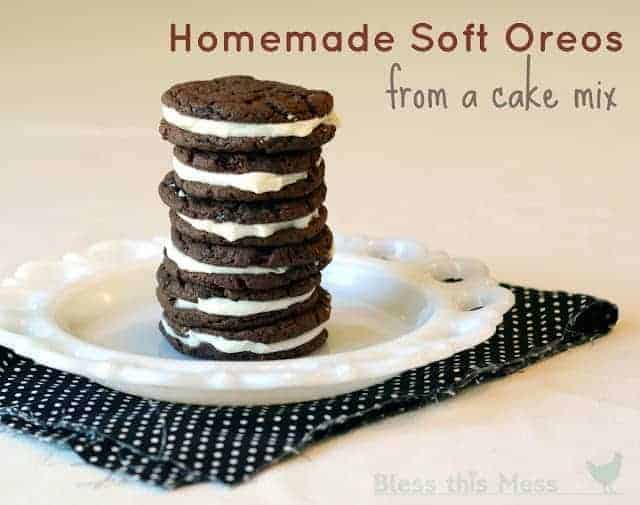 A few weeks ago I took dinner to a friend who had had a baby. She returned my dishes with these cookies inside. Who does that?! I was supposed to be helping her and then she bakes me treats… obviously she's amazing. The cookies were so beautiful that I took pictures of them and then got the recipe to share with you.
These soft oreos that are made from a cake mix are super popular in Utah. I hadn't heard of them until I moved here.
If you aren't in the mood for soft and cakey then you might like my other recipe for more
traditional oreos
. You can't really go wrong with a homemade oreo, soft or crunchy.
Homemade Soft Oreos from a cake mix
Slightly Adapted from Mommy's Kitchen
Printable Recipe
For the cookies:
1 box Devil's Food cake mix
2 eggs
1/2 cup oil
For the icing filling:
1/4 cup butter, room temperature
4 ounces cream cheese, room temperature
1/2 tsp vanilla extract
2 cups powdered sugar
splash of milk if needed
-OR-
1 container of cream cheese or vanilla frosting
Preheat the oven to 350 degrees. Add the cake mix, eggs, and oil to a large bowl and beat with an electric mixer until thoroughly combined. Roll the dough into balls that are a little bigger than a quarter and place them on a greased baking sheet 2 inches apart. Use the bottom of a glass cup to flatten the dough balls to 1/2 inch thick. Bake the cookies for 7-8 minutes. Remove from the oven and allow the cookies to remain on the baking sheet for 5 minutes. Place the cookies on a wire rack and allow to cool completely before adding icing.
For the icing, cream the butter, cream cheese, and vanilla until combined. Add the powdered sugar and stir to incorporate. The icing should be a medium to medium-thin consistency. If you need a slash of milk to thin it out you can add it and remix. If it is too thin add a bit more powdered sugar. If you don't want to make icing you can use store-bought. You know which is better. 😉
When the cookies are cooled, match them with a mate according to size. Take one cookie and place a few tablespoons of the filling in the center on the flat bottom of the cookie. Take the mate and place it on top (flat sides together) and press it until the filling comes to the edge of the cookies.
Store any extras in an air tight container.
Notes:
The cookies have a pretty short baking time because you want them to be very soft. Allowing them to sit on the pan out of the oven allows them to cook a bit more from the heat of the pan without getting crispy from the heat of the oven.