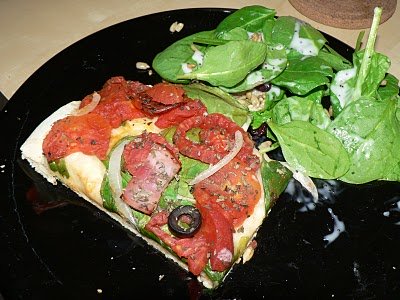 This is the perfect Friday post.  Instead of going out tonight, make this pizza for a fun night in.  Cheaper and I promise more delicious.  This recipe comes from my friend Rachel.  Her and her husband went to Italy last summer and she fell in love with the pizza.  This is her recreation of Italian pizza.  The crust is thinner and less bready and the sliced tomatoes and basil are a fresh take on traditional pizza sauce.  If you don't want to be fancy, make the crust and top it with your favorites.  It's heaven both ways.
Italian-Style Pizza
1 cup warm water
1 pkg dry yeast
3 1/2 c flour (more or less for rolling)
1 tsp salt
Oil to coat the bowl

In a small bowl stir the yeast and 1/4 cup water together and let it sit until yeast starts to bubble. In mixer, mix 2 cups flour and the salt.  Pour in dissolved yeast and remainder of water and mix until dough pulls together.  Switch to dough hook and add 1 cup flour.  When the dough does not stick to your fingers, form a ball and place in an oil coated bowl, turning it to coat evenly. Cover the bowl with a towel and let it rise 2+ hours.  Punch dough down and let it relax 10 minutes. 
Roll and stretch FIRMLY to desired shape and thickness (paper thin to 1/4 inch is good). 
Top with what you love and bake at 500 degrees until firm and lightly brown (8-12 min), it doesn't brown much, so touch it to see if it is sticky still. 
The pizza "sauce" I like to use is thinly sliced tomatoes (whole canned tomatoes worked perfectly) sprinkled with basil. Add whatever toppings you want. I did a layer of fresh spinach, sliced canned tomatoes, basil, black olives and Canadian bacon.  It was SO good.