Aioli is one of those condiments that can elevate any dish, offering a zesty punch to sandwiches, salads, and even as a dip for vegetables or fries. Rooted deeply in the culinary traditions of the Mediterranean, particularly in France and Spain, aioli's name itself is a fusion of the words for garlic and oil: "ail" (garlic) and "oli" (oil) in the Provençal language.
Over time, this garlic-rich sauce has seen various adaptations, with many opting to use mayonnaise as a base for a quick and simple version. Here, we present a recipe that bridges tradition with convenience, combining robust flavors with the creamy richness of mayo.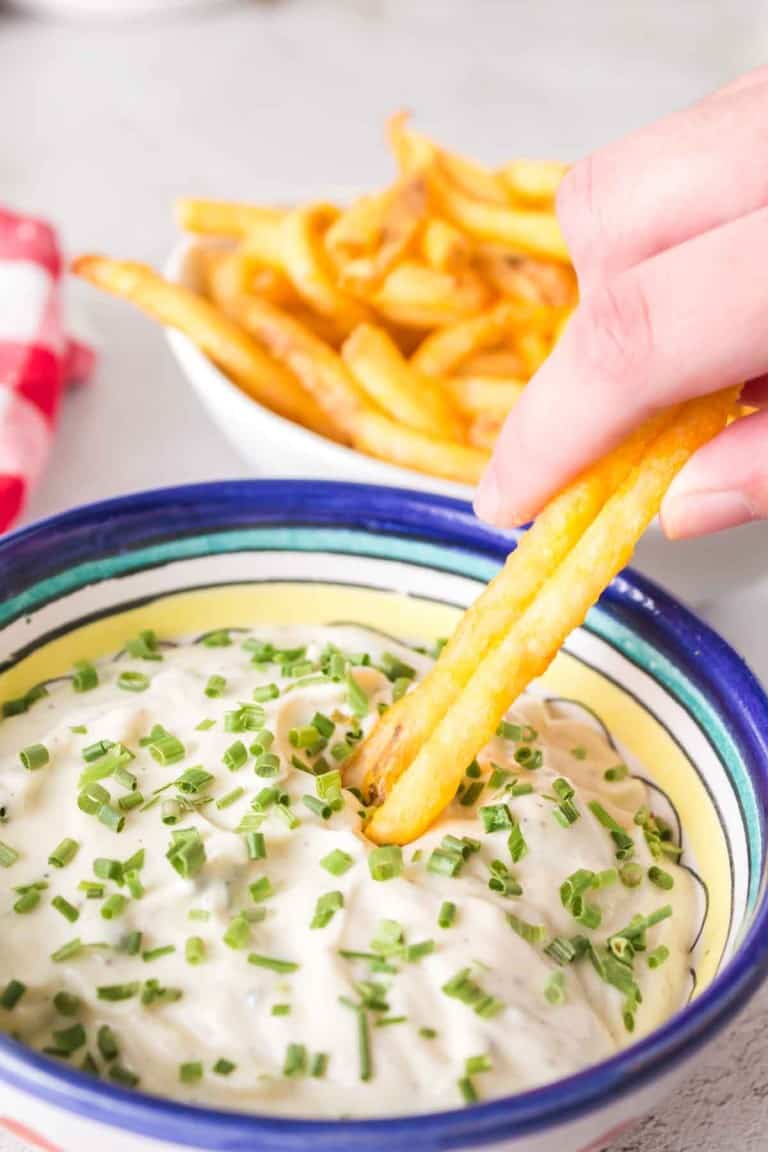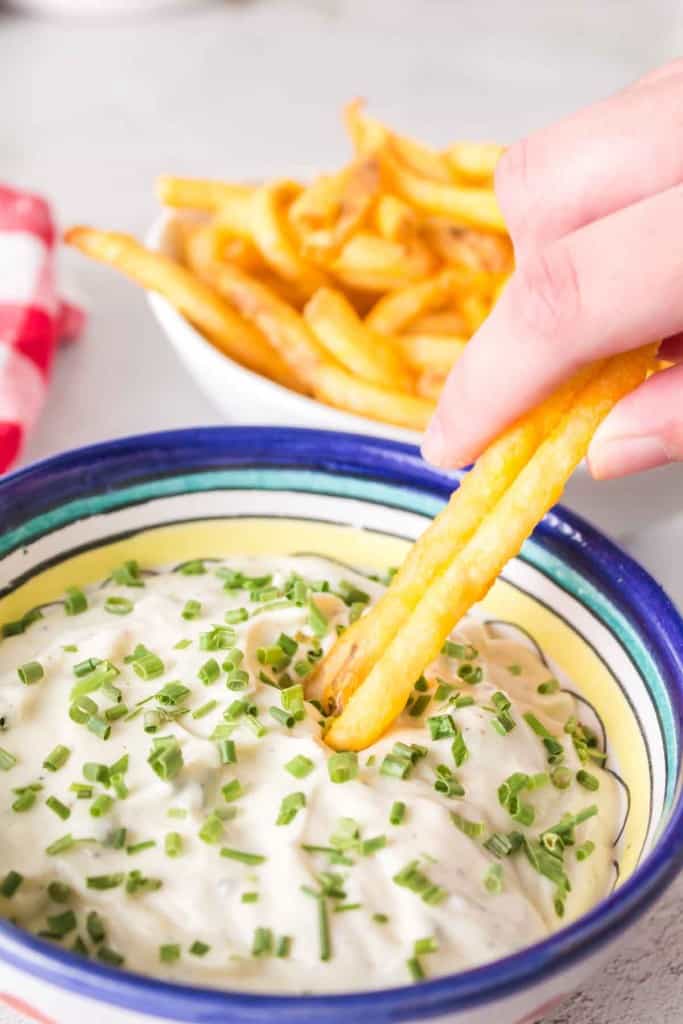 Aioli Recipe
The core ingredients of aioli are garlic and oil. The garlic provides the distinctive flavor, while the oil, usually olive oil, forms the base of the sauce. Additional ingredients like lemon juice and dijon mustard are used to emulsify the mixture and create a creamy texture and add a tangy flavor.
The amount of garlic used can vary depending on personal taste preferences. Some recipes call for more garlic to achieve a stronger flavor, while others use a milder amount for a subtle garlic taste. I think mine has just the right amount.
Aioli can be accompanied by a wide variety of dishes. Serve aioli with French fries or sweet potato fries. When it comes to seafood, this sauce truly shines, providing the perfect complement to succulent shrimp. Grilled meats like chicken, steak, or pork taste great with aioli, adding moisture and a burst of flavor to each bite. Vegetables, whether raw or roasted, come to life with aioli as a delectable dipping sauce, enticing even the most skeptical eaters to embrace their greens. Whether as a dip, spread, or sauce, aioli is a culinary gem that takes culinary experiences to new heights.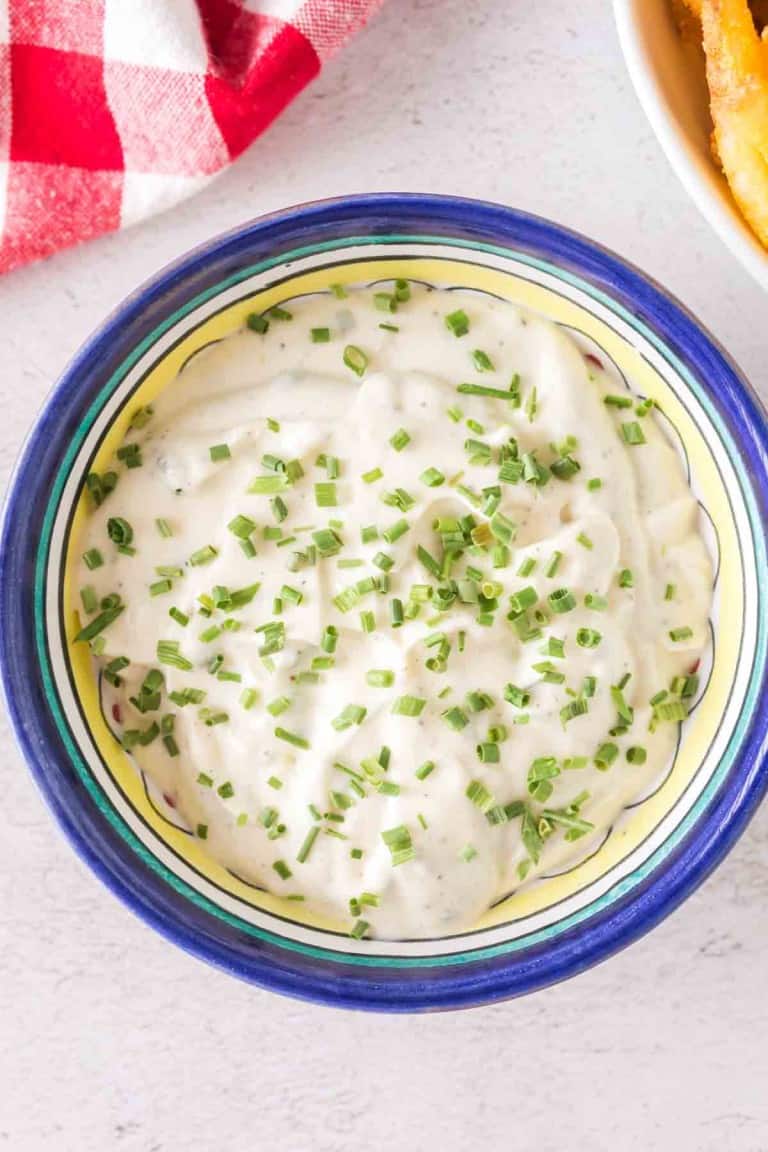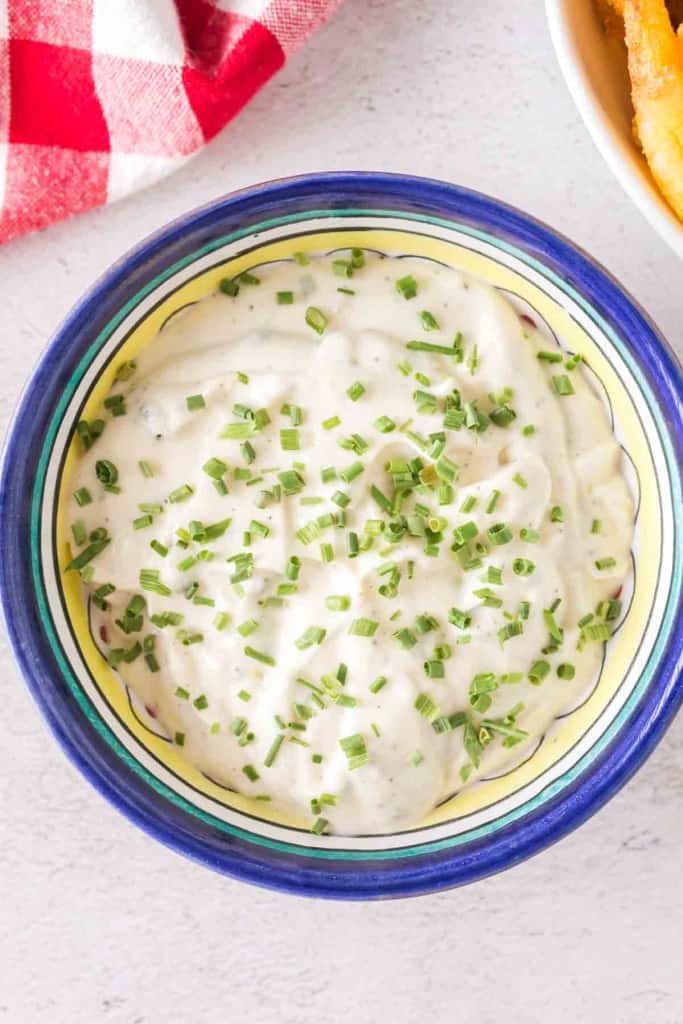 Ingredients
Mayonnaise
Lemon juice
Dry chives
Dijon Mustard
Garlic cloves
Keep scrolling to find a full, printable recipe with a detailed ingredient list.
Recipe Instructions
In a medium-sized bowl, whisk all the ingredients together until they are well incorporated.
Taste the mixture and adjust the salt and pepper according to your preferences.
Transfer the aioli to an airtight container and refrigerate for at least 30 minutes, allowing all the flavors to meld together.
When ready, serve and savor the deliciousness!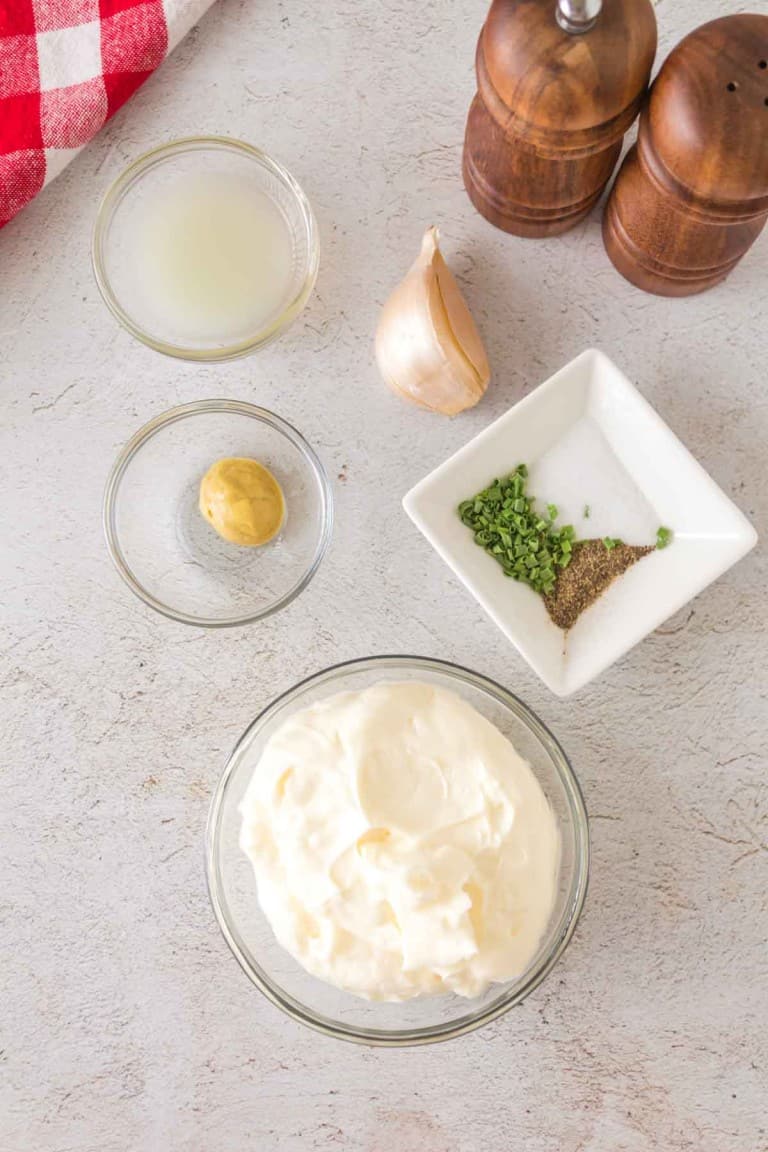 Frequently Asked Questions
What is aioli?
Aioli is a Mediterranean sauce that originated in regions like Spain, France, and Italy. It is a garlic-flavored mayonnaise made from garlic, oil, lemon juice and dijon mustard.
What does aioli taste like?
Aioli has a rich, creamy texture with a prominent garlic flavor. The addition of lemon juice or vinegar adds a tangy note, balancing the richness of the oil and garlic.
How long does aioli last in the fridge?
When stored in an airtight container in the refrigerator, homemade aioli typically stays fresh for about a week.
What can I serve aioli with?
Aioli pairs well with various foods, including French fries, seafood, grilled meats, vegetables, sandwiches, burgers, and tapas.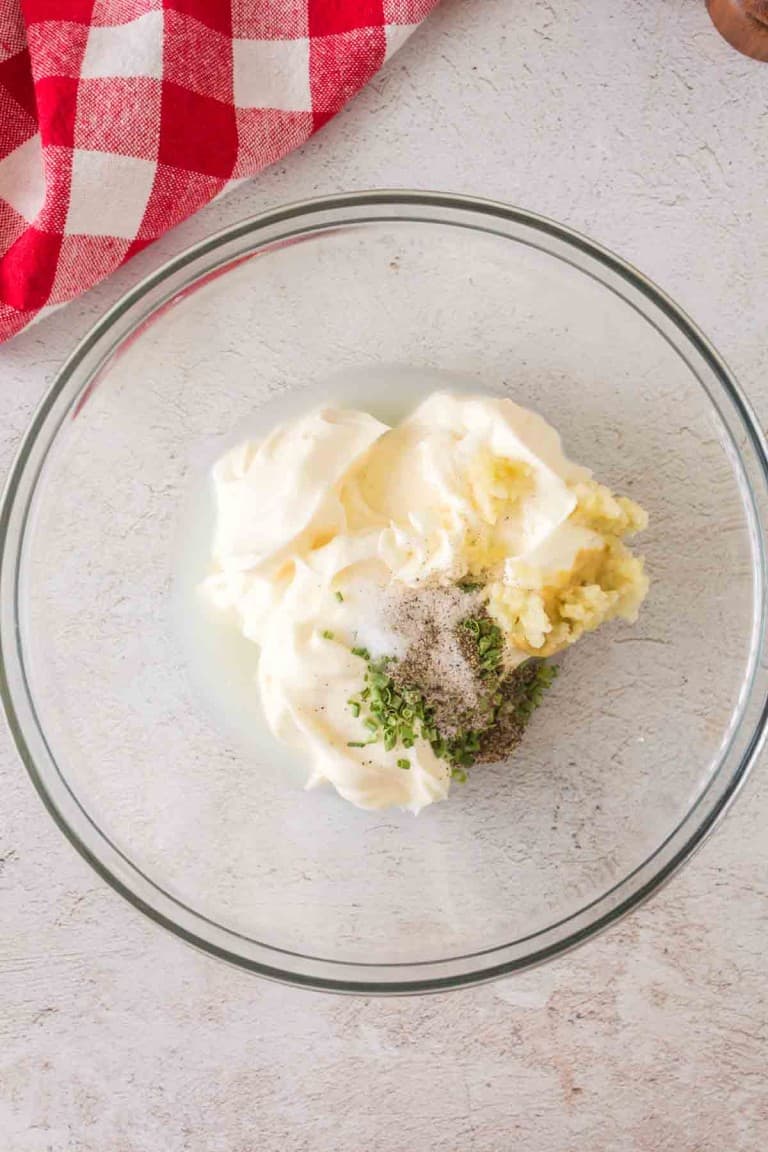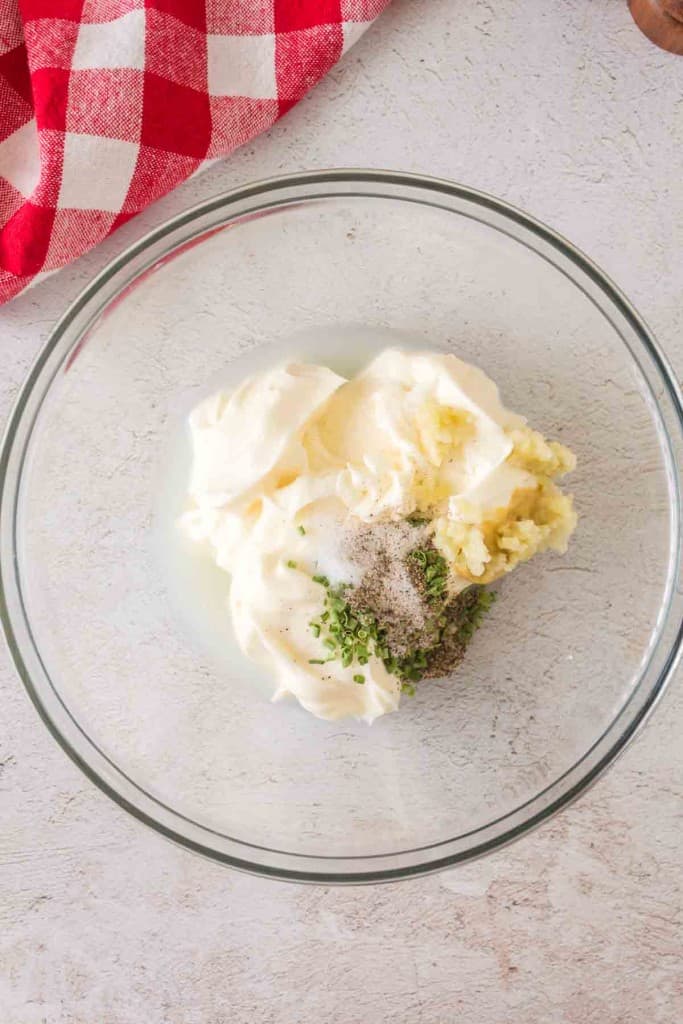 More Recipes
If you've tried this Aioli recipe or any other recipe on Bless This Mess, then don't forget to rate the recipe and leave me a comment below! I would love to hear about your experience making it. And if you snapped some pictures of it, share it with me on Instagram so I can repost on my stories.
📖 Recipe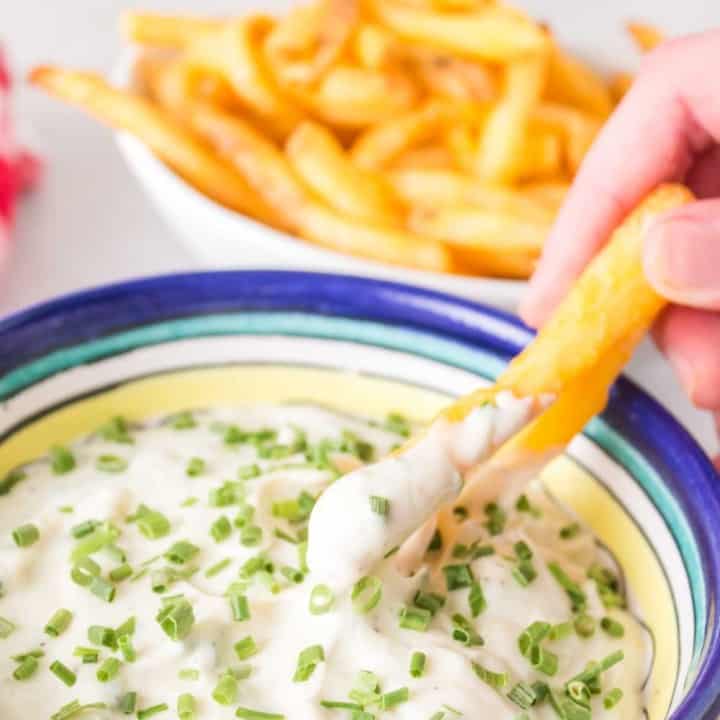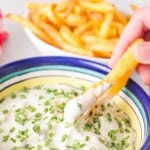 Print Recipe
Aioli Recipe
Aioli is a Mediterranean garlic-flavored sauce that adds richness and zest to a variety of dishes.
Ingredients
1

cup

mayonnaise

1

tablespoon

lemon juice

1

teaspoon

dry chives

½

teaspoon

salt

½

teaspoon

Dijon Mustard

¼

teaspoon

ground black pepper

3

minced garlic cloves

about 1 teaspoon minced
Instructions
Whisk, in a medium-sized bowl, all ingredients until they are incorporated

Taste and adjust salt and pepper to your liking.

Place into an airtight container in the fridge for at least 30 minutes to allow all the flavors to combine.

Serve and Enjoy!
Notes
What do you eat Aioli with? Roasted potatoes, French fries, vegetables, seafood, crab cakes, chicken tenders.
I whisk this aioli, you can use a food processor as well.
Storage: In an airtight container in the fridge for up to 1 week. At room temperature, I wouldn't go for more than 1 or 2 hours.
Have fun with the recipe:
Make it spicy: Add some hot sauce, red pepper flakes
Make it kid-friendly: decrease garlic and add honey for sweetness.
Make it Deluxe: Add fresh chopped herbs.
Nutrition
Calories:
154
kcal
|
Carbohydrates:
1
g
|
Protein:
0.3
g
|
Fat:
17
g
|
Saturated Fat:
3
g
|
Polyunsaturated Fat:
10
g
|
Monounsaturated Fat:
4
g
|
Trans Fat:
0.04
g
|
Cholesterol:
9
mg
|
Sodium:
261
mg
|
Potassium:
11
mg
|
Fiber:
0.05
g
|
Sugar:
0.2
g
|
Vitamin A:
15
IU
|
Vitamin C:
1
mg
|
Calcium:
4
mg
|
Iron:
0.1
mg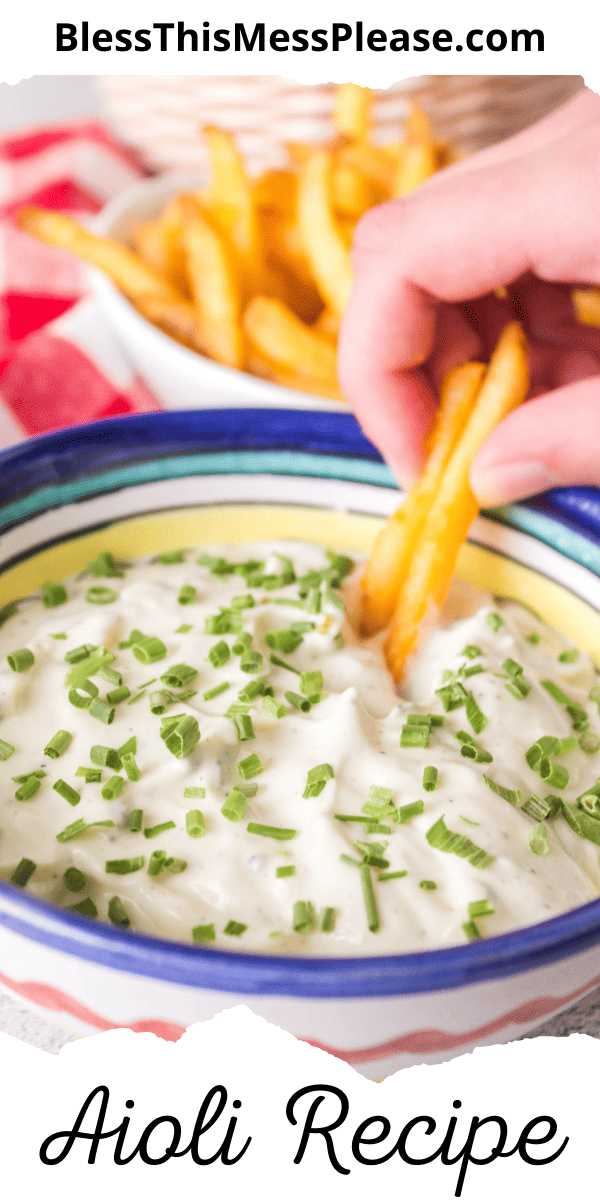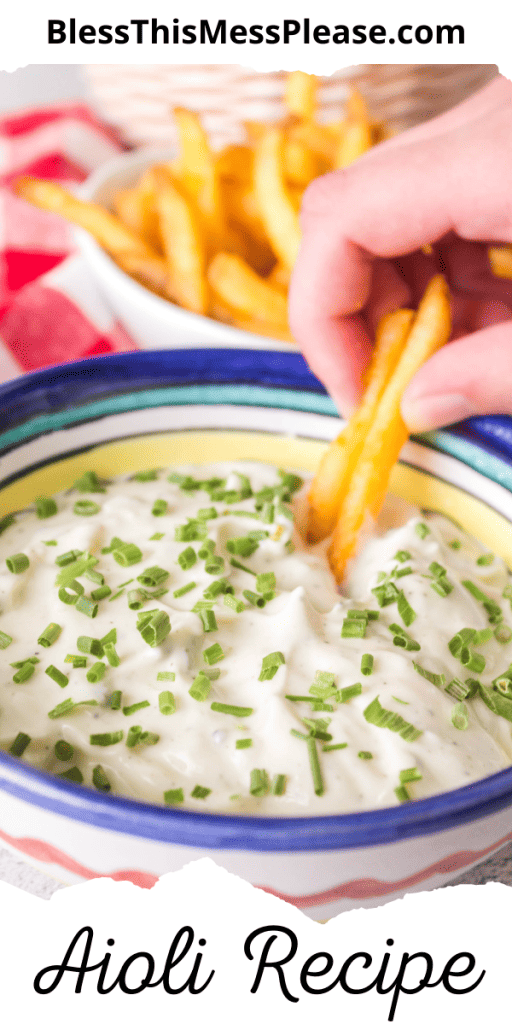 You need aioli in your life. It's creamy texture and distinct garlic taste make it a delightful and versatile condiment that will make your meals level up!