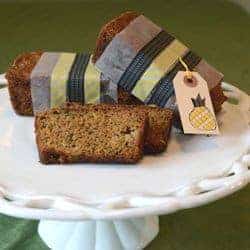 The tape comes in all colors and patterns and feels like a thin masking tape. It isn't as sticky as most tape and so it is very forgiving when it comes to using it. You can peel it up and re-stick it very easily if you put it on crooked. Downtown Tape is going to give away 10 rolls of washi tape plus 25 gift tags to decorate to a Bless This Mess reader! Just enter in the Rafflecopter gadget at the end of the post.
Pineapple Zucchini Bread
Printable Recipe
Makes 2 Loaves
2 cups granulated sugar
1/2 cup applesauce
1/2 cup oil
3 eggs
2 teaspoons vanilla extract
3 cups all-purpose flour
2 teaspoons baking soda
1 1/2 teaspoons ground cinnamon
1 teaspoon salt
1/4 teaspoon baking powder
2 cups shredded zucchini, water squeezed out
One 8-ounce can crushed pineapple, well drained
Preheat the oven to 350 degrees. In a medium mixing bowl add the sugar, applesauce, oil, eggs, and vanilla. Stir to combine. Sprinkle the flour across the top of the wet ingredients and then sprinkle the baking soda, cinnamon, salt, and baking powder across the top of the flour. Stir everything together just until combined. Add the zucchini and pineapple and stir to incorporate. Pour the batter into 2 greased bread pans and bake until the center is set and a toothpick inserted comes out clean, around 50 minutes to one hour.
Notes:
The pineapple adds a lot of sweetness and moisture to the bread. It is delicious!
If the pineapple is not drained well or the zucchini left with all of its water then the bread will come out gummy. To get the extra moisture out of the zucchini place the shredded zucchini on top of two stacked paper towels and then press on it with two more stacked paper towels.
You can sub the white flour for whole wheat (I did and loved it – still just as moist), just pump the baking powder up to 1/2 teaspoon if using whole wheat flour.
I just wrapped a piece of wax paper around the bread and then wrapped washi tape around that (I tried parchment paper but the tape wouldn't stick to it). I used some washi tape on an index card to share the recipe, and I even put some washi tape on my white dishes to add a little pop. The stuff peeled right off when I was done.
Now, if you are new to Rafflecopter, don't be nervous (Mom, this is for you). You just sign up with your email address and make a password, and they do the rest. I signed up a few months ago and have never received junk emails from them, so don't worry. Then you press on the green buttons to enter. The more things you do, the more entries you get. The giveaway is only open to participants with a US mailing address.
I wanted to let you know that if you do sign up for the Downtown Tape Newsletter (info on new designs, specials, sales…) then they'll send you a free washi tag template as a little thank you. Not too shabby.
There you have it. My first legit giveaway. I hope you all enter. I was so pumped about the tape that I have another post about it tomorrow. If this one didn't convince you that you need it, then tomorrow's will! Thanks for reading and good luck.
Discloser: I was compensated for this post. Downtown Tape sent me a few rolls of tape to work with, and they are providing the prizes for the giveaway. The opinions in the post are mine and I wasn't paid to say sunshiney things. I like the fancy tape or I wouldn't have agreed to work with them in the first place. Bodabing-bodaboom.