The best Workout Recovery Smoothie to help reduce inflammation, build muscle, and feel your best! And the best part? This recovery smoothie is delicious!
I have a variety of yummy smoothie recipes up my sleeves. Here's just a small sampling of some you can try. Healthy Strawberry Kiwi Smoothie, Healthy Chocolate Peanut Butter Protein Smoothie (no weird powder needed) and Clean and Healthy Tropical Smoothie are a great place to start.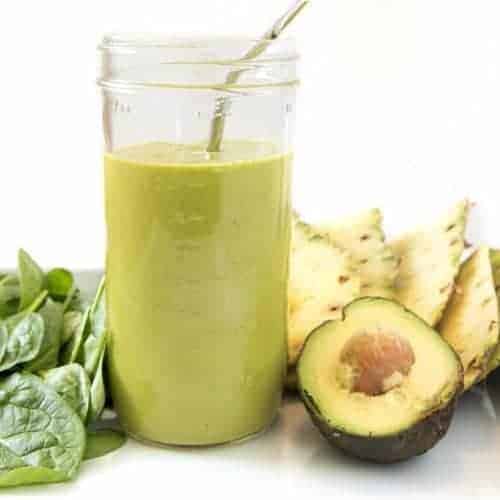 Workout Recovery Smoothie
Did you know that I have been working out 3-5 days a week for almost 8 full months?! I never thought I'd get back into the habit after Paul and Graham were born, but when the baby turned one last summer, I knew it was time to start exercising again. This post workout recovery smoothie is one of my favorite breakfasts to enjoy after my morning workout.
I'm still working on losing my baby weight (and toying with the idea of counting macros next - if you have, I'd love to talk). But losing weight wasn't the only thing that my body needed. I started working out so that I could regain strength and muscle that I had lost during pregnancy. I know lots of ladies still work out when they are pregnant, but I am not one of those people. When I'm done barfing at about 16 weeks, my hips soften (so early, but it's an inherited thing from my mom) and I find myself hardly able to walk some days, let alone work out. I started lifting heavy with friends 3 days a week and doing cardio 2 times a week. It's been a great combo for me. I'm feeling strong, I'm getting all those great endorphins to help my mind, and I'm moving past some health issue like back pain and carpal tunnel that I've dealt with in the past.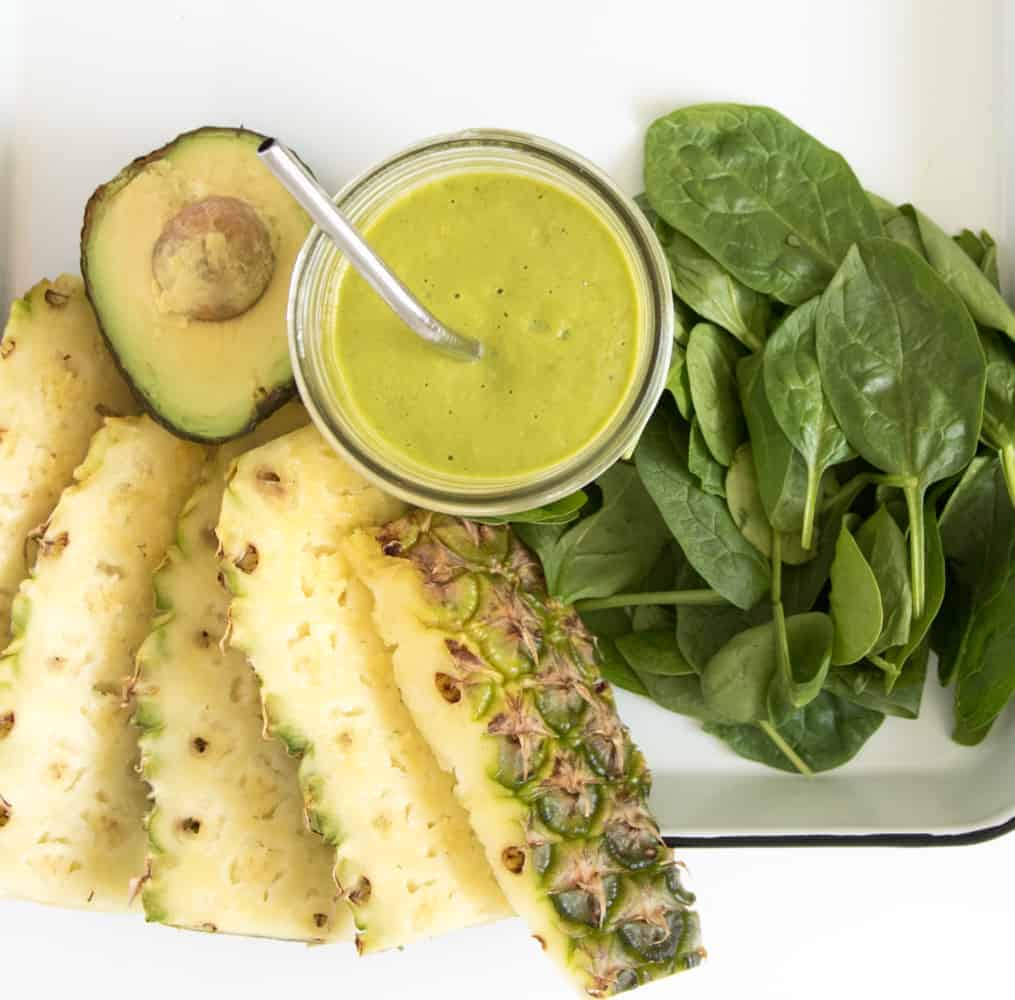 If you've gotten back into working out, especially after a longer break from it, you know how sore you can be the next day. This recovery smoothie helps reduce inflammation, is full of good fats/fiber, and makes a great meal replacement.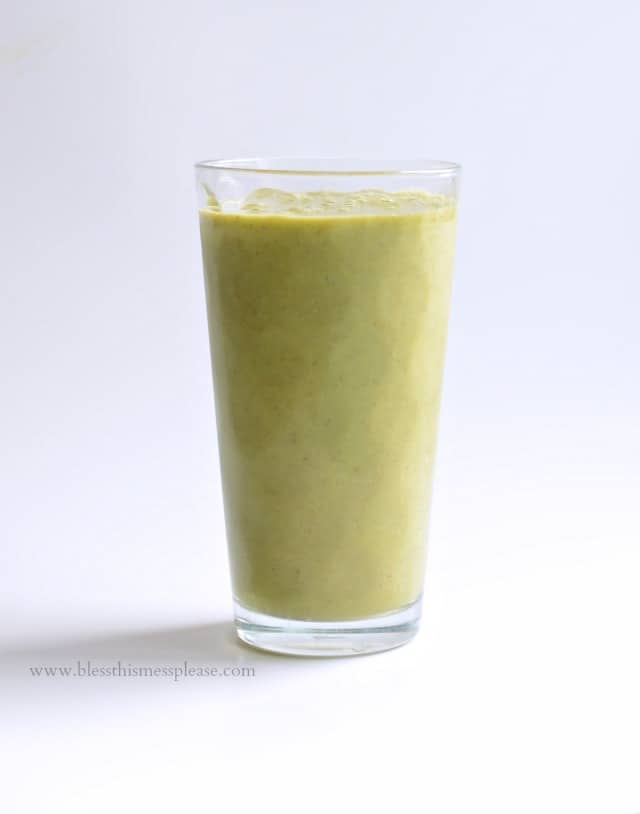 Here's what I love about this workout recovery smoothie:
Pineapple - Bromelain, the main component inside pineapples, is an enzyme that has been used to treat problems ranging from sports injuries, arthritis, heart disease, and cancer. After doing a lot of research for my severe carpal tunnel last year, I started taking bromelain regularly and now I make a point to include fresh and frozen pineapple in my smoothies often. It has worked wonders for me and it tastes oh so sweet!
Turmeric - It is also a natural anti-inflammatory. You can use fresh turmeric (it looks like ginger root and you can buy it in the produce section of well-stocked grocery stores or the Asian market) or the dried ground turmeric you might find in the spice aisle. Be sure to add that pinch of black pepper though, because that helps to make all of the benefits of the turmeric available to your body. This is pretty "trendy" right now online and I don't think it's without cause. It's a really neat ingredient. I actually have been taking a turmeric supplement for a few years now, so eating it makes sense too.
Avocado - The healthy fat and fiber make this a great addition to your smoothie because that fat helps you to stay fuller longer. I like to add some avocado to my smoothie when I'm replacing breakfast with the smoothie. It helps to keep me full through the morning. Avocados also add a great creaminess that I love and have more potassium than a banana.
Spinach - I feel like the more vegetables that you can eat, the better. I love adding baby spinach to my smoothies in the morning because the flavor is mild, the color is great, and long live eating vegetables at all your meals.
Banana - This is optional, but it's my favorite way to add a little sweetness and creaminess to my smoothies.
Protein Powder - If you are in the business of replacing fat with muscle, it'a great idea to feed your muscles after a workout. I have tried all kinds of protein powder, and my favorite right now is the pea protein powder from Bob's Red Mill. It's unsweetened and unflavored, which is really hard to find. I also liked that it was plant-based. The whey protein that I tried was hard on my stomach and I thought it tasted awful (and most people find that dairy adds to inflammation for them instead of taking it away). I have yet to try adding collagen peptides, but they are on my list to try when my pea protein runs out. My friend Emily at One Lovely Life swears by them. Protein powder is optional, but again, if I'm using this as a meal replacement, I find that the protein really helps to keep me full longer.
Nut Milk or Coconut Water - Coconut water is nature's Gatorade and works to restore the nutrients that your body sweats out. I also like nut milks for all the trace minerals they include. Both are great in this workout recovery smoothie.
Why are my smoothies too thick?
Your smoothie could be too thick if you added too much frozen fruit or ice cubes. If you desire a thinner consistency, simply add a splash of water.

What can I add to a smoothie to make it more filling?
To make your smoothie more filling, you can add your favorite nut butter, avocado, yogurt or even oats.
What's the best liquid for smoothies?
It depends on the taste you are going for. You can basically add any liquid but here are some great ones to add: milk, almond milk, orange juice, water or coconut water.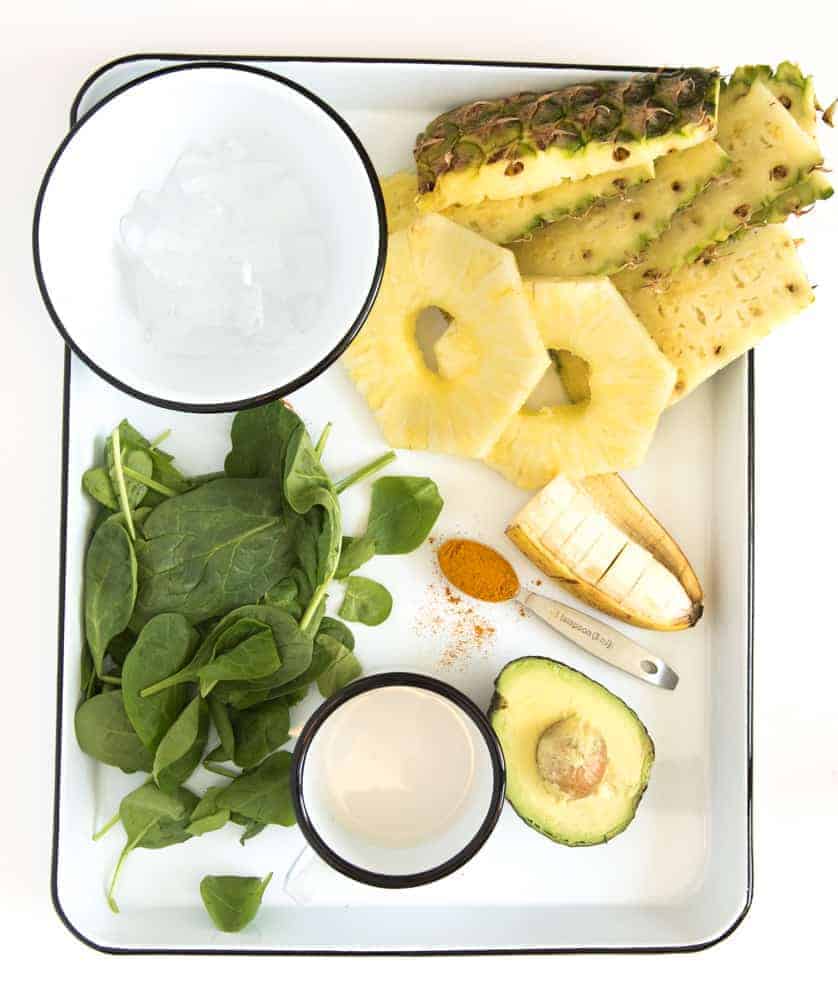 Print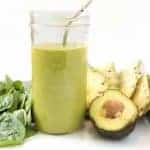 Workout Recovery Smoothie
---
Author:

Total Time:

5 minutes

Yield:

1

large smoothie

1

x
Description
The best workout recovery smoothie to help reduce inflammation, build muscle, and feel your best! And the best part? This recovery smoothie is delicious!
---
½

of a frozen banana

½

of a ripe avocado

1 cup

fresh baby spinach

1 teaspoon

dried turmeric or a 1-inch knob of fresh turmeric (outside removed)

⅛ teaspoon

fresh black pepper

½ cup

pineapple, fresh or frozen

¼ cup

pea protein powder, optional

½ cup

ice

1 cup

unsweetened non-dairy milk or coconut water
---
Instructions
Place everything in the jar of your blender and blend until smooth. Enjoy right away.
Prep Time:

5 mins

Category:

Smoothie

Method:

Blender

Cuisine:

American
Nutrition
Calories:

347

Sugar:

23.3g

Sodium:

476.2mg

Fat:

15.5g

Carbohydrates:

47.6g

Protein:

11.1g
Keywords: Workout, Smoothie, Recovery, Post Workout
If you love smoothies, look no further!
And there you have it! Workout Recovery Smoothie will help reduce inflammation, build muscle, feel your best and it taste delicious!