An easy and delightful twist on classic cookies: a soft and chewy chocolate chip cookie cake that's perfect for any occasion
If you're a fan of cookies and cakes, you're in for a real treat! Chocolate Chip Cookie Cake is a dessert that combines the best of both worlds: cookies and cake! It's like a giant, soft, and chewy chocolate chip cookie, but in the form of a cake.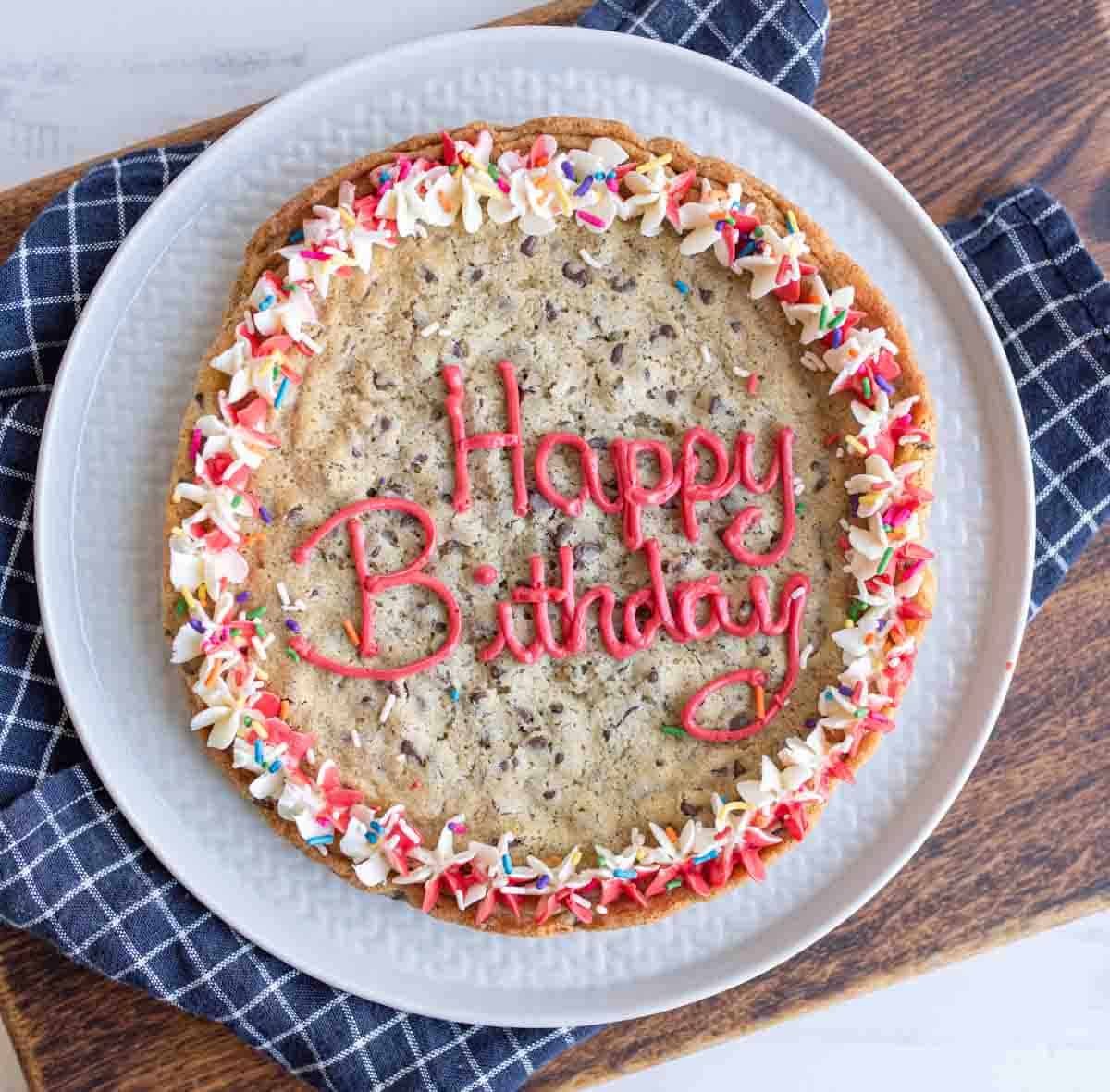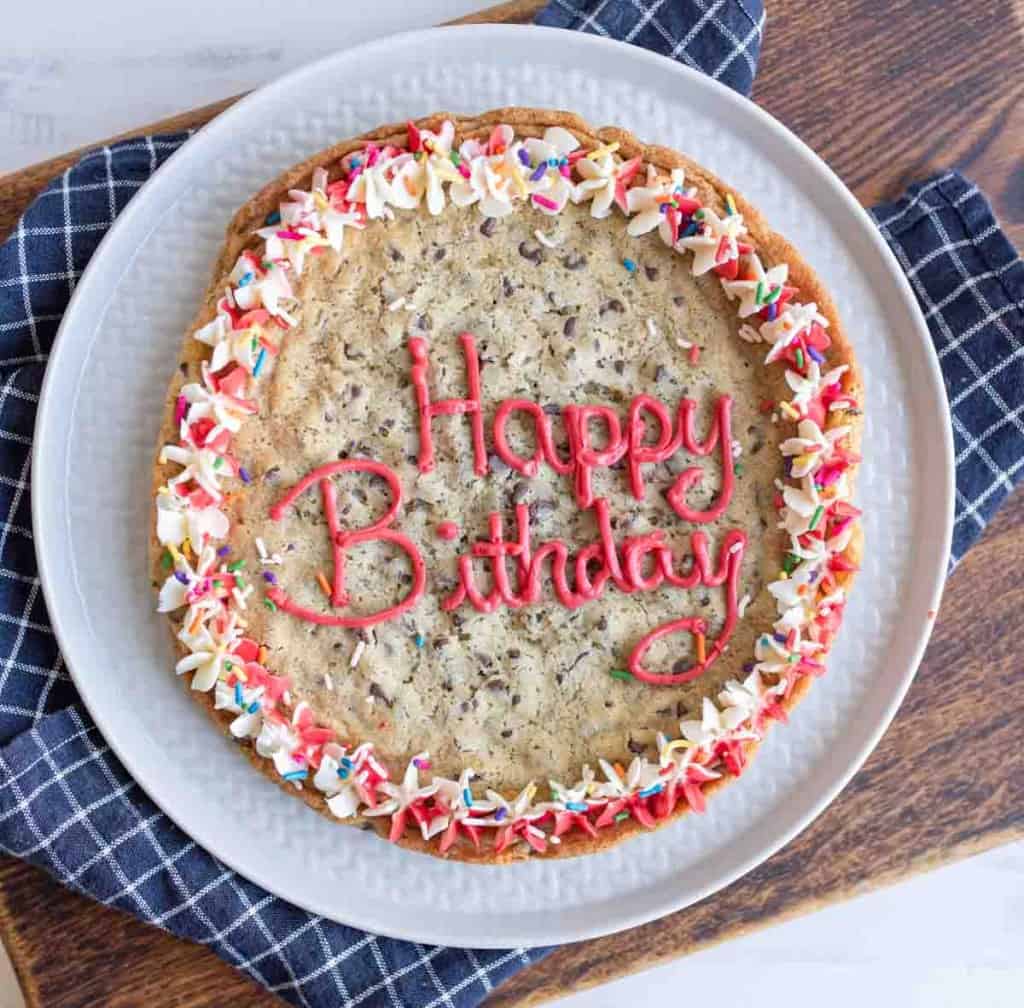 What makes the chocolate chip cookie cake recipe truly great is its simplicity and versatility. Unlike complex desserts that require multiple steps and hard-to-find ingredients, this recipe is accessible to bakers of all levels, including young aspiring chefs.
The familiar ingredients, like flour, butter, sugar, and eggs, are likely already in your kitchen, making it a convenient choice for a sweet treat anytime you crave it.
Table Of Contents
Why You'll Love This Recipe
Easy and Fun: This recipe is perfect for bakers of all levels, including kids. It's a delightful way to introduce young chefs to the joys of baking.
The Best of Both Worlds: Enjoy the irresistible combination of a chocolate chip cookie and a cake in one delicious dessert.
Perfect for Celebrations: Ideal for birthdays and special occasions, this cookie cake can be personalized with icing messages and decorations.
Quick and Convenient: With common kitchen ingredients, you can whip up this treat whenever a cookie craving strikes.
Sharing Made Easy: Slice it up and share with friends and family, making it a delightful crowd-pleaser at gatherings.
Freeze for Later: If you can't finish it all at once, freeze slices for a future sweet indulgence.
Recipe Ingredients
Butter : The butter adds richness and a buttery flavor to the cookie cake while also contributing to its soft and chewy texture.
Sugar: Granulated sugar provides sweetness to the recipe, enhancing the overall taste of the cookie cake.
Brown sugar: Brown sugar not only adds sweetness but also contributes a hint of caramel flavor and moisture, making the cake chewier.
Vanilla: Vanilla extract infuses the cookie cake with a warm and inviting aroma, enhancing its overall flavor profile.
Egg: The egg acts as a binding agent, helping to hold the ingredients together and create a tender texture.
Flour: All-purpose flour is the primary dry ingredient that forms the structure of the cookie cake, giving it its soft and cake-like consistency.
Baking soda: Baking soda helps the cookie cake rise slightly, making it fluffy while maintaining its chewiness.
Chocolate chips: Chocolate chips are the star of the show, providing pockets of melty, gooey chocolate throughout the cake, adding sweetness and richness.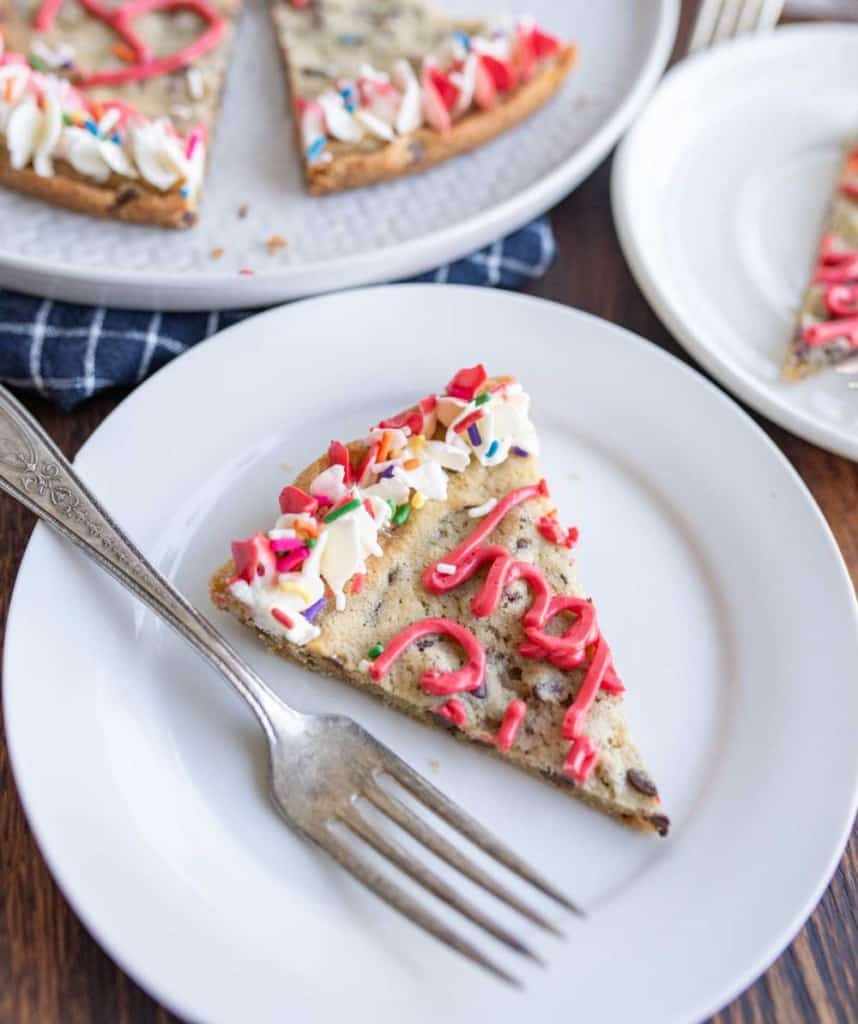 Popular Substitutions and Variations
Different Chip Varieties: Instead of using regular semisweet chocolate chips, experiment with different types like white chocolate, dark chocolate, or even butterscotch chips for a unique flavor twist.
Nutty Delight: Add chopped nuts like walnuts, pecans, or almonds to the cookie dough for an extra layer of crunch and a nutty flavor that complements the chocolate.
Cookie Cake with Frosting: Transform your cookie cake into a celebration centerpiece by decorating it with frosting or icing. You can create colorful designs, add a personalized message, or even turn it into a themed cake for special occasions.
Gluten-Free Option: If you or someone you're baking for has dietary restrictions, consider using a gluten-free all-purpose flour blend to make a gluten-free chocolate chip cookie cake that's just as delicious.
Cookie Cake Bars: Instead of baking one large cake, portion the dough into a greased baking dish and make cookie cake bars for a quick and easy-to-share treat.
How To Make Chocolate Chip Cookie Cake
Preheat your oven to 350°F.
Mix butter, sugars, vanilla, and an egg until smooth.
Add flour, baking soda, and chocolate chips, and mix well.
Spread the dough into two round cake pans.
Bake for 15-20 minutes until golden brown.
Let them cool in the pans, then enjoy or frost!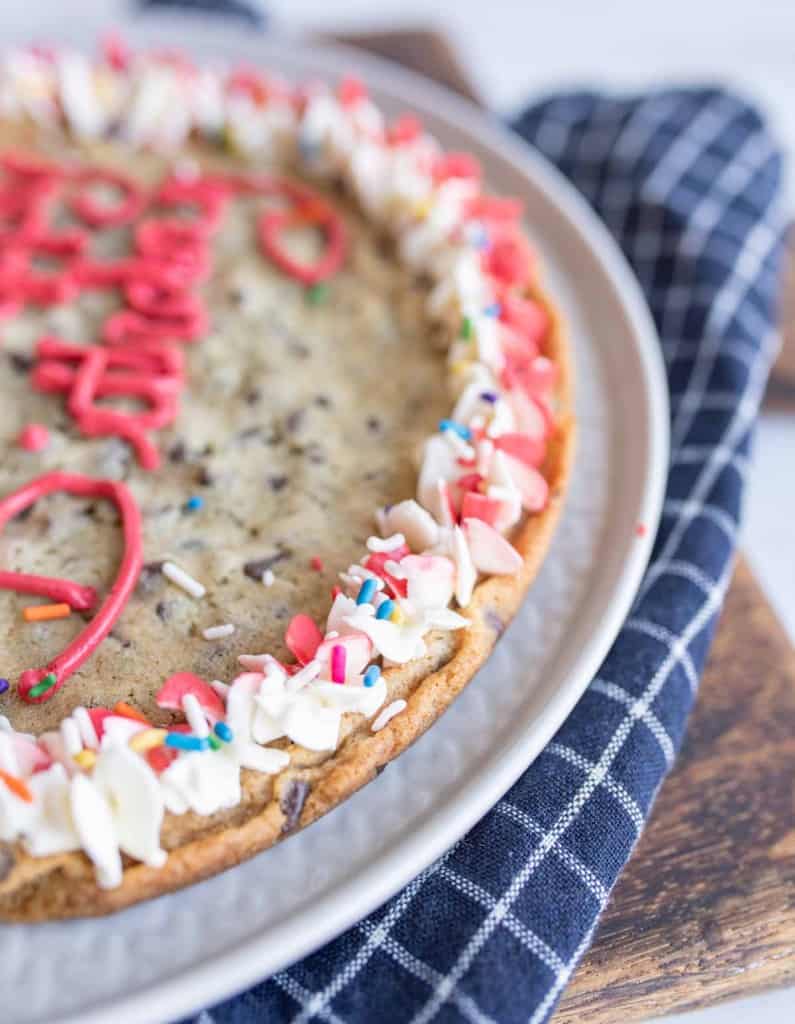 Frequently Asked Questions
How long does a cookie cake last?
If stored in an airtight container at room temperature, a cookie cake can stay fresh for up to 3-4 days.
Can I freeze a cookie cake?
Yes, you can! Wrap it in plastic wrap and store it in an airtight container in the freezer for up to three months. Thaw it at room temperature before enjoying.
Can I add other mix-ins besides chocolate chips?
Absolutely! You can get creative and add things like M&M's, caramel bits, or even crushed Oreos for extra flavor and texture.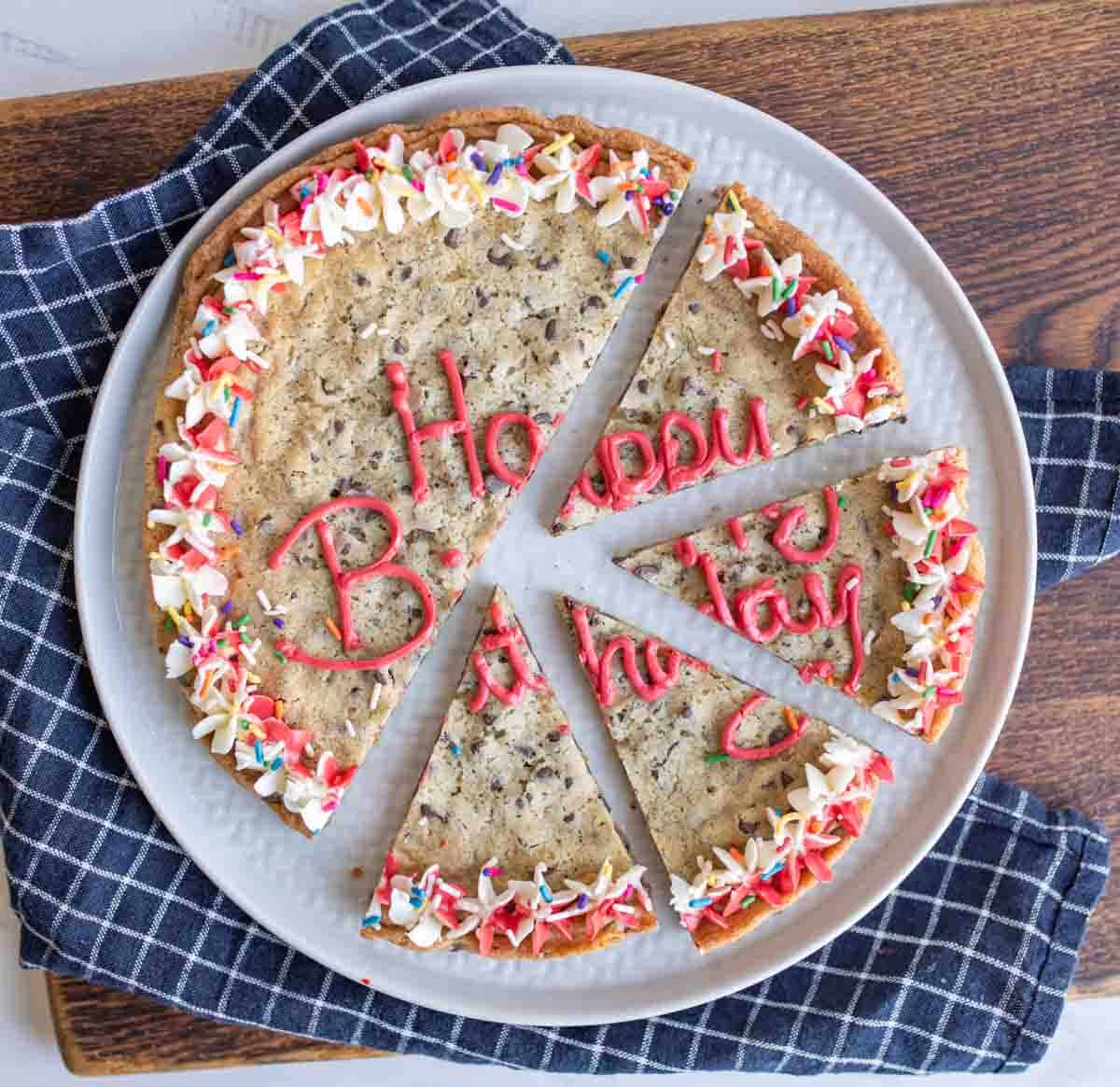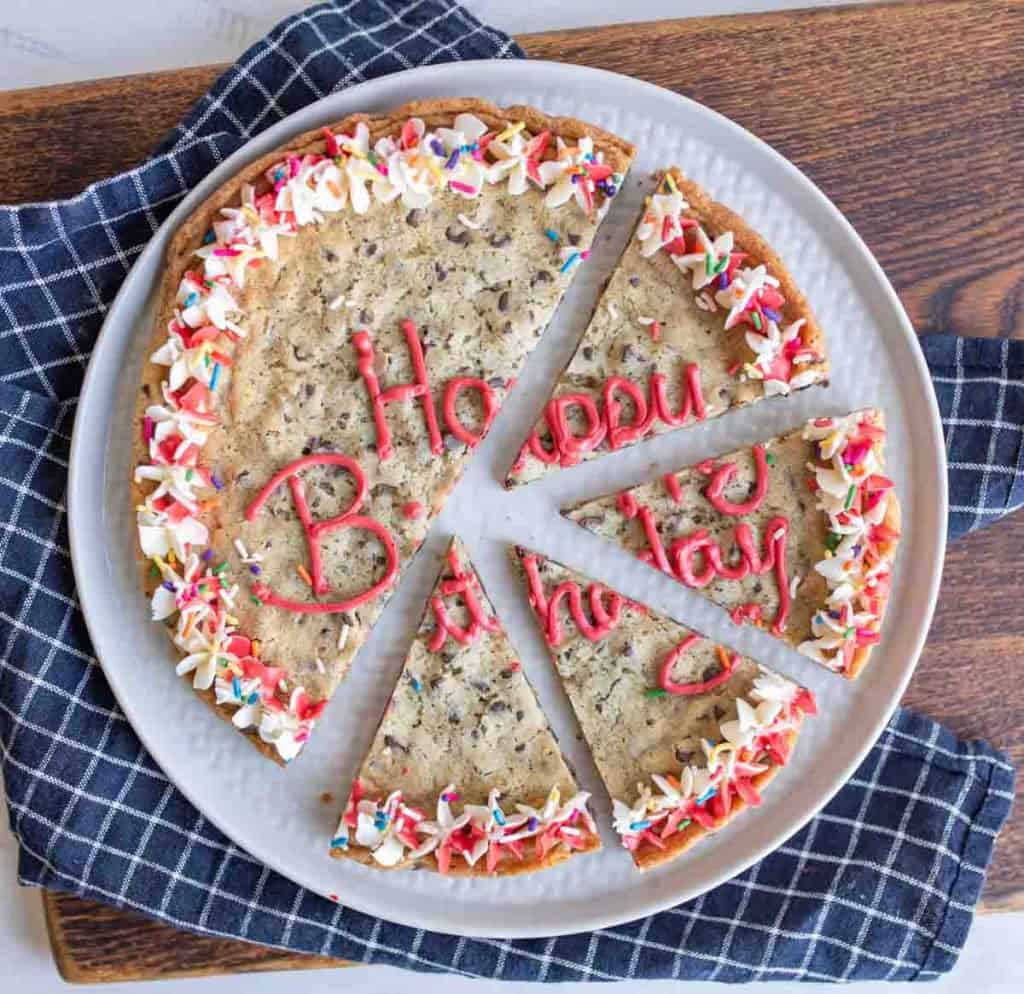 Expert Tips
Use Softened Butter: Make sure your butter is softened, but not melted. This helps create a chewy texture.
Room Temperature Ingredients: Let your eggs and any dairy ingredients come to room temperature before mixing them in.
Proper Mixing: Mix your ingredients until just combined. Overmixing can lead to a tougher cookie cake.
Prevent Overbaking: Keep an eye on your cookie cake while it bakes. It's done when the edges are golden brown and the center is set but still slightly soft.
Cool Before Decorating: Let the cookie cake cool completely before adding any frosting or icing. This prevents them from melting.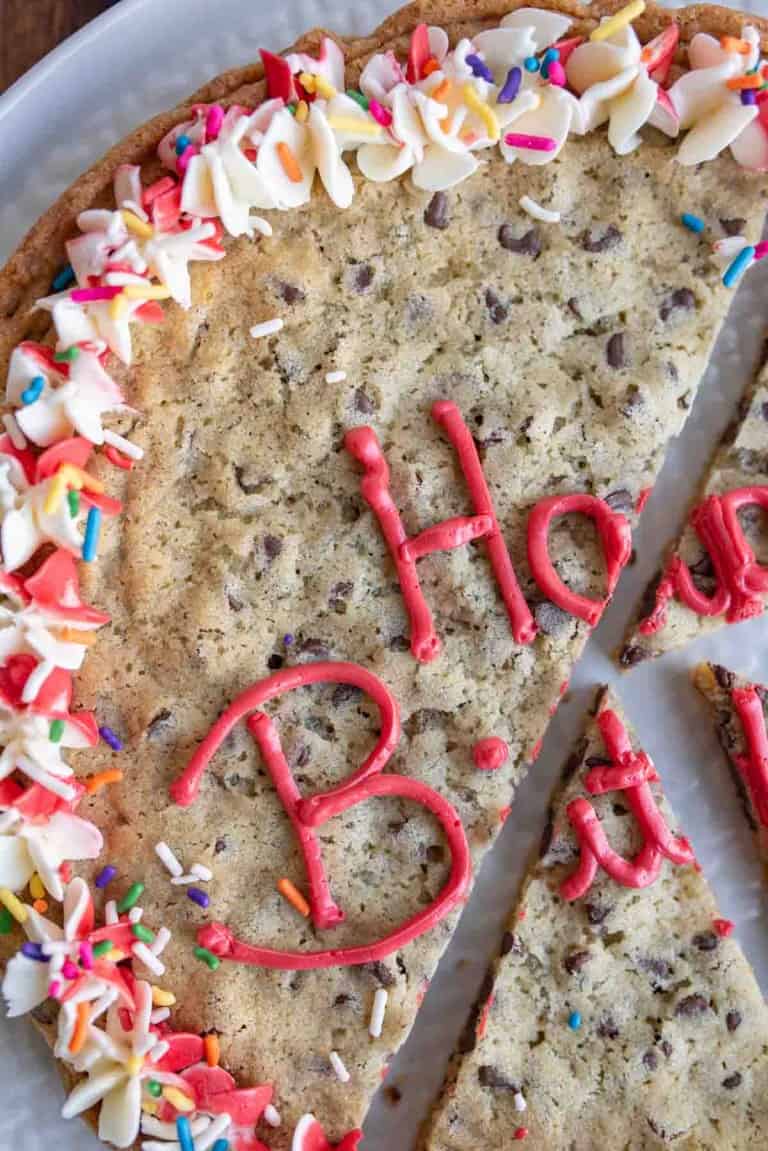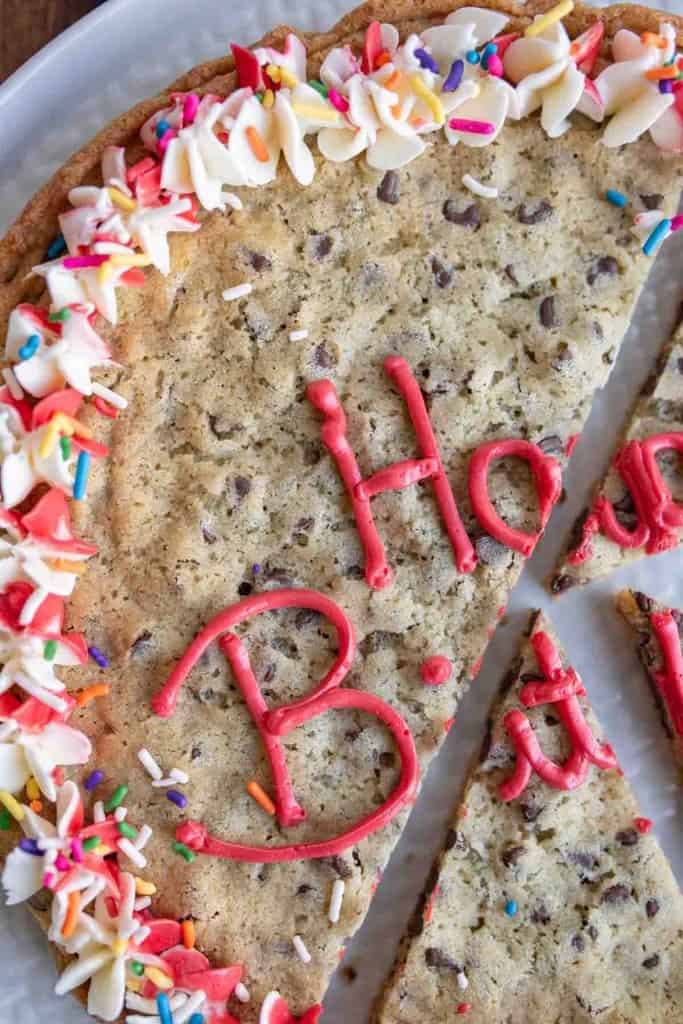 Can I use margarine instead of butter?
While butter is recommended for its flavor, you can use margarine as a substitute if needed. Just be aware that it might affect the taste and texture slightly.
Can I make the dough ahead of time and refrigerate it?
Yes, you can prepare the dough in advance and refrigerate it in an airtight container for up to 24 hours. This can help enhance the flavor and texture of the cookie cake.
Did you try this recipe? Leave a ⭐️ rating below and share it on Instagram, Facebook, and Pinterest!
📖 Recipe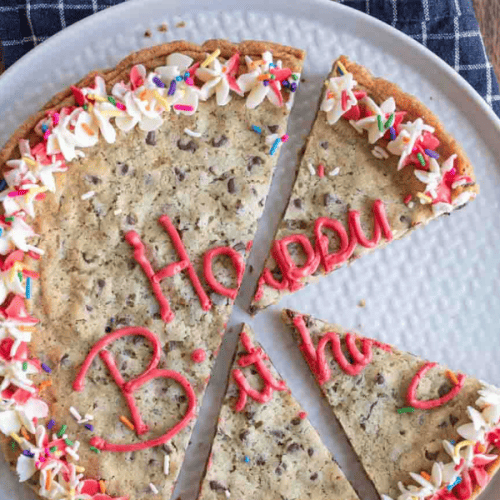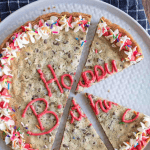 Print Recipe
Chocolate Chip Cookie Cake
An easy and delightful twist on classic cookies: a soft and chewy chocolate chip cookie cake that's perfect for any occasion
Ingredients
6

tablespoons

butter

at room temperature

½

cup

granulated sugar

¼

cup

brown sugar

packed, light or dark

½

teaspoon

pure vanilla extract

1

large egg

1

cup

all-purpose flour

½

teaspoon

baking soda

1 ½

cups

chocolate chips
Instructions
Begin by preheating your oven to 350°F (175°C).

Prepare two 9-inch round cake pans by place a long strip of parchment paper at the bottom of each pan, ensuring it extends over the sides. This will help to lift the cookie out of the pan. My strips were 8 inches wide and about 14 inches long.

In a large mixing bowl, combine the room temperature butter, granulated sugar, brown sugar, and vanilla extract. Using an electric mixer or a sturdy spatula, cream the ingredients together until the mixture is smooth and fluffy, about 3 minutes.

Add the egg to the creamed mixture and mix well until fully incorporated.

Slowly add the all-purpose flour and baking soda to the mixture. Mix until just combined.

Gently fold in the chocolate chips, making sure they are evenly distributed throughout the dough.

Take the cookie dough and divide it into two equal portions. Press each portion into the prepared pans, ensuring you leave about an inch from the edge for the cookies to expand while baking.

Place the pans in the preheated oven and bake for 15-20 minutes or until the edges turn golden brown. A toothpick inserted into the center should come out clean or with a few crumbs (not wet dough).

Once baked, remove the cookie cakes from the oven and place them on a cooling rack. Let them cool completely inside the pans. Once they are full cooled, use the parchment paper to gently lift and remove the cakes from the pans.

If desired, you can frost the cooled cookie cakes with your favorite frosting or simply enjoy them as they are!
Notes
Ensure your butter is genuinely at room temperature for easy creaming.
Always use packed brown sugar to measure correctly.
Baking times may vary based on individual ovens. It's always a good idea to keep an eye on them after the 12-minute mark.
These cookie cakes can be stored in an airtight container at room temperature for up to 5 days.
Nutrition
Calories:
192
kcal
|
Carbohydrates:
26
g
|
Protein:
1
g
|
Fat:
9
g
|
Saturated Fat:
6
g
|
Polyunsaturated Fat:
0.2
g
|
Monounsaturated Fat:
1
g
|
Trans Fat:
0.2
g
|
Cholesterol:
22
mg
|
Sodium:
73
mg
|
Potassium:
67
mg
|
Fiber:
0.2
g
|
Sugar:
19
g
|
Vitamin A:
146
IU
|
Calcium:
19
mg
|
Iron:
0.4
mg