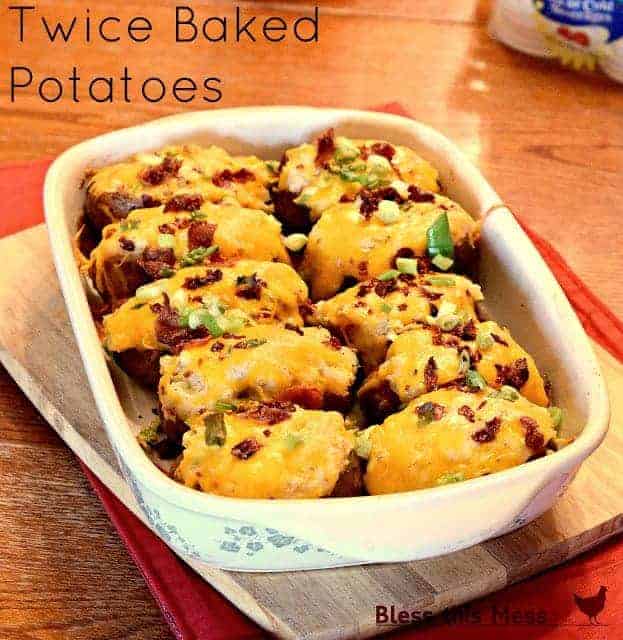 I love a party and I love party food. Some foods in life just scream celebration, and this recipe is one of those. I don't often make these decadent potatoes, but when I do it is because there is a reason to celebrate. The reason this time was my brother-in-law's birthday. I love when people have requests because it takes half of the work out of cooking for me. He wanted pork roast, twice baked potatoes and angle food cake with raspberries. Mmm, now that was a birthday meal fit for a thirty year old!
These potatoes are always a huge hit and I know you'll love them too. You can't go wrong with hallowed out potatoes refilled with the mashed potato innards, sour cream, bacon, cheese, and green onions. Bake it for a second time and you have the title of the recipe: twice baked potatoes. I think you'll find a reason to make them with the holidays coming up if you look hard enough. Heck, just make them for dinner tonight; your family will thank you.
Baked potatoes are hallowed out and the insides saved.
The potatoes are re-stuffed with all the best things: bacon, cheese, sour cream, green onions and more!
Top with more of those wonderful ingredients and bake! Pleasure in a pan.
Twice-Baked Potatoes
Printable Recipe
Serves 10-12
10-12 medium potatoes, slightly larger than your fist
1 cup sour cream
1/4 to 1/2 cup milk
2 T. butter or bacon drippings (I'm on team bacon fat)
1 pound bacon, cooked up crisp
3 cups shredded cheddar or Colby cheese
6 green onions, sliced thin
1 tsp. salt
1/2 tsp. black pepper
more salt and pepper to taste
Start by washing all your potatoes and baking them. You can wrap them in foil and bake at 350 degrees for about an hour (until they feel soft when you press on them). If you are in a time crunch you can also wash and then stab the potatoes with a fork a few times and then microwave on high for 12-15 minutes until the potatoes feel soft when pressed. I prefer the oven because cooking things in a microwave weirds me out a bit, but do what you prefer. The initial baking method doesn't really matter much here.
When the potatoes are cooked through and cool enough to handle cut off the top quarter of each potato. Use a spoon to hollow out the baked potato leaving about a 1/4 inch of potato near the skin. Put everything you scoop out of the potatoes into a large bowl. Once all of the potatoes are hollowed out transfer them to a large baking dish with sides.
Add the sour cream, milk, and fat (bacon drippings or butter) to the bowl with the baked potato insides and mash them to make thick mashed potatoes. If they are too dry add a bit more milk and mash some more. Add three-fourths of the bacon, 1 cup of shredded cheese, three-fourths of the green onions, salt and pepper. Stir well to combine. Taste the potato mixture and add additional salt and pepper as needed.
Using a spoon, transfer the delicious potato mixture back into the potato shells. Be sure the press the filling in well with the spoon so that it fills the potato completely. You'll have more than what you stared with so just keep adding to the filled potatoes until all of the mixture is gone. Top filled potatoes with the remaining 2 cups of cheese and reserved bacon.
Bake the filled potatoes for 25-30 minutes in a 350 degree oven until the cheese is melted and bubbly. Remove from the oven and garnish with the rest of the chopped green onion. Serve hot.
Notes:
This is a great thing to make ahead and pull out when you are ready to bake! I've made these a whole 24 hours ahead of time and they were still perfect. Once the filled potatoes are topped with cheese and bacon, cover and refrigerate until you are ready to bake. When baking the potatoes cold, cover the dish with tented foil (so the cheese doesn't stick to it) for 30 minutes at 350 and then remove the foil and bake for an additional 10-15 minutes until the cheese is melted and bubbly.
This is a very family friendly/party-sized twice-baked potato. If you are looking for huge, just switch out the medium potatoes for 5 or 6 of those larger-than-life baking potatoes, and proceed as directed. The big ones are practically a meal on their own!
And if you like this, you might want to try:
Twice Baked Sweet Potatoes at The No. 2 Pencil
Appetizer-sized Twice Baked Potato Bites at Bakeaholic Mama