Eggs are a really interesting topic to me right now and I thought I would share some egg tips and tricks with you including How To Tell the Freshness of an Egg.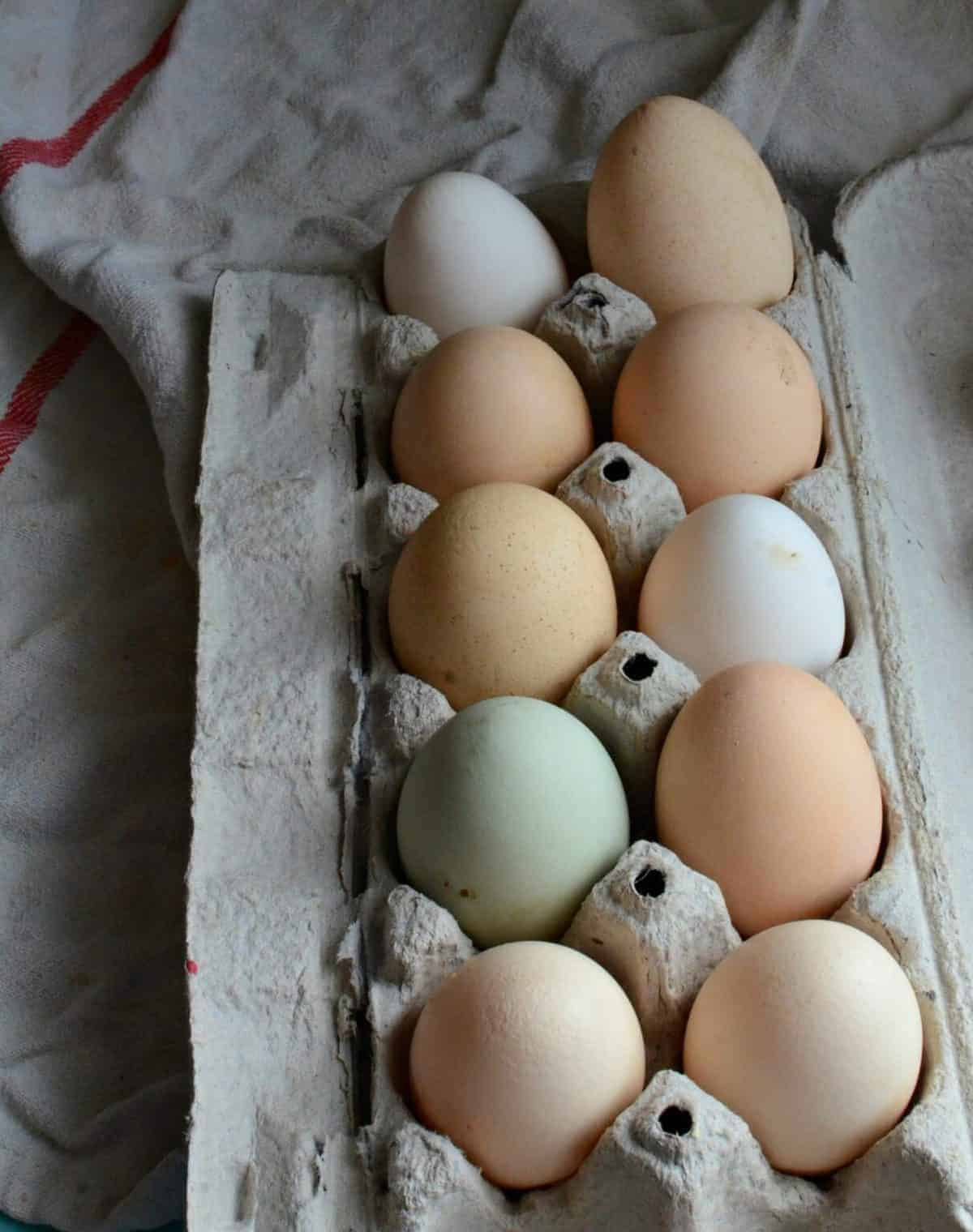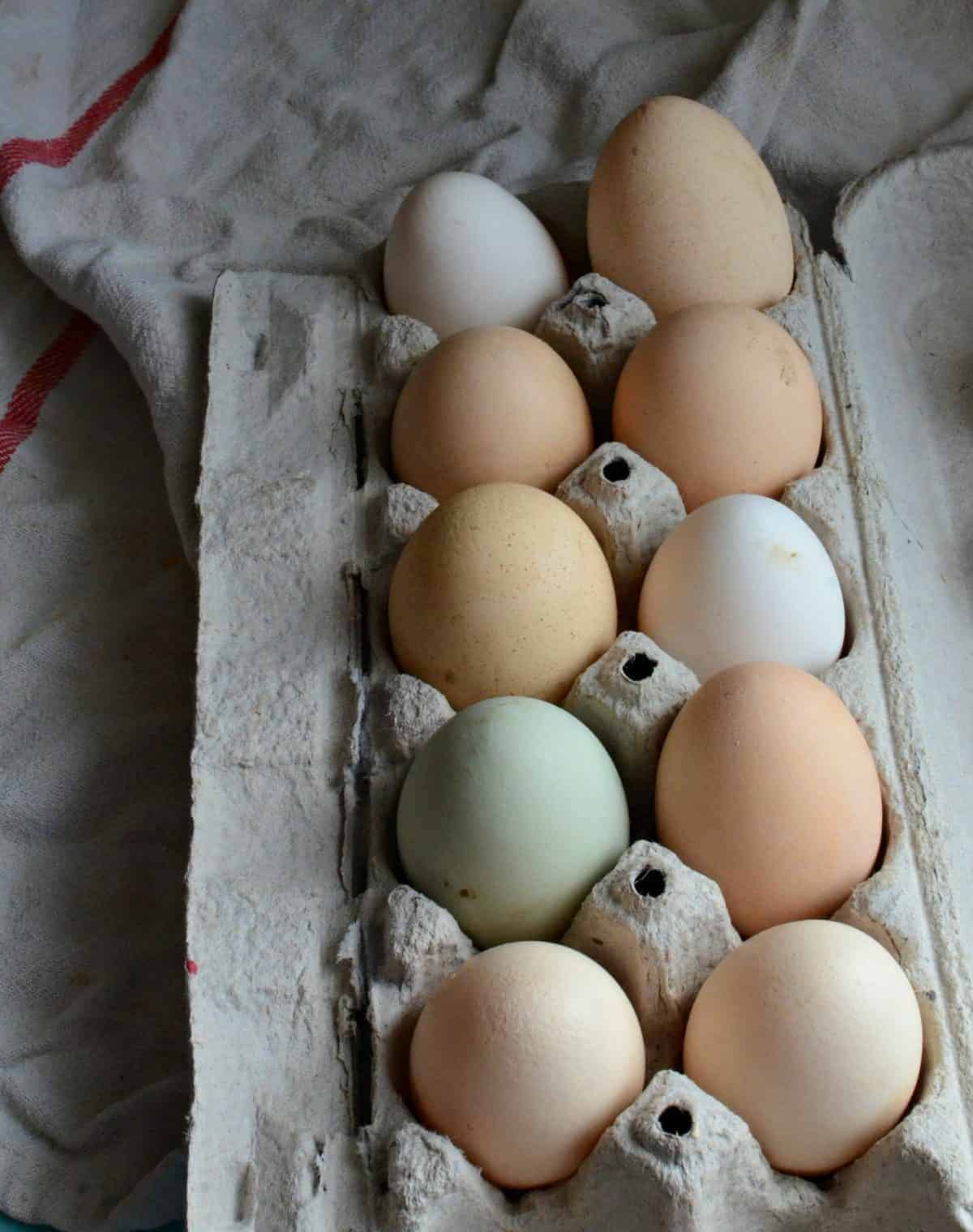 How to Test the Freshness of an Egg
Did you know that your average store-bought egg is 3 weeks old but they could very well be months old. Farmers can hold onto eggs for 30 to 90 days before they are shipped off for "packing" (the information that I found for that number varied a lot, so it's a wide range). Eggs are several more weeks old by they time they are packed, shipped, and then purchased by you. Surprised? I sure was.
This information was a big motivator for me to stop buying commercial eggs. When production from my own hens is down I try to find a local source for eggs. Not only is the egg quality and freshness excellent, but I'm also supporting the local economy (and when you are a small business owner that's something tied very closely to your heart).
It's hard to tell how old an egg is when you buy it, whether you bought commercial or locally raised eggs. The first clue is the yolk. An old yolk sinks down flat and thin but a new yolk stands up very high and round, it looks more like an orange ball in the middle of the white. When my hens free range a lot in the summer they tend to find their own secret places to nest in the grass and sometimes those hidden nests are nearly impossible to find. When I or the kids do happen upon a secret clutch I'm in no hurry to crack an egg open to see how perky it's yolk is though. Have you ever been subjected to the smell of a truely rotten egg? Not a pleasant experience.
There's an easier way to tell how fresh an egg is. I like to call it the water method.
I had my wonderful friend Becca create this beautiful egg graphic just for us to enjoy. I think I might even print it out and hang it on my wall. You should too!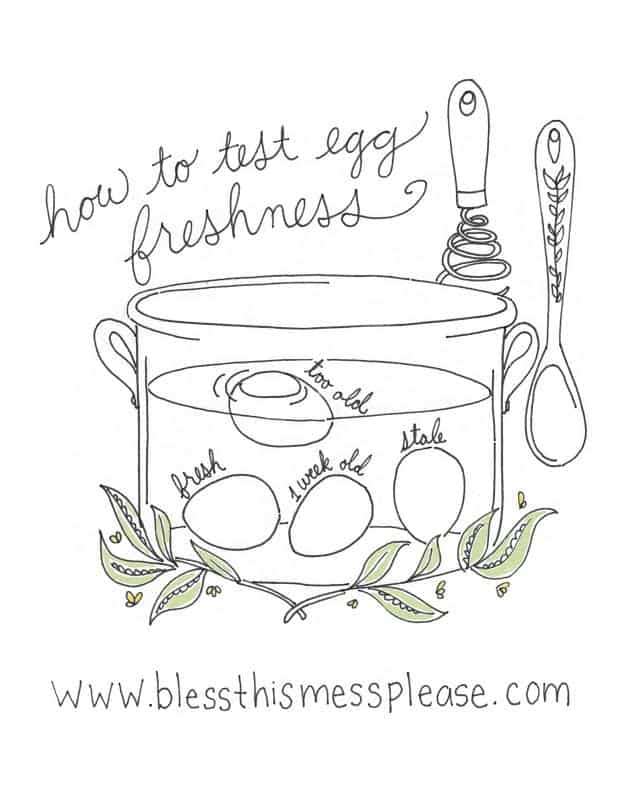 How to Test the Freshness of an Egg:
The Water Method:
Lay your eggs in question in a clear glass container. Fill the container with water so that it covers the eggs. Observe how the eggs react in the water.
Extra fresh: lay flat on the bottom, just the way they were when you put them in the pan
Fresh (around 1 week old): One end of the egg will start to leave the bottom of the pan, still very usable
Getting old/stale (around 3 weeks old): the egg will stand completely on its end though one end is still touching the bottom of the container
Too old: Floating eggs get fed to animals in this house. If it leaves the bottom of the container at all I don't use it. I've never had an egg float all the way to the top of the bowl, that would be one very old egg.
The next time you put a pan of commercial eggs on to boil pay a bit of attention. Chances are very good most of the eggs will stand right up on their ends. Interesting isn't it!
That's the bulk of what I had to share today, but while we are on the topic of eggs I just have to voice this opinion of mine. Commercially raised chickens, whether for meat or eggs, are some of the saddest and most poorly treated animals around. Commercial egg layers live in tiny little pens with nothing to do but sit, eat a bit, and lay eggs. They never get to scratch around in the dirt, feel the sun on their feather, or live the life I think they were planned to live. Check out a few YouTube videos if you'd like. It's something as a consumer you should see.
I'm not one whose's buying special meal worms for my hens or feeding them warm oatmeal on cold winter mornings. I know that God's creatures were put here to fill the measure of their creation and to fulfill a purpose, but I also strongly believe that we were put here to be of those creatures. Don't get sucked into the cheap food culture just because the mega chain store has eggs for $.89 a dozen at Easter. That cheap egg came at a price to someone and unfortunately that someone (or thing) has no voice in the matter.
Head out to a farm and see where your eggs are coming from. Can't make it to a farm? Hit up the farmer's market when the country comes to you. It's good for you, it's good for the economy, it's good for the farmer, and it's good the the chickens.
Plus, eggs from happy chickens just taste better. Trust me.
Stepping off my soapbox now.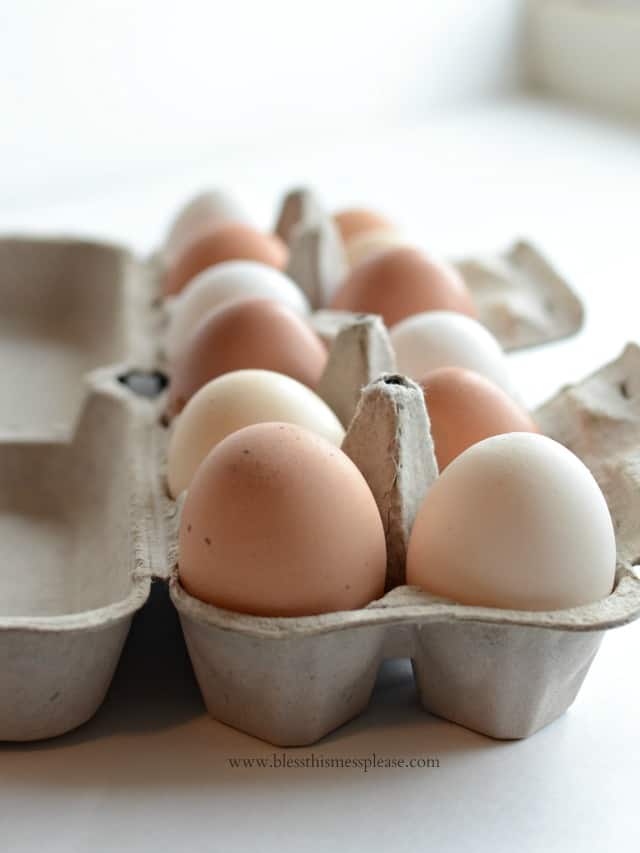 And look at how pretty fresh eggs can be! They comes out in all different shades when you dye them for Easter.
And in other egg news- I was SO excited to try my hand at incubating some chicks myself. I'm sad to say that due to a long power outage last week all of my little embryos stopped developing and died. I should have had chicks yesterday 🙁 Loosing power to the incubator never even crossed my mind when I started. Power outages happen so rarely, but it was out almost all day. I wrapped my incubator in towels and hoped all would be well but things just didn't pan out. I'm debating about whether to try again right now or wait a year. Time will tell.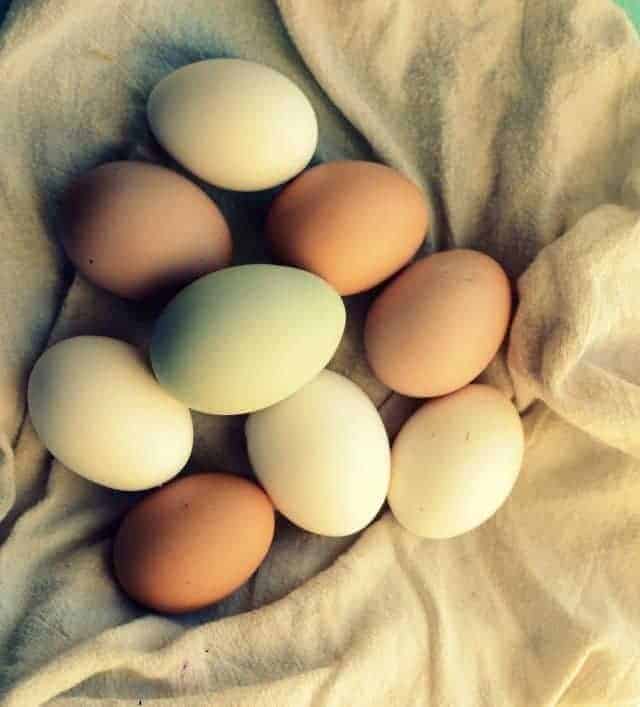 Try some of these EGGcellent recipes:
Enjoy the graphic and have fun seeing How Fresh Your Eggs Are! And do tell, are buying local eggs something you've thought about or do? Thanks for stopping in and have a great day.