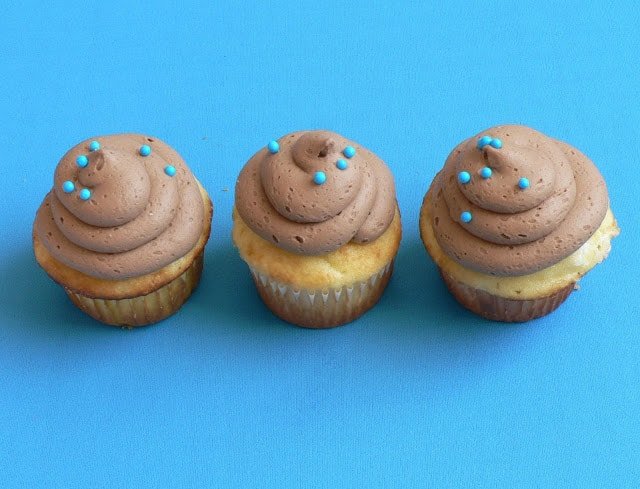 Here is the last of the cupcakes from the dessert auction that I'm going to post.
We ran down to visit the in-laws yesterday and will be heading back home tonight. It was so nice last week that I planted my cold weather garden and now it's snowing! I'm so excited to go home and check on my little plants and seeds. IFA was supposed to get their chicks in this weekend too. I've wanted a little brood for years and now it's going to happen. Fresh eggs here I come. I love life as a country bumkin.
Now for some chocolate. Live really is good, huh.
This recipes makes a lovely, light, and fluffy icing. The chocolate flavor is subtle. It doesn't scream "I'm eating a chocolate bar on top of a cupcake!" This is not a dark chocolate or fudgy chocolate icing at all. It has that classic chocolate flavor without being over the top or hiding the flavor of the cupcake.
This is my chocolate icing of choice for cupcakes because I love piling on the icing when it comes to cupcakes. I want to be able to enjoy the whole cupcake, icing and all, without feeling like I'm going to die without a glass of milk. So pile it on, that's what icing is for, right?
Classic Chocolate Buttercream Icing for Cupcakes
Printable Recipe
Icing for 9-10 heavily frosted cupcakes
1/2 cup butter, at room temperature
3-4 T. heavy cream
2 tsp. vanilla
1/3 cup cocoa powder
2.5-3  cups powdered sugar
Add the butter and cream to the bowl of your stand mixer. Mix on medium speed with the whisk attachment until the butter and cream combine. Increase the speed to high and mix for 3-5 minutes until the mixture is light and fluffy, stopping to scrape down the sides a time or two. Add the vanilla, cocoa, and 2.5 cups of the powdered sugar. Mix on low until combined and then increase speed to medium and whip for 1 to 2 minutes.
The constancy of the icing is important if you are going to pile it high on a cupcake. It should be a medium consistency. If you mix the batch of icing with a metal teaspoon (the kind you use for dinner) it should stand up straight in the middle of the bowl when it is in the icing. So, you should be able to stir it with a spoon by hand but it should also be sturdy enough to hold the spoon up. If the icing is too thick, add a little cream. If it needs to be a little thicker add a 1/4 cup of powdered sugar and whip to combine until it's sturdy enough.
Place in an icing bag and pipe on the cupcakes with tip 2A