Perfectly seasoned with lime juice, garlic, cumin, chili powder, and smoked paprika, these crave-able Grilled Chicken Tacos are the most satisfying and simple meat you'll ever grill.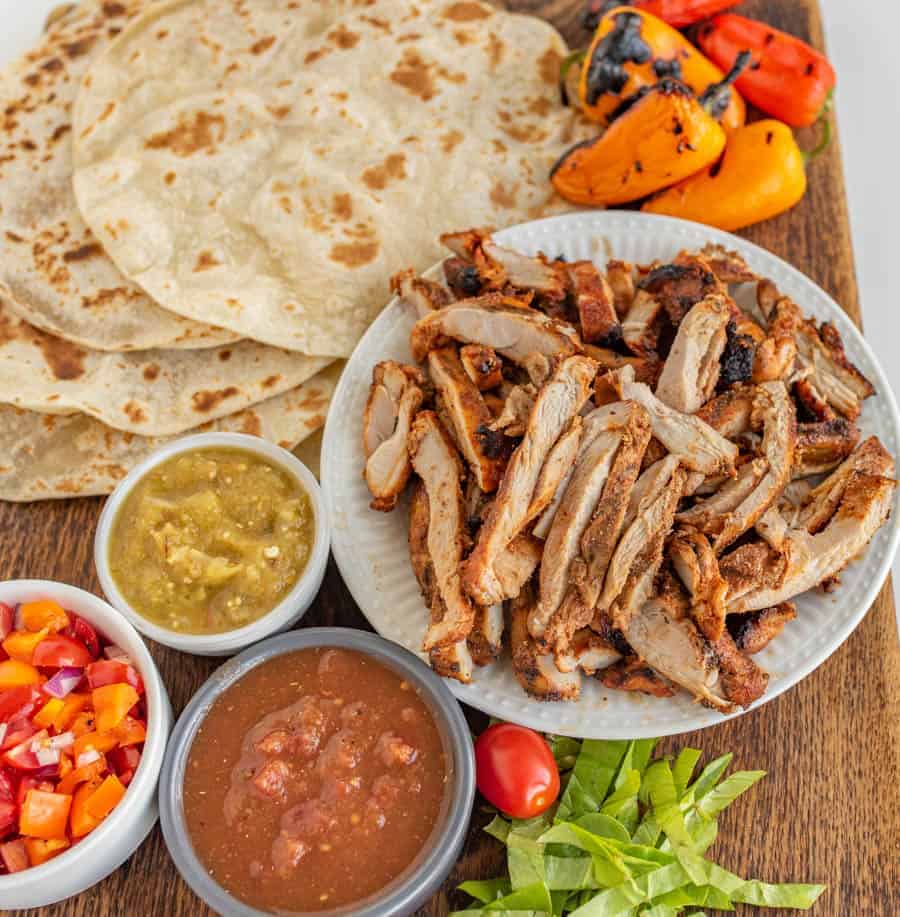 Grilled Chicken Tacos
Have I mentioned how much I love tacos? I think I may have said it once or twice or 326 times. Okay, you caught me. I LOVE them. I could practically live off of them if that were socially acceptable. Do you feel me, or do you feel me?
I think one of the things that makes tacos so great is that they're eternally customizable. For someone with five children (who each have five significantly different palates), tacos solve a LOT of problems for me. I mean, there's the obvious: Wrap up practically anything in a tortilla with a little cheese and salsa, and you're golden. Nine times out of 10, it'll be delicious because the concept of tacos alone is brilliant and consistently good.
Plus, they're a casual, DIY meal that my whole family can enjoy. If you have a kid who won't even think about touching lettuce, no problem! They'll bypass that bowl when building their tacos. If one child don't like tomatoes or has a lactose allergy, easy! Just keep those guys away. It's wonderful.
And these tacos... Guys, THESE tacos are lovely and smoky and zesty and bright. I love the extra oomph of flavor grilling gives meat, plus these chicken thighs are seasoned to perfection with lime, garlic, smoked paprika, chili powder, and cumin. It gives them the most beautiful color and texture, and not to mention, they taste real, real good. I can't get enough, and I hope you can't either!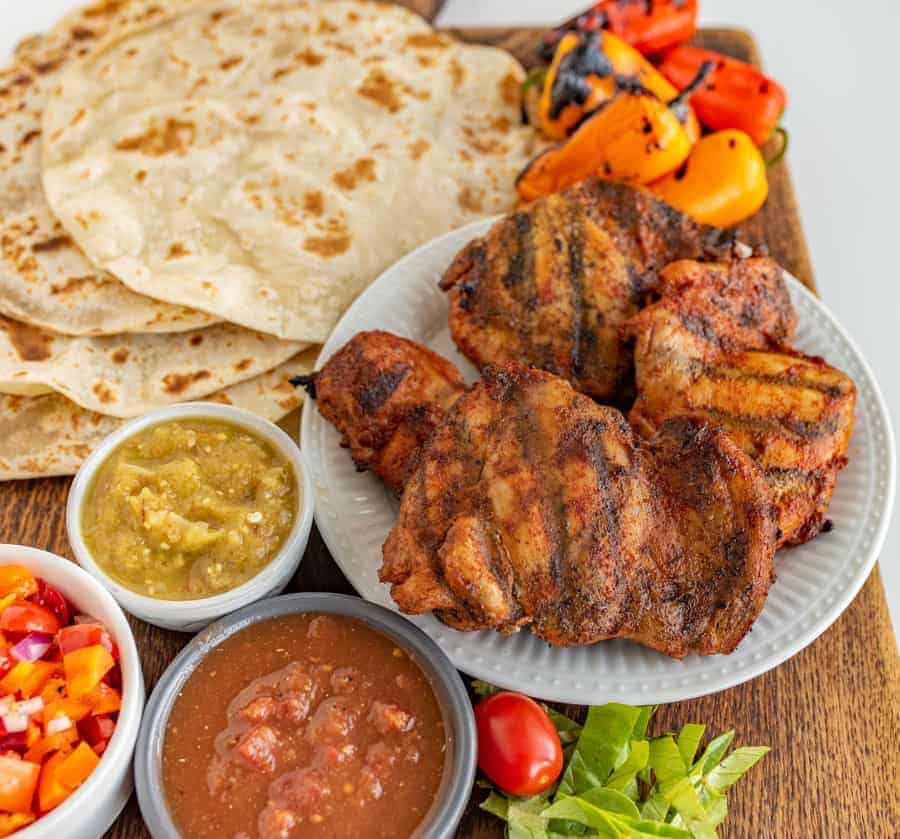 How much chicken do I need for tacos?
For this recipe, I recommend picking up 2 pounds of boneless skinless chicken thighs from the store. It'll make quite a bit, but if your family could double as a 7-member band like mine could (as long as I'm not the singer...), then this is a perfect amount for a meal plus some leftovers.
Speaking of leftovers, this chicken is just as exquisite the second time around as it is the first! Store it in the fridge in an airtight container for up to 5 days after grilling it. I like to put it on taco salad or nachos or in soup or burritos if I have a good amount of leftovers.
What do you need for a taco bar?
To make a fun and festive taco bar, you could include so many items! The necessities include tortillas and taco meat (or beans, if you want to skip the meat). You can also put out chopped lettuce, sliced tomato, rice, diced onion, salsa, cilantro, guacamole, sour cream, olives, cheese, and jalapenos. Pick your favorites, and go to town!
What is the best cheese for tacos?
This is like asking, "Who's your favorite child?" There is NEVER a right answer! You can use any of your favorite cheeses on these tacos -- queso fresco (that crumbly white cheese used on a lot of traditional Mexican dishes), Monterey jack, a Mexican blend, or cheddar all work well!
What foods go with tacos?
Another perk of tacos is that they could be a solo-standing meal without sides and still get you protein, carbs, fresh veggies, and all the other goodness you want and need in a meal! But if you're wanting a side, chips and salsa are ALWAYS a good idea, or a street corn salad, beans and rice, or a fresh side salad.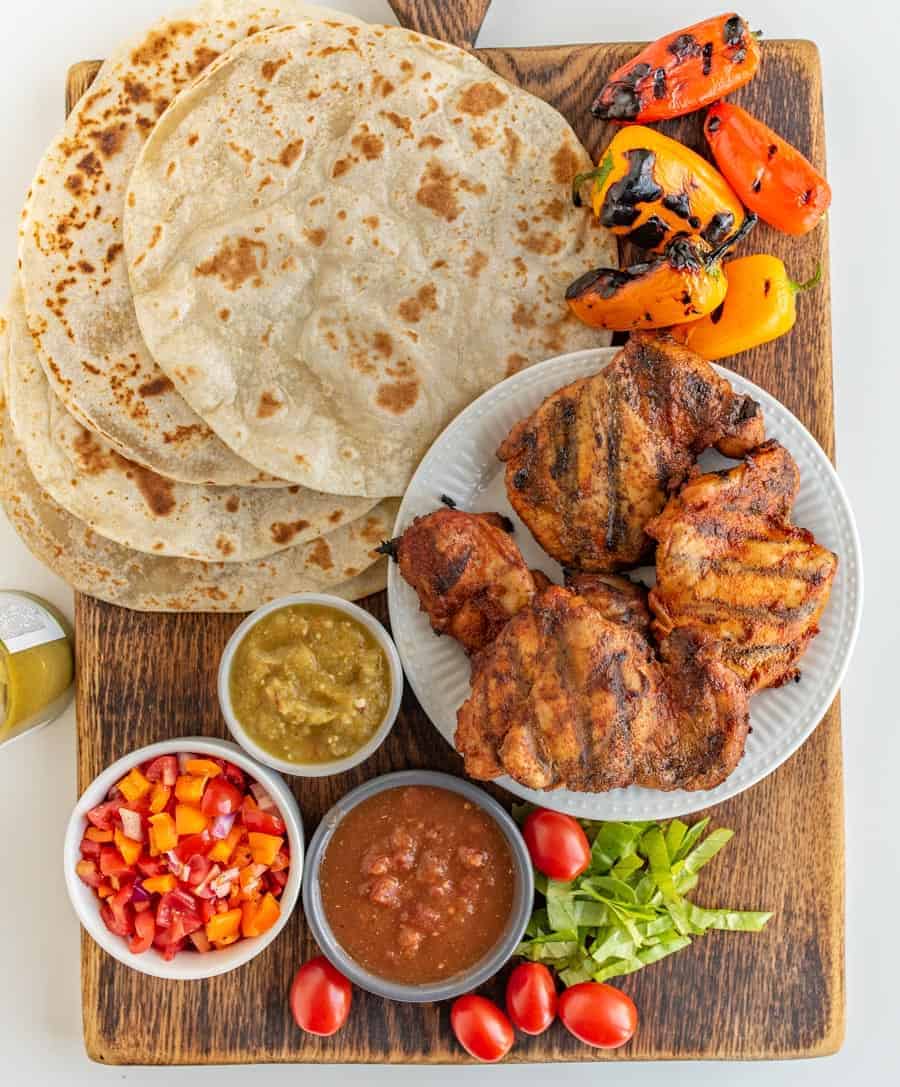 Print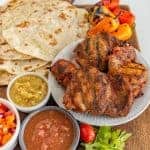 Grilled Chicken Tacos
---
Author:

Total Time:

1 hour 30 min

Yield:

Serves 6
Description
Perfectly seasoned with lime juice, garlic, cumin, chili powder, and smoked paprika, these crave-able Grilled Chicken Tacos are the most satisfying and simple meat you'll ever grill.
---
2

pounds trimmed boneless skinless chicken thighs

⅓ cup

olive oil

4 tablespoon

s fresh lime juice

1 tablespoon

minced garlic (about

3

cloves)

2 teaspoon

s chili powder

1 ½ teaspoons

ground cumin

1 teaspoon

smoked paprika

1 teaspoon

salt

½ teaspoon

ground black pepper
---
Instructions
Place the chicken in a large (gallon) resealable bag.
In a small bowl, whisk together the olive oil, lime juice, garlic, chili powder, cumin, smoked paprika, salt, and black pepper.
Pour the mixture over the chicken in the bag. Work the chicken a bit so that it is all evenly covered. Rub the marinade all over the chicken.
Place the bag in the the fridge, and let the chicken marinade for 1 to 6 hours.
Preheat your grill on high for 5 minutes.
Use a brush to scrape the grates well, and then lightly oil the grates (I foil a paper towel up and dip it in a bit of oil and then use tongs to rub it on the grates).
Place the chicken on the grill, reduce the heat to medium, and close the lid. Cook the chicken for 10 minutes.
After 10 minutes, flip the chicken over, and cook for an additional 8 to 12 minutes, or until the chicken is cooked through. (The internal temperature of the chicken should read 165 degrees F. when you remove it from the grill.)
Let the chicken rest for 3 to 5 minutes before slicing into strips.
Serve in warm tortillas with your taco toppings of choice.
Notes
This little $10 thermometer will change your grilling game! No more guessing if the meat is done (and overcooking it "just to be safe"). I highly recommend getting one.
You can use chicken breast for this recipe, but boneless skinless thighs are SO good. I'm here to convert you. After you slice it, no one can tell it's dark meat, and it's so much more tender and flavorful than breast meat.
Prep Time:

10 min

Cook Time:

20 min

Category:

dinner

Method:

grill

Cuisine:

American, Tex-Mex, Mexican
Keywords: chicken tacos, grilling, grilled chicken, easy dinner, chicken
Fill out this meal with some of these sides:
Few things are easier and more delicious than this grilled chicken taco recipe because it's full of flavor, the whole family will love it, and you won't have to turn on the oven to get dinner on the table. That's a winner winner chicken dinner in my book.