Quick Stovetop Chicken and Rice brings together tender protein and hearty grains, creating a satisfying meal. When you add zucchini to the mix, it introduces a burst of freshness, color, and texture, elevating the dish to new heights.
I love meals that can be whipped up quickly and really pack a punch. This dish is one that whole family will devour. It's simple, easy and healthy. Triple threat!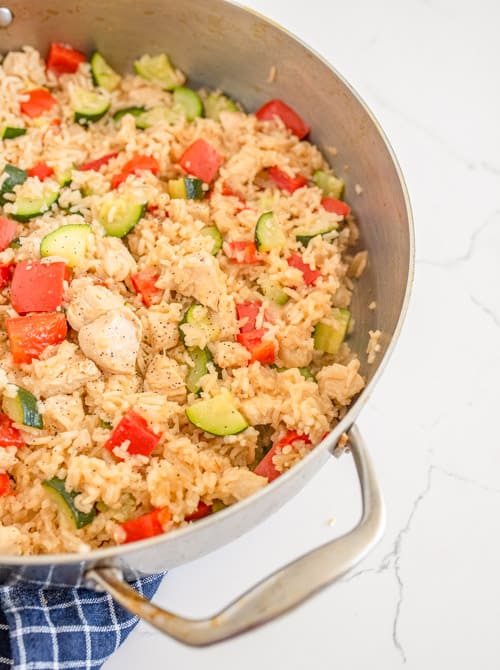 Quick Stovetop Chicken and Rice
Chicken, with its mild flavor and tender texture, is a popular protein choice for many people. It can be prepared in countless ways, from grilling and roasting to sautéing and frying. Rice, on the other hand, is a staple food in many cultures worldwide, known for its ability to adapt to various cooking methods and absorb flavors beautifully. When combined, chicken and rice create a well-balanced meal that is both satisfying and nourishing.
Zucchini, a summer squash with a mild, delicate taste, complements chicken and rice splendidly. This vibrant green vegetable adds a refreshing touch to the dish, providing a subtle crunch and a slightly sweet flavor. Zucchini is not only delicious but also packed with essential nutrients. It is an excellent source of vitamins A and C, potassium, and dietary fiber. The addition of zucchini not only enhances the overall taste but also adds a nutritious boost to the meal.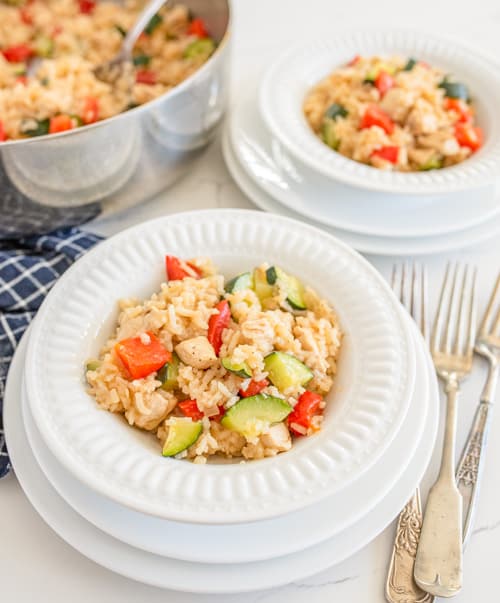 Ingredients
Butter
Onion
Chicken breast or thighs
Long grain rice
Garlic
Chicken broth
Red bell pepper
Zucchini
Keep scrolling to find a full, printable recipe with a detailed ingredient list.
Recipe Instructions
Start by heating butter in a large skillet over medium-high heat and sautéing onions until softened.
Add chicken and cook until no longer pink, stirring frequently. Create space in the pan and melt the remaining butter, then add rice and sauté for a few minutes.
Stir in garlic and salt until fragrant. Gradually pour in chicken broth, bringing the mixture to a boil. Reduce heat, cover, and simmer without stirring for 12 minutes.
Add bell pepper and zucchini, stir, cover, and cook for an additional 8 minutes until both vegetables and rice are tender.
Adjust seasoning, and serve immediately for a delicious and hassle-free meal.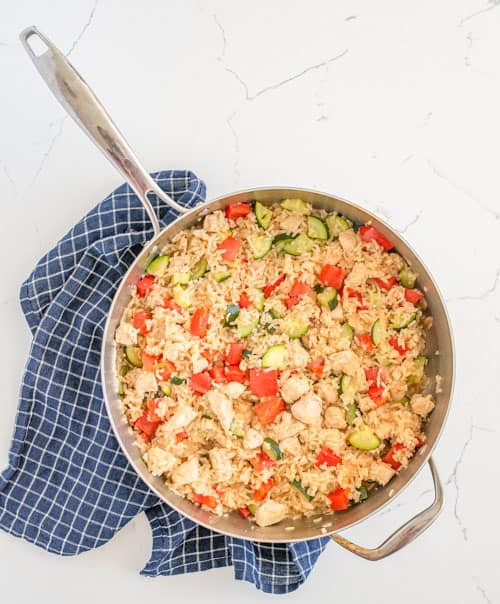 Frequently Asked Questions
Can I use brown rice instead of white rice?
Yes, you can substitute brown rice for white rice in this recipe. Keep in mind that brown rice typically requires a longer cooking time AND additional liquid, so you may need to adjust the cooking duration accordingly or partially cook the brown rice before adding it to the skillet.
Can I use a different protein instead of chicken?
While the recipe calls for chicken, you can customize it to your liking by using shrimp, beef, tofu, or any other protein of your choice. Adjust the cooking time accordingly to ensure your protein is cooked through.
Can I add other vegetables to the dish?
Certainly! This recipe provides a base of onion, bell pepper, and zucchini, but you can certainly add other vegetables to suit your preferences. Popular additions include carrots, peas, corn, broccoli, or mushrooms. Just ensure that the vegetables you choose have a similar cooking time to the existing ones in the recipe.
Can I make this recipe vegetarian or vegan?
Yes, you can adapt this recipe to be vegetarian or vegan. For a vegetarian version, you can omit the chicken and use vegetable broth instead of chicken broth. To make it vegan, replace butter with plant-based oil or vegan butter substitute
More Recipes
If you've tried this Quick Stovetop Chicken and Rice recipe or any other recipe on Bless This Mess, then don't forget to rate the recipe and leave me a comment below! I would love to hear about your experience making it. And if you snapped some pictures of it, share it with me on Instagram so I can repost on my stories.
📖 Recipe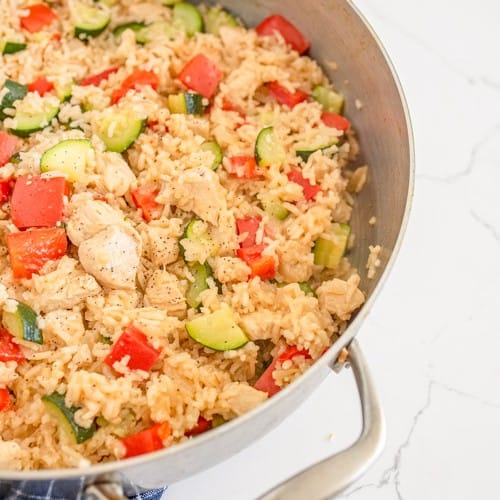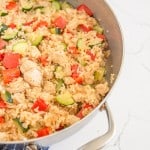 Print Recipe
Stovetop Chicken and Rice Skillet with Bell Peppers and Zucchini
Quick Stovetop Chicken and Rice brings together tender protein and hearty grains, creating a satisfying meal. When you add zucchini to the mix, it introduces a burst of freshness, color, and texture, elevating the dish to new heights.
Ingredients
4

tablespoons

butter

divided

½

of a large onion

finely diced

1

pound

boneless skinless chicken breast or thighs

cut into 1-inch pieces

1

cup

uncooked long grain rice

2

teaspoons

garlic

minced

1

teaspoon

salt

2 ½

cups

chicken broth

1

large red bell pepper

roughly chopped

1

medium or 2 small zucchini

cut into 1-inch pieces

Salt and pepper

to taste
Instructions
In a large skillet or pan (I used a 12-inch skillet) that has a lid, over medium-high heat, add 2 tablespoons of the butter. Add the onion and cook until the onion is softened and translucent, about 4 minutes.

Add the chicken to the pan and cook until no longer pink, stirring often.

Push the chicken mixture to one side of the pan, and add the remaining 2 tablespoons of butter to the other side of the pan. When the butter melts, add the rice to the pan.

Saute the rice in the melted butter for a few minutes, stirring often.

Add the garlic and salt to the pan and cook, stirring constantly, until the garlic is fragrant, about 30 seconds.

Slowly pour in the chicken broth, and combine the rice with the chicken mixture. Bring the mixture to a boil. Reduce the heat to medium or medium-low, so that it's still slowly simmering, and add a lid to the pan.

Cook without stirring for 12 minutes.

After the 12-minute cooking time, add the bell pepper and zucchini and stir to combine.

Replace the lid and cook an additional 8 minutes or until the vegetables and rice are both tender.

Remove from heat, adjust salt and pepper to taste, and serve right away.
Notes
This is a very bare-bones recipe. Feel free to add a tablespoon or two of your favorite fresh herbs before serving or a tablespoon of your favorite seasoning blend such as a Cajun seasoning or Italian seasoning.
This dish is great with cheese on it, if you like that kind of thing! You can stir in ½ cup of cheese (I like sharp cheddar) until it melts and then sprinkle on another 1 to 1.5 cups on top. Replace the lid and let the mixture stand for about 3 minutes or until the cheese melts.
You can use lots of different vegetables in this dish. I like it with snow peas and asparagus too.
Precooked grilled chicken would be great in this recipe too, to add some smokiness and flavor.
Want to make this meatless? Replace the chicken with 2 to 3 large portobello mushroom caps. Wash the caps and remove the stems and gills, and slice the mushrooms into strips. Use them as directed in the recipes in place of the chicken.
SERVING SUGGESTIONS: This is great with a simple cucumber salad: just mix fresh, chopped cucumbers, tomatoes, and some thinly sliced onion together, and dress with oil, vinegar, and salt and pepper. Easy and so great. Don't forget a side of watermelon.
MEAL PREP: You can cut up your chicken ahead of time and any of your veggies that you'd like to; just store them covered in the fridge until you are ready to use them (store the onion separate from the bell pepper and zucchini since you add them at different times to the recipe).
Nutrition
Calories:
287
kcal
|
Carbohydrates:
28
g
|
Protein:
20
g
|
Fat:
10
g
|
Saturated Fat:
5
g
|
Polyunsaturated Fat:
1
g
|
Monounsaturated Fat:
3
g
|
Trans Fat:
0.3
g
|
Cholesterol:
70
mg
|
Sodium:
904
mg
|
Potassium:
480
mg
|
Fiber:
1
g
|
Sugar:
3
g
|
Vitamin A:
944
IU
|
Vitamin C:
33
mg
|
Calcium:
29
mg
|
Iron:
1
mg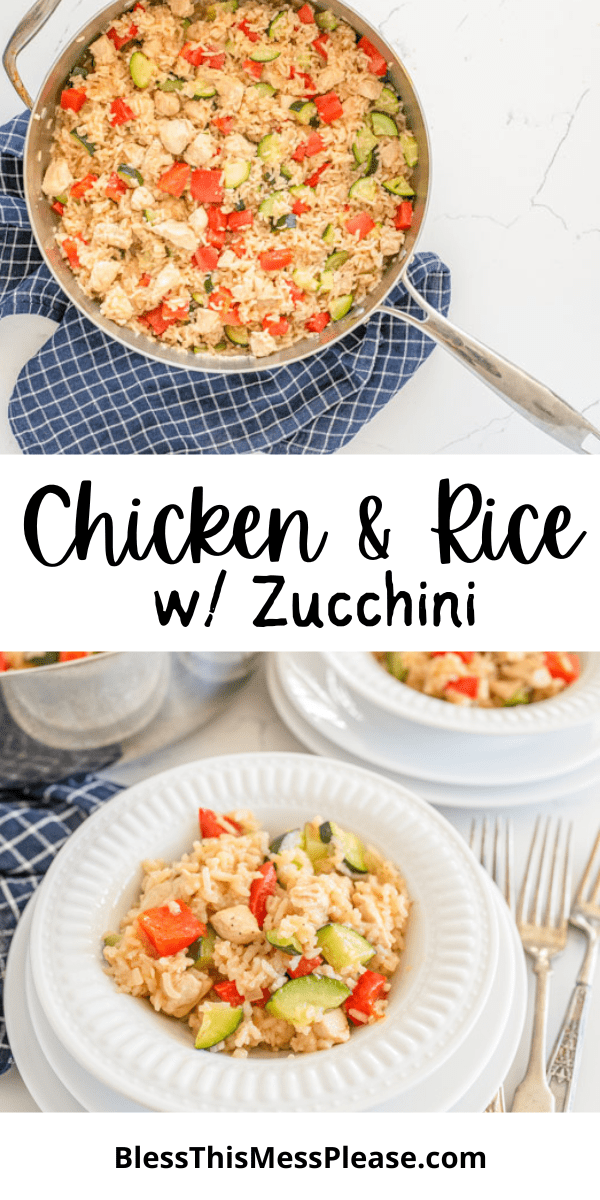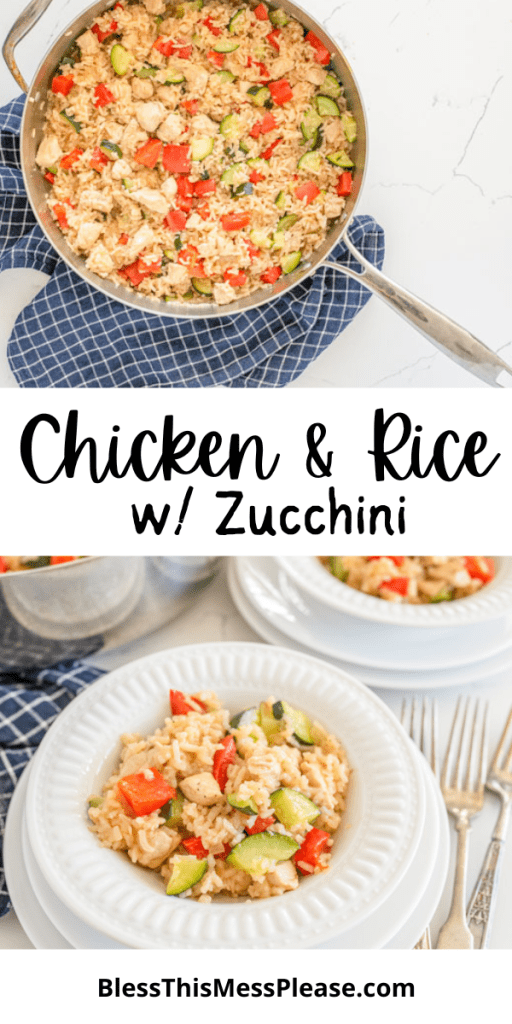 Stovetop Chicken and rice with zucchini is a winning combination that brings together tender chicken, fluffy rice, and vibrant zucchini. This dish not only satisfies your taste buds but also provides a balanced and nutritious meal.