Cranberry Orange Bread is sweet, gorgeous, and perfect for giving! Made with lots of orange zest, melted butter, and fresh cranberries.
This is one of my all-time favorite holiday treats. I make batches and batches of it to put on my friend and neighbor goodie plates, take to parties, have for dessert when friends come over for mom dates, and every other excuse I can think of. A few weeks ago, I picked up my first bag of fresh cranberries and I had just enough to make a double batch of this bread after making the other recipe I had planned for them (I did a cranberry orange pork roast that was fabulous! The recipe is in my Freezer to Slow Cooker ebook). It was so exciting to be making this recipe because not only is it really really good, but it reminds me of Christmas and the holiday season and giving. I may or may not have been jamming to my Christmas station on Pandora while baking, too.
I'm planning on having an intentional Christmas this year. Doing things because they mean something and because I want to and not just because I should or can. I know it might be crazy, but I just love making dozens of goodie plates for neighbors every year and that is for sure on my list for this season. This bread has made the list to go on them again, too! That's saying something!
I have made this recipe as traditional loaves, tea loaves (which are pictured), muffins, and mini loaves as well. It always turns out well and it always gets rave reviews. There's something magical about those bright little pops of tart cranberry mixed in with all that sweet bread. Adding a little orange glaze to the mix really puts this bread over the top. You will love it!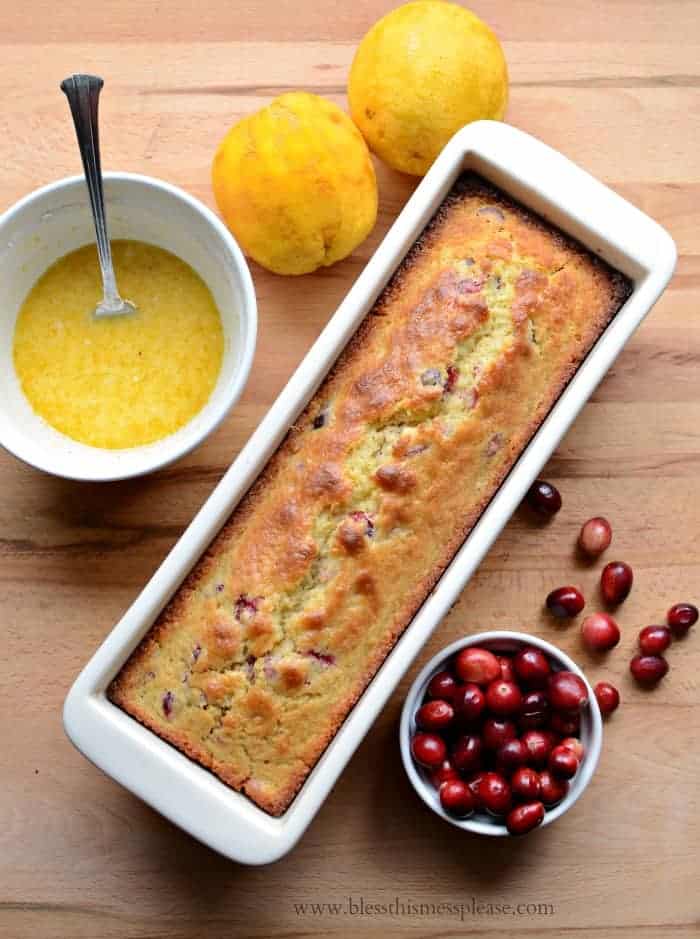 Tips and Tricks for Making Cranberry Orange Bread
Isn't it pretty? I got the tea loaf pan from King Arthur Flour last year for Christmas and I just love it. I do not like things that are battery or raw when they are supposed to be cooked (like undercooked pizza dough and quick breads; cookie dough is very much ok though). The tea loaf pan really helps to ensure a properly cooked quick bread and you bake it for less time, too, which is nice. No matter what you choose to bake this recipe in, adjust your cooking time as needed; it's good all the ways.
Plan on buying a few extra cranberries for your cranberry sauce recipe. When they are hanging out in the fridge after Thanksgiving, you'll be obligated to make this bread.
Mixing the orange zest with the sugar before you add anything is the secret of this bread. The sugar pulls the oils out of the zest and you are making orange infused sugar which really makes the orange flavor carry throughout the bread. Best trick ever!
Feel free to double this recipe; it works great.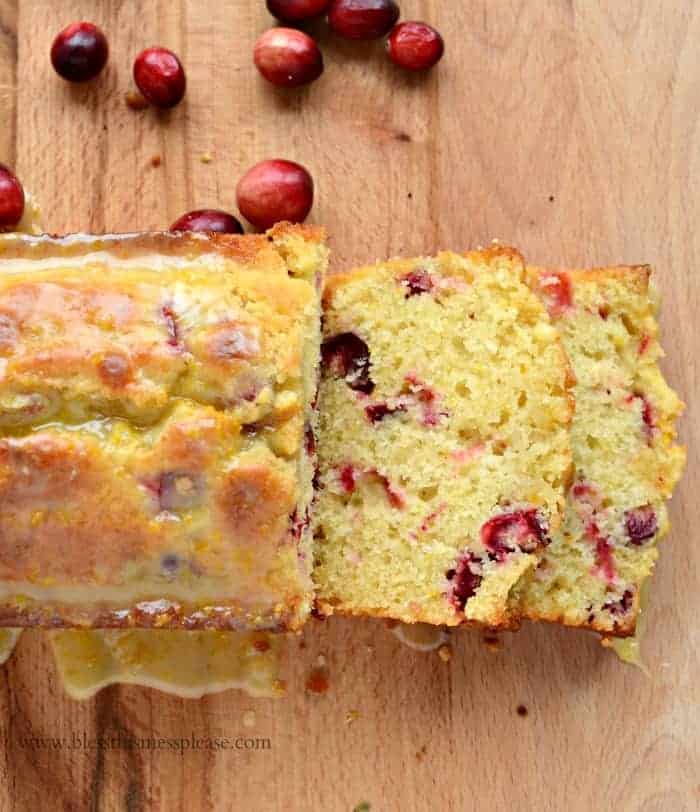 Craving more? Subscribe to Bless this Mess to get new recipes, meal plans, and a newsletter delivered straight to your inbox! If you try this recipe, let me know what you think! Leave a comment, pin it, and don't forget to tag a picture #blessthismesseats on Instagram. I love to see your kitchen skills in action!
Print
Cranberry Orange Bread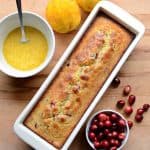 Cranberry Orange Bread is sweet, gorgeous, and perfect for giving!  Made with lots of orange zest, melted butter, and fresh cranberries.
Author:
Prep Time:

10 min

Cook Time:

1 hour 10 min

Total Time:

1 hour 20 minutes

Yield:

1 loaf
Ingredients
For the bread:
1 cup granulated sugar
Zest of 1 large orange
1 1/2 cups all-purpose flour
1/2 teaspoon salt
1 teaspoon baking powder
3/4 cup buttermilk
1/2 cup butter, melted
2 large eggs, slightly beaten
1 tablespoon fresh orange juice
1/2 teaspoon vanilla extract
1 cup fresh cranberries, chopped
For the orange glaze:
1 cup powdered sugar
1 1/2 tablespoons fresh orange juice
1 teaspoon orange zest
Instructions
Preheat the oven to 350 degrees and grease a 9×5 bread pan or a tea loaf pan well.
In a large bowl, add the granulated sugar and the orange zest. Stir the mixture together until the sugar starts to turn a bit orange and is fragrant. Add the flour, salt, and baking powder to the sugar mixture and whisk to combine well.
In a separate bowl add the buttermilk, butter, eggs, orange juice, and vanilla extract. Whisk to combine well.
Add the wet ingredients to the dry ingredients and stir until just combined. Fold in the cranberries and then place the batter into the prepared pan.
Bake until a toothpick inserted into the center comes out clean – about 50 minutes for a tea loaf pan and 1 hour and 10 minutes for a traditional bread loaf pan. If the top starts to brown too quickly, you might want to cover the bread with foil for the last 10 or so minutes of baking.
Remove the bread from the oven and allow it to cool on a wire rack for 20-30 minutes before removing the bread from the pan. Run a knife along the edges of the pan before you turn it upside down to remove it from the pan.
Whisk together the ingredients for the glaze until smooth. Drizzle the glaze over the warm bread and then slice to serve.
Notes
This recipe doubles well if you want to make 2 loaves.
This recipe is adapted from and inspired by Two Peas and Their Pod.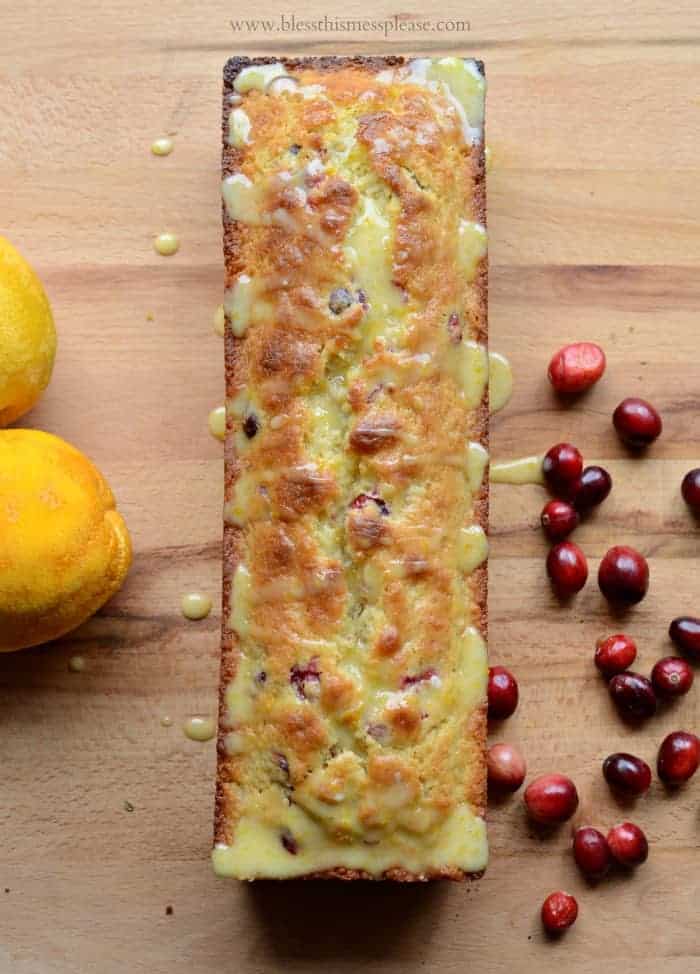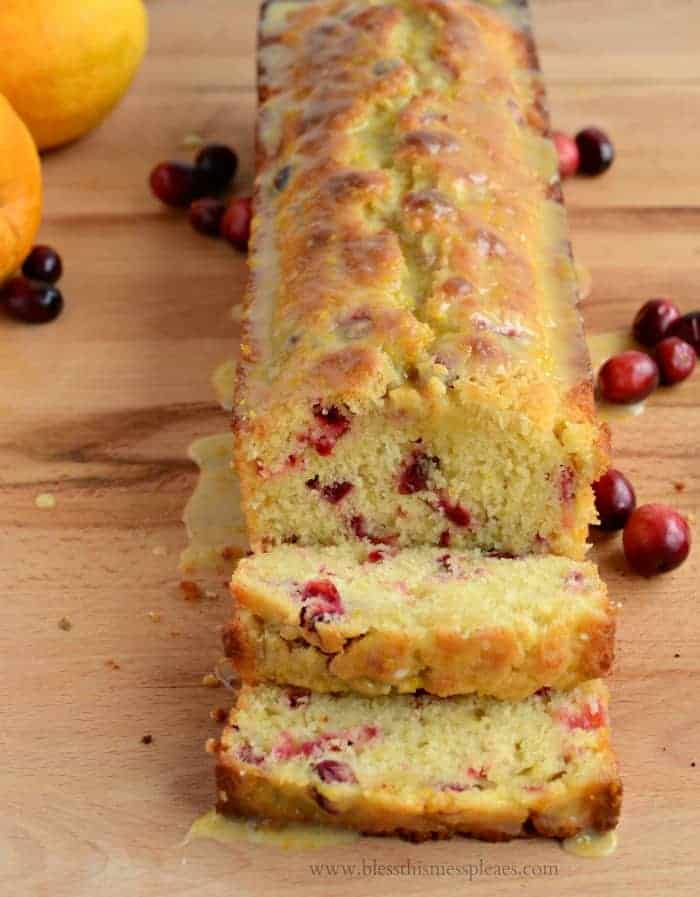 I'm totally wishing I had some of this Cranberry Orange Bread in the house still, but it sure didn't last long.