Let's dive into the sugary world of Donut Holes. You might be thinking, "Wait, what? Donuts have holes?" Yup, they sure do! But don't worry, we'll unravel the delicious mystery together.
Imagine you have a tasty, round donut. Now, look right in the middle—do you see a hole? Nope! Donut holes are like the missing pieces of a puzzle. When bakers make ring-shaped donuts, they use a cutter to punch out the center, leaving behind a hole. Instead of throwing these holes away, they fry them up to create the super-popular donut holes!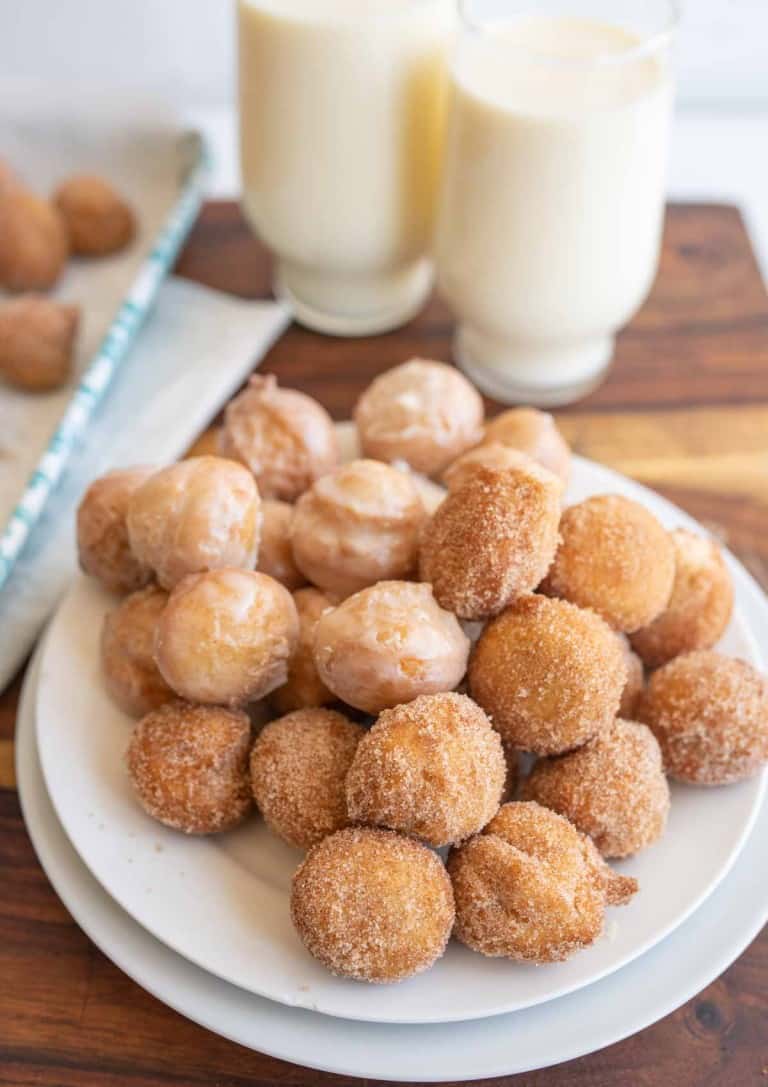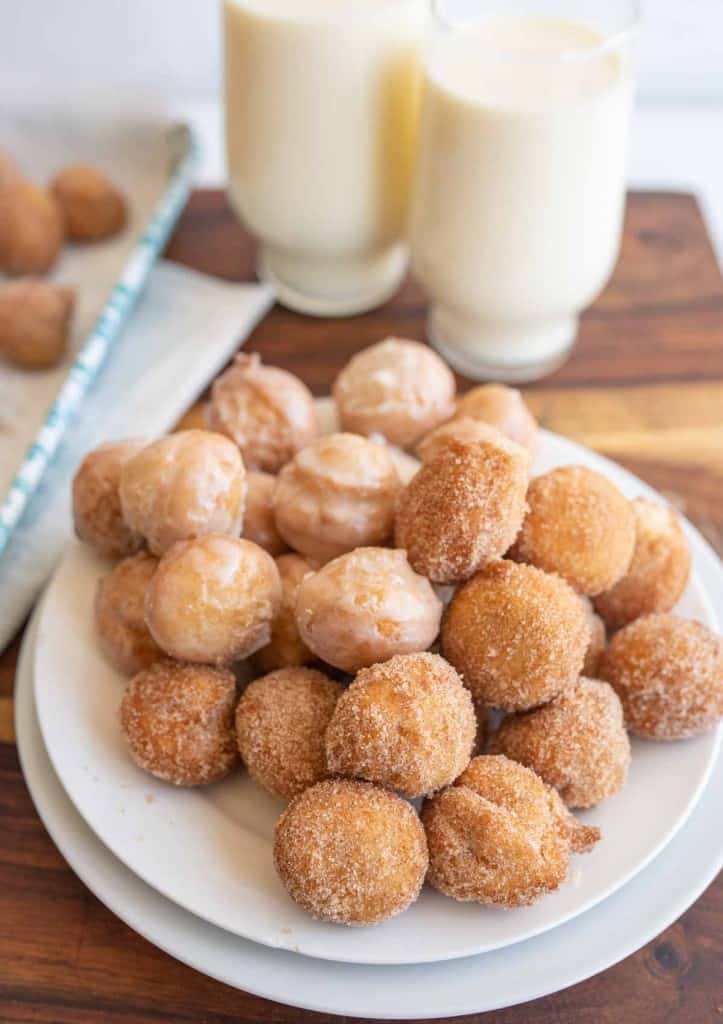 Donut Hole
Donut holes are like tiny bites of heaven that you can easily pop into your mouth. They're like mini-donuts, crispy on the outside and soft on the inside. People love them because they're so easy to share with friends and family, and they come in lots of flavors like chocolate, cinnamon, and even fruity ones!
Now, when's the best time to make these delightful treats? Well, that's the fun part—you can make them whenever you want! But some special times are even better:
1. Weekend Morning Magic: Imagine waking up to the smell of freshly baked donut holes. Weekends are the perfect time to whip up a batch with your family. You can all get creative by decorating them with colorful sprinkles or dipping them in sweet glaze.
2. Celebrations and Parties: Donut holes make any celebration extra fun. Whether it's a birthday party, a sleepover, or a holiday get-together, these bite-sized goodies will be the star of the show.
3. Rainy Day Adventures: Rainy days are great for indoor baking adventures. Invite your friends over, put on your aprons, and start making donut holes. They'll warm your heart as much as they fill your belly.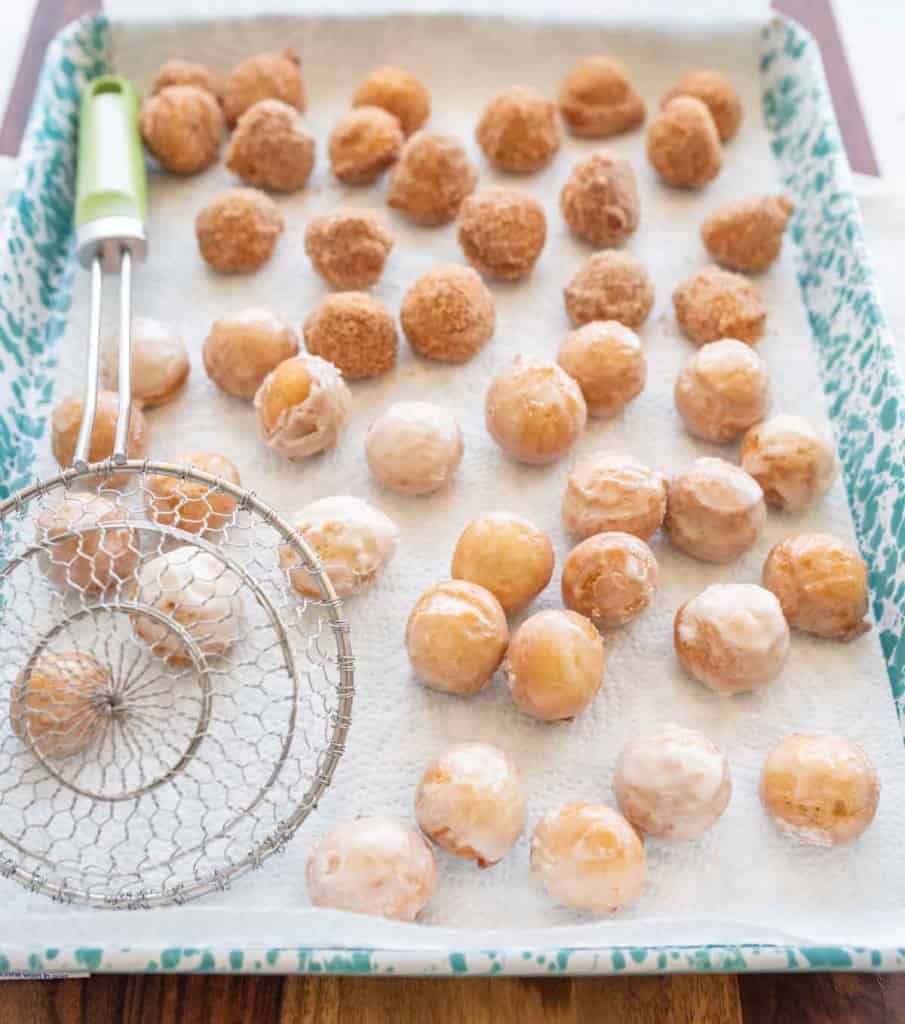 Ingredients
Flour
Sugar
Baking powder
Salt
Cinnamon
Nutmeg
Shortening
Milk
Oil for frying
Recipe Instructions
Mix It Up: In a big bowl, mix flour, sugar, baking powder, salt, cinnamon, nutmeg, shortening, and milk with an electric mixer.
Beat Well: Keep mixing for 2 minutes until creamy.
Add Flour: Slowly put in more flour until dough is soft but not sticky.
Roll and Cut: Sprinkle flour, roll dough, and cut out holes.
Heat Oil: Warm oil in a pan to 350°F (175°C).
Fry Time: Put holes in oil, fry 1 minute each side.
Lift and Rest: Use spoon to take them out, rest on paper towels.
Get Fancy: Roll in cinnamon-sugar or dip in glaze.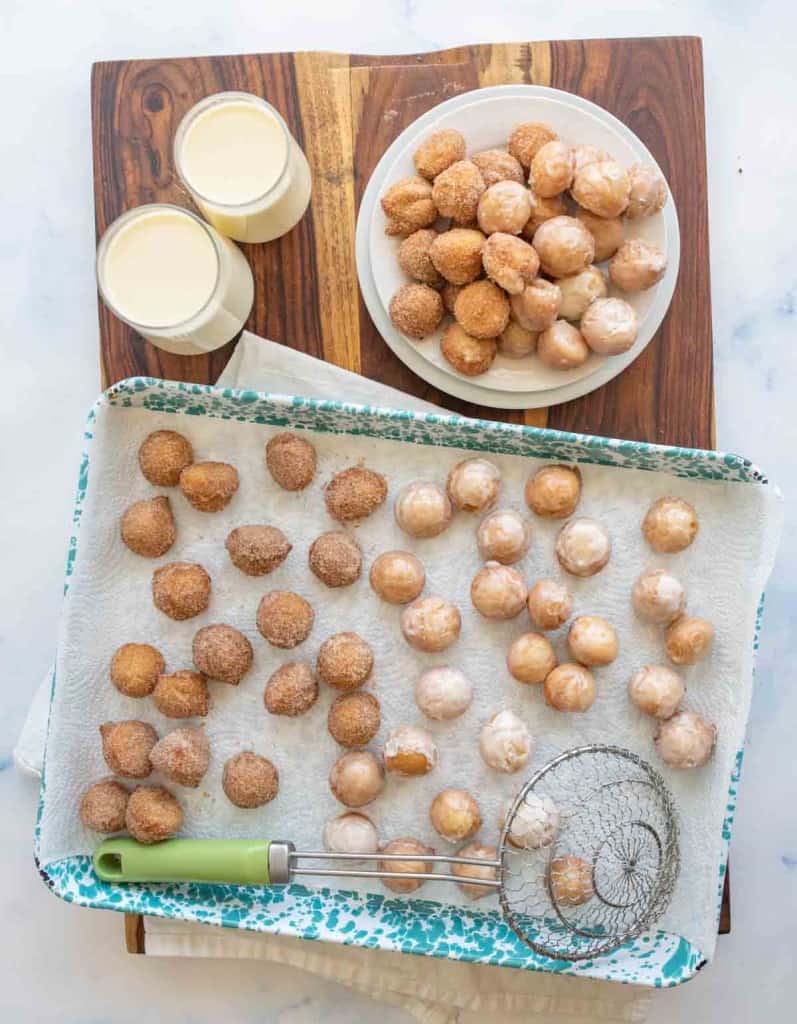 Frequently Asked Questions
What are donut holes?
Donut holes are small, round pieces of dough that come from the center of a regular donut. Instead of throwing them away, they're fried to make bite-sized treats.

Why do people like donut holes?
People love donut holes because they're tiny, yummy, and easy to eat. They come in different flavors and are great for sharing with friends and family.

How do I know when the oil is hot enough for frying?
You can use a thermometer to check if the oil is around 350°F (175°C). If you don't have a thermometer, you'll see tiny bubbles forming around a wooden spoon when you dip it into the oil.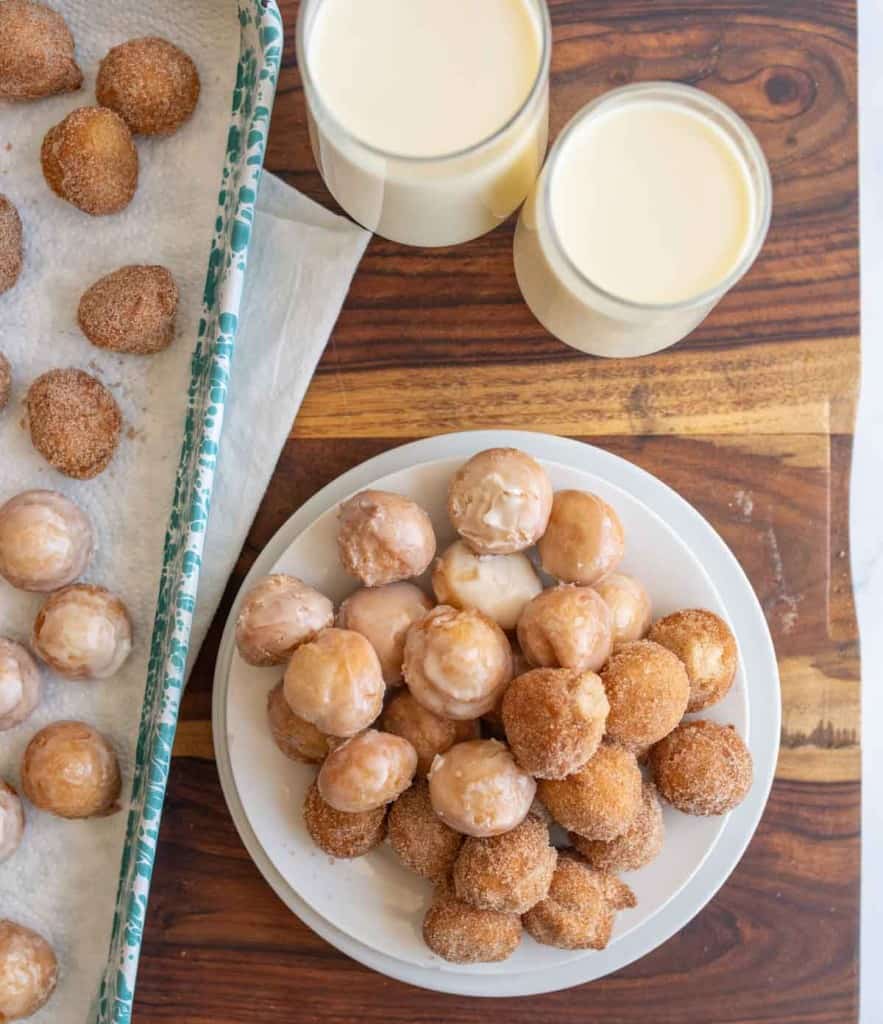 More Recipes
If you've tried this Donut Holes recipe or any other recipe on Bless This Mess, then don't forget to rate the recipe and leave me a comment below! I would love to hear about your experience making it. And if you snapped some pictures of it, share it with me on Instagram so I can repost on my stories.
📖 Recipe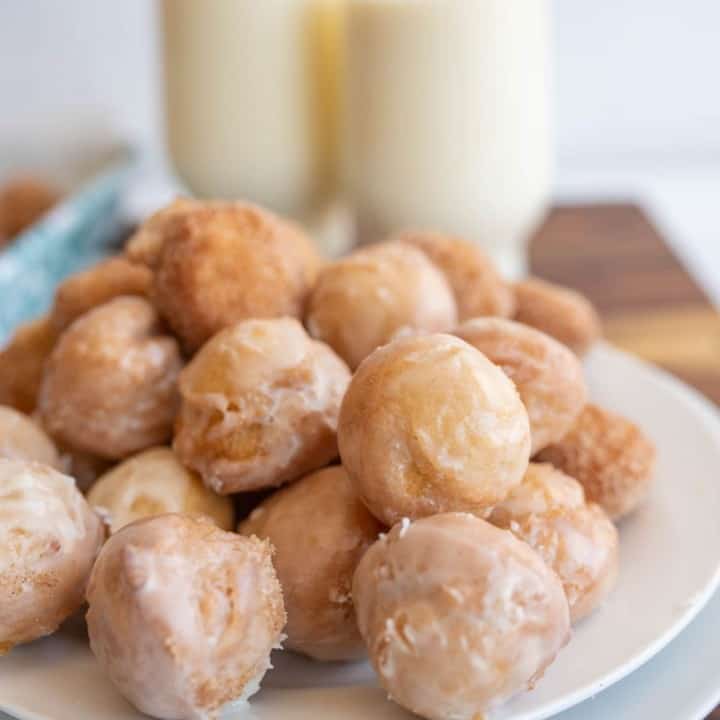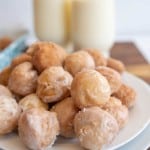 Print Recipe
Donut Holes
Donut holes are delicious bite-sized treats made from the dough taken out of the middle of regular donuts, and they come in various flavors and toppings.
Ingredients
3 ½

cups

all-purpose flour

divided

1

cup

granulated sugar

3

teaspoons

baking powder

½

teaspoon

salt

½

teaspoon

ground cinnamon

¼

teaspoon

ground nutmeg

2

tablespoons

shortening

¾

cup

milk

preferably whole or 2%

Oil for frying

e.g., canola or vegetable oil
For Coating
Cinnamon and sugar mixture

Glaze

recipe below
Instructions
In a large mixing bowl, beat together 1 ½ cups of flour with the sugar, baking powder, salt, cinnamon, nutmeg, shortening, and milk. Use an electric mixer to ensure the batter is smooth and well combined.

Continue beating the mixture for 2 minutes until it's creamy and well-mixed.

Slowly stir in the remaining 2 cups of flour until the dough comes together. It should be soft but not too sticky.

On a well-floured surface, roll out the dough to about ½-inch thickness. Use a doughnut hole cutter or a small round cutter to cut out doughnut holes. Re-roll the scraps and continue cutting until all the dough is used up.

In a deep frying pan or pot, heat the oil to 350°F (175°C). Use a candy or frying thermometer to ensure the oil maintains its temperature. The oil should be deep enough for the doughnut holes to float while frying.

Carefully drop the cut doughnut holes into the hot oil, making sure not to overcrowd the pan. Fry them for approximately one minute on each side or until they are golden brown.

Once fried, remove the doughnut holes using a slotted spoon and place them on a plate lined with paper towels to drain excess oil. Allow them to cool slightly.

While they're still warm, either roll the doughnut holes in a mixture of cinnamon and sugar or dip them into the glaze. Let them sit for a few minutes to allow the glaze to set, if using.

Glaze (optional):

2 cups powdered sugar

4-5 tablespoons milk or water

1 teaspoon pure vanilla extract

Whisk all the ingredients together in a bowl until smooth. Adjust the amount of milk or water to achieve the desired consistency.
Notes
Ensure that the oil remains at a consistent temperature while frying. Too low and the doughnut holes will be greasy; too high and they might burn or remain uncooked inside.
It's recommended to fry a test doughnut hole first to ensure the oil is at the right temperature and to gauge cooking time.
The doughnut holes are best consumed fresh but can be stored in an airtight container for up to 2 days.
Nutrition
Calories:
452
kcal
|
Carbohydrates:
91
g
|
Protein:
9
g
|
Fat:
6
g
|
Saturated Fat:
2
g
|
Polyunsaturated Fat:
2
g
|
Monounsaturated Fat:
2
g
|
Trans Fat:
1
g
|
Cholesterol:
4
mg
|
Sodium:
419
mg
|
Potassium:
126
mg
|
Fiber:
2
g
|
Sugar:
35
g
|
Vitamin A:
50
IU
|
Vitamin C:
0.01
mg
|
Calcium:
168
mg
|
Iron:
4
mg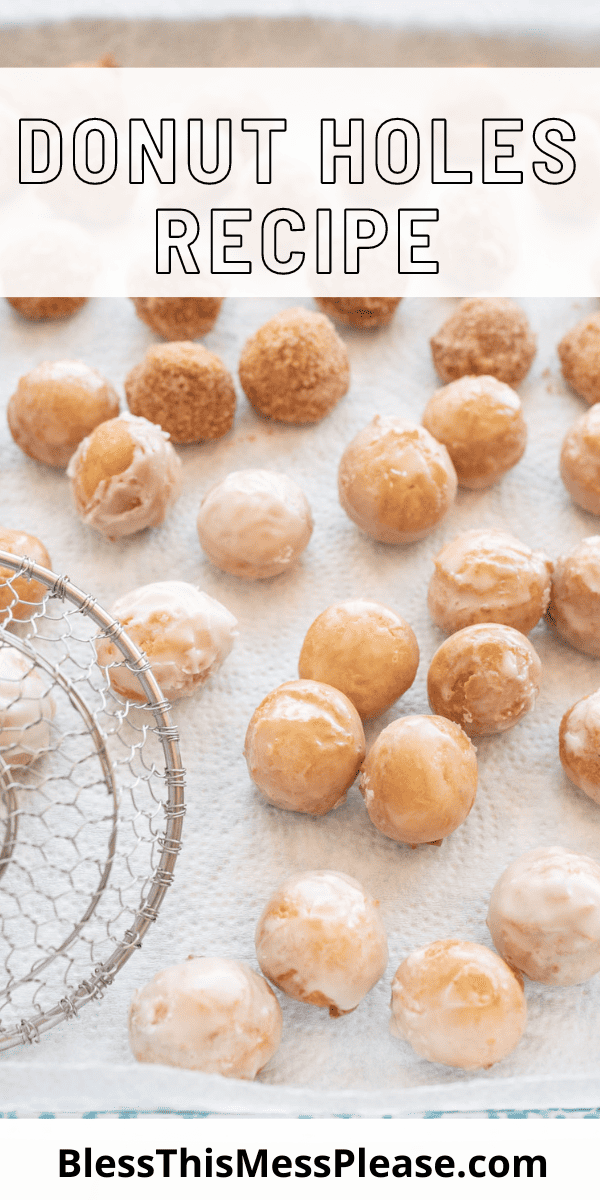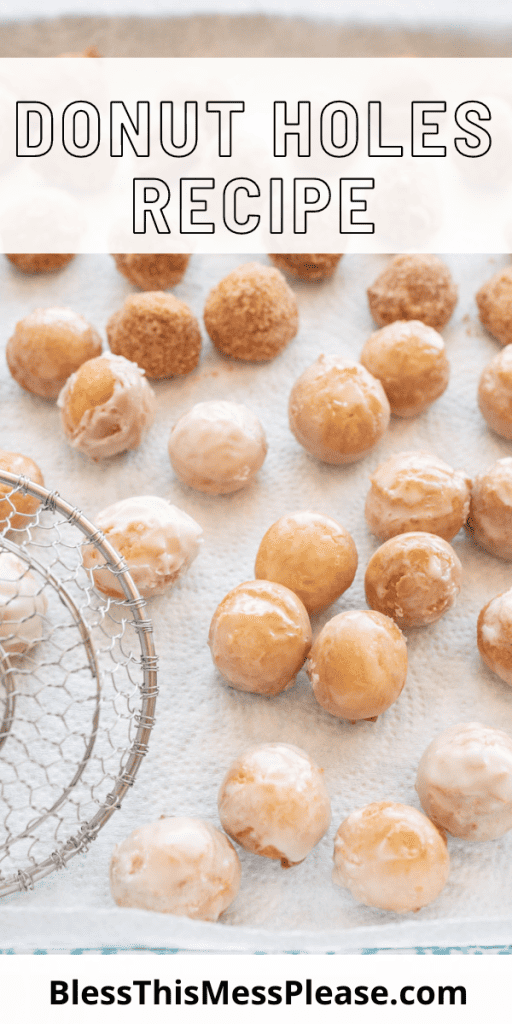 Donut holes are the missing piece of the donut puzzle, crispy on the outside and soft inside. You can enjoy them anytime, especially on weekends, during celebrations, or when you're looking for a fun rainy day activity. So gather your ingredients, get your apron on, and start making these delicious treats. Who knew donut holes could be so much fun and tasty at the same time?