If you're anything like us, the mere mention of those delicious, ring-shaped treats has your taste buds doing a happy dance. Why are these little rounds of joy causing such a buzz? Well, butter your doughnut tins and get ready to explore the top reasons why people are falling head over heels for baked donuts.
Let's face it, traditional fried donuts might be the life of the party, but they can leave us feeling like we've swallowed a deep-fried brick. Baked donuts swoop in to save the day, offering a lighter, fluffier, and slightly healthier alternative. With less grease and fewer calories, you can indulge in not just one, but maybe even two (or three, we won't judge) without that post-donut remorse.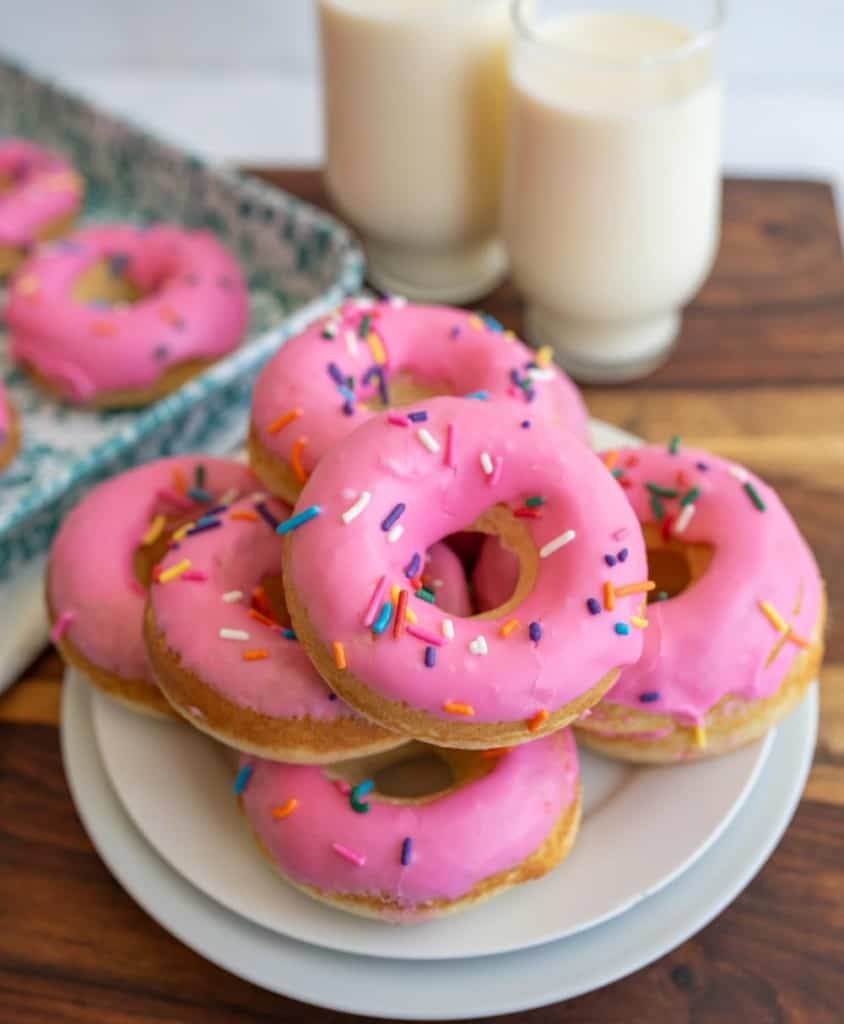 Baked Donuts
If variety is the spice of life, then baked donuts are throwing the greatest doughnut carnival ever! These treats are a blank canvas for creativity. From classic vanilla glazed to trendy matcha-infused masterpieces, the sky's the limit when it comes to flavor possibilities. And let's not forget the endless array of toppings, from rainbow sprinkles to crushed Oreos – you can make your baked donut as unique as your personality.
Baked donuts have this uncanny ability to transport us back to simpler times when life was all about Saturday morning cartoons and carefree laughter. Maybe it's the warm, cinnamon-scented embrace or the way they pair perfectly with a cozy cup of coffee. Whatever the secret ingredient is, these little baked wonders have mastered the art of comfort food in the 21st century.
Ingredients
Flour
Sugar
Eggs
Milk
Vanilla
Butter
Recipe Instructions
Prep Oven and Pan: Heat to 375°F (190°C) and grease a donut pan.
Mix Dry and Wet: Combine flour, sugar, baking powder, salt in one bowl. Whisk eggs, milk, vanilla, melted butter in another.
Blend Together: Gently fold wet mix into dry mix until combined.
Fill and Bake: Pour batter into ziplock bag, snip corner, pipe into donut pan (⅔ full). Bake 7 minutes or until toothpick comes out clean.
Frost and Enjoy: Let donuts cool, dip in frosting, set on wire rack. Add sprinkles if fancy strikes. Indulge and smile!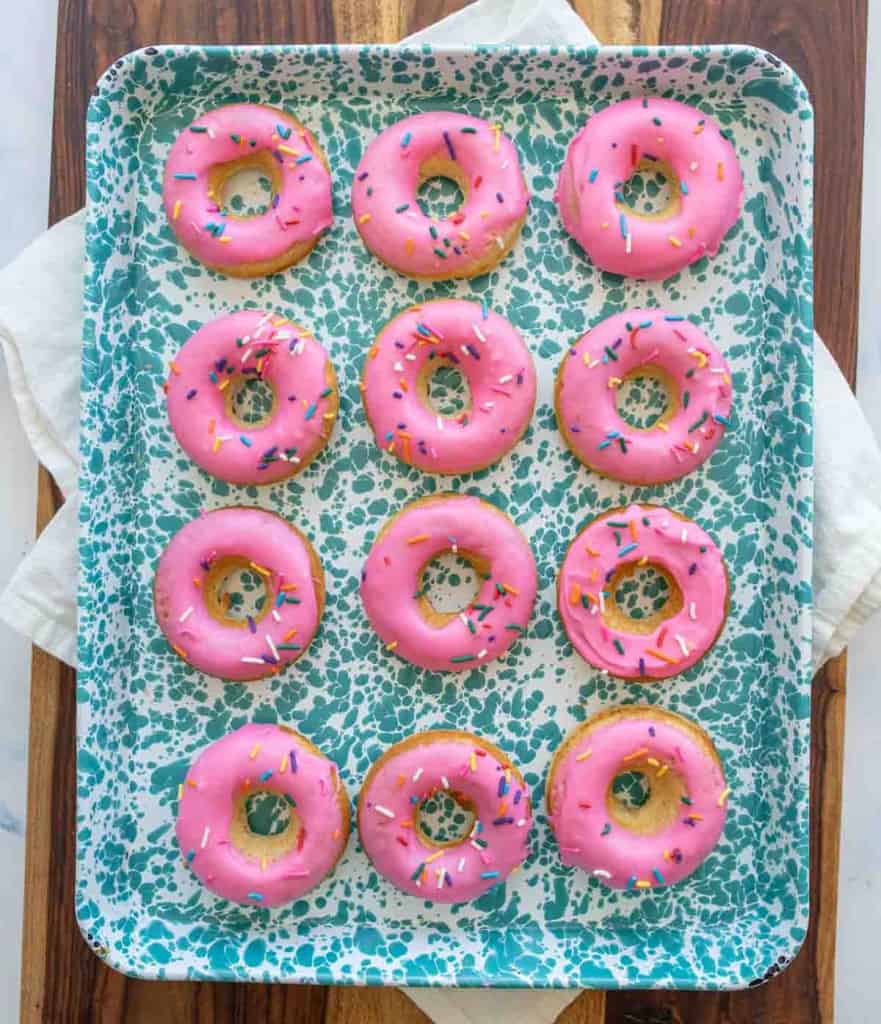 Frequently Asked Questions
Are baked donuts different from the fried ones?
Baked donuts are like the lighter, fluffier cousins of the traditional fried ones. They're cooked in the oven, often with less fat, making them a guilt-free option without sacrificing taste.
Can I make baked donuts without any special equipment?
You sure can! While a donut pan makes that classic shape, you can also use a muffin pan or even shape the dough into circles on a baking sheet. Be creative with what you've got!
How do I make sure my baked donuts are moist and not dry?
Two words: don't overbake. Keep an eye on them – when a toothpick comes out clean with a few crumbs, they're done. Moisture is key, so don't be shy with the wet ingredients either!
What's the secret to making the perfect frosting for baked donuts?
It's all about the consistency. Whisk powdered sugar, cream, vanilla extract, and maybe a dash of food coloring until you get a smooth, ribbon-like texture. Adjust the cream quantity to nail that perfect drizzle.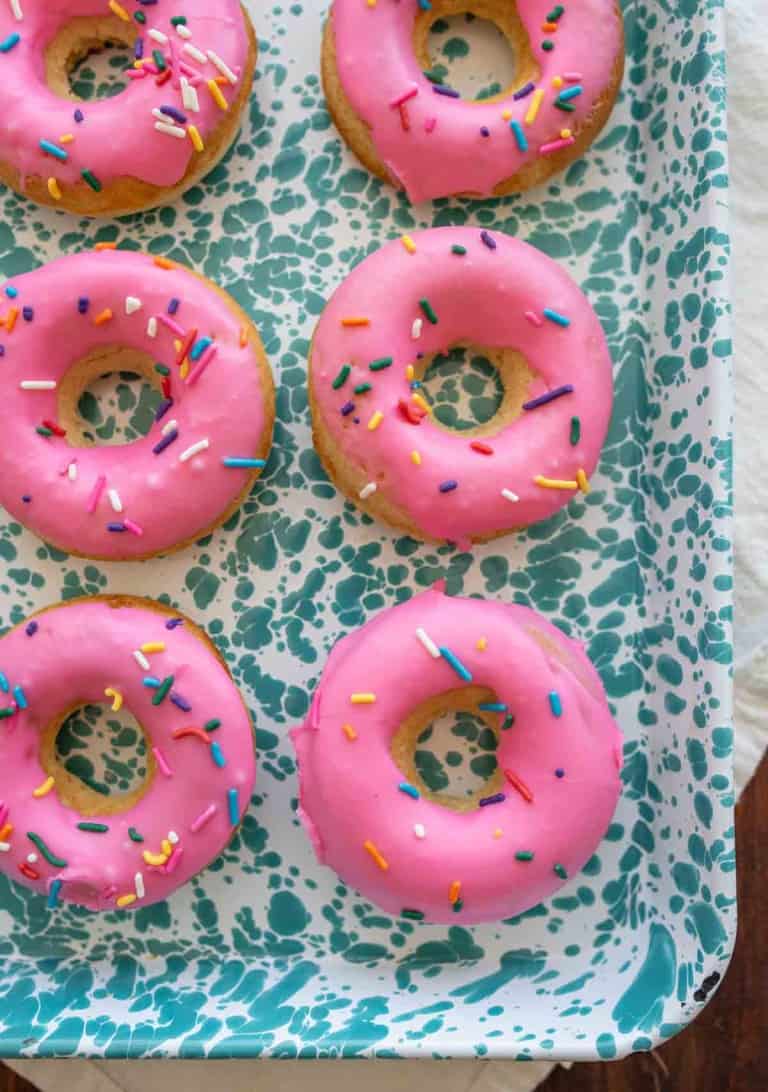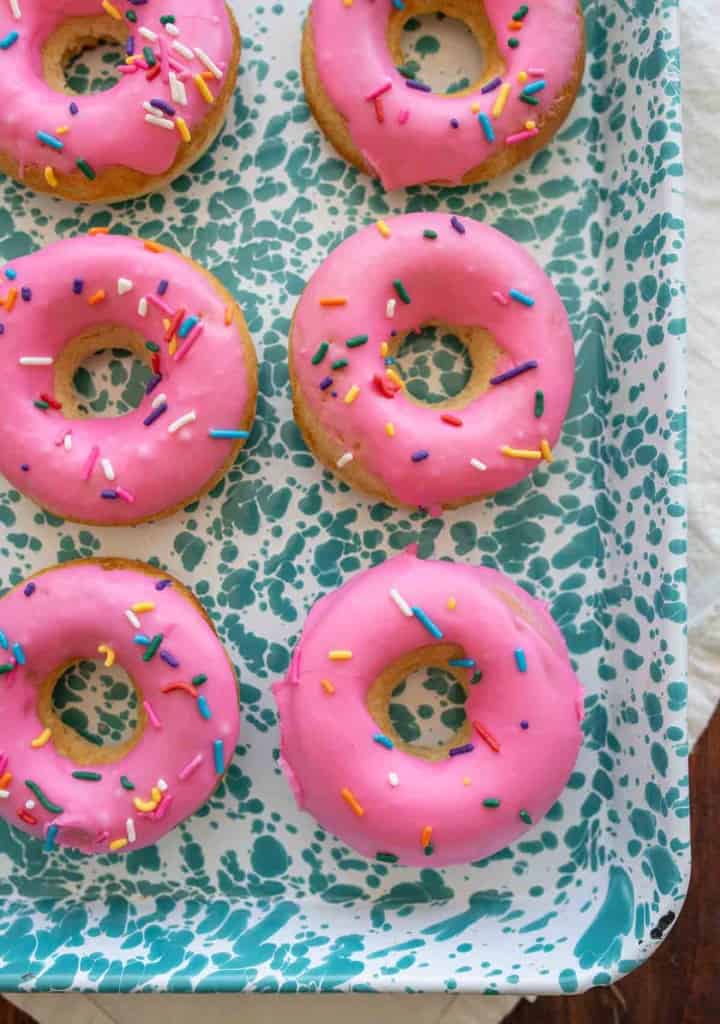 More Recipes
If you've tried this Baked Donuts recipe or any other recipe on Bless This Mess, then don't forget to rate the recipe and leave me a comment below! I would love to hear about your experience making it. And if you snapped some pictures of it, share it with me on Instagram so I can repost on my stories.
📖 Recipe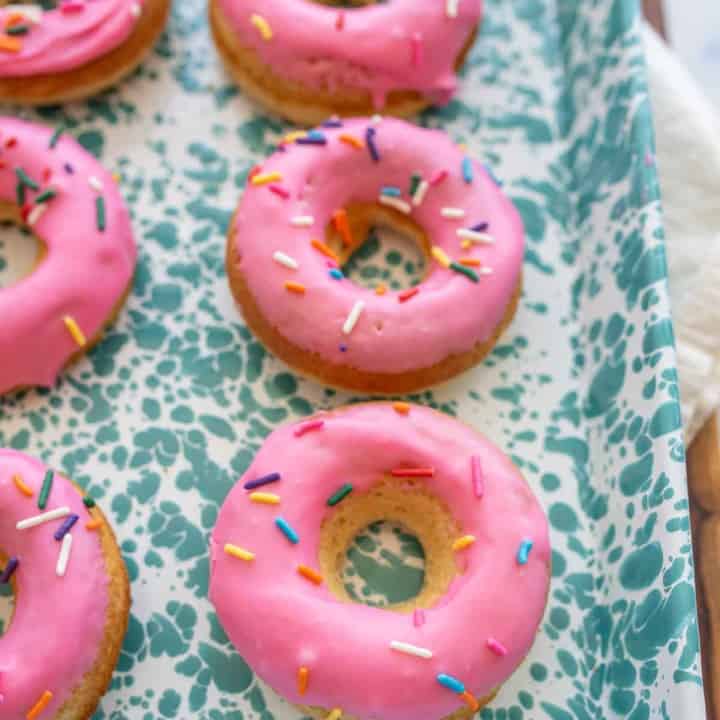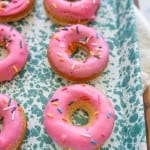 Print Recipe
Baked Donuts
Baked donuts offer a guilt-free and delightful twist on the classic treat, boasting fluffy goodness and endless possibilities for creative flavors and toppings.
Ingredients
Doughnuts:
2

cups

all-purpose flour

½

cup

+ 3 tablespoons granulated sugar

2 ¼

teaspoons

baking powder

1 ¼

teaspoon

salt

2

large eggs

¾

cup

milk

preferably whole or 2%

1

tablespoon

pure vanilla extract

2

tablespoons

unsalted butter

melted
Frosting:
1

cup

powdered sugar

confectioners' sugar

3-6

tablespoons

heavy cream

adjust based on desired thickness

1

teaspoon

pure vanilla extract

1

drop gel food coloring

optional for desired color
Instructions
Set your oven to 375°F (190°C). Ensure the rack is in the middle position.

Lightly grease a doughnut pan with baking spray or unsalted butter.

In a large mixing bowl, whisk together the flour, granulated sugar, baking powder, and salt until well combined.

In a separate medium bowl, beat the eggs, milk, vanilla extract, and melted butter with a fork or a whisk until the mixture is smooth and well combined.

Gently fold the wet ingredients into the dry ingredients using a spatula or a wooden spoon, mixing just until combined.

Pour the batter into a gallon-sized ziplock bag and snip off one corner (about 1-inch wide) to create a makeshift piping bag. Alternatively, use a piping bag with a wide nozzle. Carefully pipe the batter into the prepared doughnut pan, filling each cavity about two-thirds full.

Place the doughnut pan in the preheated oven and bake for approximately 7 minutes or until a toothpick inserted into a doughnut comes out clean.

Once baked, remove the pan from the oven. Let the doughnuts cool in the pan for a minute or two, then transfer them to a wire rack to cool completely.

Prepare the Frosting: In a medium-sized bowl, whisk together the powdered sugar, heavy cream, vanilla extract, and food coloring (if using) until smooth. The frosting should be of a ribbon-like consistency. Adjust the amount of heavy cream as necessary.

Once the doughnuts have cooled, dip the top half of each doughnut into the frosting. Allow any excess frosting to drip off, then place the doughnuts back on the wire rack for the frosting to set. You can add sprinkles while the frosting is still wet. Enjoy!
Notes
You can customize the frosting by using different food colorings or adding toppings like sprinkles, nuts, or coconut flakes.
Ensure not to overmix the doughnut batter to get a light and fluffy texture.
The doughnuts are best consumed fresh on the same day but can be stored in an airtight container for up to 2 days.
For a dairy-free version, replace the milk with almond or soy milk and use dairy-free butter. Adjust the frosting by using a dairy-free alternative to heavy cream.
Nutrition
Calories:
200
kcal
|
Carbohydrates:
35
g
|
Protein:
4
g
|
Fat:
5
g
|
Saturated Fat:
3
g
|
Polyunsaturated Fat:
0.4
g
|
Monounsaturated Fat:
1
g
|
Trans Fat:
0.1
g
|
Cholesterol:
38
mg
|
Sodium:
340
mg
|
Potassium:
62
mg
|
Fiber:
1
g
|
Sugar:
19
g
|
Vitamin A:
178
IU
|
Vitamin C:
0.02
mg
|
Calcium:
74
mg
|
Iron:
1
mg
Baked donuts are king with their guilt-free indulgence, endless customization options, comfort-food nostalgia, hassle-free baking, and shareable nature, it's no wonder people are ditching the fryer for the oven. So next time you're craving a taste of heaven in a bite-sized package, remember that baked donuts are ready to rock your taste buds and make your heart go glaze-eyed.