12 Healthy Lunch Box Ideas for Kids or Adults that are simple, wholesome, and meatless - no sandwiches included!
I'm always on the lookout for fresh lunch box ideas. If you are too, check this out: Six Quick and Easy Hummus Lunch Boxes, 6 Easy Pinwheel Recipes for Lunch Boxes and Make Ahead Lunch Box Ideas.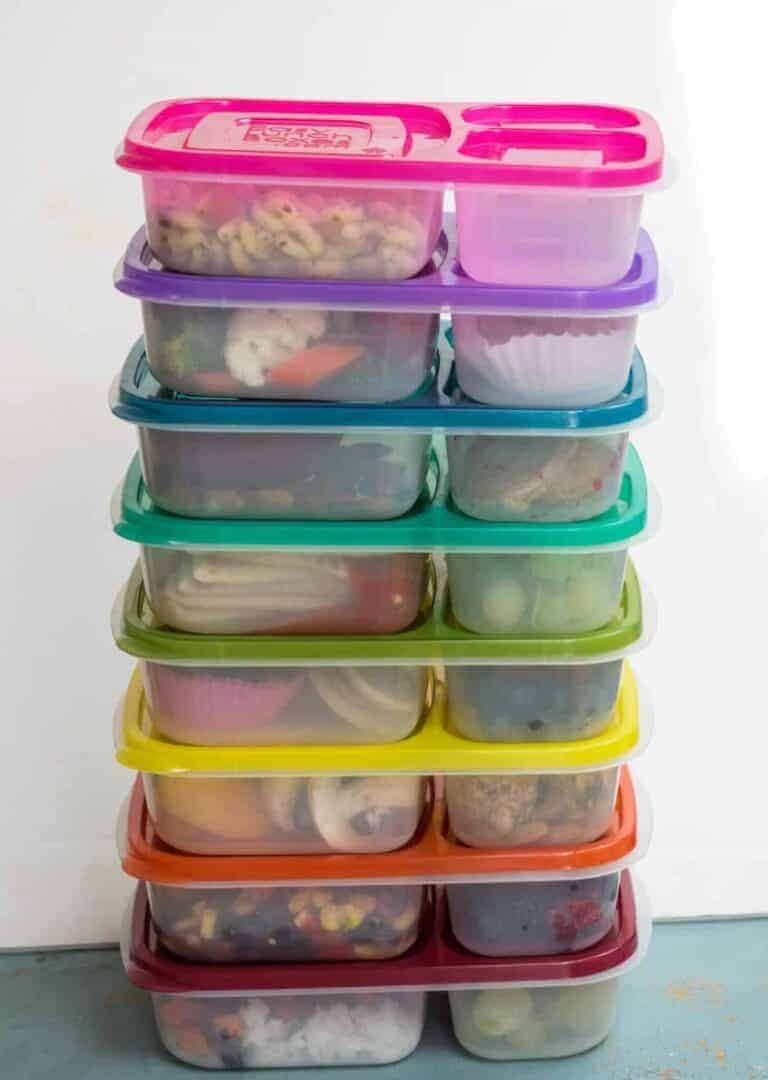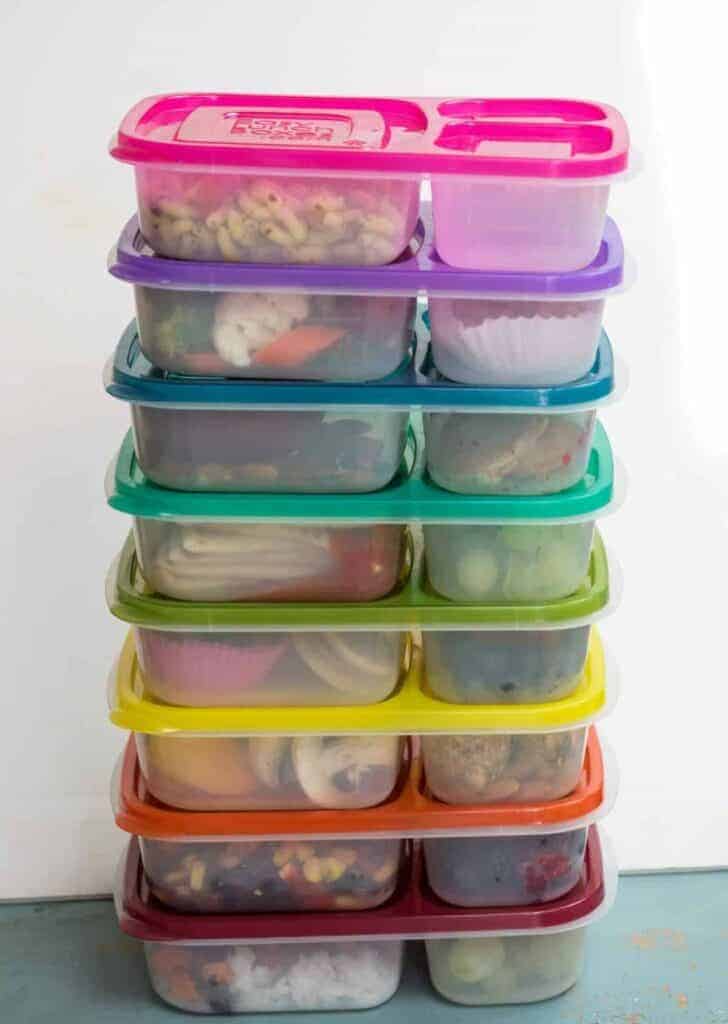 12 Healthy Lunch Box Ideas for Kids or Adults
School started last week for my kids, and I'm equal parts sad to have them gone all day and excited to get back into a routine and have a little more structure in my week. Getting organized at back to school time includes meal planning, recommitting to eating wholesome food (which is needed after a summer of fun/travel/vacations/parties/reunions), and figuring out school lunch box ideas again.
I LOVE school lunch box packing and I thought I'd share yet another post this year with new ideas to help get a great lunch in the box in no time flat. We all need more ideas when it comes to school lunches, but these also work great as lunch box ideas for adults to take to work. Just up the portion if you need to!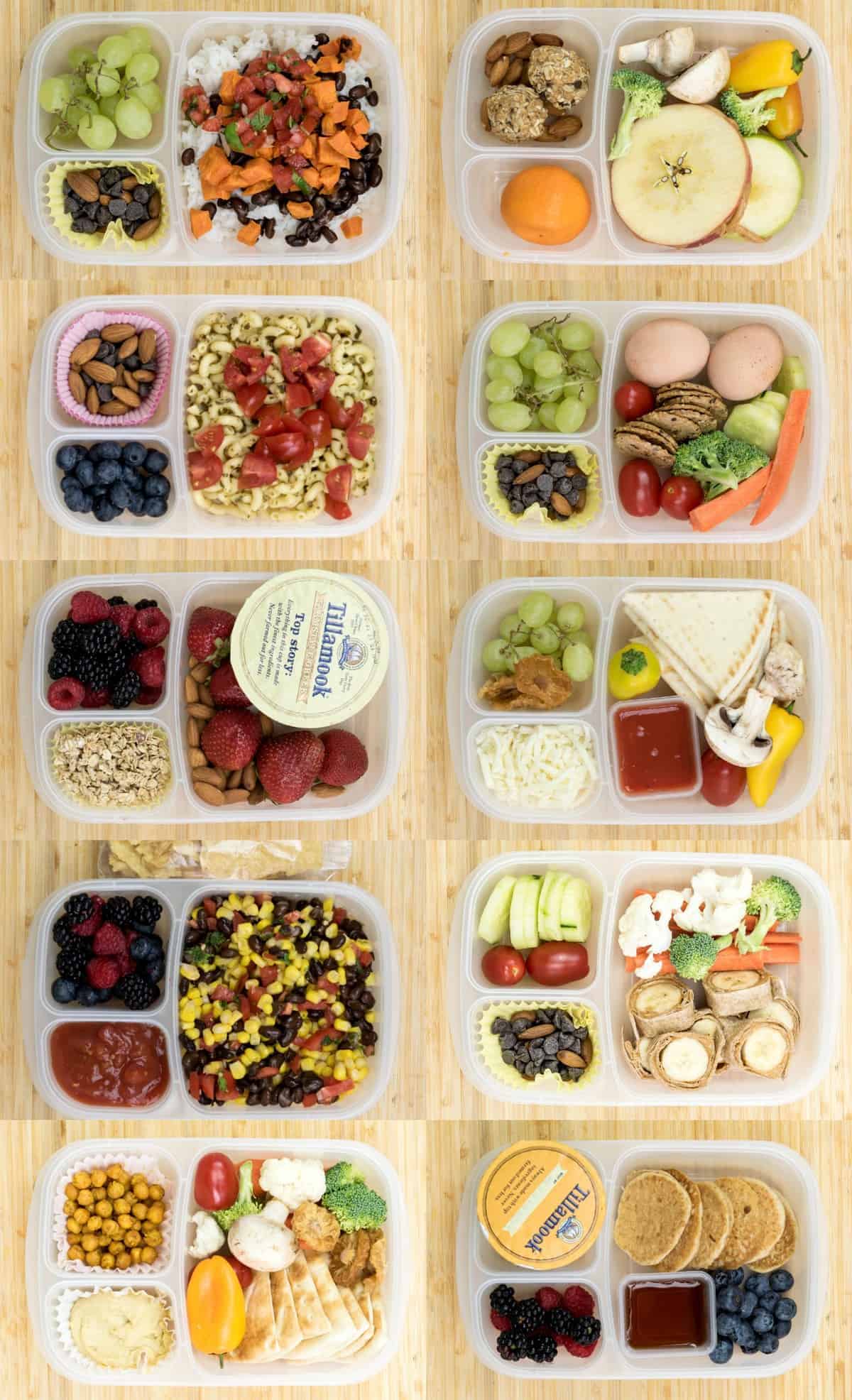 Aren't they pretty? I can't wait to share some of the details about how to make all 12 of these lunch box ideas today.
Tips and Tricks for the Lunch Box Ideas:
I have been using Easy Lunch Boxes for 4 school years now (heading into our 5th year!), and I still love them. I bought them when my oldest went to Kindergarten and just got a second set! They are a great size, easy to clean, and the kids can get the lids on and off themselves. Plus, I just saw they now sell them at Target! They also make great little snack trays for movie night (popcorn in the big spot, candies in the little ones!)
If you have little kids below school age, it's nice to make their lunch box (and yours!) in the morning when you are making the other lunches. I just stick the little boys' lunches in the fridge and then lunch is done for everyone, even the ones at home!
Have your kids help you decide what they want for lunch and get them involved in the prep/packing. When my kids have a little say in their lunch, they are much more likely to eat it.
If you have a nut-free school (ours is not), try sun butter (made from sunflower seeds) in place of peanut butter, and omit any nuts.
To cut down on morning prep time, make a veggie box and have the kids take from it for their lunches.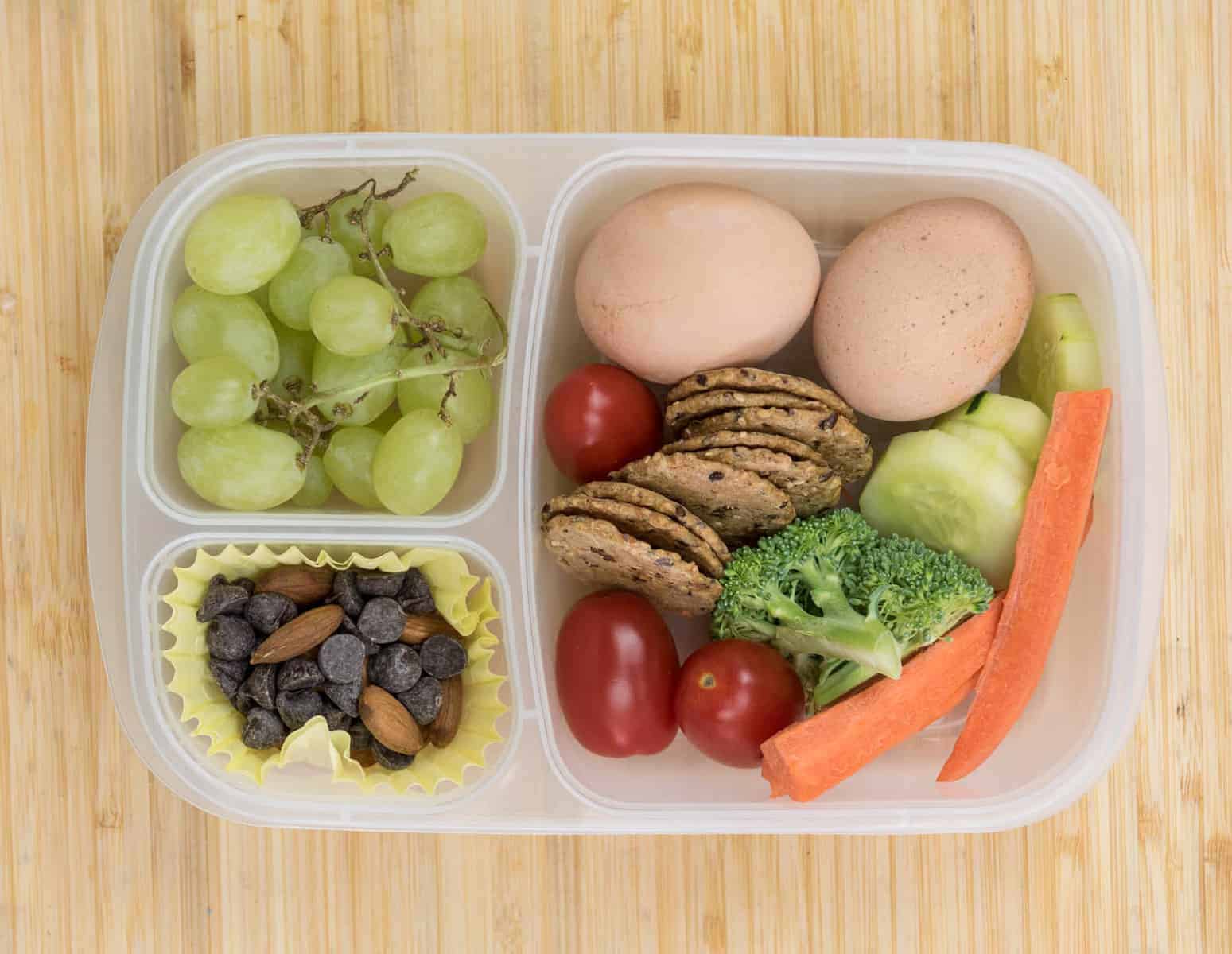 Boiled Egg Lunch Box
Boiled eggs
Seeded crackers
Veggies (tomatoes, carrots, cucumber, broccoli)
Almonds + chocolate chips
Grapes
First up, the forever easy boiled egg. Feel free to peel them ahead of time for your kids if they need the help, but my kids like do to it themselves. You just can't go wrong boiled eggs in my book. They are a well-rounded fat/protein source and my kids love them for breakfast, lunch, and snacks.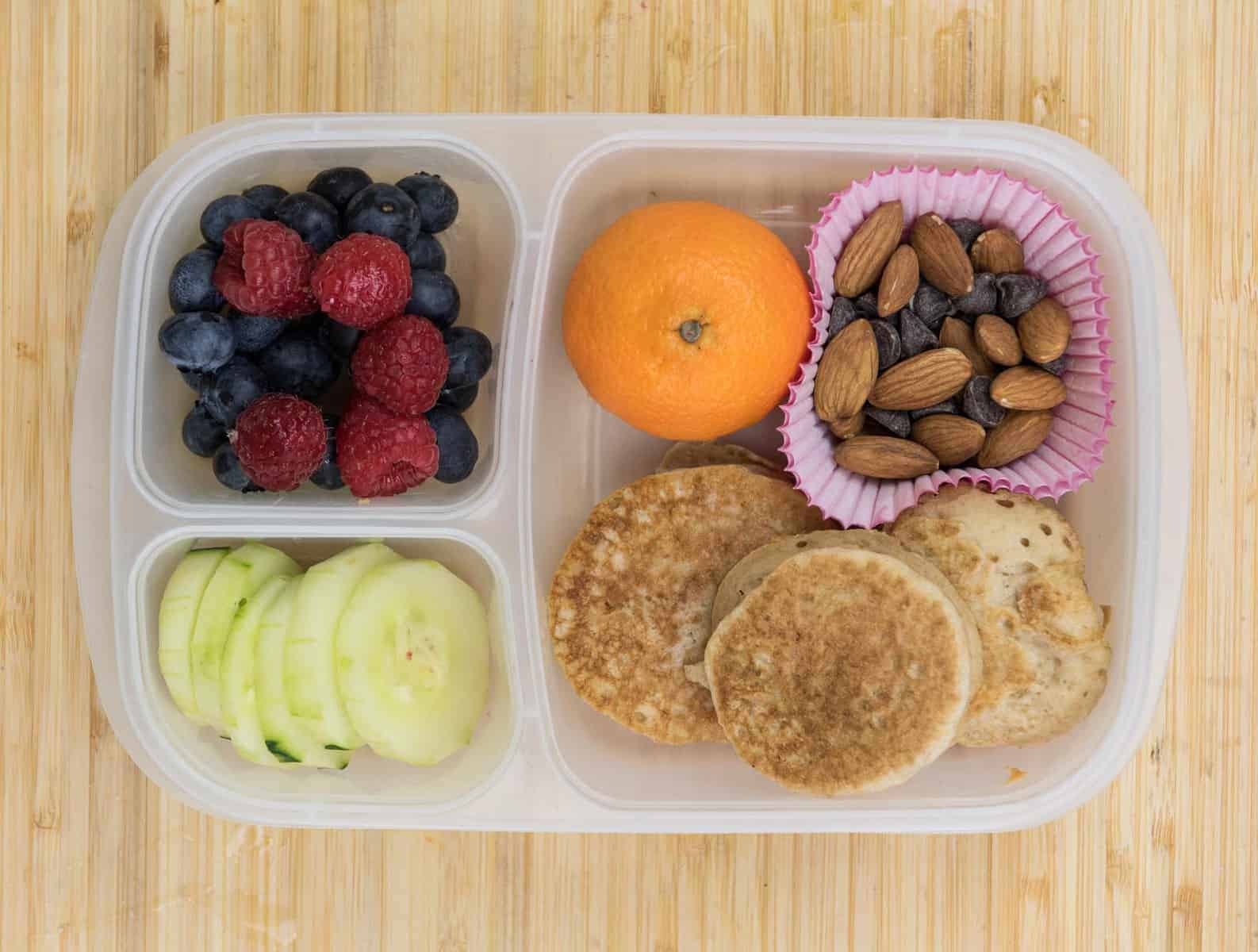 Pancake "Sandwich" Lunch Box
Mini pancakes with nut butter + banana slices inside to make a sandwich
Cucumbers
Fresh berries
Almonds + chocolate chips
Mandarin orange
I know I promised you sandwich-free lunch box ideas, but I don't think pancake sandwiches count. My kids love it when I make little sandwiches out of peanut butter, banana, and pancakes. They are the perfect little finger food that's fun to eat. I just make a double batch of whole wheat pancakes one morning and use half of it to make mini pancakes for lunches. Easy, fun, and always a win in the school lunch department.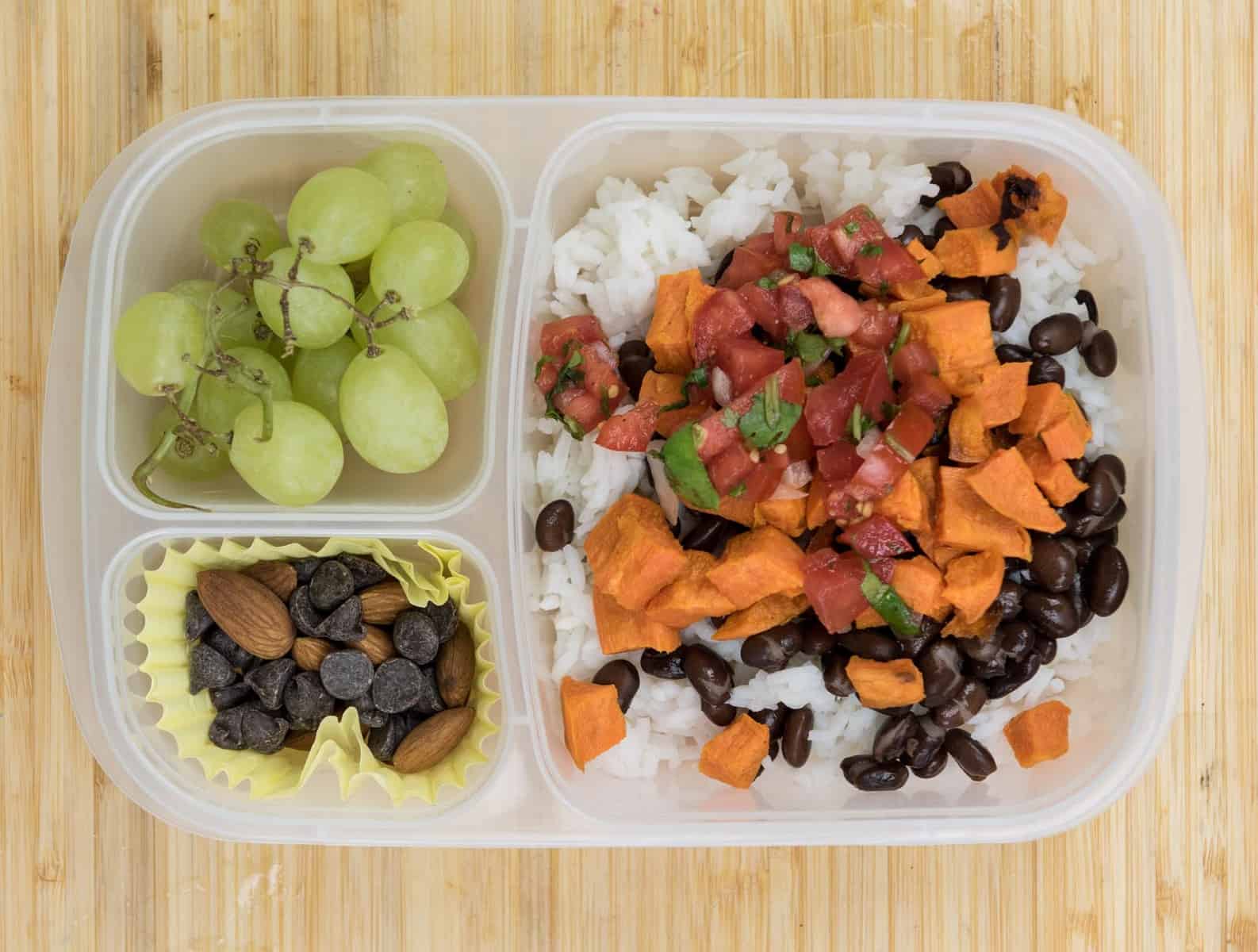 Burrito Bowl Lunch Box
Rice + black beans + roasted sweet potatoes + fresh salsa
Almonds + chocolate chips
Grapes
Long live the burrito bowl! You can really play with this idea to fit your needs and your child's preferences. I cook up the rice and roast my sweet potatoes on my meal prep day and then just open a can of black beans as needed. I like to mix in a little salt, cumin, and chili powder with the black beans so that they taste more like taco filling. A little fresh salsa on top brings it all together. Sometimes my kids like cheese, lettuce, or ranch dressing on this too. A wedge of lime in the box to squeeze before serving is always fun too.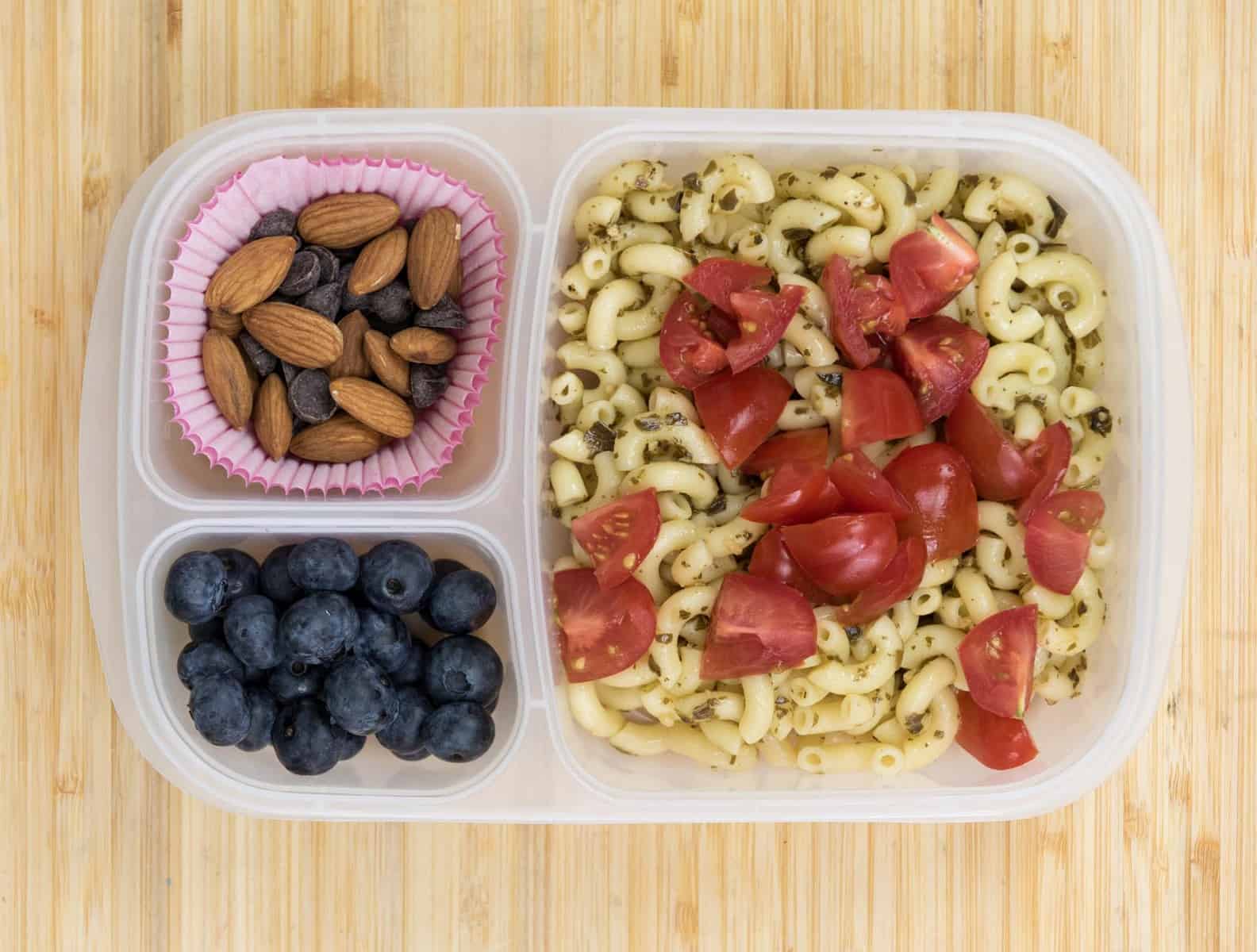 Easy Pesto Pasta Salad Lunch Box
Cooked pasta + pesto + chopped tomato
Chocolate chips + almonds
Blueberries
This super simple pasta salad can be made easily in the morning because it's only three ingredients. You can use leftover pasta if you have it, or you can cook some up while the kids eat breakfast. I normally just cook it the morning of because I'm standing at the stove making a hot breakfast most mornings anyhow. If that won't work for your schedule, cook the pasta up ahead of time or simply prepare extra when you are cooking pasta for dinner and save some for lunches. Just stir the pasta with some prepared pesto and top with tomatoes. It's simple, but it's always a hit at my house.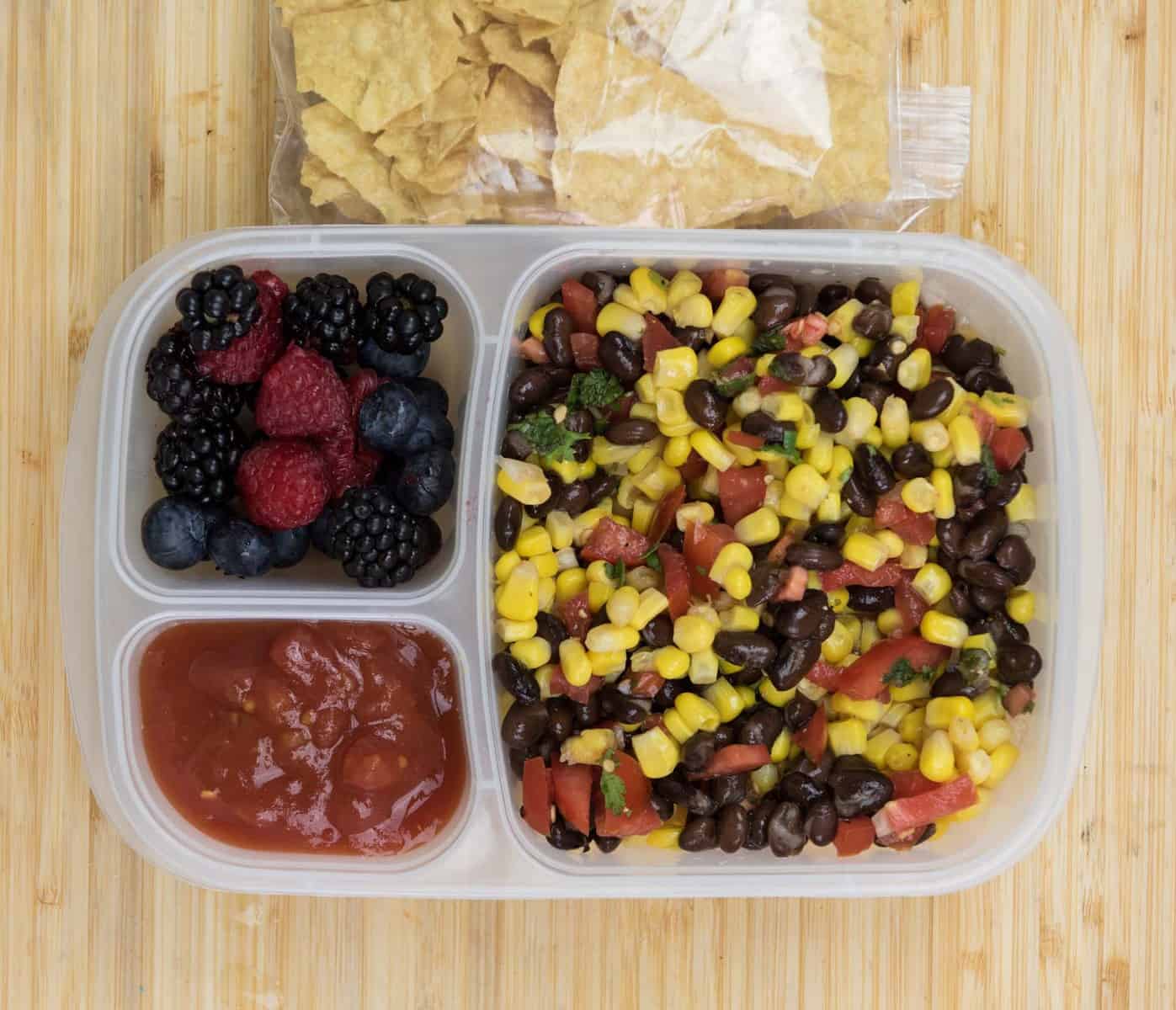 Corn and Bean Chip Dip Lunch Box
Corn and Bean Salad
Salsa
Tortilla chips
Mixed berries
Corn and Bean Salad/Chip Dip is super easy to make and my kids love it. Just add canned corn, rinsed black beans, and chopped tomato to a small bowl and season with salt, pepper, and lime juice. Sometimes I'll mix in cilantro or some pico de gallo if I have it. Simple, simple, simple, but so fun to dip corn chips into. Add a side of salsa and some fruit, and you are ready to roll.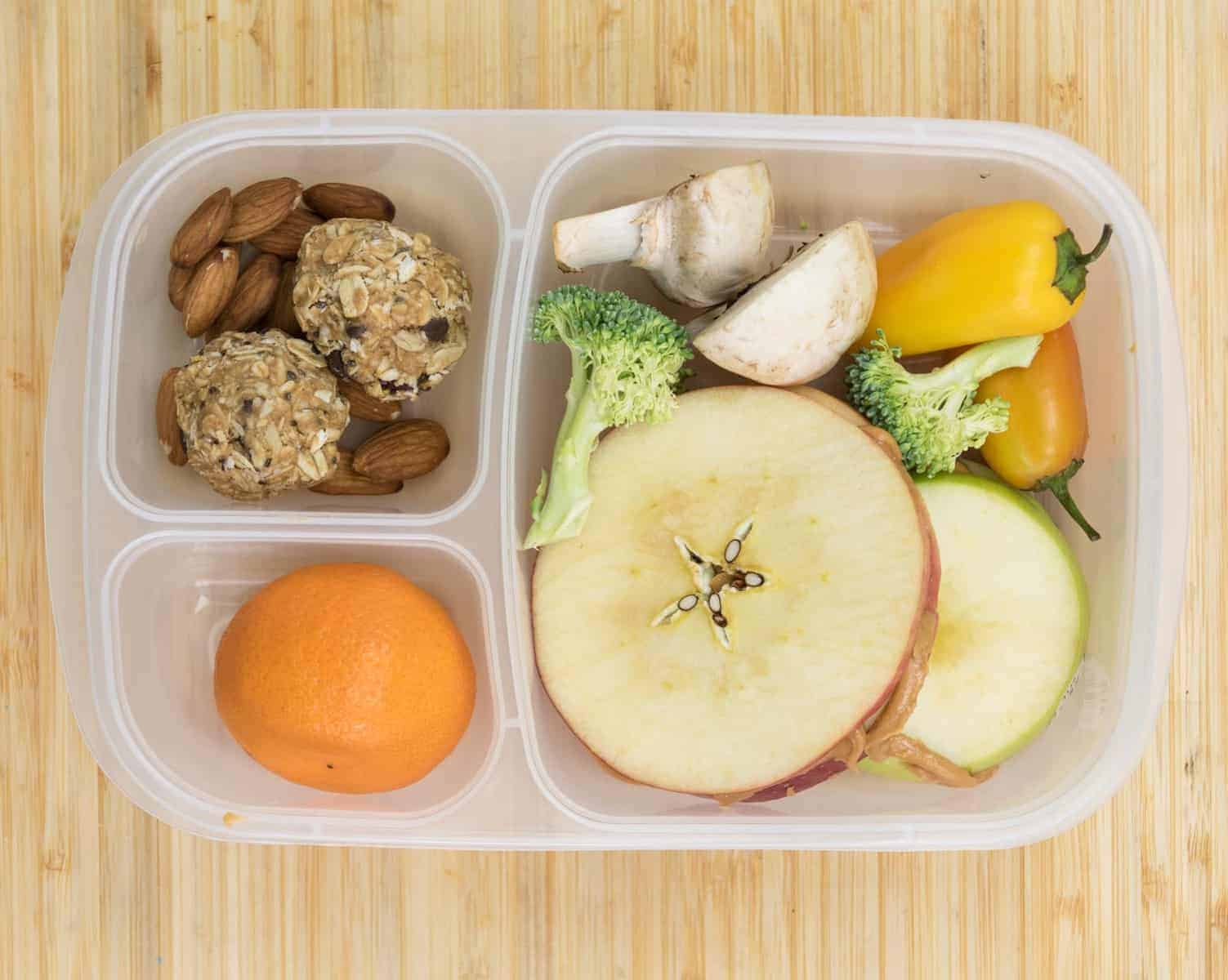 Apple Sandwich Lunch Box
Apple sandwiches are always hit in our house. You just cut an apple horizontally into slices, top with nut butter, and add another slice. My kids don't mind if the apple is brown at lunch, but if yours do you might want to give them a dunk in some lemon water before adding the nut butter (the nut butter doesn't stick to wet apples though, so you'll want to dry them off with a paper towel first). You can also add chopped nuts, mini chocolate chips, a little Nutella, or granola to your apple sandwich. I used to cut out the core but my kids either eat it all or nibble around it, so do what's best for you.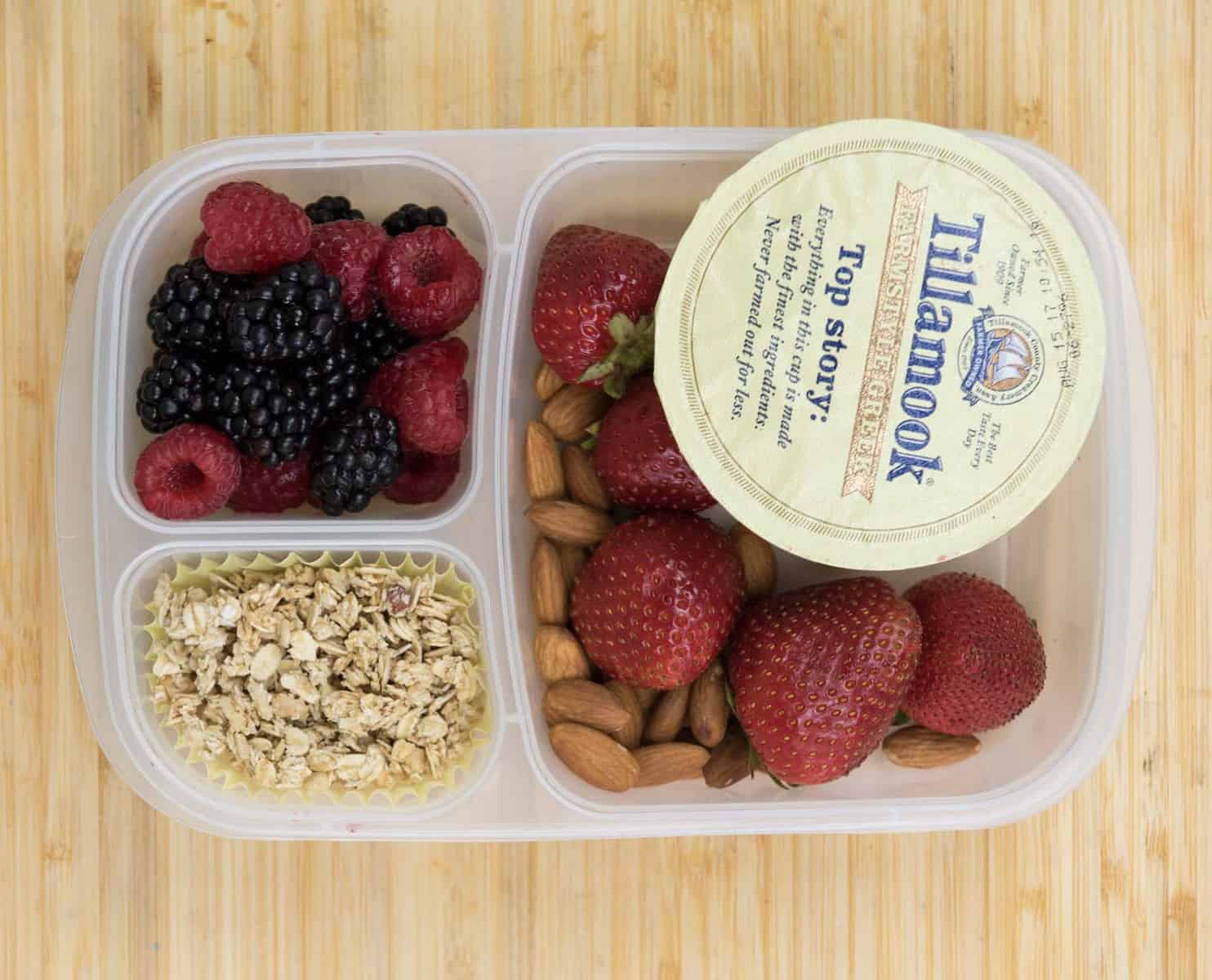 Yogurt Parfait Lunch Box
Yogurt (store bought or homemade)
Mixed berries
Strawberries + almonds
Granola (store bought or homemade)
So easy! You are going to love this simple yogurt bar idea because it takes no time to put together. If I'm sending homemade yogurt I normally put it in my favorite one cup (half pint) little canning jars with a lid. I use these all the time, and they are perfect for sending homemade yogurt to school. Or if you buy your yogurt in a big tub, they are great for sending a smaller serving in - they don't leak but kids can get the lids off. Win!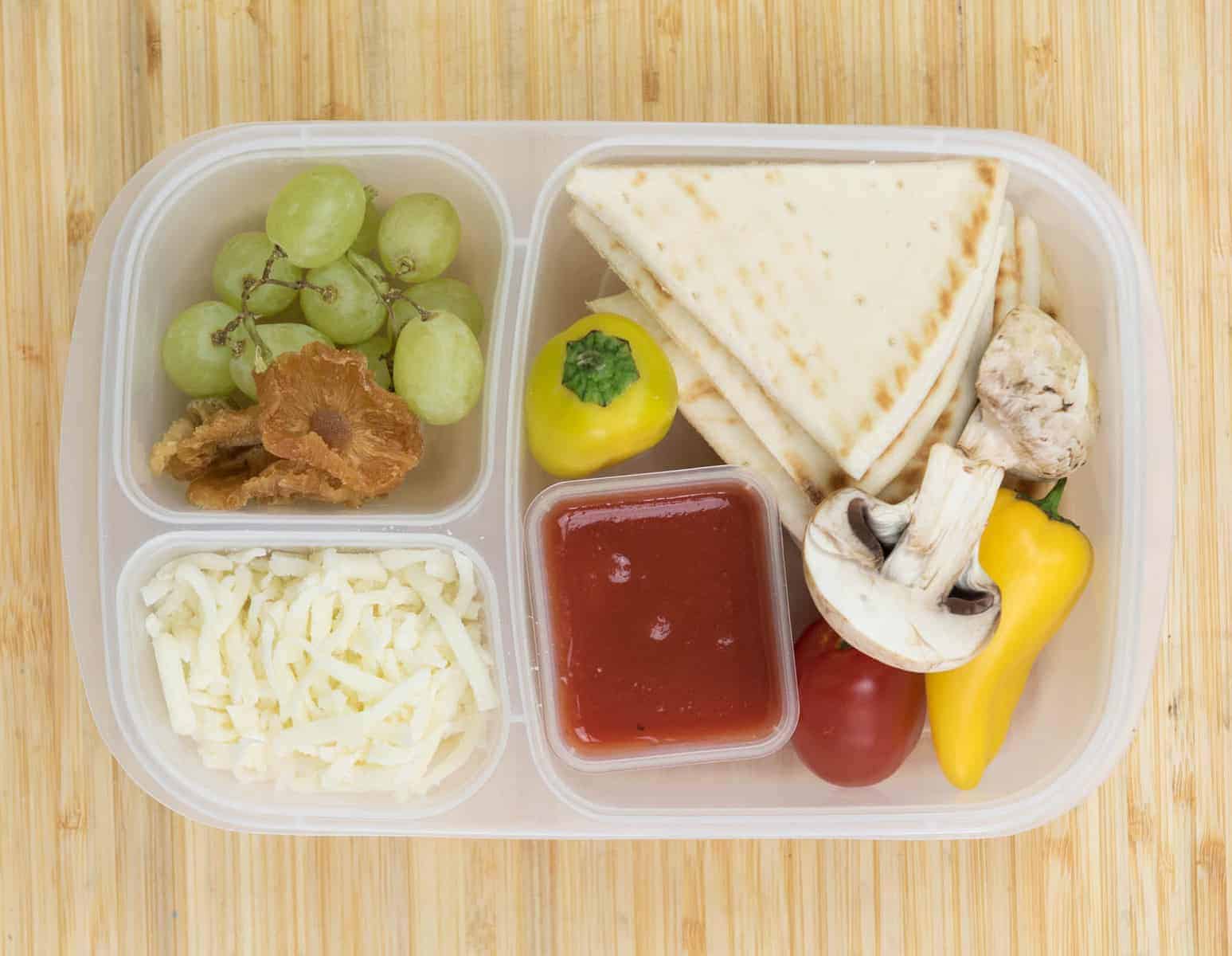 DIY Pizza Kit Lunch Box
Pita
Tomatoes + mushrooms + bell peppers
Pizza sauce
Mozzarella cheese
Dried pineapple + grapes
My kids love this meal (even though "pizza" like this isn't my jam) and they are always happy to have it. I get my pita bread from Costco and it's really good (plus it freezes well so it's easy to keep on hand). You can chop up the veggies a bit so that they can be pizza toppings or the kids can just eat them on the side. My two oldest dip their veggies in the tomato sauce and eat them, how weird is that. Pizza is always a hit and this easy pizza kit is a simple way to get those kids some pizza.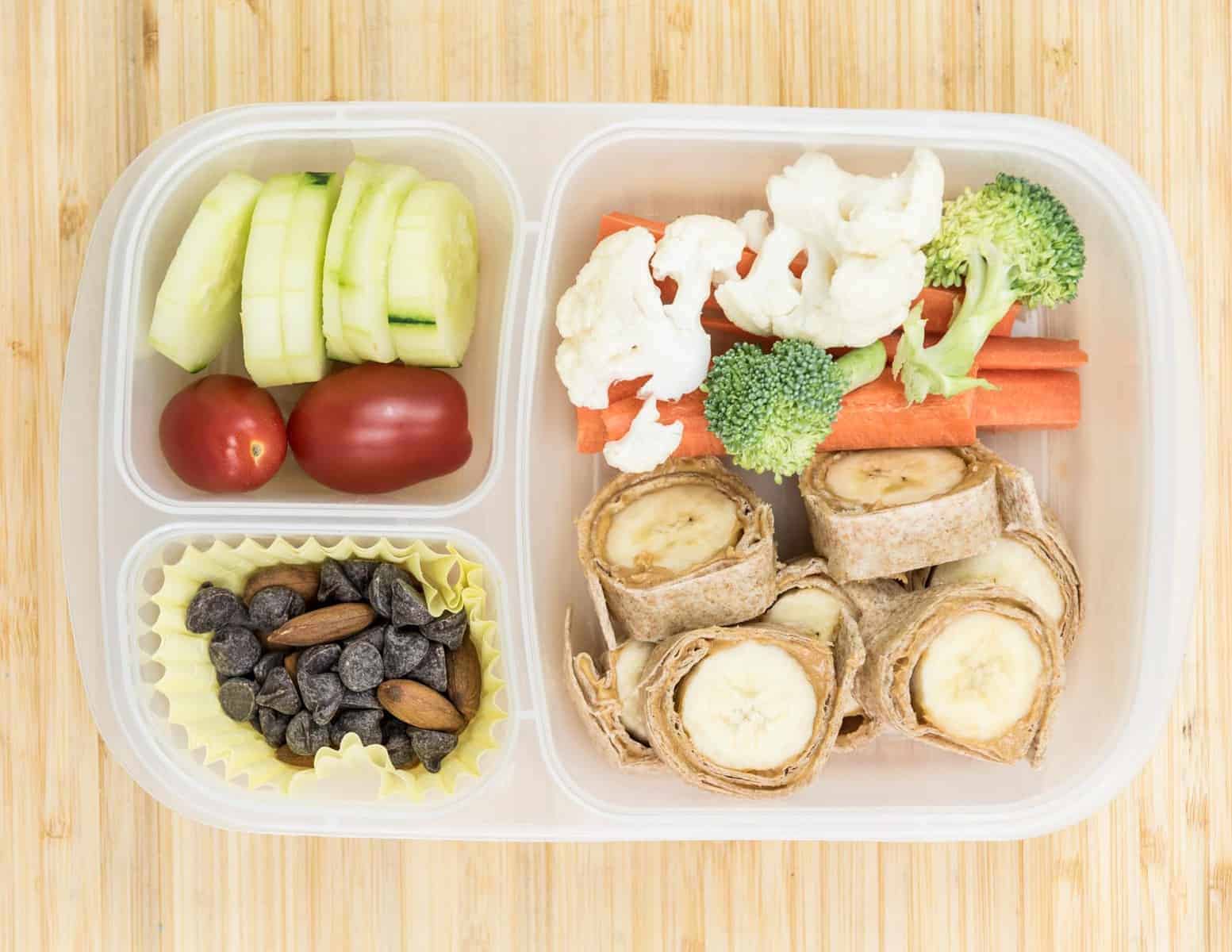 Banana "Sushi" Lunch Box
Banana Sushi
Carrots + tomatoes + cucumber + cauliflower and/or broccoli
Chocolate chips + almonds
To make banana sushi, simply spread nut butter on a tortilla, place a banana on one edge and roll it up. Slice it with a sharp knife into rolls or "sushi" pieces. This is also the world's easiest toddler snack and we make it often. Why is banana and peanut butter so good?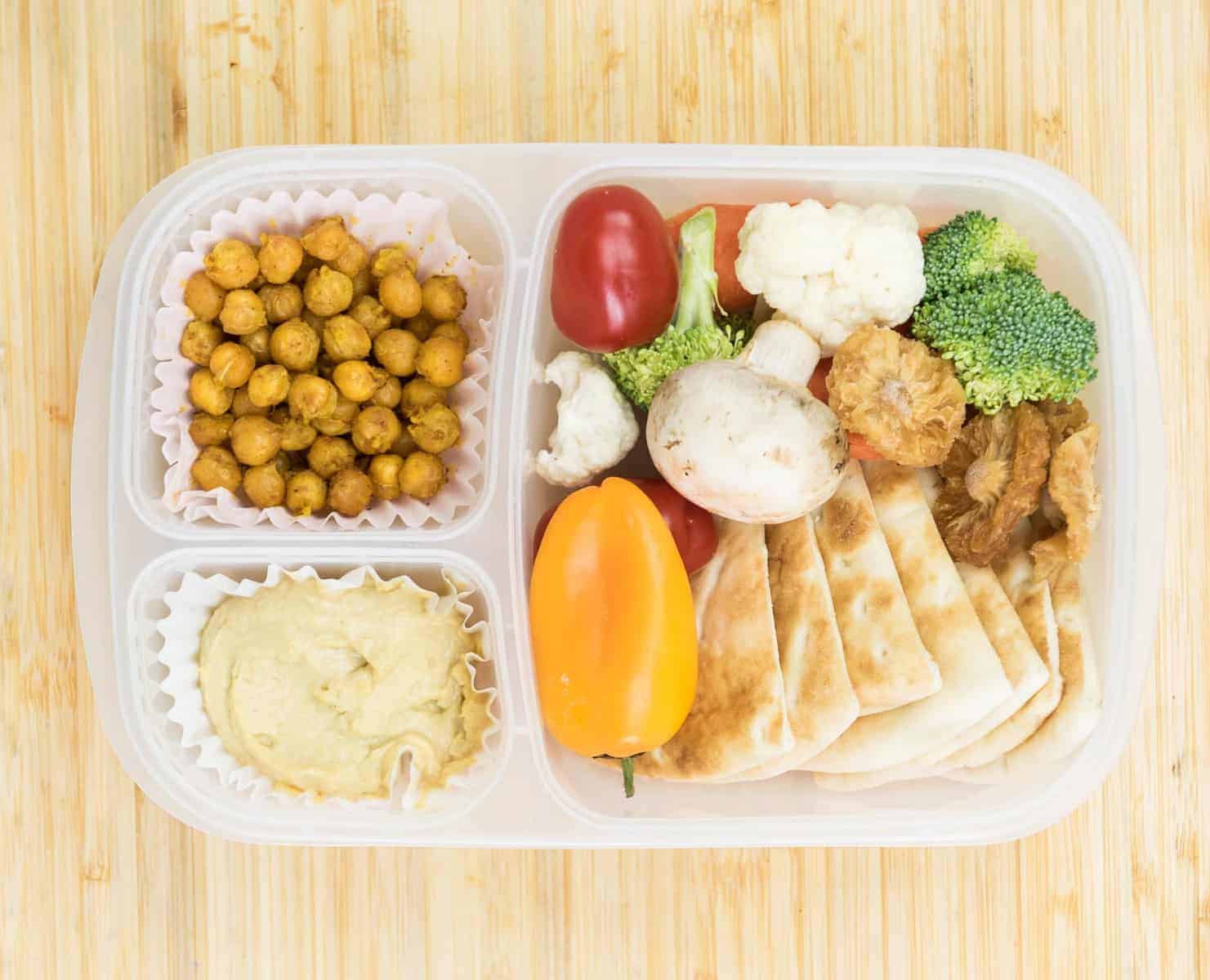 Hummus Lunch Box
Hummus
Curry roasted chickpeas
Pita
Veggies such as peppers, tomatoes, carrots, mushrooms, broccoli, and/or cauliflower
Dried pineapple
This is a dip-all-the-things in hummus lunch box and it's a lot of fun to eat. Have you made roasted chickpeas yet?! My kids love them and they are cheap and easy to make. You can make them ahead of time and keep them in the fridge until you are ready to serve them. Sometimes my kids will make little sandwiches with hummus and roasted chickpeas on the pitas, but most of the time they just eat this like a happy little finger food lunch.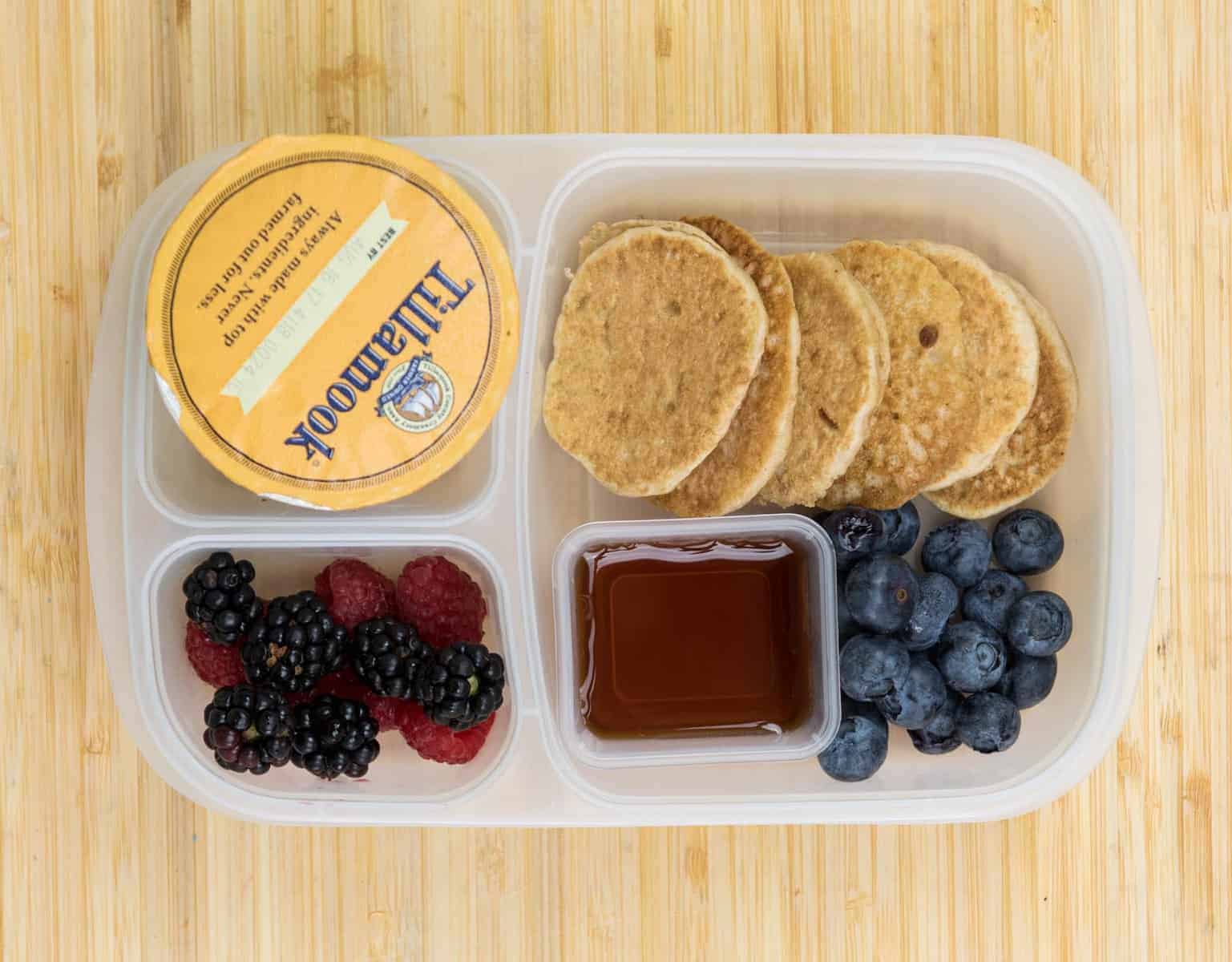 Breakfast for Lunch Box
Mini whole wheat pancakes
Maple syrup
Blackberries + raspberries + blueberries
Yogurt (store bought or homemade)
Long live breakfast for lunch! Again, I just make a double batch of pancakes one morning and make half of them into mini pancakes for lunch. They store well in the fridge and my kids think its fun to have breakfast for lunch.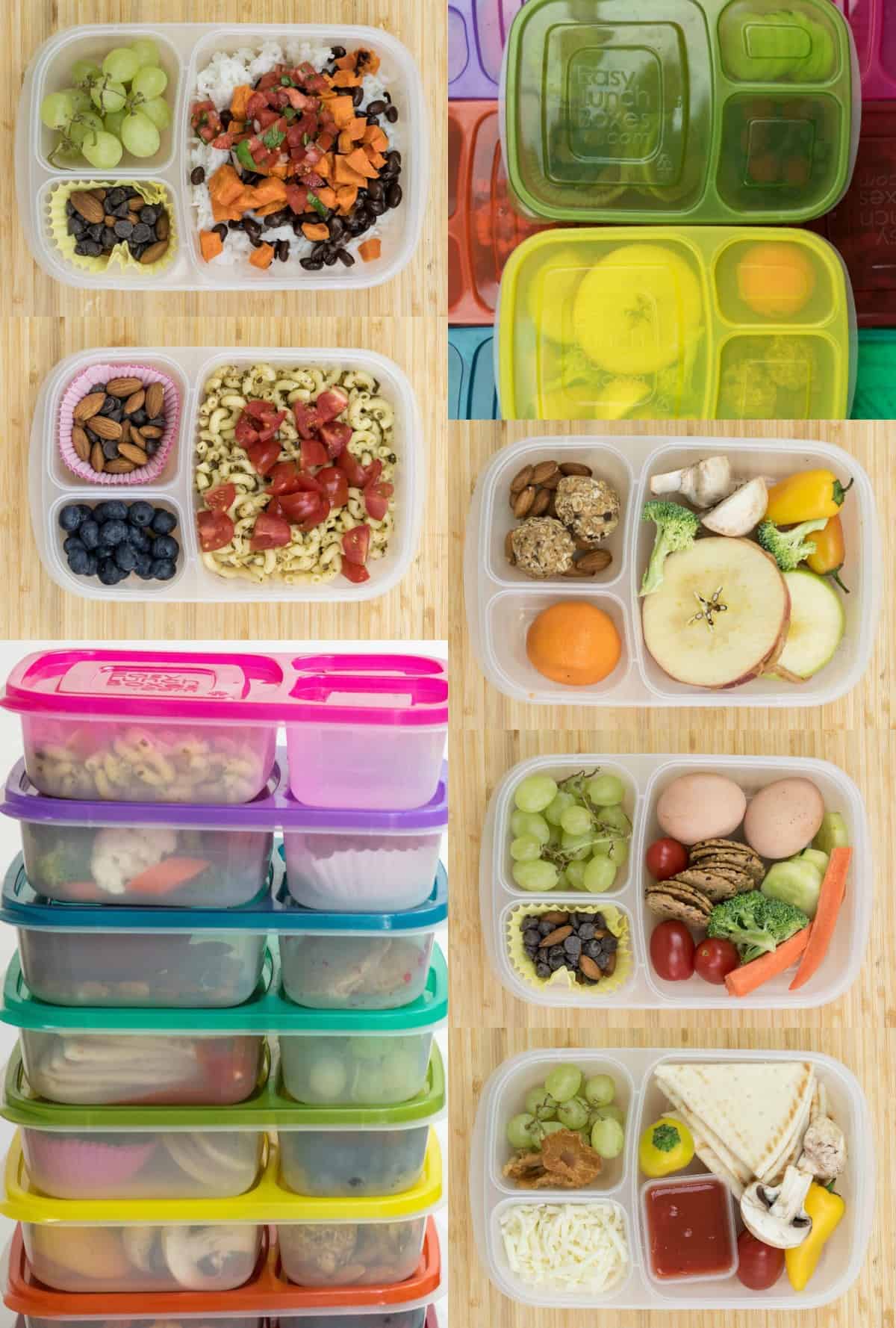 Check out these posts about easy lunch ideas:
Ta-da! There you have a dozen new lunch box ideas to get your school year started off with a bang. Those lunch boxes were all meatless and not one included a traditional sandwich. I hope you find them helpful. You got this mama!