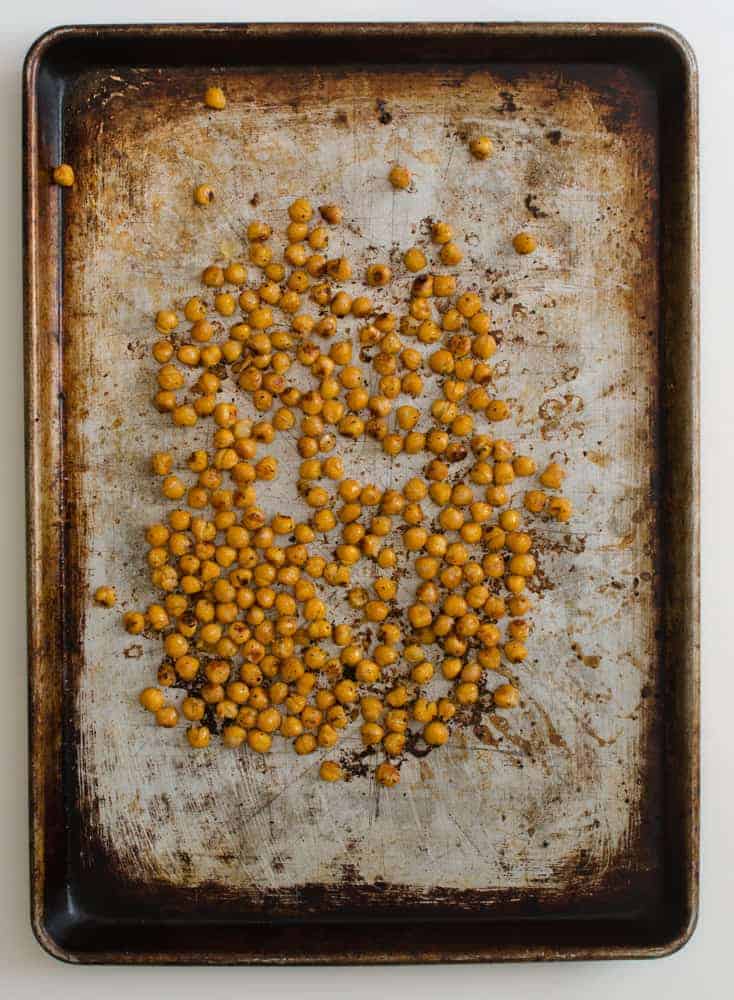 Easy Roasted Chickpeas are a great snack to eat right off the pan, or to store in the fridge as part of your weekly meal prep!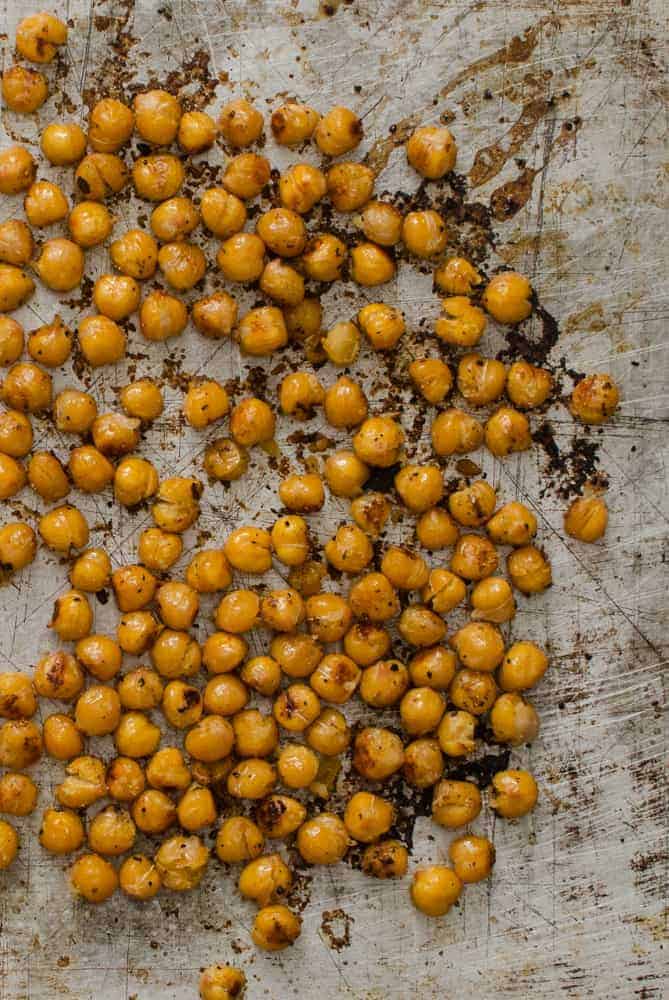 Roasted chickpeas are taking over my kitchen and I'm not sad about it! We are in love with this simple dish and make multiple batches a week. I was in a major snack rut last month and I asked the folks on Instagram for help. A friend mentioned they snacked on roasted chickpeas and a little light went off! I use them in main dish meals, but I hadn't thought about eating them plain for a snack. You guys, they are so good warm right off the pan. I actually had to stop typing this post to go and make a batch because they sounded so good.
I love that they are inexpensive to make, they are quick to prepare (takes about a minute to get them into the oven), and when they come out of the oven they are warm, crispy on the outside, creamy on the inside, and so delicious.  Plus, you can add whatever seasonings you like to them. We've been into "taco," "curry," and "ranch" roasted chickpeas (recipes in the notes), but you really could add anything that you like, want, or have on hand. It's very flexible!
This is a salty crunchy snack that is good for you! Chickpeas are one of those cool "pulses" that I told you about and they have some great health benefits like high levels of iron, zinc, folate, phosphorus, and B vitamins. They also have lots of fiber and protein. I think they are a great thing to add to your diet, and this is a really tasty way to do that.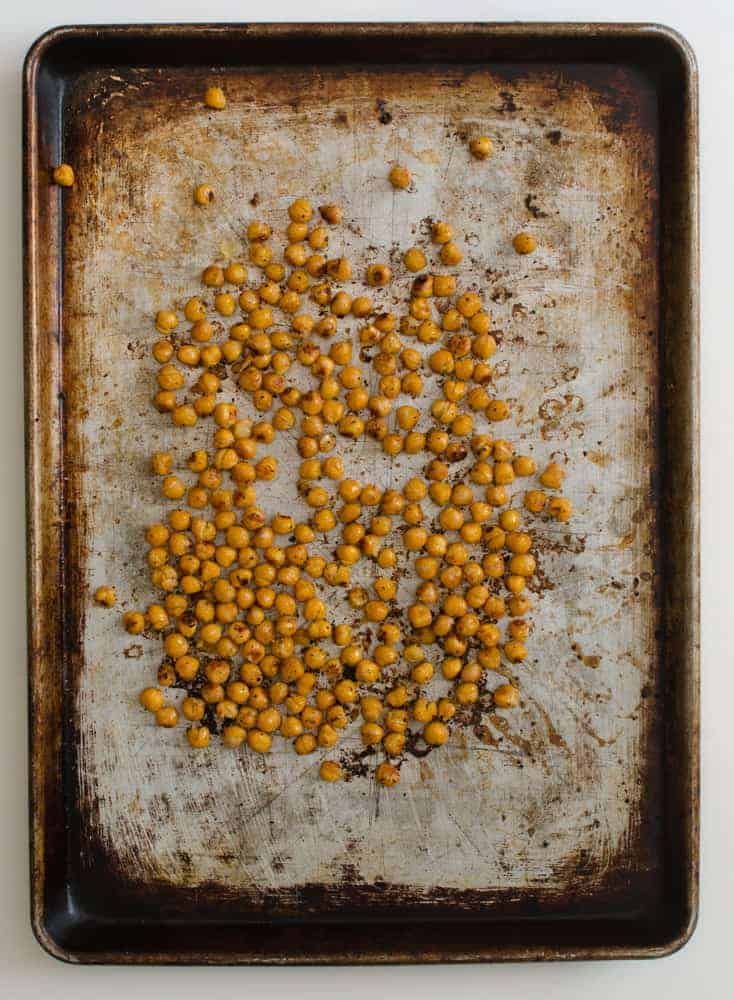 Craving more? Subscribe to Bless this Mess to get new recipes, meal plans, and a newsletter delivered straight to your inbox! If you try this recipe, let me know what you think! Leave a comment, pin it, and don't forget to tag a picture #blessthismesseat on Instagram. I love to see your kitchen skills in action!
Print
Easy Roasted Chickpeas
---
Author:

Prep Time:

5 mins

Cook Time:

20 mins

Total Time:

25 minutes

Yield:

4
Description
Easy Roasted Chickpeas are a great snack to eat right off the pan, or to store in the fridge as part of your weekly meal prep!
---
Ingredients
1 can chickpeas (garbanzo beans), 15-ounces
1 tablespoon olive oil
1 to 1 1/2 teaspoons of seasonings/herbs of your choosing (combo ideas in notes)
1/4 to 1/2 teaspoon kosher salt
---
Instructions
Preheat the oven to 400 degrees. Drain the chickpeas and then give them a good rinse with cold water. Place them on a layer of paper towel and use another paper towel to blot of some of the extra water.
Place the chickpeas in a small bowl and add the olive oil. Give the chickpeas a stir so that the oil coats them well. Add your seasonings and salt and stir again to combine.
Place the seasoned chickpeas on a baking sheet and bake for 20-30 minutes, stirring every 10 minutes, until the outside is crispy and darkened and the inside is creamy. Remove from the oven and enjoy hot. Serve over salads or with roasted veggies over quinoa.
Notes
Favorite flavor combos:
TACO – 1/2 teaspoon each – chili powder, cumin, smoked paprika
OR
CURRY – 1 teaspoon yellow curry powder + 1/2 teaspoon cumin
OR
RANCH – 1 teaspoon dill + 1/4 teaspoon onion AND garlic powder
The possibilities are endless! Experiment to find what you like.
Did you catch those flavor combos in the notes of the recipes? There's some variation on the amount of spice and salt used too, so play around with it and get it to your liking. It's easier to go light and then add a little more spice to taste before serving. You can also use fresh herbs, though I would wait until after the chickpeas are roasted to stir them in so that they don't burn in the oven. Roasted chickpeas won't stay crispy if you store them in the fridge (I like to prep them ahead of time for salads), but they are still full of flavor and delicious. If you want them crispy and warm, eat them right away.
I'm a big chickpea fan. Here are some of my favorite chickpea recipes that I have posted – Roasted Chickpea and Veggie Quinoa bowl (great easy meatless meal), homemade Roasted Red Pepper Hummus, and Healthy Chickpea Chocolate Chip Cookies (don't knock them till you try them!).