Flavorful and hearty, this Italian chicken and mushroom soup is warming to the soul and is totally easy to make a big batch of on a chilly night!
Packed with flavor and delicious ingredients, you'll love this soup for fall and winter nights when all you want is something warm and comforting.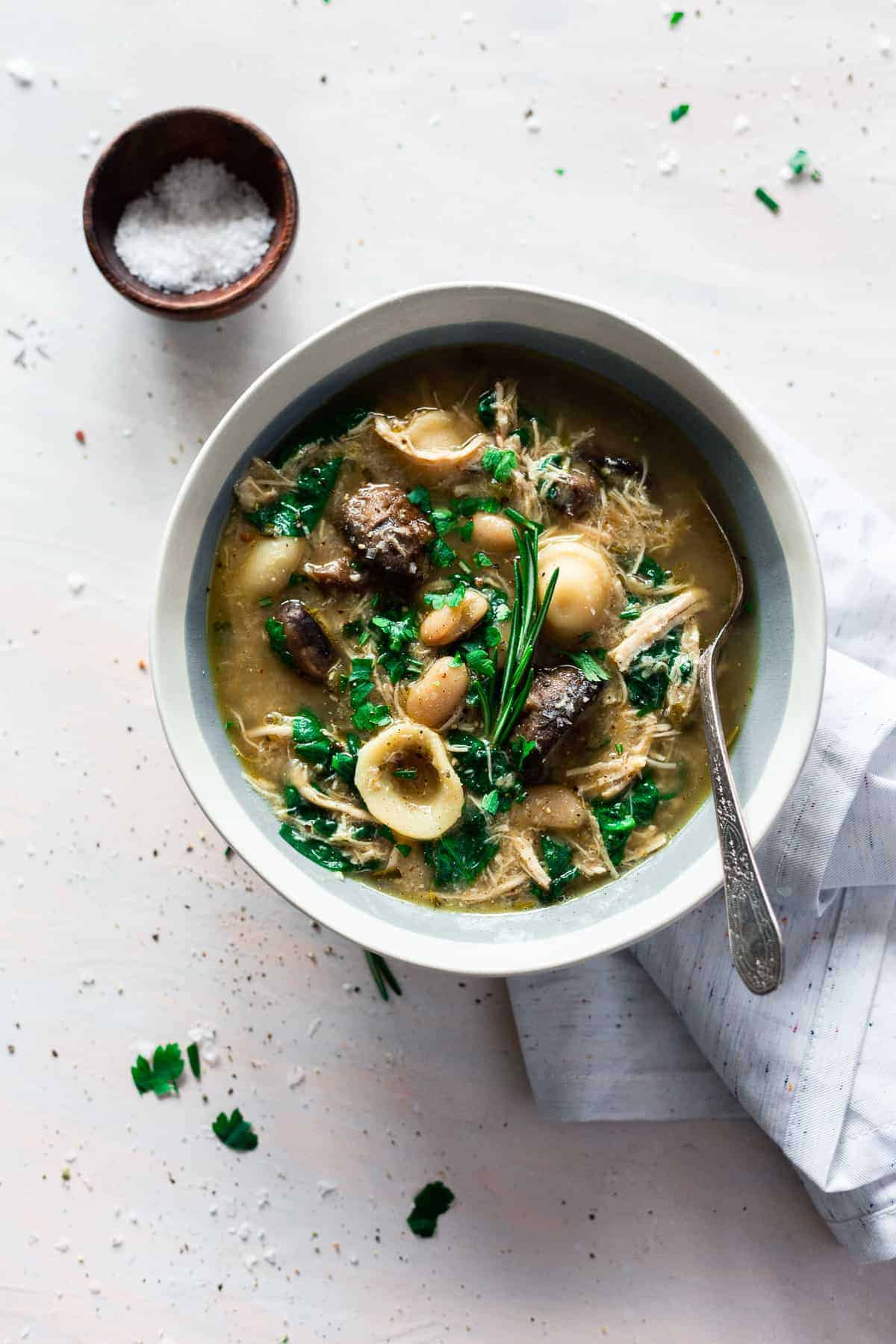 Chicken and Mushroom Italian Soup Recipe
I don't know about you, but I believe there's nothing more comforting than a big bowl of steaming, rich soup on cool evenings. And this soup pretty much takes the cake. It is so delicious and packed full of hearty flavors and ingredients, like fresh herbs, noodles, shredded chicken, onion, celery, mushrooms, and plenty of roasted garlic. Have you roasted garlic before? Oh my goodness, it's a must for this soup — and for life in general. Roasting it takes that sharp tang out of garlic and turns it into a buttery, almost-sweet and creamy flavor that you could literally eat by itself. (Okay, so maybe I do eat it plain… Don't judge.)
You don't need to be a 5-star chef to make roasted garlic OR this soup, either. It's so, so, so simple, and beyond worth the 45-ish minutes of cook time (much of which is spent simmering or roasting things, aka it's hands-free time for you). It makes amazing leftovers, and it's also a goodie for cold season because it's got antioxidants and healthy nutrients that boost your immune system. To say this soup is a multitasking machine would not be an overstatement, and I know you'll just love it.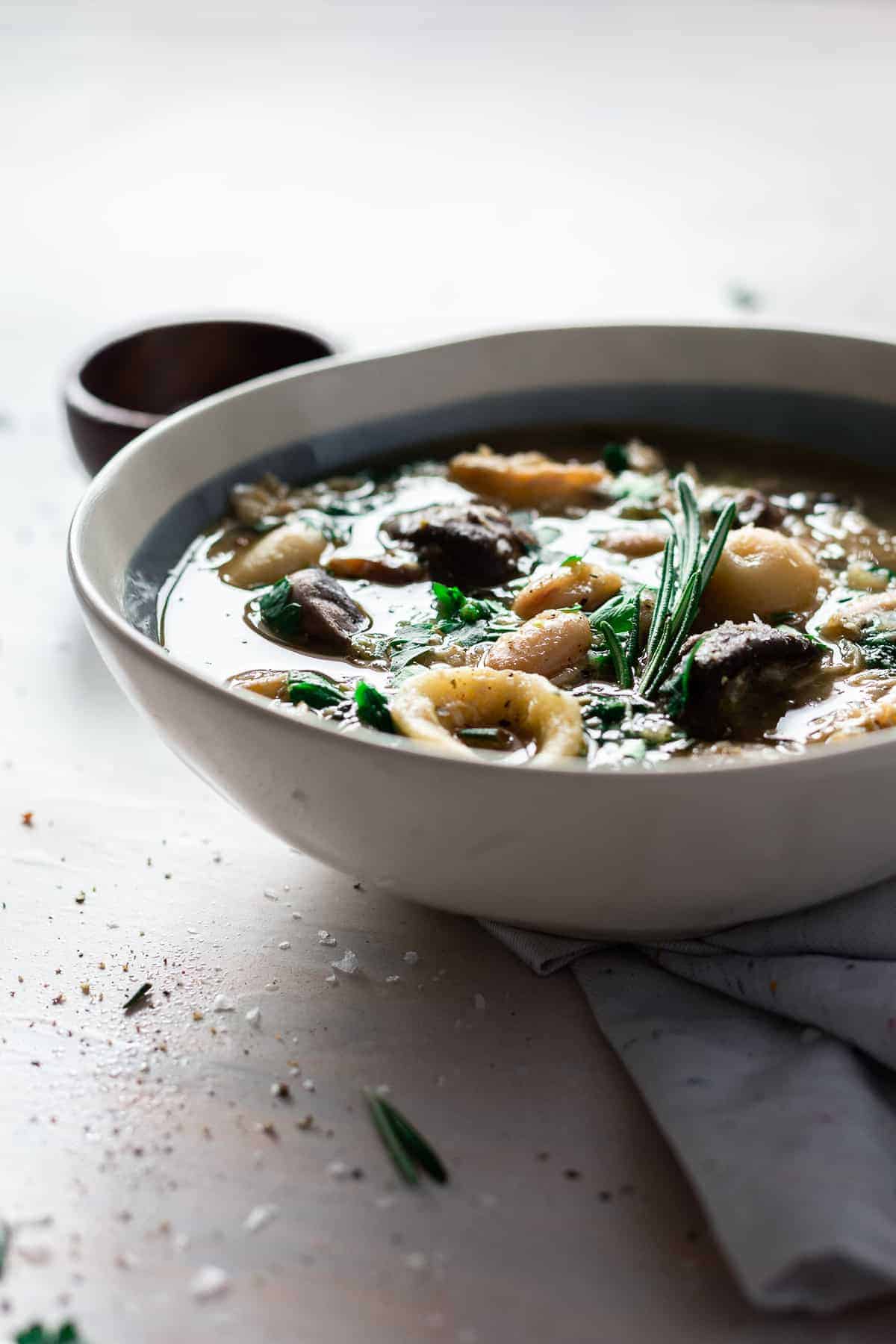 How do you make a good soup?
A great soup is all about flavor and texture. You don't want anything to be too mushy, and you want to have a few different components going on. That's why I love this soup — you have a variety of vegetables, plus chicken, beans, and herbs to give it great flavor and enough texture.
How long does Italian chicken and mushroom soup last?
This soup will last in an airtight container in the fridge for up to 5 days (make sure you let it totally cool before popping it in the fridge), or much longer frozen, up to 3 months. This is a great freezer meal contender to make a huge batch of and then freeze half for a later date!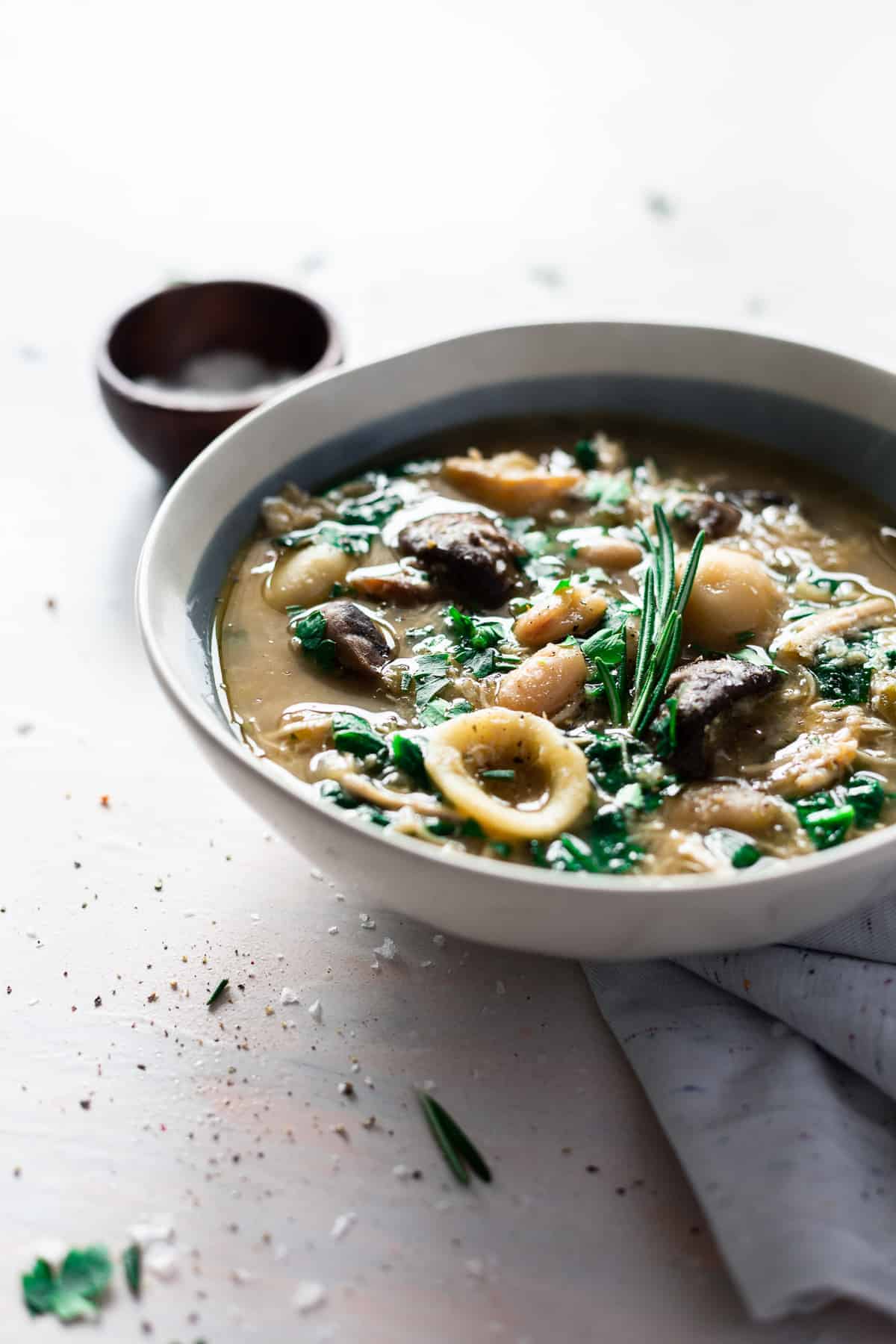 How do you make soup more flavorful?
Soup naysayers often don't like it because there isn't enough flavor, but this soup certainly doesn't have that problem. Between onion, two heads of roasted garlic, chicken stock, and some great herbs, it will be full of flavor that you'll love.
What do you serve with soup?
This soup goes amazingly with toasted crusty bread. Add a little butter to your bread and dunk away!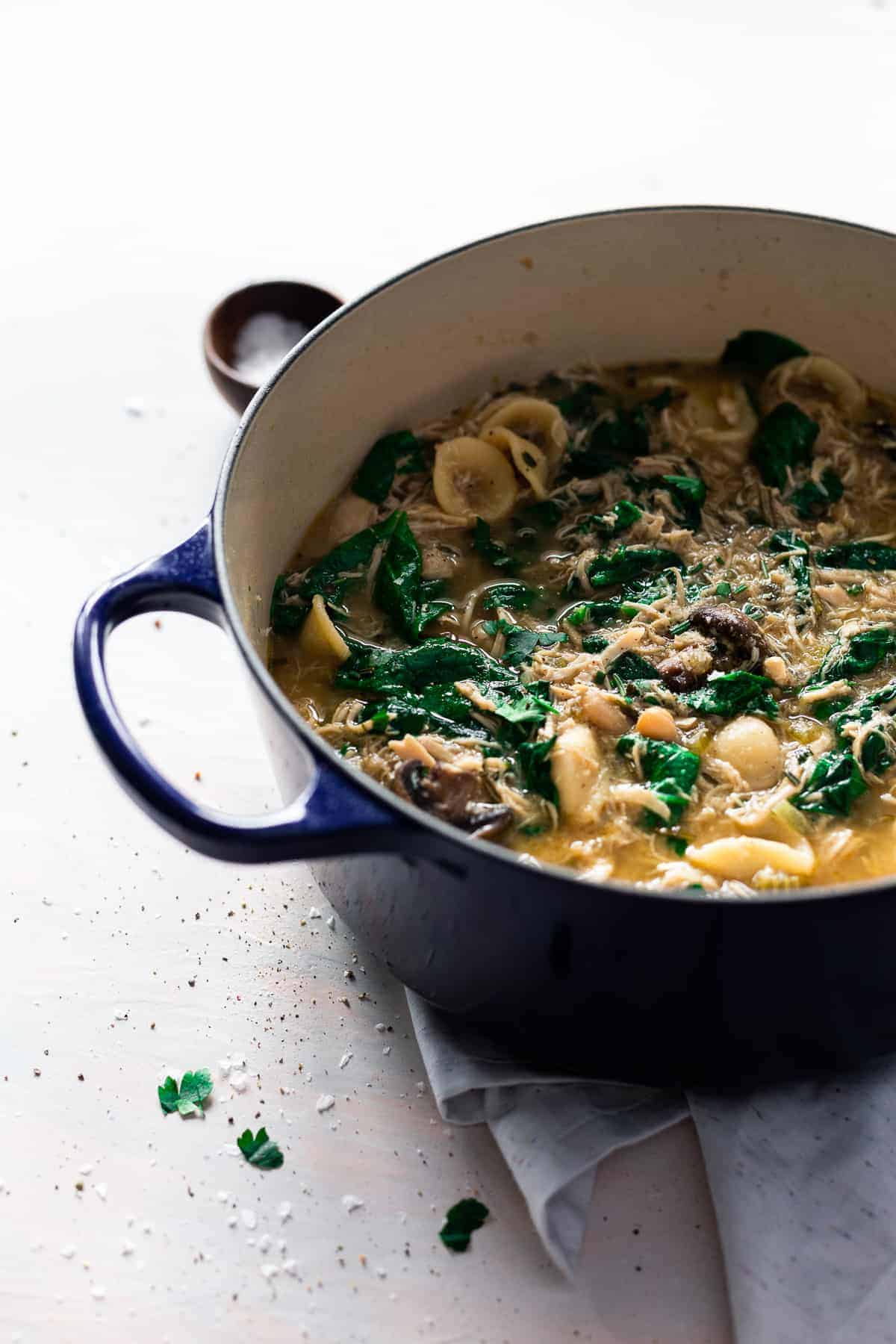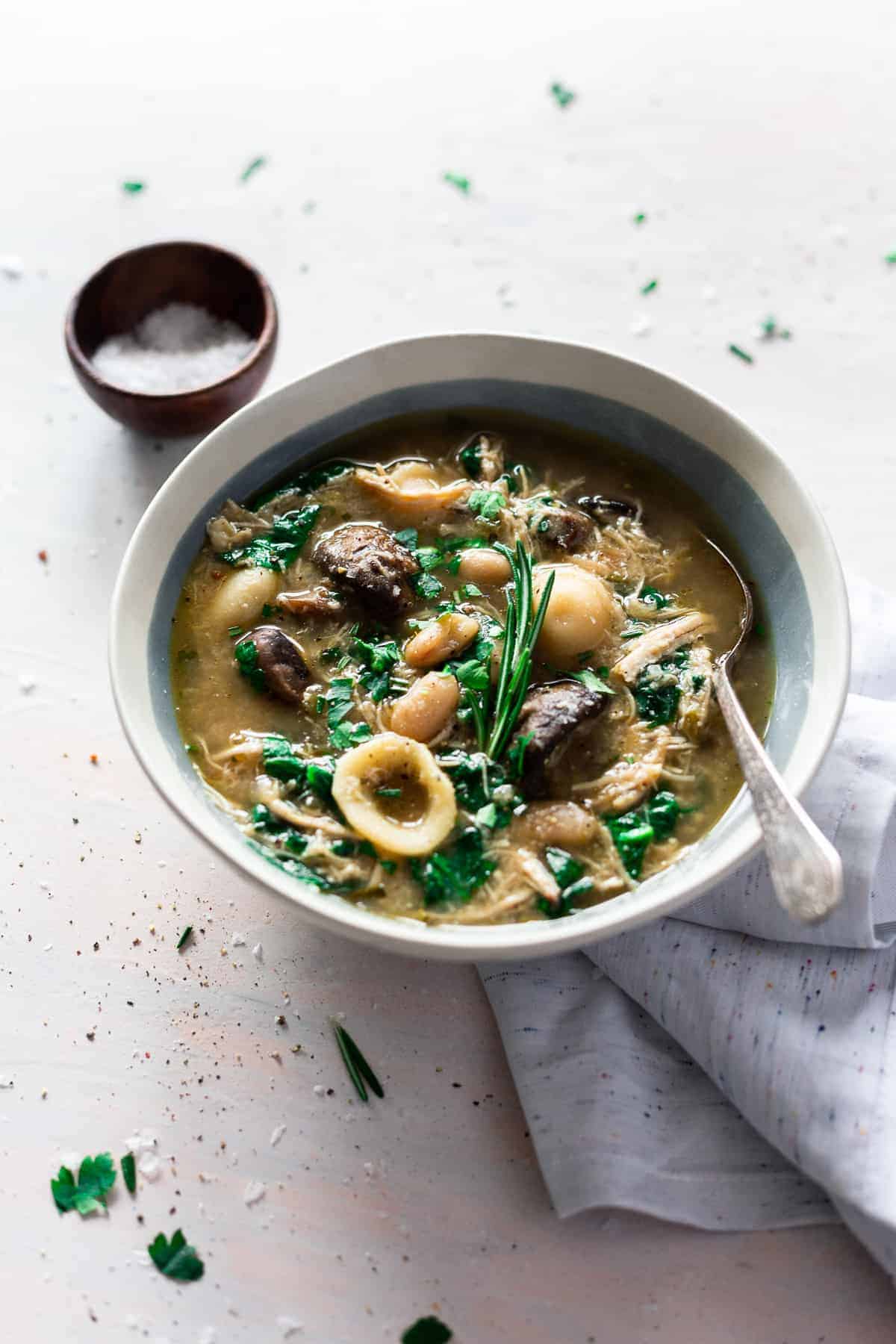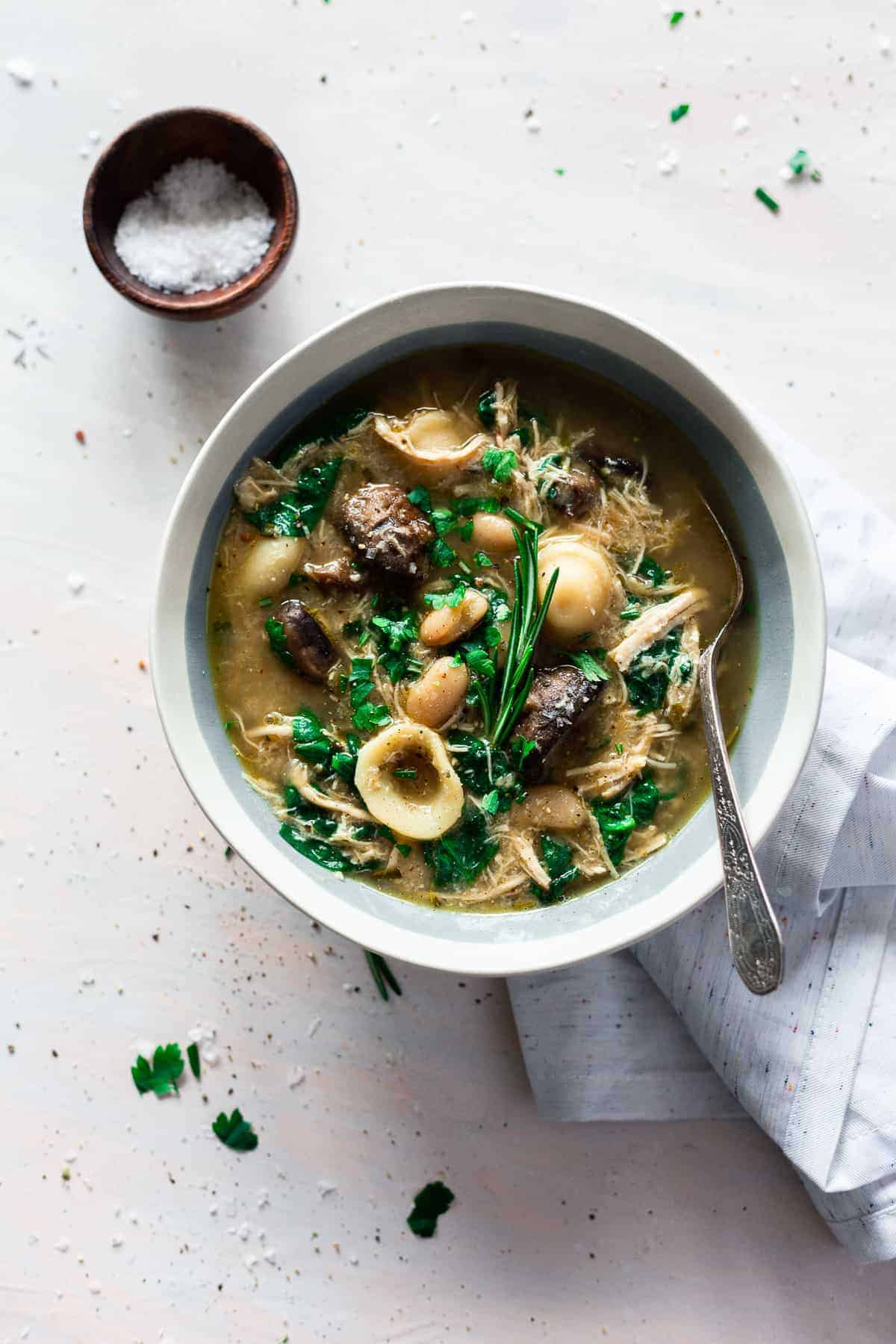 Print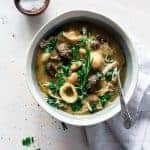 Italian-Style Chicken and Mushroom Soup
---
Description
Flavorful and hearty, this Italian chicken and mushroom soup is warming to the soul and is totally easy to make a big batch of on a chilly night!
---
Scale
Ingredients
6 tablespoon

s olive oil

1

yellow onion, diced

4

ribs celery, chopped

8 cup

s chicken broth

4 cup

s chicken, cooked and shredded

4

bay leaves

2 teaspoon

s salt

1 teaspoon

freshly ground black pepper

2

whole heads garlic (this means the entire bunch!)

8 ounce

s button mushrooms, cleaned

1 cup

orecchiette pasta, or other small pasta shapes such as bow ties or elbow macaroni

1 cup

canned cannellini or navy beans, rinsed and drained

2 tablespoon

s fresh rosemary, chopped, or

2 teaspoon

s dried rosemary

2 tablespoon

s fresh parsley, chopped

8 cup

s firmly packed spinach, washed, drained, and stems removed
---
Instructions
Heat 4 tablespoons of the olive oil in a large soup pot over medium heat.
Add the onion, reduce the heat to low, and cook, stirring occasionally, about 15 minutes. Add the celery, and cook about 5 minutes longer, stirring occasionally.
Add the broth, chicken, bay leaves, salt, and pepper. Bring the mixture to a boil over medium to medium-high heat. Reduce heat and simmer about 1 hour, stirring occasionally.
Place both heads of garlic on a small sheet of aluminum foil, and drizzle with 1 tablespoon of the olive oil. Wrap tightly and place in the oven to roast at 450 degrees F., about 35 to 40 minutes, or until the garlic is soft.
Meanwhile, toss the mushrooms with the remaining olive oil in a baking dish (or some more foil), place in the oven, and roast 15 to 20 minutes, until golden brown, stirring once or twice during cooking to coat evenly.
Remove the mushrooms from the oven, and add to the soup. Remove the garlic from the oven, peel the cloves, and add to the soup, leaving them whole.
Add the orecchiette to the soup and cook, stirring occasionally, 10 to 12 minutes longer, just until the pasta is al dente. Add the beans and heat through.
Add the rosemary and parsley, and stir to mix. Remove soup from the heat.
Add the spinach, and stir until wilted.
Serve hot with crusty bread.
---
More chicken recipes:
This post was originally published in 2010, and has been updated and rephotographed in October 2019.
You are sure to love this flavor-filled Italian chicken and mushroom soup, and it's such an easy recipe to make on a chilly night to warm up your loved ones!