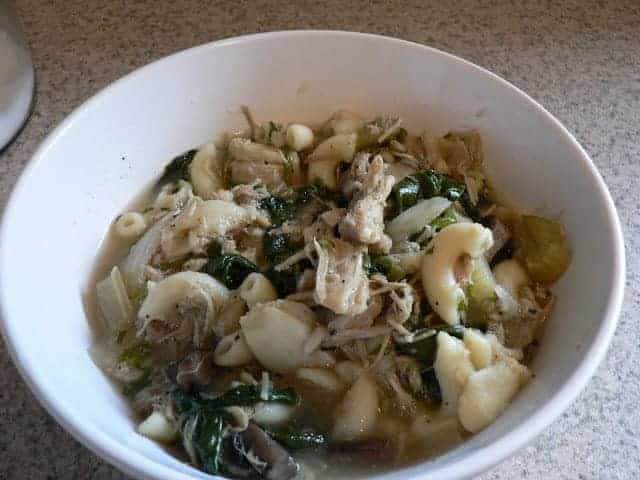 I got this recipe from my friend Jasmine.  This is one of the best soups I've eaten.  It has lots of flavor and fills you up.  Plus it is super healthy.  Don't be scared of the garlic, roasting it makes it sweet and delish.
Italian-Style Chicken and Mushroom Soup
1 yellow onion, diced
4 ribs celery, chopped
8 cups chicken broth
4 cups shredded cooked chicken
4 bay leaves
2 teaspoons salt
1 teaspoon freshly ground black pepper
2 whole heads garlic
(this means the entire bunch!)
8 ounces button mushrooms, cleaned
1 cup orecchiette pasta, or other small pasta shapes such as bow ties or elbow macaroni
1 cup canned cannellini or navy beans, rinsed and drained
2 tablespoons chopped fresh rosemary or 2 teaspoons dried rosemary
2 tablespoons chopped fresh parsley
8 cups firmly packed spinach, washed, drained, and stems removed
Heat 4 tablespoons of the olive oil in a large soup pot over medium heat. Add the onion, reduce the heat to low, and cook, stirring occasionally, about 15 minutes. Add the celery and cook about 5 minutes longer, stirring constantly.
Add the broth, chicken, bay leaves, salt, and pepper. Reduce heat and simmer about 1 hour, stirring occasionally.
Place both heads of garlic on a small sheet of aluminum foil and drizzle with 1 tablespoon of the olive oil. Wrap tightly and place in the oven to roast at 450 degrees, about 35 to 40 minutes, or until the garlic is soft. Meanwhile, toss the mushrooms with the remaining olive oil in a baking dish (or some more foil), place in the oven, and roast 15 to 20 minutes, until golden brown, stirring once or twice during cooking to coat evenly.
Remove the mushrooms from the oven and add to the soup. Remove the garlic from the oven, peel the cloves, and add to the soup, leaving them whole.
Add the orecchiette to the soup and cook, stirring occasionally, 10 to 12 minutes longer, just until the pasta is al dente. Add the beans and heat through. Add the rosemary and parsley and stir to mix; remove from the heat.
Add the spinach and stir until wilted.  
Serve with crusty bread.