Homemade Chicken Broth is made incredibly easy with the aid of the Instant Pot. It takes little effort, is very cost effective, and rich in flavorful.
Chicken broth is a widely used ingredient for so many recipes. It is easy to create from leftover vegetables and chicken bones in the Instant Pot. Plus, it won't break the bank.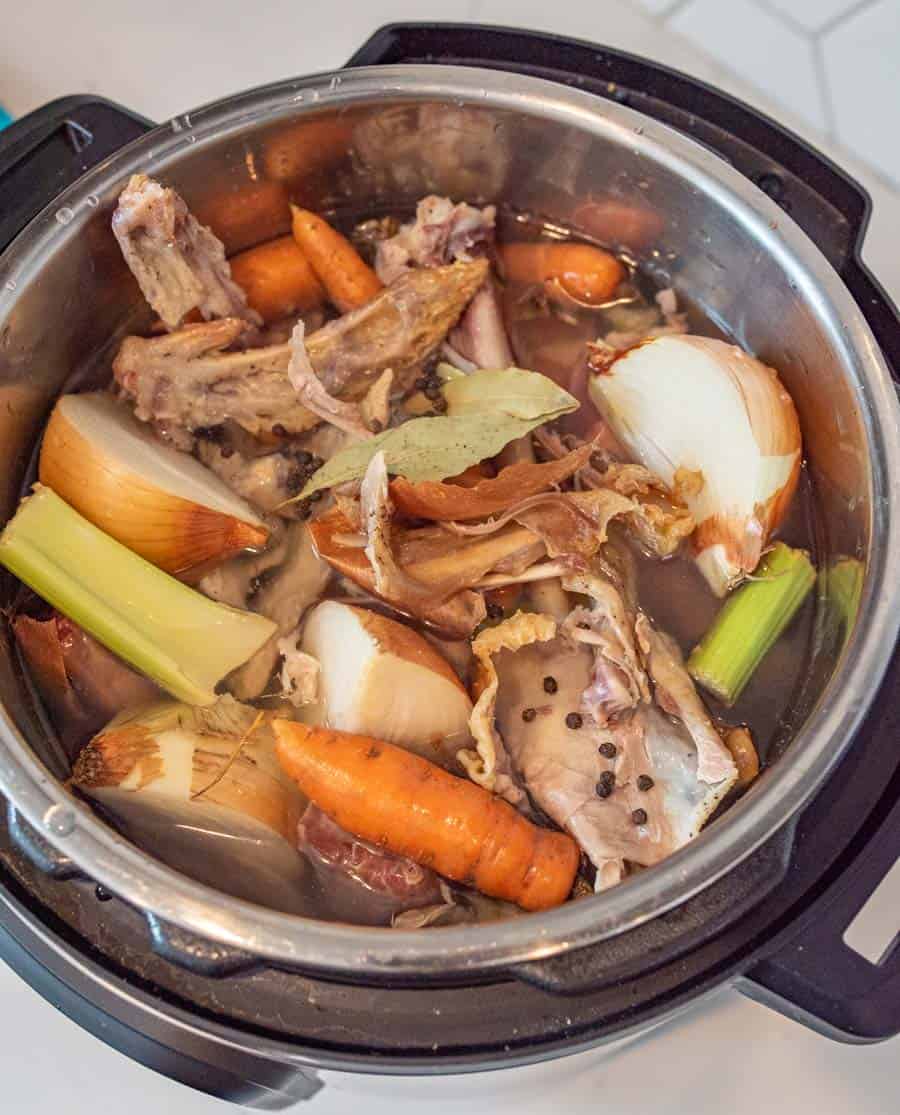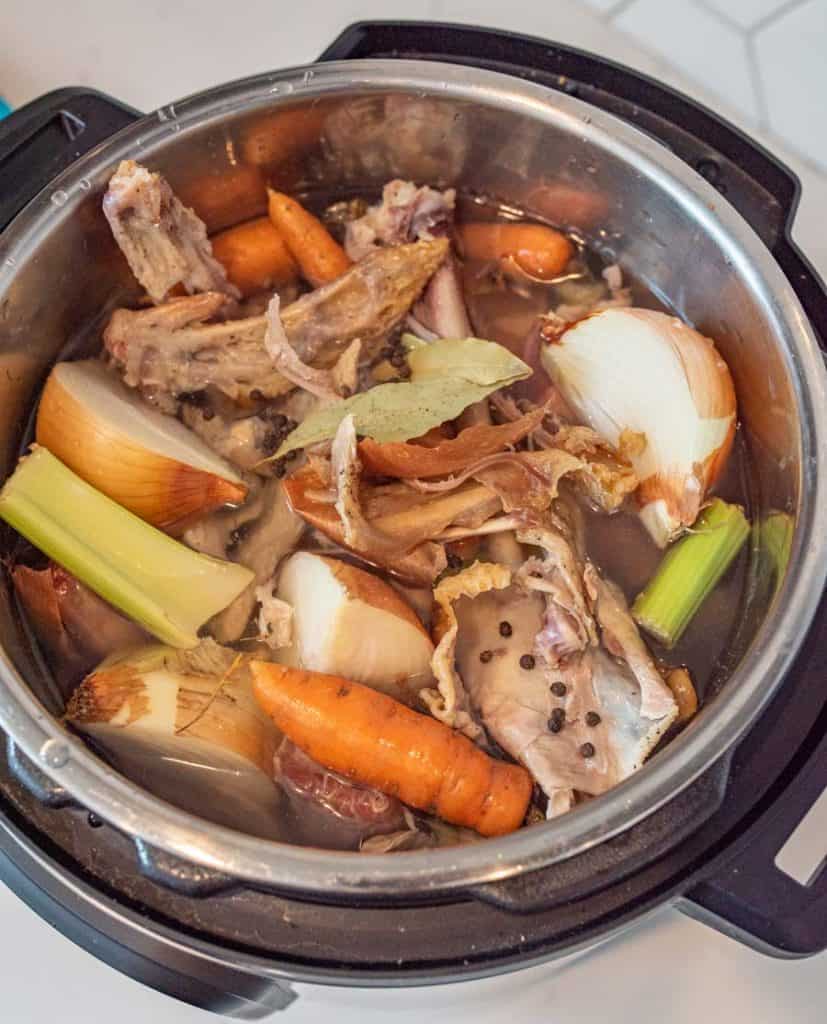 How to Make Chicken or Turkey Broth
Making your own chicken broth is incredibly easy and tastes so much better than anything you can buy at the store. Once you know how simple it is, you will enjoy making broth from leftover rotisserie chicken or turkey bones.
When you make your chicken broth at home you know exactly what is going into it. No hidden ingredients like msg or caramel color. You also get to incorporate as much sodium as you see fit. Knowing what is in the food we are eating is so important.
Chicken broth at home is very economical. If you use leftover chicken parts and vegetable scrap it is basically free! A lot of recipes call for chicken broth or stock and this will save you a fair amount of money when you learn to make it at home.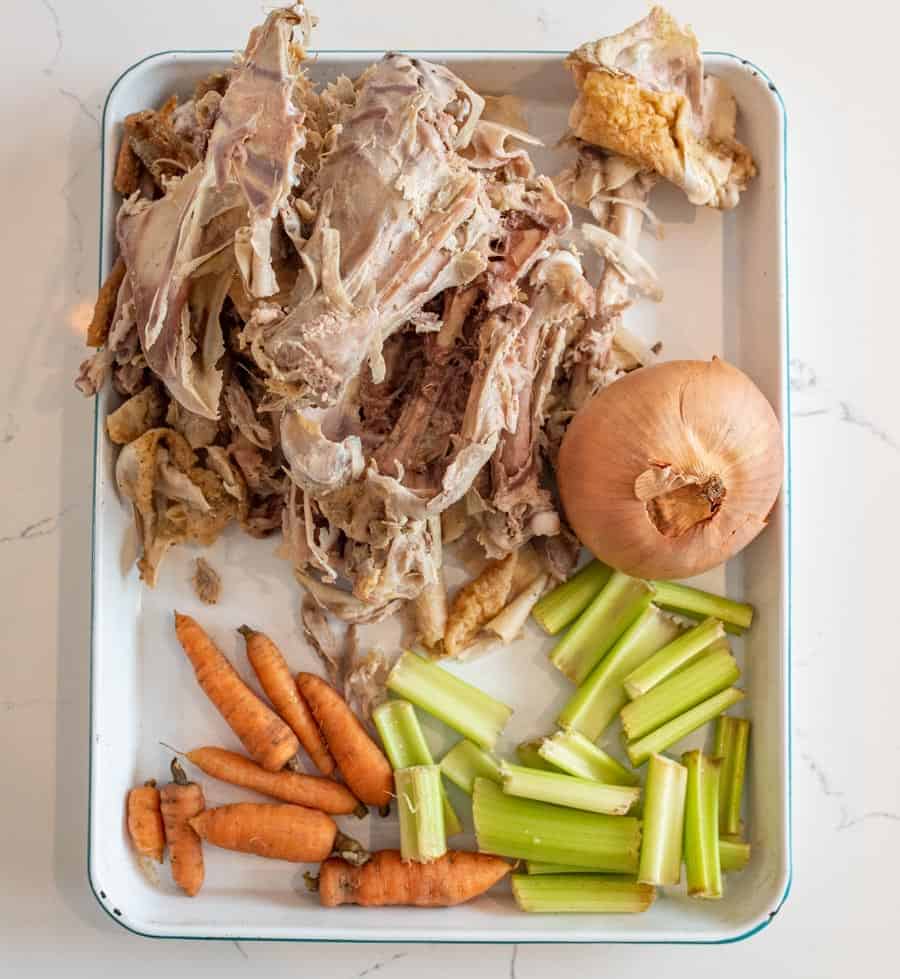 Frequently Asked Questions:
Can you freeze chicken broth?
Yes! The freezing component is something I love about homemade chicken broth. You can freeze up to 3 months in an airtight container. See recipe card for more details on freezing this recipe.
What parts of the chicken should I use to make broth?
You can use the bones from a roasted chicken, wings, neck, backbones, or even chicken feet if you have them. My favorite way to make this is using leftover bones after I have made a chicken or turkey, picked the meat off, and then turned the rest into broth. It's essentially using scraps to make more food and it's awesome.
What vegetables are best for making chicken broth?
I like to use vegetable scraps if I have them on hand. Peels from carrots, parts of the onions, celery, etc. I collect these scraps in a bag in the freezer! If you don't have any scraps you can use fresh vegetables like onions, celery, or carrots.
How long does it take to make chicken broth in the instant pot?
It will take 4 hours of cook time but I like to let it rest and come down from pressure on it's own and then sit on warm until I'm ready for it. I normally let me chicken or turkey broth cook for 12 total hours for the best results (overnight).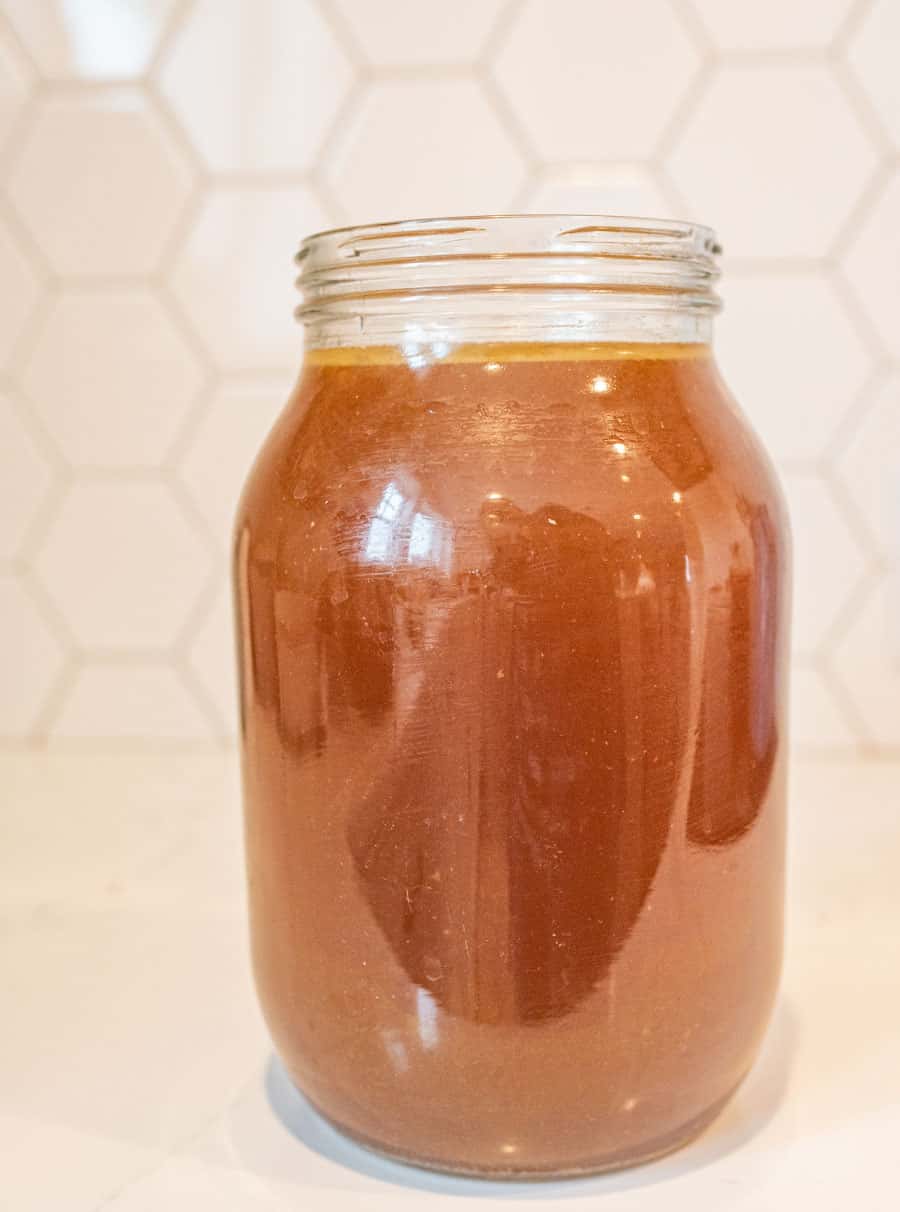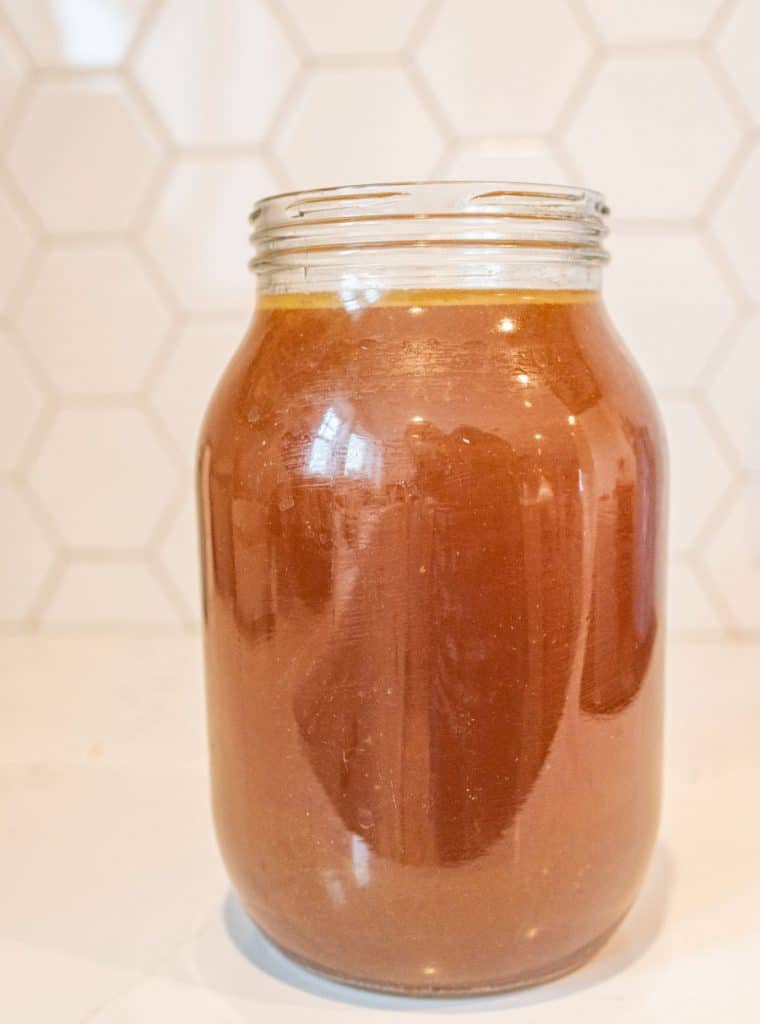 More cooking from scratch recipes:
If you've tried this feel good Chicken Broth recipe or any other recipe on Bless this Mess, then don't forget to rate the recipe and leave me a comment below! I would love to hear about your experience making it. And if you snapped some pictures of it, share it with me on Instagram so I can repost on my stories AND add your photo to your comment so that other can see your creation!
Print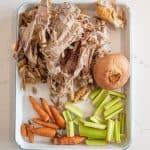 How to Make Chicken Broth
---
Author:

Total Time:

12 hours

Yield:

8

to

12

cups

1

x

Diet:

Gluten Free
Description
A simple guide on how to make chicken or turkey broth from leftover roasted chicken in the instant pot, slow cooker, or the stove top to make nourishing bone broth at home.
---
3

pounds chicken or turkey bones or leftover chicken or turkey carcass (after roasting and picking off the meat)

½

to

1

large onion

2

to

3

large carrots

2

to

3

ribs celery

3

bay leaves

½ teaspoon

black peppercorns

2

cloves garlic

2 tablespoon

vinegar (white or apple cider vinegar)

8

to

12

cups water (see notes)
---
Instructions
To prepare the veggies, simply wash them and cut them into a few large pieces. I normally cut the onion in half or quarters and the carrots and celery into 2 to 3 large pieces. There's no need to peel them or remove the celery leaves.
Add the bones, onion, carrots, celery, bay leaves, garlic, vinegar, and 8 to 12 cups water to the insert of your pressure cooker.
Place the lid on the pressure cooker, and set the valve to sealing. Adjust the cook time to 4 hours on high pressure.
Let the pressure cook come to pressure and then cook for 4 hours. When it has gone through the cook time, let it natural pressure release.
I normally will set the cook time while I'm making dinner and then just let it cook and come down from pressure overnight. The default setting for InstantPots once something has finished cooking and come down from pressure is to keep it warm (it essentially goes to the slow cooker mode), so the broth can stay in the InstantPot for a very long time which means you can deal with it when it's convenient for you.
When the pressure has released, remove the lid.
Place a colander or strainer in a very large bowl in your sink.
Carefully remove the inner pot of your pressure cooker, and pour all of the contents of the pot into the prepared colander sitting inside a bowl. Pick up the colander, and allow it to drain over the bowl until no liquid drips out. Discard the leftover bones and veggies left in the bowl (see notes).
Ladle the liquid from the bowl into a container(s) that you can put a lid on and stick in your fridge to cool (I use quart mason jars). Cover your containers and refrigerate overnight or until totally cool. Don't let your broth cool at room temperature, and don't put hot broth into your freezer.
The fat will float to the top of the container(s) and solidify into a white layer on top. You can choose to discard the fat or keep it. (It's up to you; it's delicious in soups and gravy if you choose to keep it in.)
Once your broth has cooled fully, you can store it as you like. It'll keep in the fridge for 3 to 5 days, or in the freezer for 3-or-so months (see notes for freezing tips).
Use in soups, to make gravy, or as a nourishing drink.
TO MAKE THIS IN A SLOW COOKER: Add the ingredients and water and slow cook on low overnight for a full 12 hours or more. The long cooking time is essential for a really good nourishing broth.
TO MAKE ON YOUR STOVE TOP: add the ingredients and water to a large stock pot and barely simmer over low heat for 12 hours with a lid on. If the water level starts to be too low, you can add a cup here or there as needed. Don't let the water level go ⅔ the original amount.
Notes
*The amount of water you add will depend on two things, how thick/condensed you'd like your broth and how large your pressure cooker is. You'll get a thicker, more flavorful broth using less water (though I don't mind it thinner at all -- you can always adjust seasonings while cooking). Note that you should never fill your pressure cooker past the ¾ fill line indicated on the inner cooking pot. So, when adding water, stop when you reach that line, regardless of how much you have added. You'll be able to fit more water in a larger pressure cooker. If the broth is generally going to be used for cooking, I'll make more of it and thinner (add 12 cups of water). If I wanting it for a healing drink to be enjoyed on its own, I'll add the 8 cups of water so that it has more flavor.
The big beef bones that you have used are very hard and can be used with a dog as a chew bone if you trust them not to chew through them since they're so hard. I give all the other scraps from the colander (super soft veggie scraps) to my chickens. They love the soft flavorful veggies. I'm left with very little waste from this process.
You can freeze bone broth in wide mouth mason jars (½ pint, pint, and quart all work), just be sure they are wide mouth (not having a "neck" like regular mouth jars reduces breakage) and give the liquid ample room to expand when freezing (I leave 2 inches head space). And be really careful to not let them bump into each other when frozen (like when you are transporting them out of the freezer) as glass seems extra fragile when cold. You can also use something like a "Souper Cube" which is silicone and freezes the broth in 1 cup chunks (great if using a small amount in a recipe). I also love these reusable deli containers (and have them in three sizes). You have lots of freezing options!
When it comes to buying bones for bone broth, you can ask a butcher if they sell broth or soup bones. We buy a cow or a portion of a cow from a local rancher every so often and I just request soup bones to be packaged when the meat is cut. Most small butcher shops will have them. Feel free to pop on social media and crowd source where others have found bones locally to save time. The bones are going to be large bones (like hips and leg bones) that are often cut in half so that the marrow cooks out easily. You can use knuckles and feet for more collagen in your broth, but I generally don't.
After your broth cools, it might look thick like jelly. This is a great sign; that's the collagen and marrow and what makes homemade bone broth nourishing. If yours does not look like jelly when cold, it's just because you used more water and it's more diluted. No worries, all that goodness is still in there.
The vinegar is what makes this more of a "heritage" recipe. It's a very old tip that helps to pull the nutrients out of the bones; I think it's vital to making nourishing broths.
I make bone broth the same way in my slow cooker! Add everything, cover, and cook it on low overnight. Easy!
Prep Time:

15 min

Cook Time:

4-12 hours

Category:

preserving

Method:

stove top, instant pot, slow cooker

Cuisine:

American
Keywords: how to make chicken broth, how to make chicken stock, chicken broth recipe, chicken stock recipe, chicken broth in instant pot, leftover turkey broth, how to make turkey broth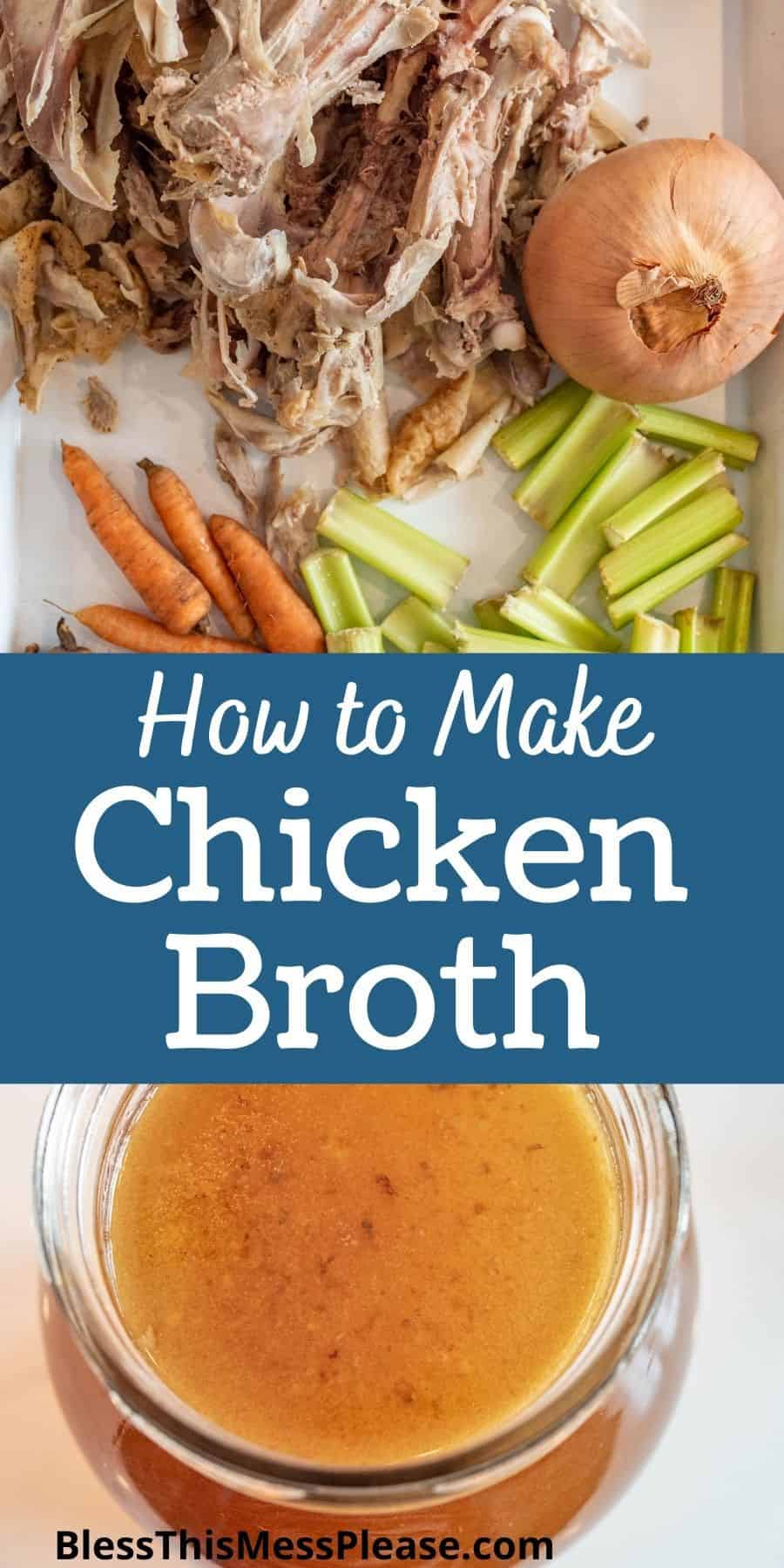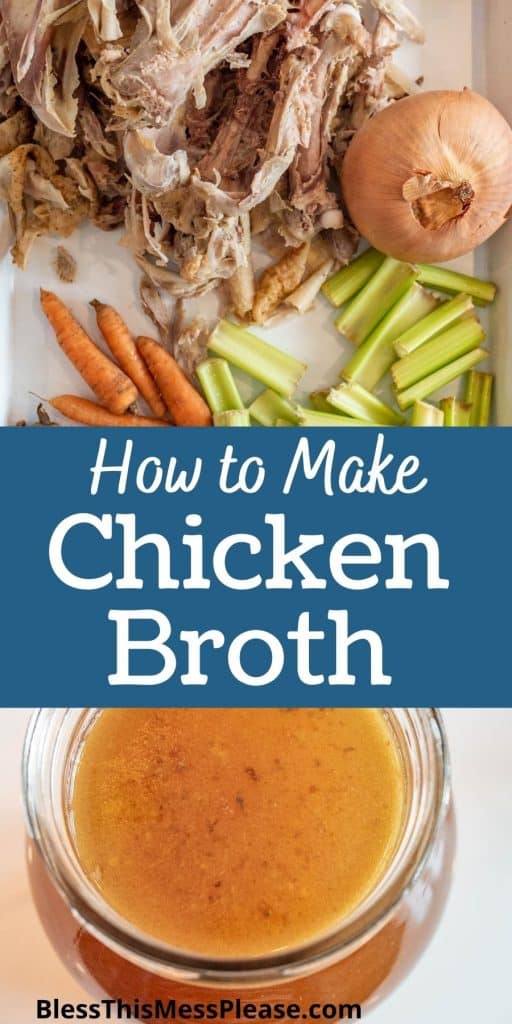 Enjoy this simple guide on how to make chicken or turkey broth from leftover roasted chicken in the instant pot, slow cooker, or the stove top to make nourishing bone broth at home.