The key to figuring out how long to bake chicken leg quarters, thighs, or legs is all about getting the temperature and timing just right!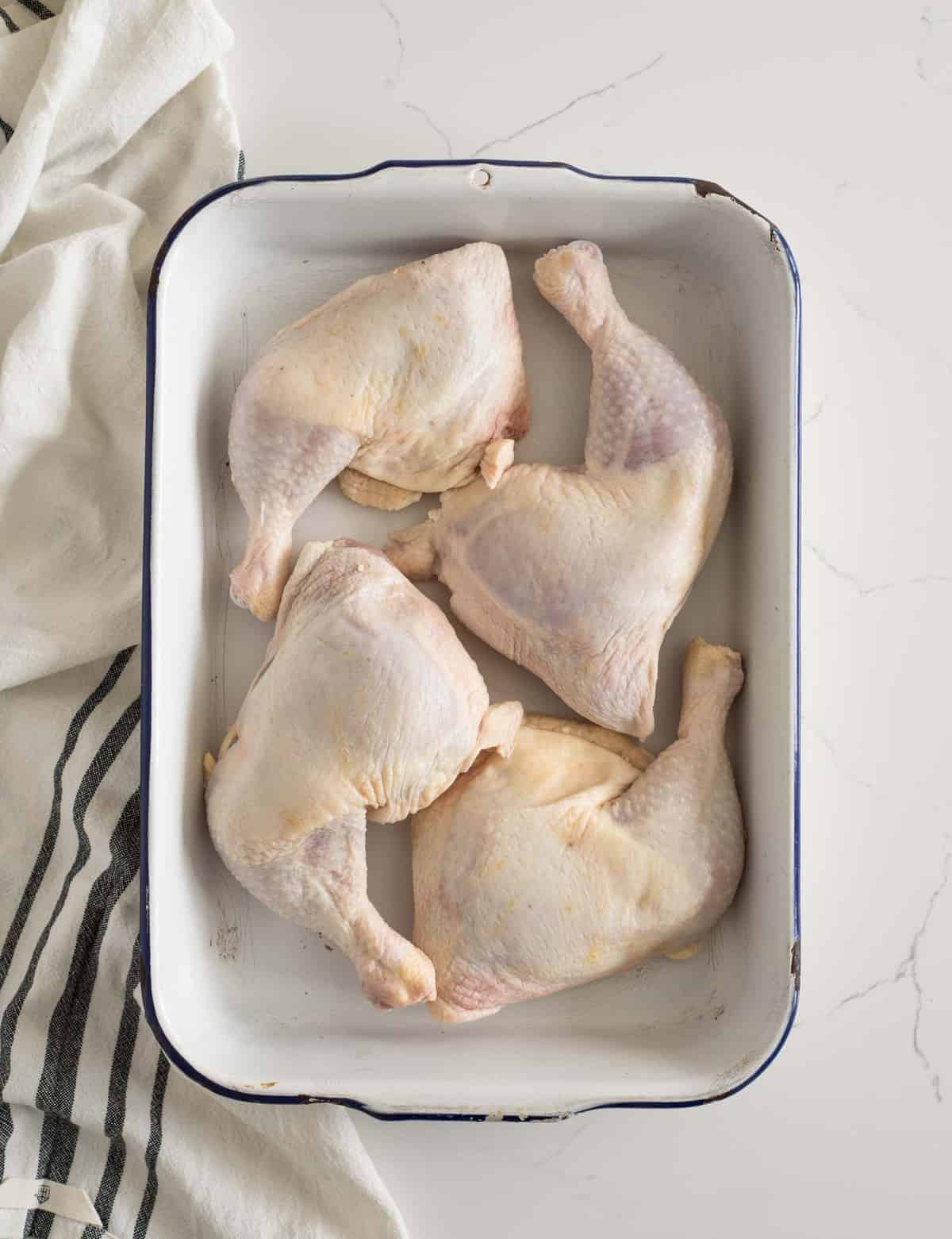 How Long to Bake Chicken Leg Quarters
It's no secret that I love chicken legs, and I've found that many of you do, too! One of the by-far-best and most popular recipes on my blog is this one for The Best Baked Chicken Legs -- it's even been shared more than 250K times! Along with being a reader favorite, it's also one of my family's. It's safe to say that chicken legs, and other dark meat cuts like chicken thighs and chicken leg quarters, are a staple in my home.
But have you ever wondered WHY it's so good? What's different between dark meat and white meat? How long to bake chicken leg quarters to have the best-tasting meat? Or maybe you're wondering what the heck a chicken leg quarter is? I'm here to help you, and maybe even convert you to the dark side -- of chicken meat, that is!
Q: What's the difference among the various cuts of chicken?
A: A chicken leg technically includes both the thigh and the drumstick (the lower portion of the leg, often referred to as just a chicken leg). Of course you can get both of those separately as well. So what is a chicken leg quarter? It's the full leg (thigh and drumette) plus a portion of the back. (Check out this awesome breakdown of chicken cuts with photos on chicken.org).
Q: Why choose chicken legs, chicken thighs, or chicken leg quarters?
A: Reason 1: It's cheaper than white meat – this is a huge bonus for families looking to save money. I can usually buy dark meat for up to half the price of white meat – that's money that can go to more exciting food purchases like fancy dark chocolate. ☺
Reason 2: It's extremely moist – because it often cooks on the bone, in the skin, and with the fat, it comes out very moist and flavorful. If you're not careful, white meat can quickly become overcooked and too dry, but dark meat is almost impossible to dry out!
Reason 3: It's versatile – almost any chicken dish can be made with dark meat cuts.
Reason 4: It's delicious! In my opinion, dark meat is more flavorful than white meat and pairs so wonderfully with so many flavors.
Q: How long do you bake chicken leg quarters, chicken thighs, and chicken legs?
A: Of course it depends on the temperature of your oven, but I usually bake at 375 degrees for 45-60 minutes. The ultimate goal is for the internal temperature to reach 165 degrees Fahrenheit in the thickest part of the meat. If you don't already have a meat thermometer, get one. Right now. It's SO helpful to make sure you don't overcook your meat, while still making sure it's safe.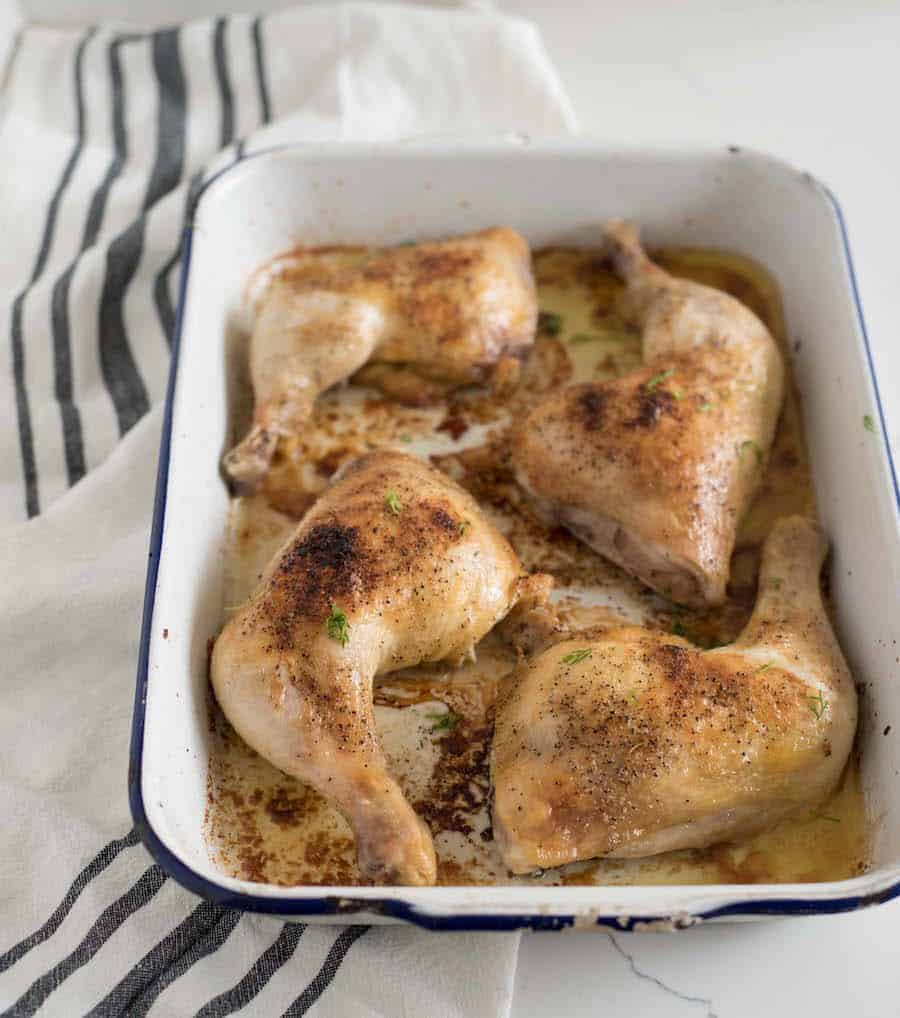 What are your favorite chicken leg quarters recipes? Here's mine:
Print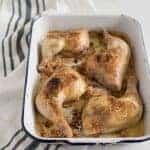 How Long to Bake Chicken Leg Quarters
---
Author:

Total Time:

1 hour 25 minutes

Yield:

Serves

4

-6

1

x
Description
Ever wonder how long to bake chicken leg quarters, thighs, or legs? It takes at least an hour but the key is all about the temperature and the timing.
---
4

chicken leg quarters (about

3

pounds)

4 tablespoon

s of butter
Seasoning to taste, see notes
---
Instructions
Preheat the oven to 300 degrees.
Place the chicken leg quarters in the bottom of a rimmed baking sheet or a baking dish.
Melt the butter and brush it over each chicken leg quarter.
Sprinkle generously with seasoning of choice.
Cover the pan with foil and bake for one hour.
Increase the oven temperature to 425 degrees, remove the foil and bake for an additional 10-20 minutes until the skin is crisped to your liking and the chicken registers 165 degrees on an instant read thermometer.
Let the chicken rest for 10 minutes before serving.
Notes
When it comes to seasoning, you can go as simple as salt and pepper, you can use your favorite seasoning blend (like Everything But the Bagel seasoning from Trader Joe's, Montreal Chicken Seasoning, Lemon Garlic, or anything else).
You can make your own magic season salt by combining ¼ cup kosher salt, 4 teaspoons garlic powder, 1 tablespoon ground black pepper, 2 teaspoons onion powder, and ½ teaspoon cayenne pepper, optional. I just toss everything in a little mason jar, add the lid, and shake to combine. This is a great basic season salt recipe. It's great on french fries and all kinds of meat.
Prep Time:

5 min

Cook Time:

1 hour 20 min

Category:

dinner, chicken

Method:

baked

Cuisine:

American
Keywords: chicken leg quarters, chicken thighs, baked chicken, baked chicken recipe
If you can't tell, I'm in love with dark meat chicken cuts and I hope I've convinced you to try them out if you aren't yet converted – your wallet and your taste buds will thank me!
Recipes you'll love to go with your chicken leg quarters:
Other baked chicken recipes for your table:
Ever wonder how long to bake chicken leg quarters? It takes at least an hour but the key is all about the temperature and the timing. Plus, there's butter involved!