Homemade Pizza Rolls – those delightful bites that manage to capture all the goodness of a pizza in a compact, handheld package. Whether enjoyed as a snack during movie nights, a crowd-pleasing appetizer at parties, or even as a creative meal option, homemade pizza rolls have stolen the hearts (and taste buds) of many.
One of the major appeals of pizza rolls is their portability. They're like a mini pizza you can carry around without the need for plates, forks, or any fancy table settings. This makes them ideal for busy weeknights, picnics, or on-the-go snacking.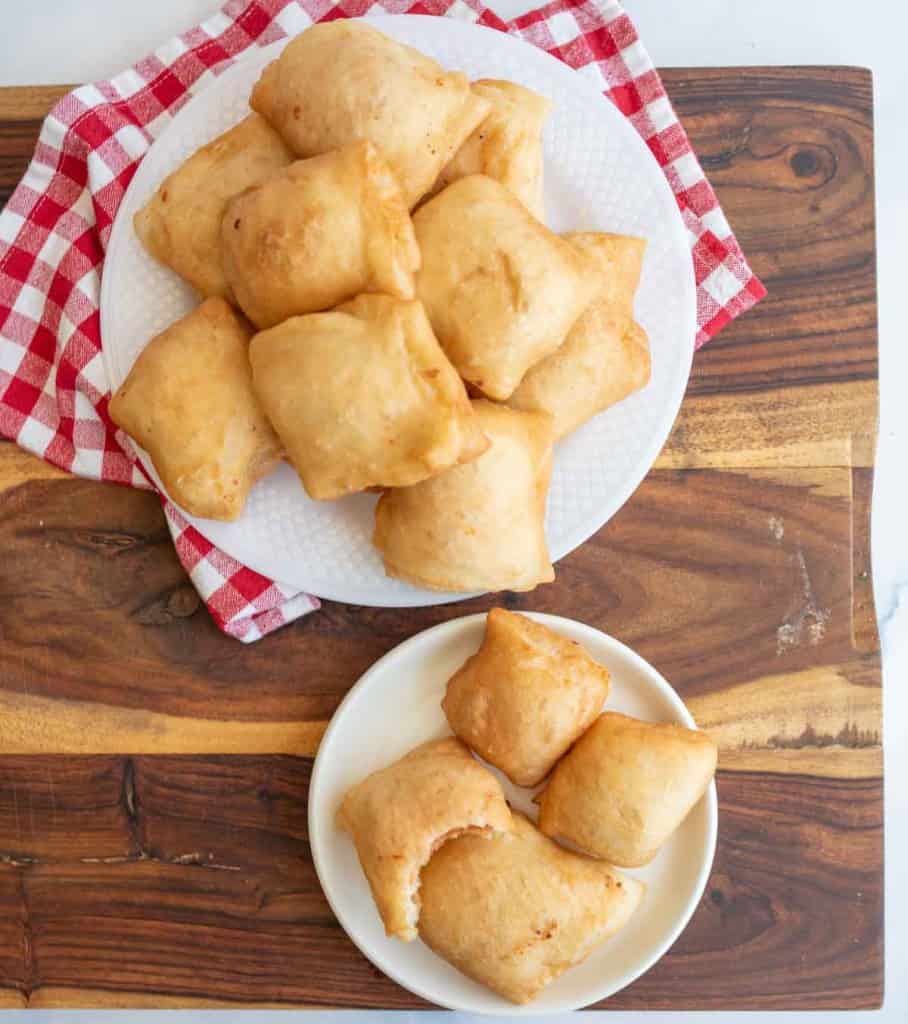 Homemade Pizza Rolls
Despite their small size, pizza rolls pack a punch of flavor. The combination of ingredients – gooey cheese, flavorful tomato sauce, savory toppings – all enclosed within a crispy crust creates a delightful explosion of taste in every bite.
Homemade pizza rolls are excellent for sharing. They make for a fantastic party appetizer that's sure to disappear within minutes. Pizza rolls are easy to make in large batches, and their universal appeal ensures that everyone will find a favorite flavor.
The world of pizza rolls is your oyster when it comes to flavor combinations. You can personalize your pizza rolls with your favorite toppings, cheeses, and sauces, allowing you to create a unique taste experience that perfectly suits your preferences.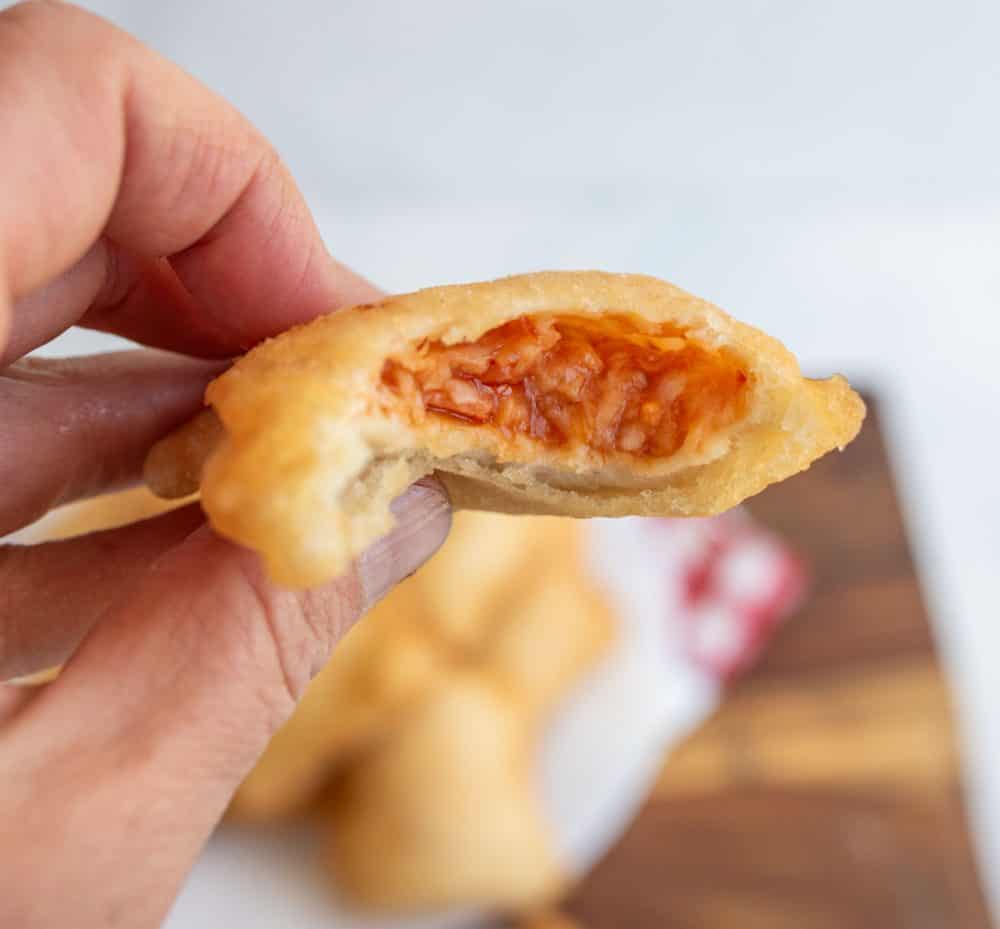 Ingredients
Active Dry Yeast
Sugar
Salt
Oil
Flour
Mozzarella Cheese
Pepperoni
Pizza Sauce
Keep scrolling to find a full, printable recipe with a detailed ingredient list.
Recipe Instructions
Mix yeast and warm water in a big bowl, wait 5 minutes for foaming. Add sugar, salt, and 2 tablespoons of oil to the yeast mix. Slowly add flour until dough is smooth and not sticky. Cover with a damp cloth, let it rise for 20 minutes.
For the filling, mix cheese, pepperoni, and pizza sauce. Roll out risen dough thinly. Cut into 2x4 inch rectangles. Spoon a tablespoon of filling on one half, fold over and seal edges.
Heat oil to 350°F. Fry pizza rolls for 2 minutes each side till golden. Don't overcrowd. Use a slotted spoon to remove and drain on paper towels.
Enjoy them warm!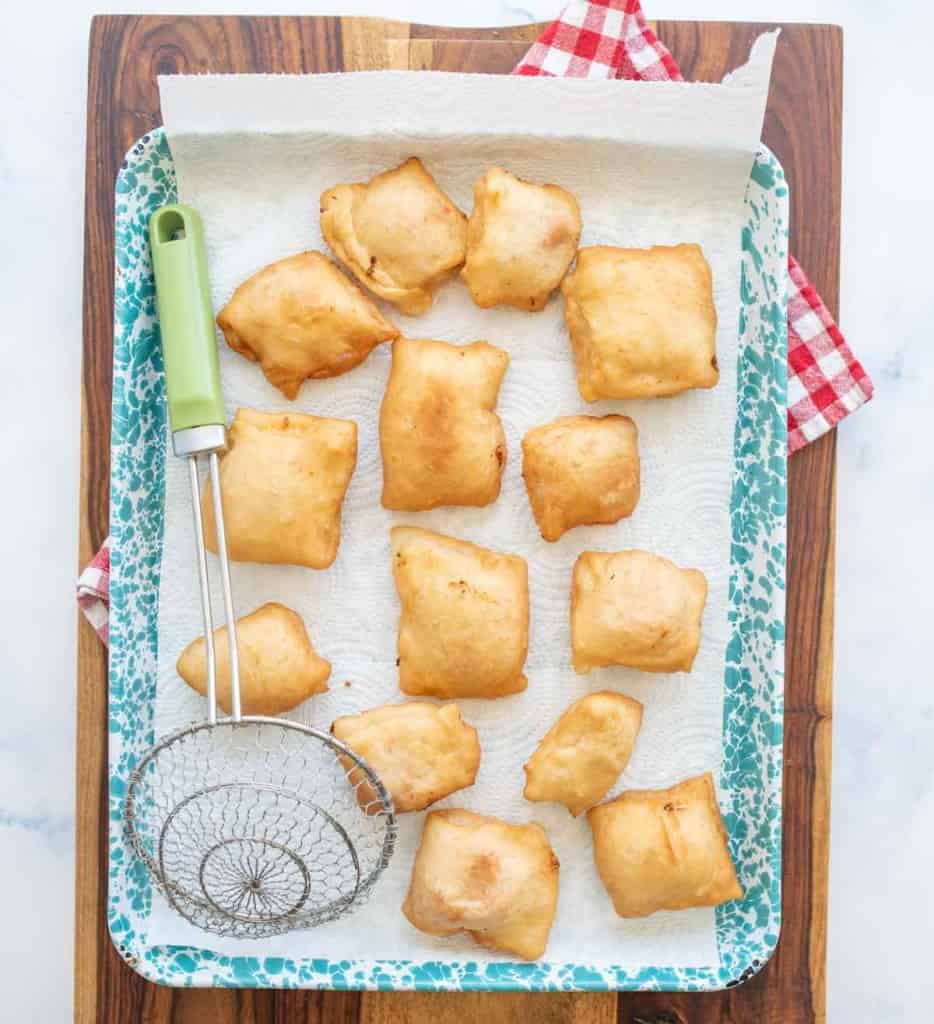 Frequently Asked Questions
Can I use instant yeast instead of active dry yeast?
Yes, you can. Instant yeast doesn't require proofing in warm water like active dry yeast. You can mix it directly with the dry ingredients. Use about 25% less instant yeast compared to active dry yeast in recipes.
Can I bake the pizza rolls instead of frying them?
Absolutely! To bake pizza rolls, preheat your oven to 375°F (190°C), place the rolls on a baking sheet lined with parchment paper, and bake for around 15-20 minutes or until they're golden brown.
Can I use different fillings and toppings?
Absolutely! Pizza rolls are incredibly versatile. You can experiment with different cheeses, meats, vegetables, and sauces to create your favorite combinations. Just ensure that the fillings aren't too watery to prevent sogginess.
How long do leftover pizza rolls stay fresh?
Leftover pizza rolls can be stored in an airtight container in the refrigerator for up to 3-4 days. You can reheat them in the oven, microwave, or even in an air fryer to restore their crispiness.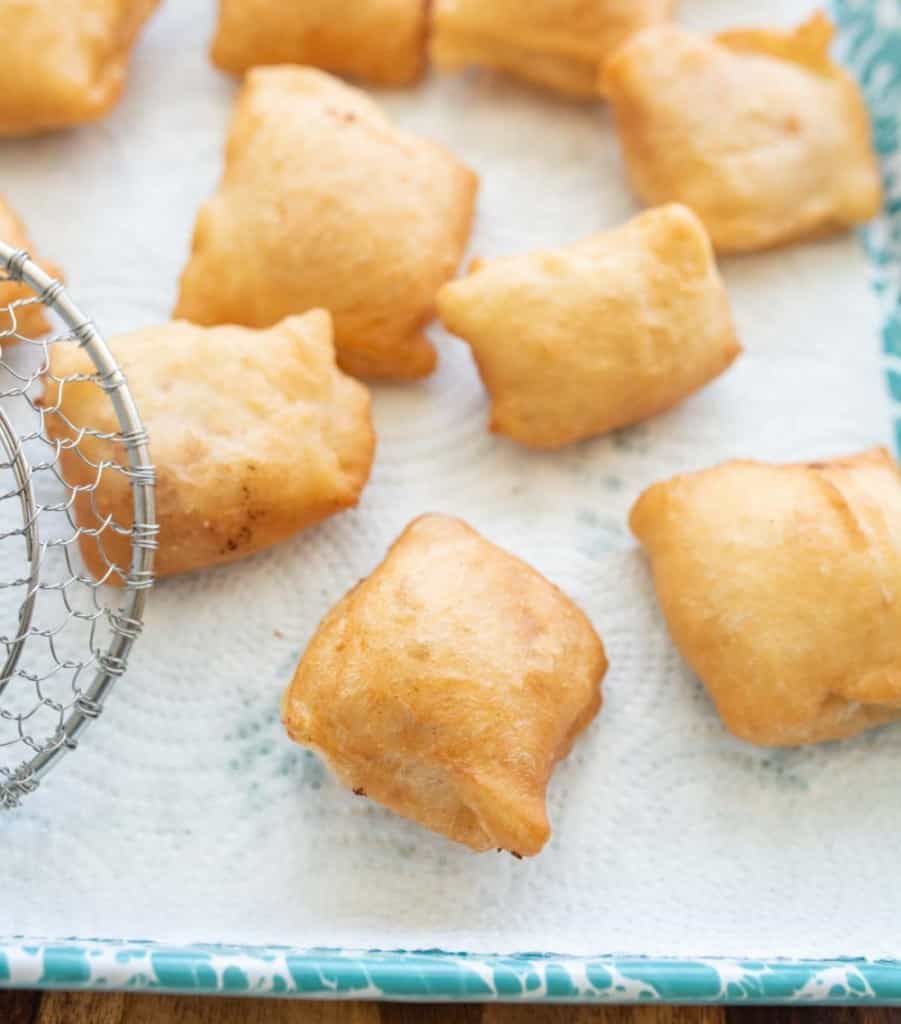 More Recipes
If you've tried this Homemade Pizza Rolls recipe or any other recipe on Bless This Mess, then don't forget to rate the recipe and leave me a comment below! I would love to hear about your experience making it. And if you snapped some pictures of it, share it with me on Instagram so I can repost on my stories.
📖 Recipe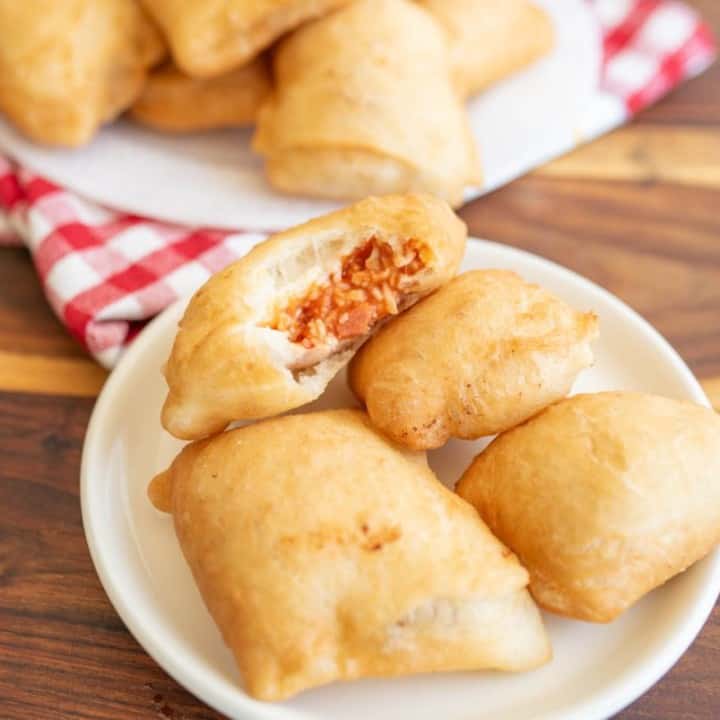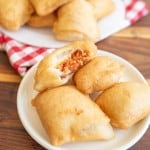 Print Recipe
Homemade Pizza Rolls
Homemade Pizza Rolls are delightful bites that manage to capture all the goodness of a pizza in a compact, handheld package.
Ingredients
1

Tablespoon

active dry yeast

1

cup

warm water

around 110°F for optimal yeast activity

1

teaspoon

sugar

1

teaspoon

salt

2

tablespoons

oil

plus more for frying

2-3

cups

all-purpose flour

1

cup

shredded mozzarella cheese

½

cup

pepperoni

chopped into small pieces

¾

cup

pizza sauce
Instructions
In a large mixing bowl, add the yeast to the warm water. Stir gently to combine and let it stand for about 5 minutes. The yeast should begin to foam, indicating that it is active and ready to use.

Stir in the sugar, salt, and 2 tablespoons of oil into the yeast mixture.

Gradually add the flour to the bowl, mixing it in until a smooth dough forms. You may not need all the flour - stop adding when the dough is smooth and no longer sticky.

Cover the bowl with a damp cloth or plastic wrap and let the dough rise in a warm place for about 20 minutes.

While the dough is rising, prepare the filling. In a separate bowl, mix together the shredded cheese, chopped pepperoni, and pizza sauce.

After the dough has risen, roll it out on a lightly floured surface to about ⅛-inch thickness.

Using a pizza cutter or sharp knife, cut the dough into 2x4 inch rectangles.

Spoon about a tablespoon of the filling onto one half of each dough rectangle. Fold the other half of the dough over the filling to form a pocket, pinching the edges together to seal.

Heat your oil (enough for deep frying) in a deep fryer or large, deep pan to 350°F.

Carefully place a few pizza rolls in the hot oil and fry for about 2 minutes on each side, or until they turn golden brown. Be careful not to overcrowd the pan.

Remove the pizza rolls from the oil using a slotted spoon and drain them on paper towels.

Enjoy the pizza rolls while they're still warm.
Notes
This recipe can be customized with different fillings to suit your taste. Consider using different types of cheese, or adding vegetables like bell peppers, mushrooms, or onions.
Be sure to seal the edges of the pizza rolls securely to prevent the filling from leaking out during frying.
To check if your oil is ready for frying, drop a small piece of dough into it. If it sizzles and comes to the top, the oil is ready.
Leftover pizza rolls can be stored in an airtight container in the refrigerator and reheated in the oven or air fryer for best results.
For a healthier version, these pizza rolls could also be baked in a preheated oven at 375°F for 15-20 minutes, or until golden brown, instead of frying.
Nutrition
Calories:
103
kcal
|
Carbohydrates:
12
g
|
Protein:
4
g
|
Fat:
5
g
|
Saturated Fat:
2
g
|
Polyunsaturated Fat:
1
g
|
Monounsaturated Fat:
2
g
|
Trans Fat:
0.1
g
|
Cholesterol:
8
mg
|
Sodium:
267
mg
|
Potassium:
61
mg
|
Fiber:
1
g
|
Sugar:
1
g
|
Vitamin A:
86
IU
|
Vitamin C:
1
mg
|
Calcium:
36
mg
|
Iron:
1
mg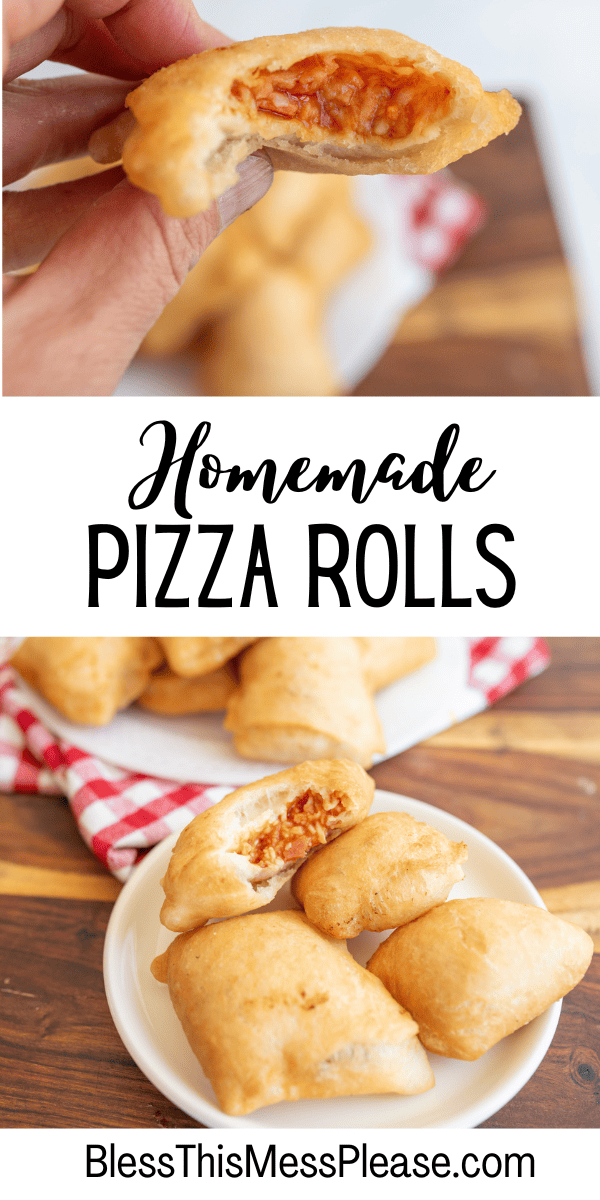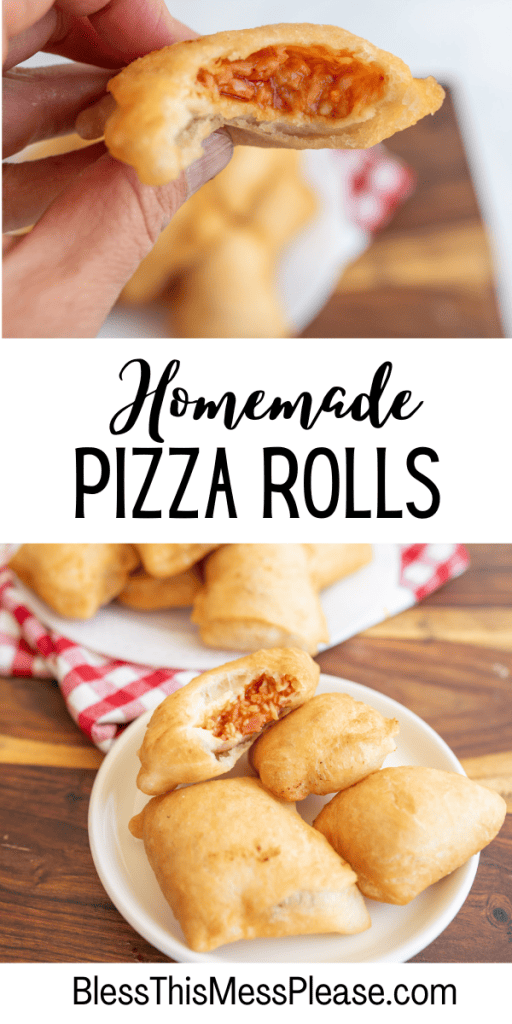 Whether as a quick snack, a hit at parties, or a nod to nostalgia, homemade pizza rolls are a bundle of joy. Their compact convenience, customizable fillings, and irresistible flavors make them a winner for all occasions.