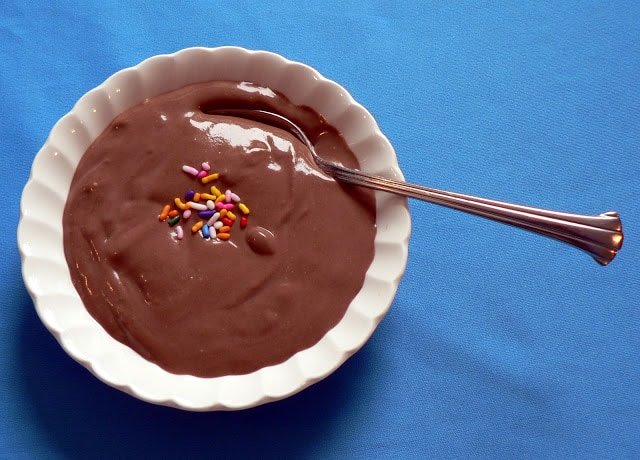 I love Mondays. The weekend is fun and a bit unorganized, but then Monday rolls around and things seem to straighten themselves back up. Laundry gets pushed through, menus get planned, workouts are attended. Any goal or task that I didn't get done last week is prioritized and I feel like I have a new week to get it done. Monday feels like a fresh new start to a bright new week; what's not to love?
Mondays in this house are Family Night. One night a week we do something a little extra special as a family. We have a lesson, sing songs, and sometimes get an activity and treat in. My kids look forward to this ritual and will often ask "Is tonight Monday?!" I love taking the chance to teach my kids things I think are important. The lessons are short and fun, but I'm always surprised at how much they listen and learn.
This is a quick and easy recipe that I often make for our Family Night treat. I whip it up while I'm getting dinner ready and it has time to chill before we are ready to eat it.
I don't think I had homemade chocolate pudding until after I got married and made some myself. Jell-O is quick, easy, and cheap; I see the appeal. You just don't know what you are missing until you have tried the real deal, and this my friends, is the real deal. It is decadent and velvety; the two chocolates make it extra rich. This is more than just one step up from your classic chocolate pudding.
Homemade Double Chocolate Pudding
Adapted from America's Test Kitchen Family Cookbook
Printable Recipe
3/4 cup sugar
4 tsp. cornstarch
dash salt
2 T. dutch-processed cocoa
3 1/2 cups half-and-half (whole milk works too)
3 large egg yolks
1/2 cup semi-sweet chocolate chips
1 T. butter
2 tsp. vanilla extract
Combine the sugar, cornstarch, salt, and cocoa in a medium saucepan. Slowly whisk in the half-and-half and then the egg yolks. Bring the mixture to a simmer over medium-high heat, whisking constantly. Reduce the heat to medium and cook, stirring constantly, until the pudding is thick and coats the back of the spoon, 1 to 2 minutes. Stir in the chocolate chips, butter, and vanilla until everything is melted and smooth. Press plastic wrap directly to the surface to prevent a skin from forming and refrigerate until set, about 3 hours.
Notes:
Using half-and-half makes the pudding very rich and silky. I don't mind it at all with just whole milk though, slightly less rich, but still very good.
This pudding would be excellent as a pie filling with whipped cream on top.