Homemade Beeswax Lip Balm is super simple to make especially when you have the right ingredients! This healthy lip balm is the perfect DIY gift to make and share with friends.
If you like making homemade items using beeswax, you should also try my Reusable Beeswax Wraps and these Simple DIY Beeswax Candles.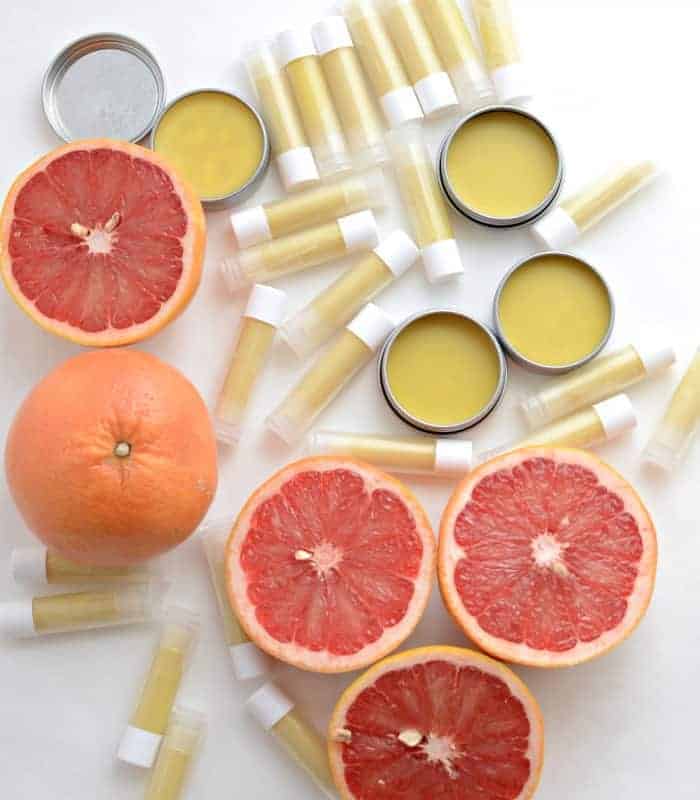 This Homemade Beeswax Lip Balm Is Just Like Burt's Bees
My lip balm today is amazing. When I started researching this I was pretty shocked at how easy it was. Essentially you just melt different things together, add the "flavor" you'd like in the form of an essential oil and then pour it into a container. This recipes is crazy close to a homemade Burt's Bees lip balm at a fraction of the cost. My favorite part is choosing the flavor! I went with Pink Grapefruit because that is my all time favorite Burt's Bees lip balm and the hardest one to find. The grapefruit is bright and happy without being tart. It's the perfect little pop of sunshine in the winter if you ask me, no fancy grapefruit spoon needed. You will love it! Grapefruit not your jam? Mint is always classic and an easy oil to find.
How To Make Beeswax Lip Balm
I used a combination of equal parts shea butter, coconut oil, and beeswax (the pellets work best here). This is a really nice ratio and combination because it's a nice firm lib balm that still melts really smoothly onto your lips. I went with unprocessed/natural versions of these products and so my lip balm in that pleasant natural yellowy/tan color. You can get white versions of all of these and your lib balm will be white! I looked a little into colorants but not enough to have an opinion about. They do make cosmetic/food grade colors that you can add but I didn't try this.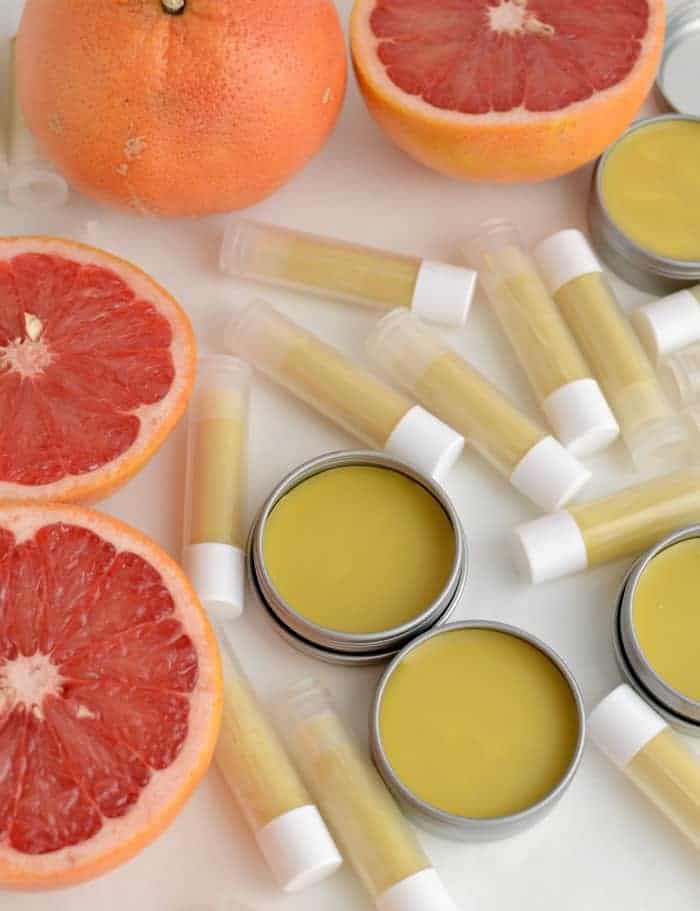 What Scent Is Best For This Beeswax Lip Balm?
When it comes to the flavor/scent choose an essential oil that you like. I went with DoTerra Grapefruit essential oil and am super pleased that I did. It has a bright clean flavor/smell and doesn't have any bitterness to it that a cheaper oil I first tried had.
What Type Of Container Should I Use For This Homemade Lip Balm?
You have so many options when it comes to containers for your lip gloss! I used two kinds, a stainless steel circle that the lid screws on and off (you'd apply your lib balm with your finger with this type of container), and I also got traditional lib balm tubes. I happened to get clear, but they also come in white. Get what you like. I enjoy the clear because you can see how much product you have left and you can see that pretty natural product. I have also used these little plastic containers for lip balm, they are smaller than the stainless steel ones but work well too. I didn't have time to make any labels for them yet but I do plan on adding some kind of label before gifting.
How Much Lip Balm Does This Recipe Make?
I love that this project made lots! I ended up with 40 tubes and 8 canisters of my lip balm. I'll be giving them to my Activity Day girls as a Christmas gift, and sending them in lots of packages to friends this Christmas. They have a long shelf life (I'm not sure on specifics but I assume they'll be fine for at least a year), so I'm planning on using them this year as little Birthday gifts and to send in the mail when I send packages to friends this coming year. Once I had my supplies together it only took me about 30 minutes to make all of these!
Isn't that simple! I had way too much fun making these. I'd recommend doing this project during nap time though. Hot oil isn't kid friendly. If you touch or bump the containers while they are cooling they don't look as nice either (it upsets the tops and then they aren't all smooth and new looking). The plus side is, these oils/wax set up really quickly. Mine were pretty well set up after 30 minutes and I put them away after an hour.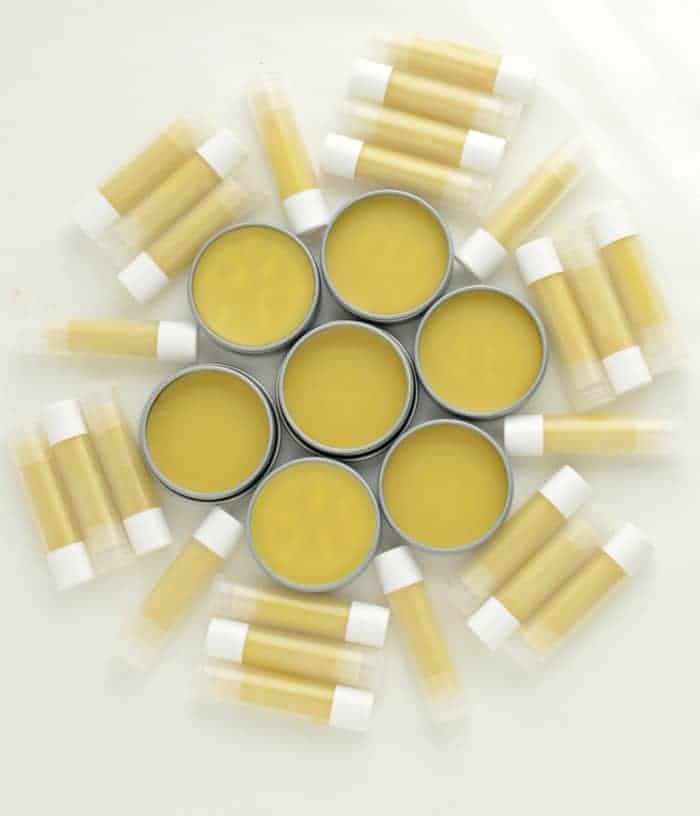 Print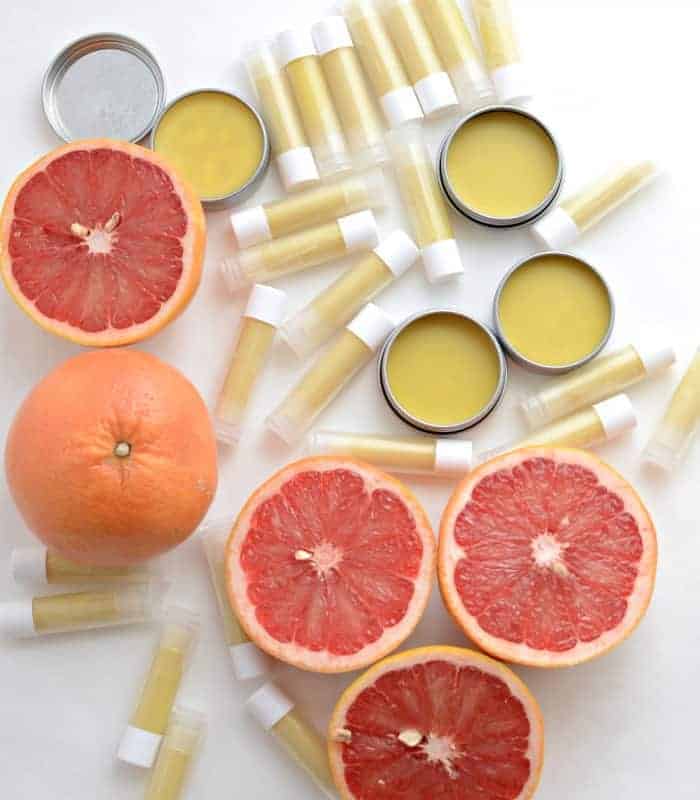 Homemade Beeswax Lip Balm (Homemade Pink Grapefruit Burt's Bees!)
---
Author:

Total Time:

30 min

Yield:

30-40 tubes
Description
Homemade Beeswax Lip Balm is super simple to make especially when you have the right ingredients! This healthy lip balm is the perfect DIY gift to make and share with friends.
---
Shea Butter
Coconut Oil
Beeswax (pellets work best here)
Essential Oil
Containers
Pipettes (optional but handy)
Large microwave safe container (4-cup glass Pyrex measuring cup is perfect)
Stirring spoon
---
Instructions
1. Add equal parts shea butter, coconut oil, and beeswax to a microwave safe container. I did 4 ounces of each and that made 40 tubes plus 8 one-ounce containers, feel free to half that amount for a smaller batch.
2. Microwave on high in 30 second intervals, stirring after each time, until the oils are all melted. The beeswax will melt the slowest. This should take 3 to 6 minutes of microwaving total. You can also use a doubler boiler to melt your ingredients.
3. Add essential oil to your liking. I added 160 drops of grapefruit oil for mine. You will probably want to start with less if using a mint oil. Stir to combine and then test a little on your lips to see if it is to your liking (careful though, the oil is still hot).
4. Use the pipettes to put the lip balm in to the containers.
5. Let the oils set until firm and then replace the lids to the containers. Add labels as desired. Give all the gifts.
Notes
The amount of oil is really going to vary depending on the brand and type that you use. You'll want it to smell strongly after it has gone into the other oils/waxes. It's easier to test a little before putting it in the containers than it is to change your mind after.
As the oil cools it will get harder to pour into the containers, reheat it as needed.
Clean up right away. If you don't you'll probably have to boil some water and pour it over the container you made the lip balm in to get the oil/wax hot enough to dissolve off. Mine didn't just wash out with a normal washing.
If you want to make lots of kinds of flavors, divide the melted lip balm into smaller containers and add the essential oils of your choosing.
Prep Time:

5 min

Cook Time:

10 min

Category:

DIY

Method:

Microwave

Cuisine:

None
Keywords: beeswax lip balm recipe, homemade beeswax lip balm, homemade lip balm, recipe for lip balm, healthy lip balm, how to make beeswax lip balm, diy lip balm, how to make lip balm, best lip balm, diy gift
Other homemade gifts you'll love:
Homemade Beeswax Lip Balm is super simple to make when you get a the right ingredients and it's the perfect gift to make a bunch of and share with all of your friends.