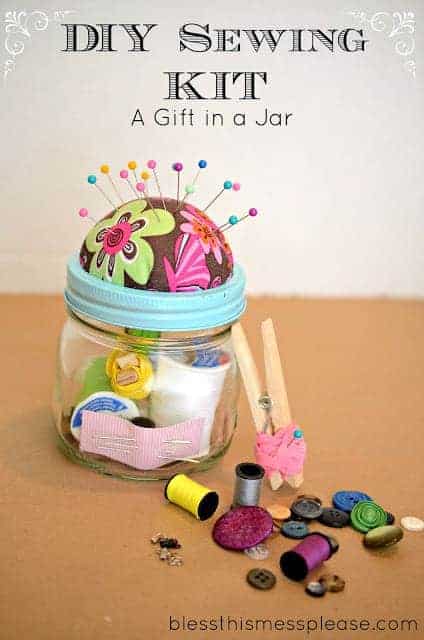 Christmas! It's really coming. Are you ready? Today I want to show you one of my favorite handmade gifts this year and give you a chance to win one of your very own plus some of my very favorite things. So be sure to enter in the comment section!
First up is a simple and beautiful handmade sewing kit. Who doesn't love gifts in a jar? This is a perfect small gift for all those hard-to-shop-fors on your list. It would be a great thing for a teacher to have on her shelf in case of emergency, drop one in the mailbox for your mail lady, or give one to the woman you visit at church who seems to have it all. Everyone appreciates handmade and practical, plus it's a welcome break from all the sugary gifts.
I love that the top doubles as a pin cushion!
DIY Sewing Kit Gift in a Jar
Here's what you'll need:
Glass jars with a flat and ring (the two pieces to the lid)
Fabric
Scissors
Hot Glue
Quilt batting or fiber fill
Spray paint (optional)
Things to fill the jar:
Thread
Bobbins
Little scissors
Tape measure
Eyelets
Buttons
Pins
Needles
Notions wrapped around clothespins (Ric-Rac, ribbon, yarn, elastic…)
If you want to spray paint the ring of the lid, do that first so that it has time to dry. Cut a circle out of your fabric that is about 2 inches wider all the way around than the flat (the flat metal part of the lid). If the flat is 3 inches across then your circle of fabric should be 7 inches across. Wad a piece of batting or fiber fill in your hands until you have a hard ball just smaller than the size of your fist. Using two hands place the material circle around the stuffing/batting ball. Carefully put the wad of stuffing or batting on the shiny side of the flat so that the fabric is facing your palm, batting, and then the flat.
Are you with me? It's not really hard but it was near impossible to get a picture of the process while doing it. The goal is just to hold it all together while you glue the fabric to the underside of the flat. (picture below).
Pull the fabric to the back of the lid and hot glue it in place. I found it easiest to glue a piece and then glue opposite of where you just did. So glue the top then bottom, the left then right, and work your way around like like a clock. This helped the fabric to stretch evenly.
Now you can pop the pin cushion into the ring and screw it onto the lid. Fill the jar with your favorite sewing supplies (bonus points if the colors match the fabric), stick a few pins in the pin cushion, and you are ready to give a beautiful handmade gift. Easy!
Notes:
I would let the rings dry overnight if you choose to spray paint them. I tried to use mine after a few hours and some of the paint scratched off easily. The paint was much harder the next day.
Quilt batting was very easy to use and would recommend that. See if any quilters you know have scraps leftover from when they trim the quilt before binding.
You could really fill this with whatever would fit. Little scissors and a measuring tape would be perfect here.
Now would you like to win one of your very own?!
It's definitely giveaway season in the world, especially Blogland. I've seen year supplies of yogurt up for grabs, cookbooks, million dollar vacuums, and swoon worthy Le Crueset cookware to be giveaway (I'd like any skillet or dutch oven in purple or green if you're wondering).
I wish I could offer you all that and more! That being said, I haven't gotten into working with brands and companies yet (goal for 2013). Most other bloggers are given the product for their giveaways and I'm just not there yet.
So what does that mean for you? A little giveaway of my favorite things I've been collecting over the past few months (and really good chances of winning!). This is my way of saying thank you. This past year has been amazing for me and if it weren't for you I wouldn't have come this far. Really, Thank you!
Here's what will come in a box to your home:
1. A handmade sewing kit, just like the one I made on the blog today
2. 2 Christmas stamps
3. My three favorite decorating tips for making cupcakes beautiful
4. Nail glitter – I use it for crafting, you use it for whatever you like
5. Handmade ornament
6. Large package of felt snowflakes (make garland, cards, use on gift tags…)
7. Three packages of mini alphabet stamps, all different fonts
8. Package of pretty blank cards
9. A homemade treat of your choosing (really, I'll make just about anything you like)
10. Anything else I find to add before I mail it!
These mini alphabet stamps are perfect for personalizing everything. I love them…
Giveaway Closed
PRIZE: One box of treasure from me.
TO ENTER: Comment on this post and tell me the best gift you've ever been given, or what you are hoping to score this year.
EXTRA ENTRIES:
GIVEAWAY CLOSES: Sunday, December 9th, 2012 at 9pm MST
NUMBER OF WINNERS: One
ELIGIBLE FOLKS: This is open to U.S. and Canadian Residents.
WINNER ANNOUNCED: Monday, December 10th on this here.
OTHER DETAILS: A winner will be chosen at random from the comment pool and all information will be verified. I'll email the winner and they have 48 hours to respond. Please leave your email address in the comments if it isn't connected to your profile. If the winner doesn't contact me within that time frame another will be chosen in their place. (I want to have time for the winner to get the package before Christmas, so no dawdling!)
DISCLOSURE: All this jazz is things I bought or made because I like them and think you will too. No compensation or perks for doing it, just a thank you to you.
Isn't this exciting!
Get to enterin',


Keep in touch! Blogging is way more fun when I get a chance to connect with you.