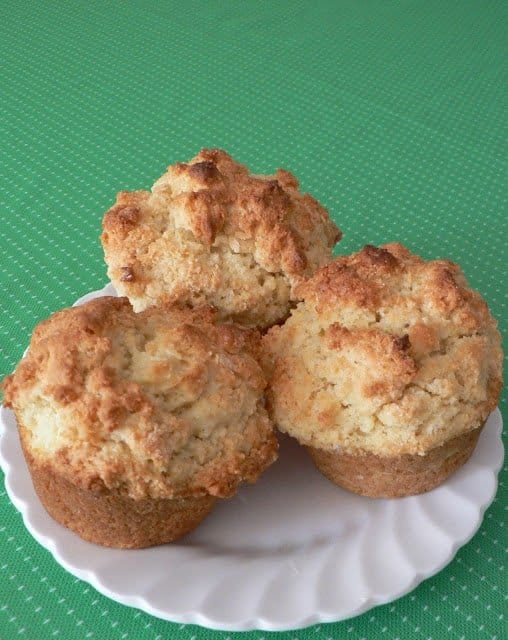 America's Test Kitchen has done it again. They have succeeded in providing a great recipe. When it comes to baking I don't do as much recipe altering as I tend to do in other cooking. This recipe was no different. It's all theirs, but it's all worth sharing!
This is a corn muffin, not a cornbread muffin. It comes out much more like a sweet delicious muffin than it does a piece of somewhat crumbly cornbread. The textures are different. The taste is similar. That being said, serve it like cornbread or a muffin. It's up to you. I served it with honey butter on top alongside some spicy lentils and sausage.
Corn Muffins
From America's Test Kitchen
Printable Recipe
2 cups flour
1 cup yellow cornmeal
1 1/2 tsp. baking powder
1 tsp. baking soda
1/2 tsp. salt
2 large eggs
3/4 cup sugar
1/2 cup butter, melted and cooled
3/4 cup sour cream
1/2 cup milk
Preheat the oven to 400 degrees.  Generously coat a 12-cup muffin tin with cooking spray.
Whisk the cornmeal, flour, baking soda, baking powder, and salt together in a large bowl. Whisk the eggs and sugar together in a medium bowl until combine. Whisk in the melted butter, sour cream, and milk until smooth. Gently fold the egg mixture into the flour mixture with a rubber spatula until just combine. Do not overmix.
Use a large ice cream scoop or a measuring cup to divide the dough evenly among the muffin cups. Do not level or flatten the surface of the mounds. Bake until light golden brown and a toothpick inserted in the middle comes out with just a few crumbs attached, about 18 minutes.
Let the muffins cool in the pan for 5 minutes and then flip out onto a wire wrack and let cool for 10 minutes before serving.
Serve with Vanilla Bean Honey Butter