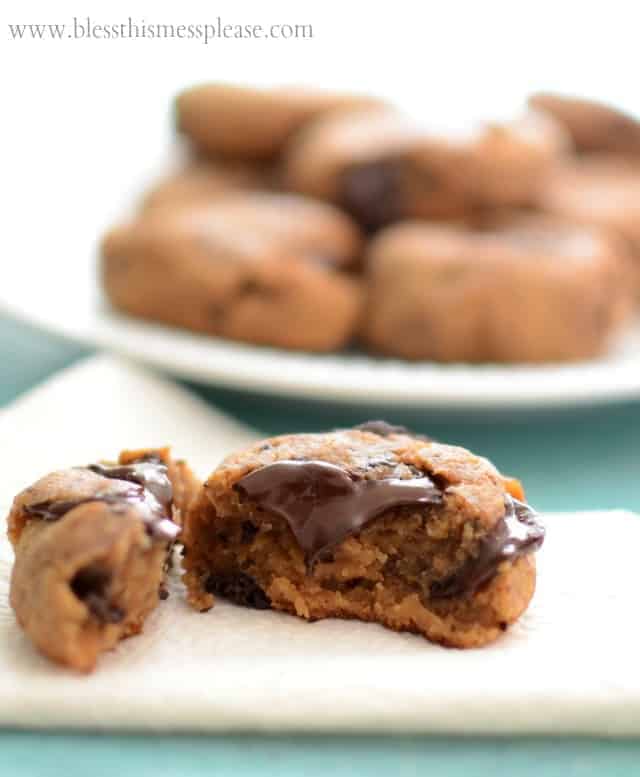 Would you believe me if I told you that you could have a totally "clean" cookie and it would taste great? We'll I'm here to do just that. These healthy peanut butter chocolate chip cookies are awesome and, dare I say, good for you!
You will not believe what they are made of… no grain, no gluten, no eggs, and no dairy. So what on earth are they made out of?
Guess, go ahead.
Ok, would you believe me if I told you they were made out of chickpeas?! You know, the stuff hummus is made out of. Weird I know. The recipes come from my friend Erin over at Texan Erin Baking. She is the ultimate healthy, clean, allergen-free baker. If the recipe wasn't on her site I never would have tried it, but I know she's an awesome baker and so I felt like it was safe to try. You guys, they were great.
I'm currently doing a healthy living 8 week challenge. I'm not eating refined flours, sugar, or other processed foods. I'm loving it, but things like this aren't without their sacrifices. Are these cookies better than my perfect melted butter amazing but "normal" chocolate chips cookies? Nope. Are they better than having no cookie at all? Yes!! I shared a few with my kids and they did not even call me out on them being different or "healthy" tasting. They really are good. So if you are looking for a bit of a healthy treat while you are eating clean, these cookies are for you. I hate feeling deprived, so these were just the treat I needed to keep me on track without feeling like I'm giving up everything I love. Every woman needs chocolate in her life.
These would be great to make for someone that doesn't eat gluten or has other food allergies. I've made my father-in-law (who is gluten-free) gluten-free cookies before and these are 10 times better than that. Just make sure the chocolate chips you use are OK.
I'm telling you… give these cookies a try and you'll be shocked at just how tasty they are.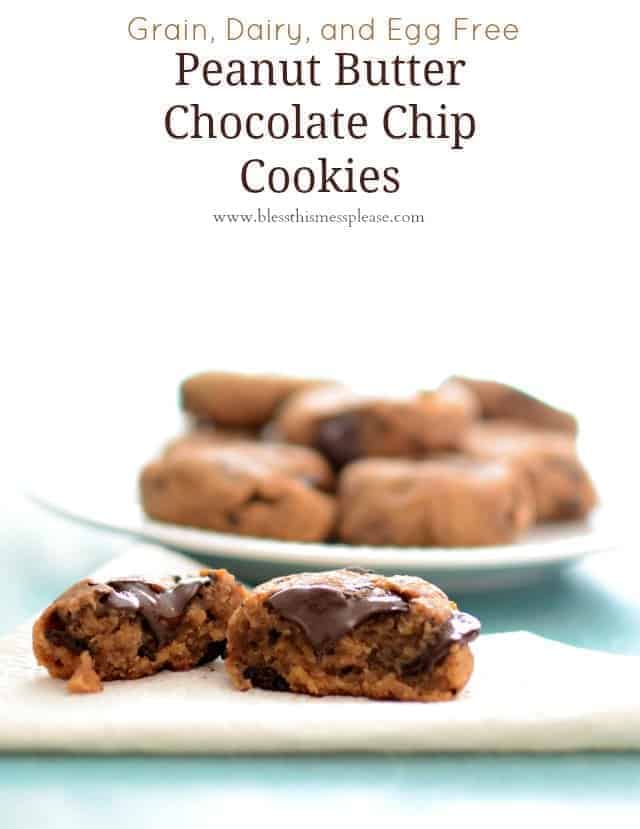 Print
Healthy Peanut Butter Chocolate Chip Cookies
---
Yield:

Makes

16

cookies

1

x
Scale
Ingredients
11/4 cup

s canned chickpeas, well-rinsed and then dried (paper towel works great)

2 teaspoon

s vanilla extract

1/2 cup

+

2 tablespoon

s natural peanut butter, room temperature

1/4 cup

honey

1 teaspoon

baking powder
a pinch of salt

1/2 cup

chocolate chips
---
Instructions
Preheat the oven to 350 degrees.
Add the chickpeas, vanilla, peanut butter, honey, baking powder, and salt to the bowl of a food processor. Process until smooth, scraping down the sides as needed. Mix or pulse the chocolate chips into the mixture. The dough will be sticky.
Roll the dough into 1 1/2 inch balls and flatten slightly with the bottom of a glass or measuring cup. The cookies won't change shape much when baking. Place the balls on a baking mat or parchment lined baking sheet.
Bake for 10 minutes. Allow the cookies to cool a few minutes on the baking sheet and then remove them and let them cool on a wire rack.
Store the cookies in an air-tight container and enjoy!
---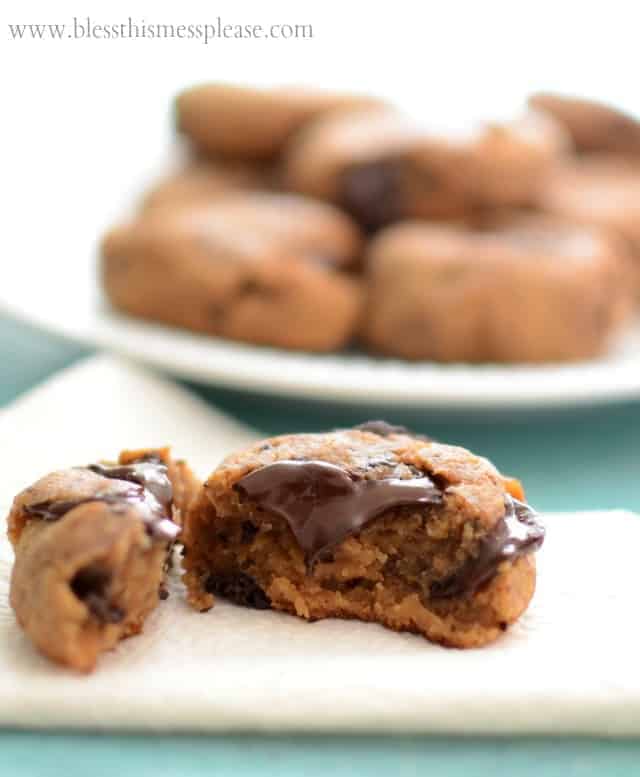 And here is the chocolate that I used: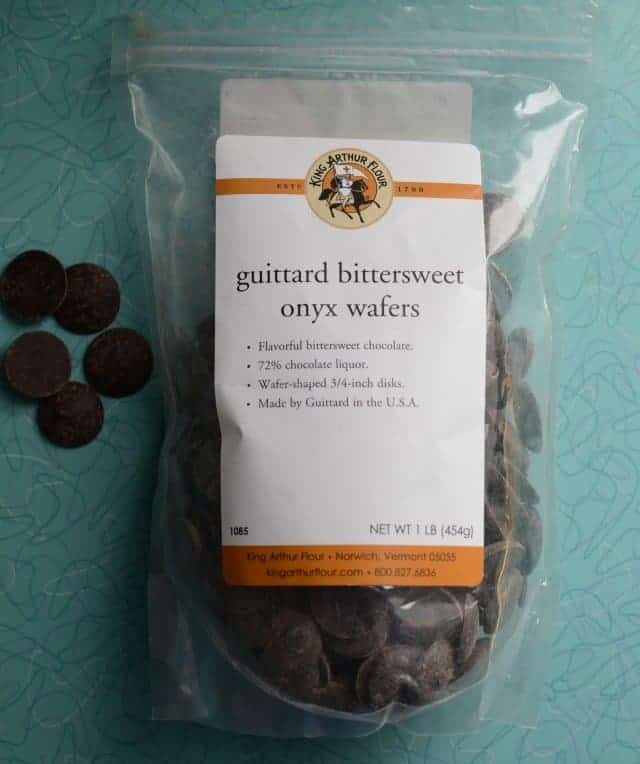 I ordered this from King Arthur Flour online. They are super dark (72% cocoa) which in my mind makes them healthy. And the super thin disks melt amazingly. They are my snack of choice, straight out of the bag often!
If you have questions about making this vegan, substituting things (different beans, using chickpea flour, etc) head on over to Erin's blog post: The Original Peanut Butter Chocolate Chip Cookie Dough Bites Recipe (aka Chickpea Cookies). She is the cookie ninja and has lots and lot of comments, tips, and thoughts about this recipe. She's the go-to for questions on this!
And if you are looking for a few other healthy treats I recommend:
Homemade Cottage Cheese
Healthy 3 Ingredient Fruit Dip
Homemade Granola (I love this on yogurt!)
And if you need some meal planning help when it comes to the eating healthy category you can check out my favorite 2 week clean eating meal plans HERE and HERE!
Enjoy and happy healthy eating to you.