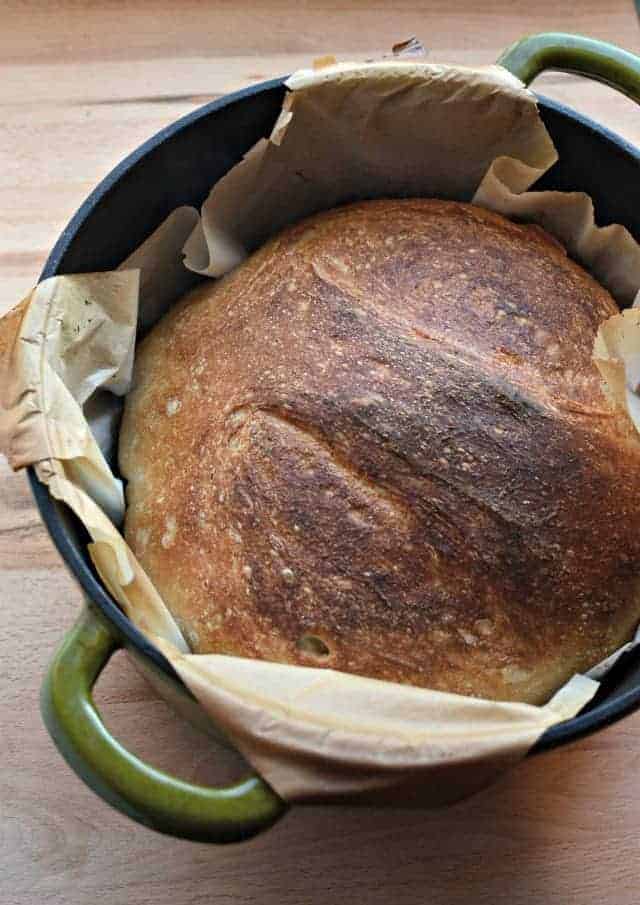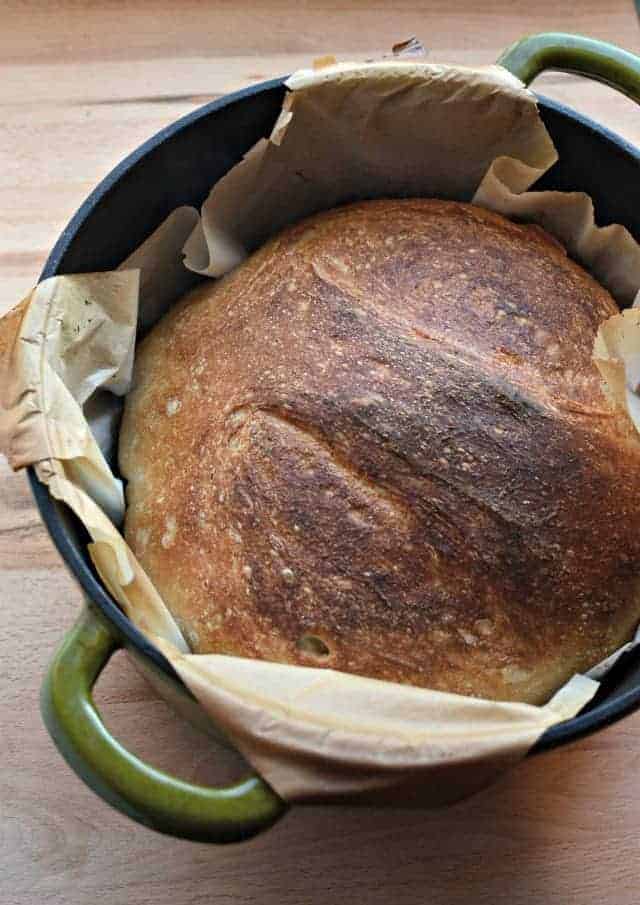 Even if you think you fall in the "can't make bread" category, you have to give this super simple no-knead bread recipe a shot. I discovered this no-knead bread maybe 3 years ago and have been making it since with great success. I dare say this is a never-fail bread recipe even you non-bakers out there can make.
The secret is in the resting period. You mix 4 simple ingredients together and let them sit for anywhere from 8 to 24 hours. The gluten develops while the dough rests which means you don't have to do any kneading. The bread is extra wet, which means it gets nice and chewy in the middle. You cook it covered for part of the time and uncovered the rest, which results in an extra crusty crust. Chewy middle and extra crusty outside… pass the butter, I'm sold!
Here's what the bread looks like after its resting period. It will swell but still be bubbly looking and flat on the top. This recipe is so easy, and you have fresh bread ready for dinner. Who doesn't love that delicious smell and simple goodness? I love to serve homemade bread when I'm making vegetable-heavy meatless soups. It keeps bellies full a little longer than just a meal of Minestrone or Homemade Cream of Tomato Soup. Trust me on this, homemade bread equals love.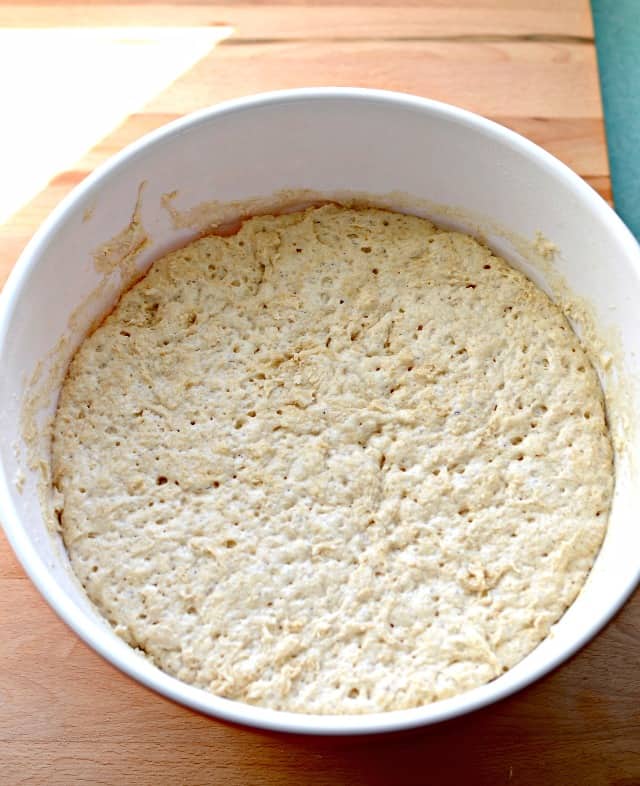 If you try this simple no-knead bread, let me know what you think! Leave a comment, pin it, and don't forget to tag a picture #blessthismesseat on Instagram. I love to see your kitchen skills in action!
Print
Super Simple No-Knead Bread
---
Yield:

1 large loaf
Ingredients
3 cups unbleached all-purpose flour
1 3/4 teaspoons Kosher salt
1/2 teaspoon Instant or Rapid-rise yeast
1 1/2 cups water
---
Instructions
In a large bowl add the flour, salt, and yeast. Mix to combine. Add the water and mix until it all comes together. The dough will be very wet. Cover the bowl tightly with plastic wrap or a lid and let it rest at room-temperature for 8 to 24 hours.
When you are ready to bake your bread turn it out onto a well floured surface and shape it into a ball. Set the ball on a large piece of parchment paper. Place the parchment paper and dough in a large cast iron skillet with a lid (6 to 9 quart cast iron dutch oven work best). Let it rest for 20 minutes.
Preheat the oven to 450 degrees. Place the pot, with the lid on, inside the oven and bake the bread for 30 minutes. Carefully remove the lid and back for another 20 minutes until the top is dark brown. Remove the pan from the oven and then remove the bread from the pan by holding onto the edges of the parchment paper. Let the bread cool on a wire rack for at least an hour before serving.
Notes
I've had great success with using half whole wheat and half all-purpose flour as well as using 100% whole wheat flour for this recipe.
Note: You don't have to use cast iron or enamel coated cast iron, though I highly recommend it. Anything that is oven safe with a lid will work.
I was poking around on Amazon last night and this bad boy is on sale though… just saying! (You can click on the picture to go to Amazon…)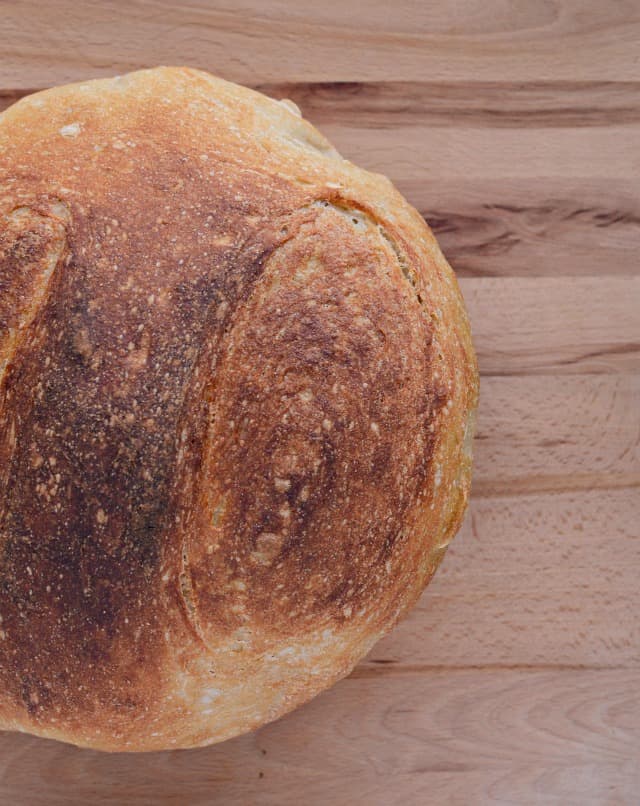 Sometimes the simplest things taste the very best.
The very first recipe that I ever tried for simple no-knead bread came from Simply So Good, and my recipe is adapted from hers. She recently made a MOVIE for the recipe and it is gorgeous. You should probably watch her crusty bread movie here. One day I'm totally going to make movies like this for my own blog. Mark my word, friends!
Thanks for stopping in. You are a bright spot in my day!