Feeding kids isn't always a walk in the park, but with my 5 best tips for feeding kids, I hope you come away with some tangible advice and practical ideas for making mealtimes a little less stressful and a whole lot more enjoyable for the entire family.
5 best tips for feeding kids
Kids can be tricky, can't they? You think you've gotten things figured out, and then they go and change on you. One of the biggest issues that I get emails and questions about is how to feed picky eaters. I'm not perfect, but I have been feeding five kids three meals a day for quite a few years now. I have a lot of experience, and I've also done a lot of reading and educating myself on the issue of feeding children and families. It's a topic that I love because there is SO much research and helpful information out there! I'm excited to share with you some great tips for feeding kids today.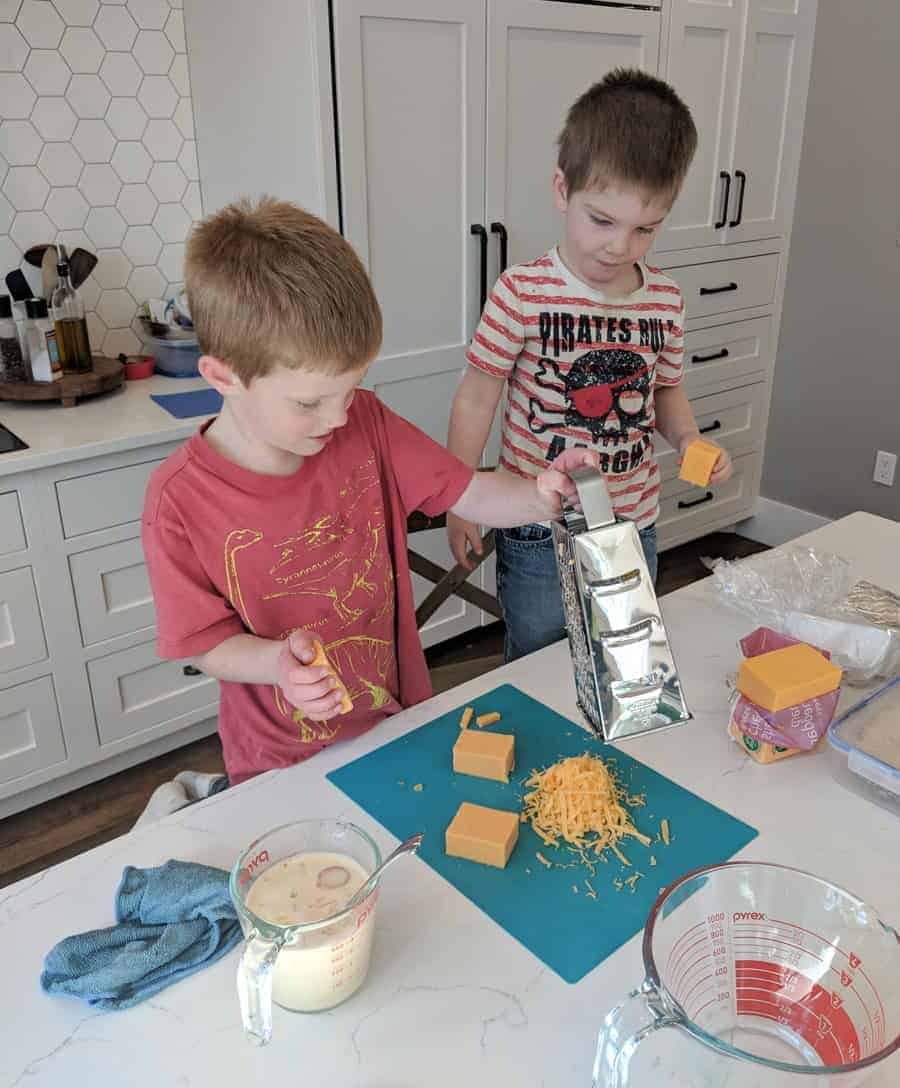 Everything with kids is a stage - the good and the bad
I'm here to tell you that you are a good parent, and your worth does not fluctuate with the ratio of gold fish crackers to vegetables that your kids eat. My number one tip for you when it comes to feeding your kids is less to do with kids and more to do with mindset: You have got to drop the guilt.
We are all living a beautifully messy life, and sometimes that looks like a picturesque meal on the table enjoyed sitting together, and sometime that looks like kids eating cold cereal in front of the TV while you finally get a shower at 8 p.m. You are so much more than the sum of picture-perfect meals that you create.
Struggling with something (such as eating) with a child? Know that many issues are stages that will come to an end sooner or later. They'll eventually want to eat more than mashed potatoes, and they'll also stop calling them "smashed tatos" in their super cute 3-year-old voice, too. Everything is a stage, and when you have the big picture in mind, the little day-to-day struggle become less overwhelming so you can focus on the long-term goals.
Set children up for success
My favorite tip: Break meals down into components. If someone hates tomatoes, or someone else won't think about touching beans, serving tacos or a grilled chicken salad can be tricky. Instead, break down the meal and serve the components separately. The whole family is still eating the same meal, but everyone can assemble it as they like.
This works great for tacos, salads, rice bowls, and even pasta dishes (serve the protein, pasta, and sauce all separately). I also like to make sure there's something I know they'll eat. My kids don't like curry, but if I serve it separate from rice and fruit, they'll fill up on those.
I'm also a big proponent of getting kids involved and allowing them to take ownership. Getting to construct their own meals gives them a sense of independence, but there are a lot of other great ways to get them interested in food processes, too. Have them help shop, pick out new-to-them food from the farmer's market, grow food at home, plan meals, and cook with you.
Let go of your need for power, and hand the responsibility back to your kids
Make food and eating a non-issue. When you make it an issue, it becomes just that -- a real issue. Don't make it a fight, don't make it about control, and stop labeling foods as good and bad. Food is an inanimate object -- you can't assign it character traits. You may teach children to observe how food makes them feel, which is different than blatantly labeling food.
Kids are hardwired to know when they want to eat, how much they need to eat, and what they want to eat. Sure some weeks it looks like they ate lots of the same food over and over again, but if you look at a child's diet over time (say over a 6-month period), they will have eaten enough calories and enough nutrition to stay healthy. Don't get hung up on the meal-to-meal or day-to-day food intake. It has to be a big picture thing with kids.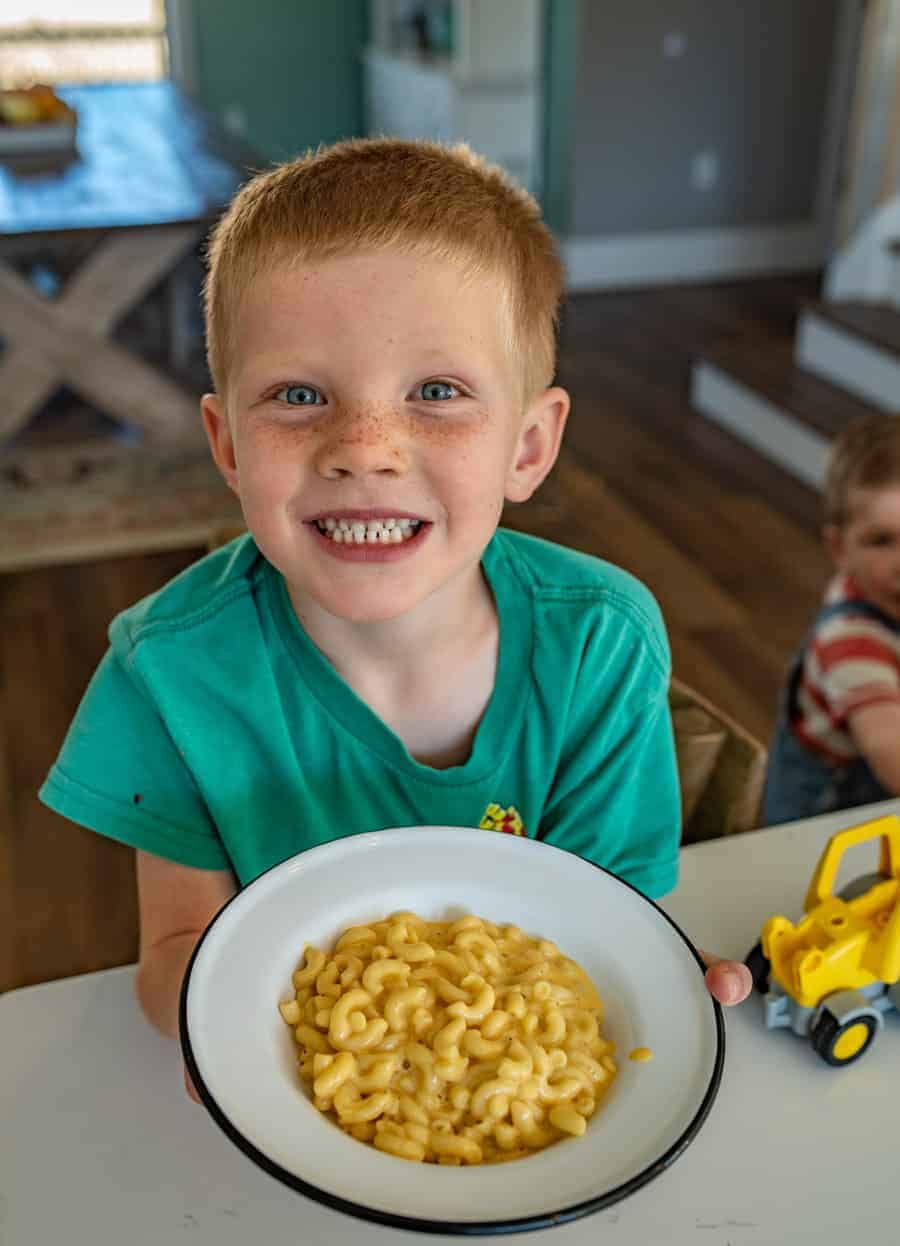 Be the example they need
Oh friends, we have got to stop buying into diet culture. Stop body shaming yourself, stop valuing thin bodies over non-thin bodies, stop trying to shrink your beautiful shell so that it'll fit into a mold. You have unconditional permission to eat. You don't need cheat days or cheat meals. You simply need meals that fill you, body and soul.
What this looks like in my family: Dessert is not served as a reward for eating your dinner. If I'm serving dessert, my kids can participate in dessert, regardless of what they ate at dinner. I don't use food as bribes or rewards. I offer plenty of vegetables often, but I don't esteem one food over another.
I'm actively trying to heal a long-term gut/stomach issue, and that means I'm on a really restrictive food protocol while I'm healing. Instead of saying "I can't eat that" or "I can't have that," I'm telling my kids I'm choosing not to eat certain things so that my body can heal and so that my stomach doesn't hurt anymore. It's a totally different mindset and vibe than restriction and demonizing foods.
Create a family food culture
Eating is such a huge part of life. We spend so many hours a week around the preparation and consumption of food. It's going to happen over and over again in your home, so make a food culture with and for your family. That might look like making a tradition around pizza on Fridays, decorating sugar cookies for holidays, and celebrating the first day of summer by going to pick strawberries at a farm. On a smaller scale, it's what dishes you choose to use, how people come and go from the table, and where you eat your meals.
YOU get to decide all of this. Stop letting life just happen. Stop being asleep at the wheel. Wake up and make your life what you want it to be. When your kids are grown, what do you want them to remember about meal times in your home? Base your actions on the goals that you decide.
Other resources:
My friend Emily has a great reading list for help and solutions in working with picky eaters. You can see her post here. There is also a section in the book that I keep recommending, called Intuitive Eating, about feeding kids. I LOVE this book. It has literally changed life and changed my relationship with food. It's the best $10 you'll spend this year. I feel like the more that I have healed my relationship with food, the better I have been at teaching my kids how to have a good relationship from the start.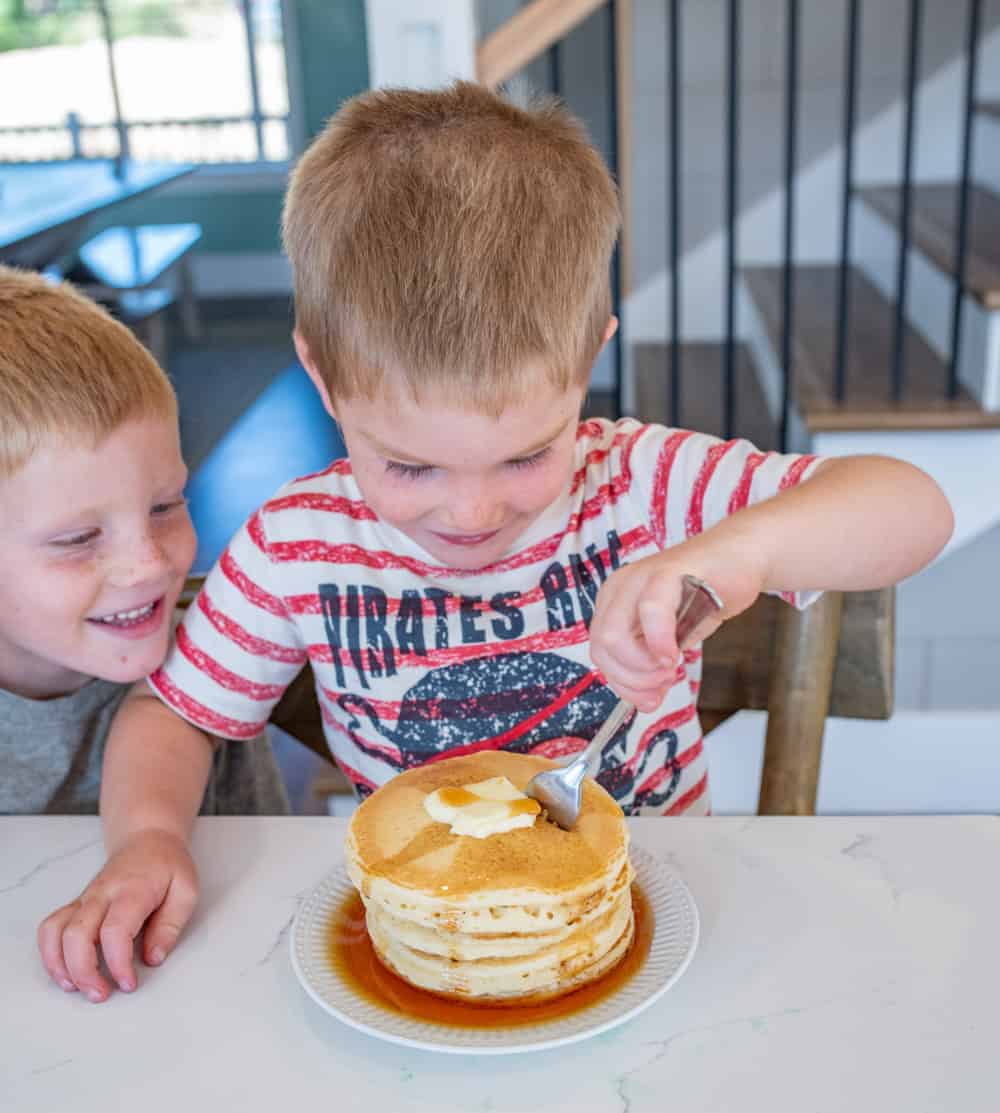 Take Away:
The more that I have come to peace with food, the easier it is for me to feed my children and the easier it is for them to understand how to enjoy food while respecting their bodies.
So friends, I'm passing this baton back to you. What do YOU need to do in order to be more fully prepared to help your children have a good relationship with food?
This is such a fun and multi-faceted topic, and I feel like I didn't dive very fully into one area. What questions do you have? What food struggles do you have when it comes to feeding kids? How else can I help you? I plan on writing more in-depth on this topic very soon!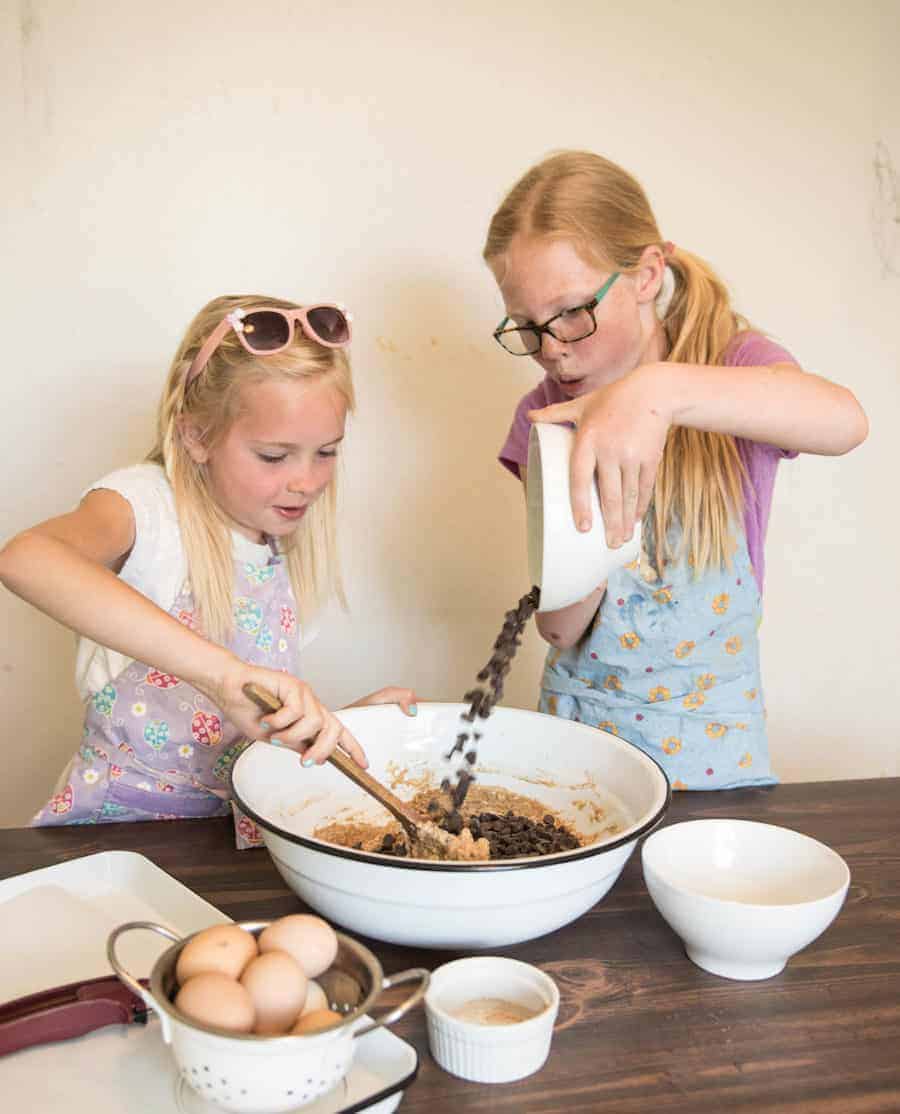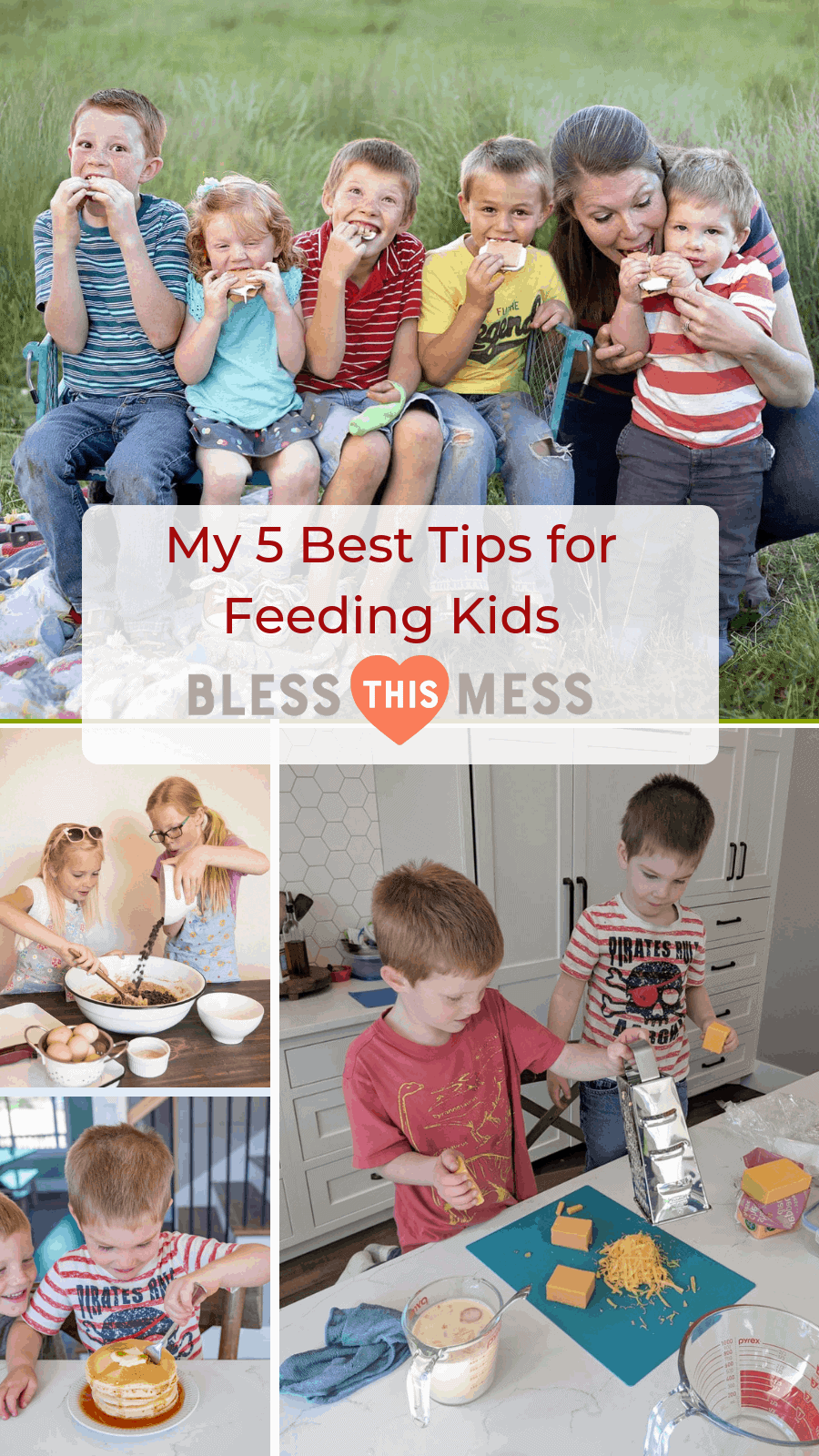 Here are some of my kids favorite recipes that your kids may like as well:
Feeding kids isn't always a walk in the park, but with my 5 best tips for feeding kids, I hope you come away with some tangible advice and practical ideas for making mealtimes a little less stressful and a whole lot more enjoyable for the entire family.