This Easy Roasted Cauliflower recipe only requires three basic ingredients and makes a crunchy, satisfying side dish. A healthy side dish that goes with so many meals!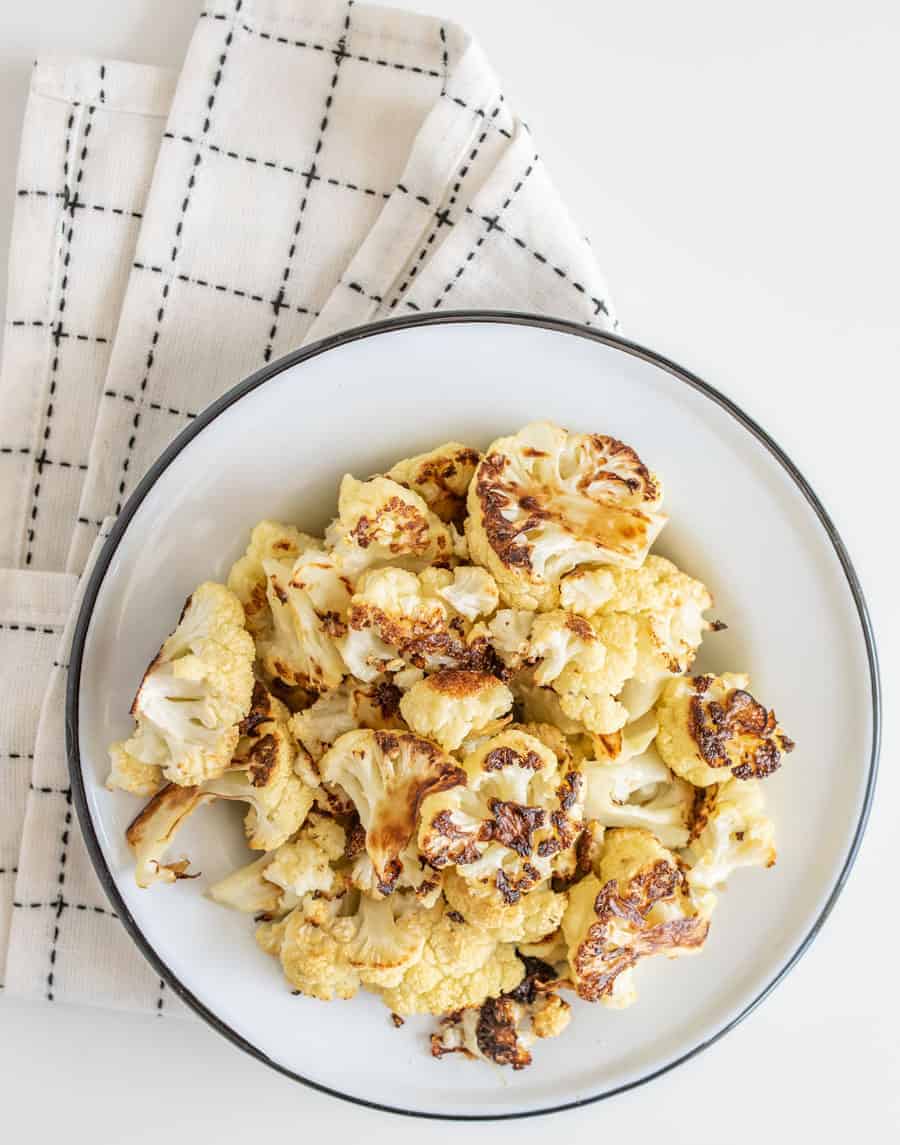 Easy Roasted Cauliflower
I think cauliflower is one of those vegetables people just decide to dislike because of how it looks. I can't deny that it's probably the blandest looking vegetable out there, and all by itself, the flavor isn't a complete knockout. But like any good mother, I was determined to turn this nutritious, albeit mild, food into a scrumptious snack or side item. And I must say... I think I did it!
The truth is, most vegetables taste about a hundred-times better (real statistic in my kitchen) when they're roasted with a little oil and salt. I mean, you really can't go wrong with this method of veggie preparation. If you're still scarred from the cold, boring cauliflower on veggie plates of yore, you've got to give this Easy Roasted Cauliflower a shot before you write off the simple vegetable for good. I can almost promise this easy, no-fuss dish will change your mind.
Does roasted cauliflower freeze well?
You can freeze roasted cauliflower, but it might not maintain its crunch as well. Store leftovers covered in the fridge for up to 5 days, or freeze for much longer. Be sure to reheat in an oven to avoid microwaved mush vegetables!
Is roasted cauliflower healthy?
Yes, yes, yes! Although, y'all know I'm a big believer that everything is just fine to eat in moderation. Fried, battered, sugared, sauteed, or otherwise -- there is no such thing as "good" or "bad," "healthy" or "unhealthy" in my home and heart. But I digress... Cauliflower is a cruciferous veggies, which means it has some magical antioxidant properties, anti-inflammatory effects, and high fiber content. Because of all of these superb characteristics, eating it can actually help reduce the chances of cancer, and it's a wonderful source of vitamin C.
How do I make my roasted cauliflower crispy?
Make sure you roast your cauliflower on a baking sheet that is not lined. The contact with the sheet will help crisp up those bottoms of the florets. Also, don't overcrowd the pan. If things get a bit too cozy on the cookie sheet, you'll end up steaming the veggies, rather than roasting them up to a nice crisp.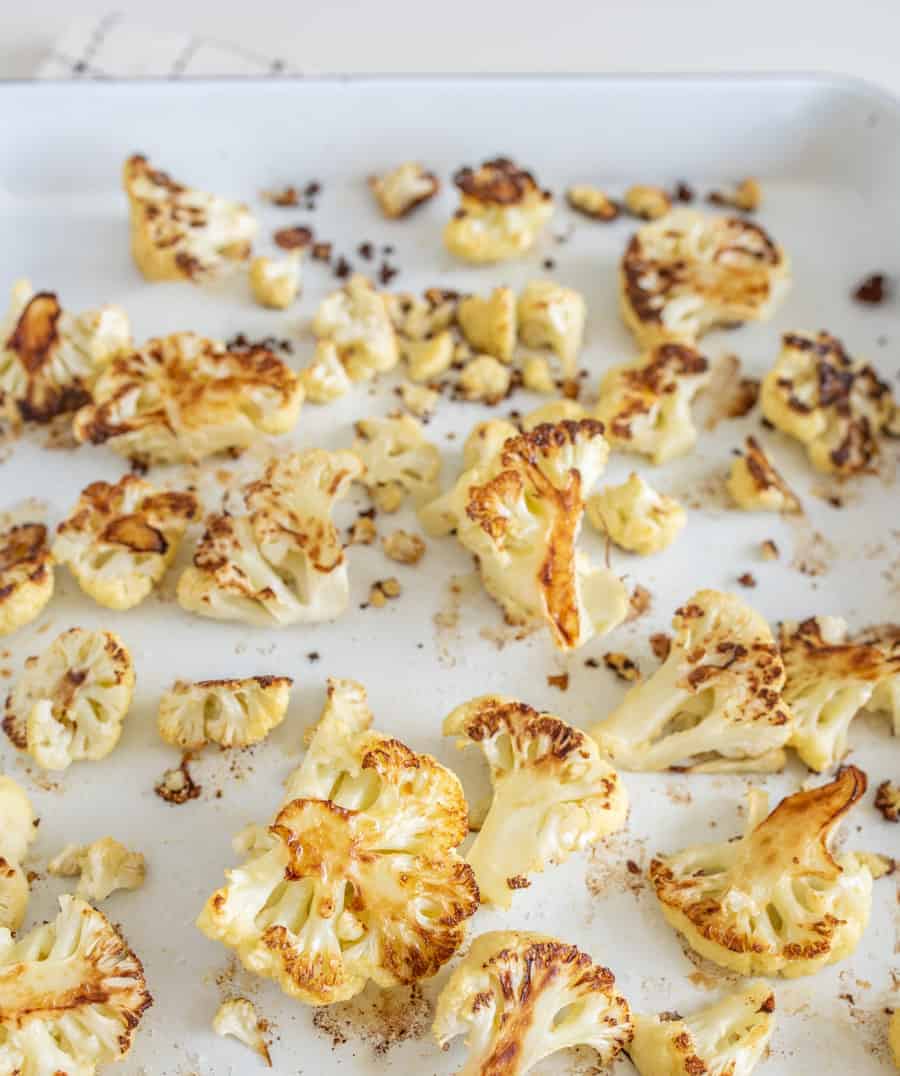 Print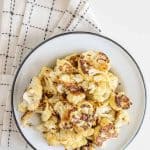 Easy Roasted Cauliflower Recipe
---
Author:

Total Time:

25 minutes

Yield:

Serves

6

as a side

1

x
Description
This Easy Roasted Cauliflower recipe only requires three basic ingredients and makes a crunchy, satisfying side dish. This is a healthy side dish that goes with so many meals!
---
1

medium to large head cauliflower

2 tablespoons

oil, such as olive oil
Salt to taste
---
Instructions
Preheat the oven to 450 degrees F.
Prep the cauliflower by using a sharp knife to cut the head in half. Remove the bulk of each stem, and then rinse the cauliflower well. Pat dry or allow to dry.
Use a knife to cut each half into 1.5- to 2-inch wide chunks. Break the chunks into smaller bite sized pieces. Place all of them in a large bowl.
Drizzle the oil over the cauliflower, and toss/stir well to evenly coat the cauliflower with oil.
Place the cauliflower on a rimmed baking sheet WITHOUT any kind of baking mat or parchment paper. Direct contact with the pan is key.
Sprinkle with salt.
Roast for 18 to 24 minutes, until tender and darkened on the side that is touching the pan.
Remove from the oven and add additional salt to taste. Serve hot.
Notes
You can mix broccoli on this sheet pan if you'd like a little of both. They cook at similar times, and it works well to cook them both.
If you crowd your pan, your veggies will steam instead of roast. To get that nice golden crisp to them, give them plenty of room on the pan.
Prep Time:

5 min.

Cook Time:

20 min

Category:

Side Dish

Method:

Oven

Cuisine:

American
Keywords: cauliflower, roasted vegetable, cauliflower recipe, roasted cauliflower, healthy side dish idea, easy side dish recipe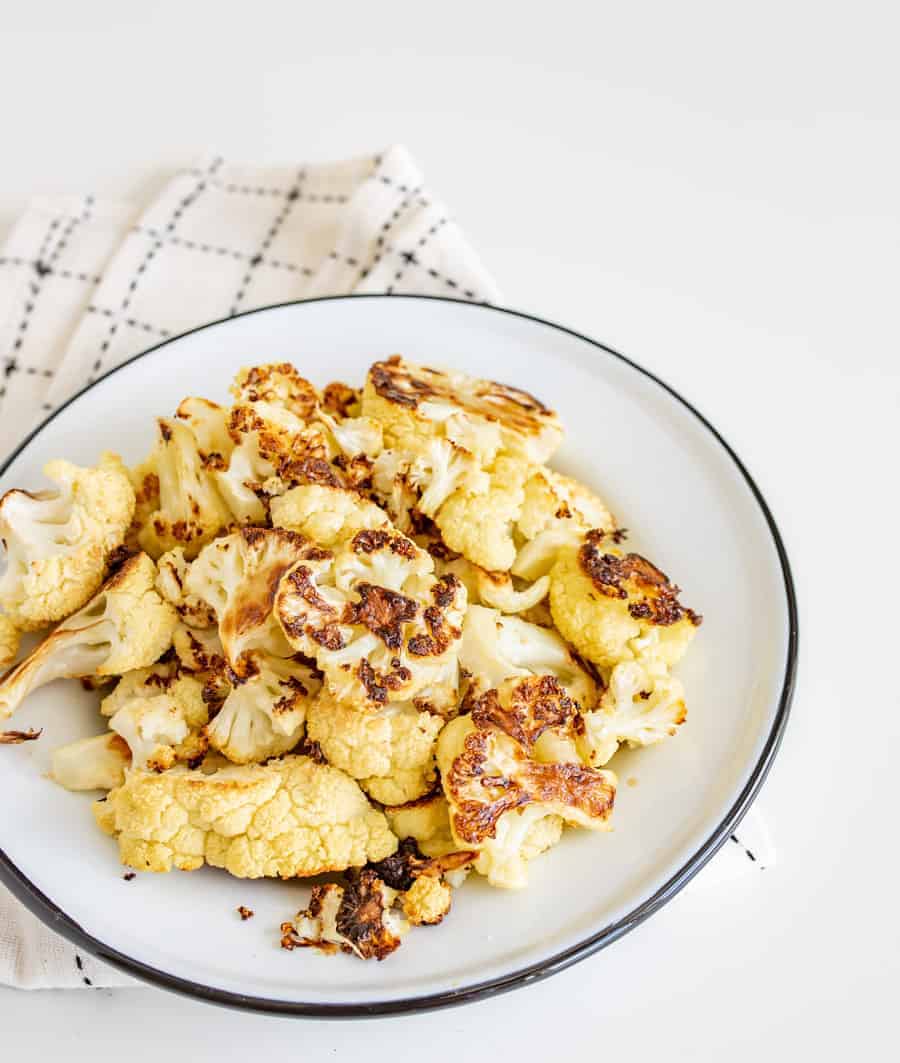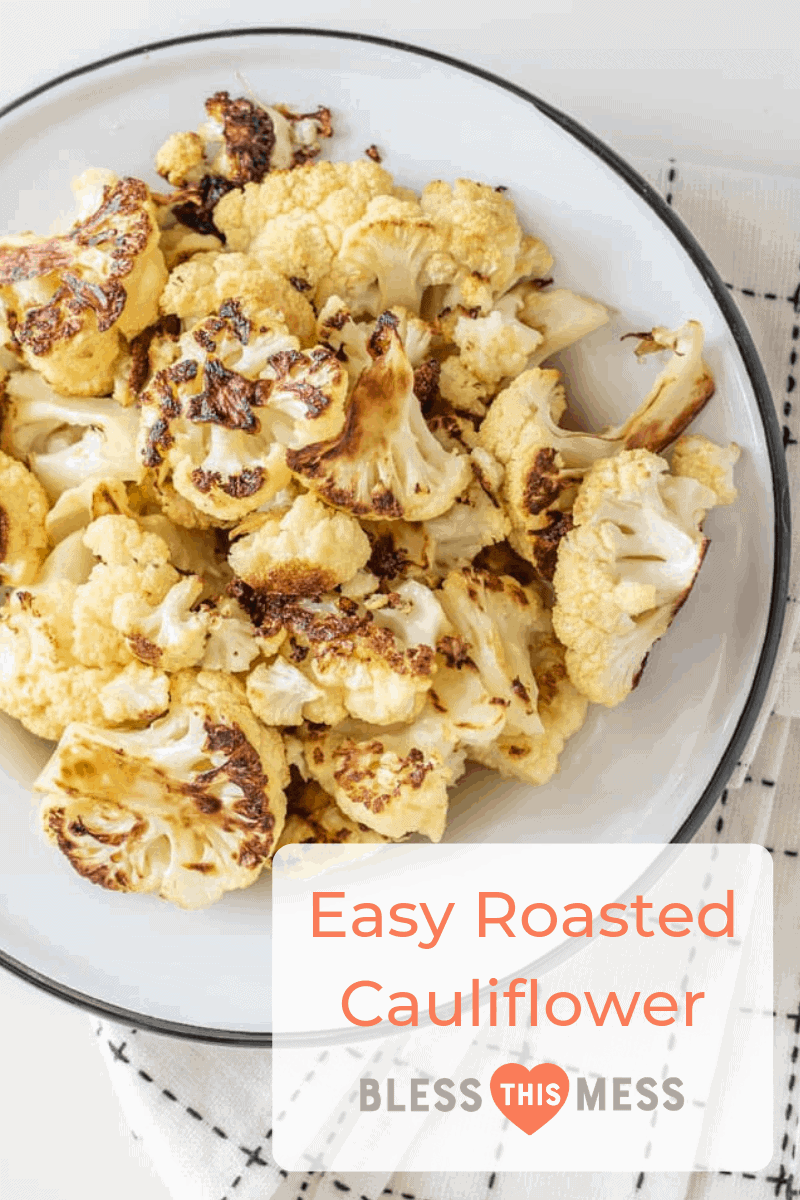 For more simple vegetable recipes, check out: