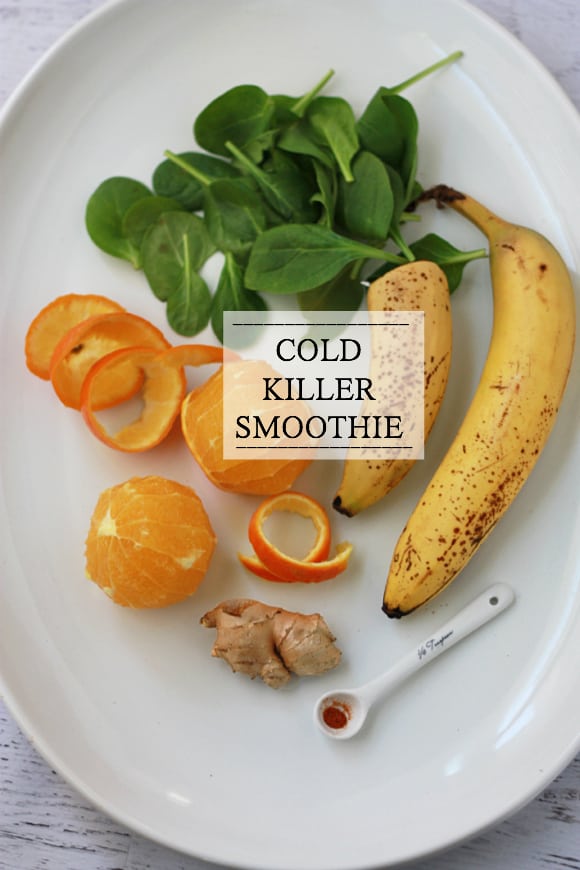 Have a bug floating around your house or want a great recipe to help nip something in the bud if you start to feel it coming on? This Cold Killer Smoothie from Emily at One Lovely Life is just what you need up your sleeve. Enjoy!
'Tis the season for every cough, sniffly nose, and bug out there. We were hit with a round of colds over December, and I felt like it took us a month to recover! It's so hard when no one can taste or smell anything and doesn't have an appetite.
Since you can only eat so much soup (and I love soup!), and I'm always looking for something soothing and nourishing while I'm sick, I've taken to mixing up smoothies. This Cold Killer Smoothie gave me enough energy to get through the day while taking care of everyone else. It's a winner!
It starts with a simple base — whole, peeled oranges for a dose of vitamin C without losing all the fiber. Add to it a bit of fresh ginger, which is warming and soothing, some frozen bananas for sweetness, some honey to soothe a sore throat, and a little vanilla to mellow the flavors and pull everything together. I've added fresh spinach here, because I really feel like adding some greens to a smoothie like this gives me a little something extra to go on throughout the day. If you're serving this to picky eaters or little ones, you can skip the spinach.
If you've really got stuffed sinuses, adding a pinch of cayenne to your smoothie can be just the zing you need to clear things up. For a regular morning or sore throat, you may not need it.
As for changing it up, like most smoothie recipes, this is just a base. You could certainly swap out the water for some milk (almond, dairy, or coconut) for some creaminess. Or add 1 orange and 1 cup of frozen pineapple for a more tropical feel. Make it your own!
I hope none of you are feeling under the weather, but if you are, I hope this helps give you a shot of sunshine!
A few helpful links + a few more ideas to heal what ails you: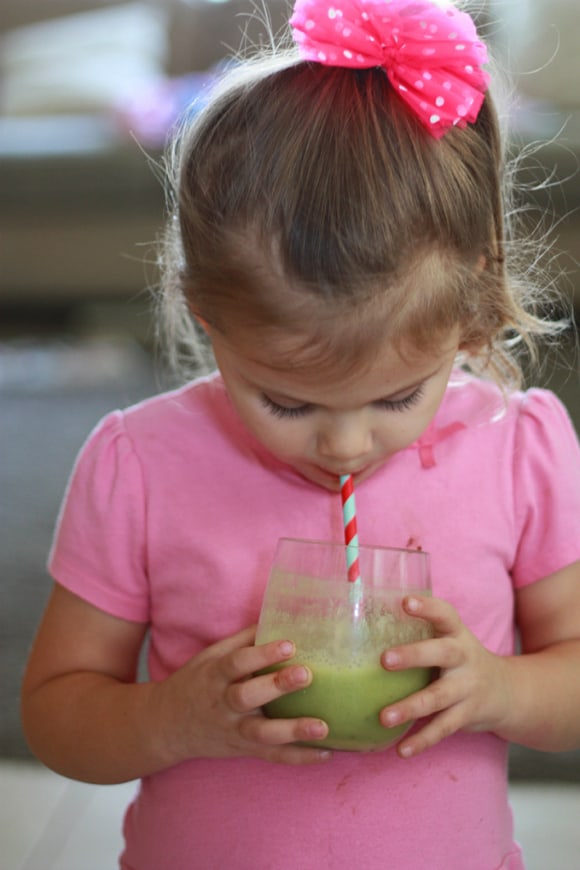 Craving more? Subscribe to Bless this Mess to get new recipes, meal plans, and a newsletter delivered straight to your inbox! If you try this recipe, let me know what you think! Leave a comment, pin it, and don't forget to tag a picture #blessthismesseat on Instagram. I love to see your kitchen skills in action!
Print
Cold Killer Smoothie
---
Yield:

Serves 2
Ingredients
1/2-3/4 cup water (or orange or pineapple juice)
2 medium oranges, peel removed
1/2 tsp – 2 tsp fresh ginger, minced
1 cup spinach
2 frozen bananas, sliced
Optional Add-ins:
1/4-1/2 tsp vanilla extract
1-2 tsp raw honey
pinch cayenne pepper, turmeric
---
Instructions
Place all ingredients in blender in the order listed (start with 1/2 cup water/juice). Blend until quite smooth, scraping down the sides or adding more liquid as necessary.
Taste and add vanilla, honey, cayenne, or turmeric as desired. Pulse to combine and serve immediately.
Notes
Author: One Lovely Life
This is a great recipe for colds–a vitamin C shot from the oranges, cold creaminess from the bananas, some greens for extra nutrition, and a little ginger (and cayenne, if you like) to clear up your sinuses. Drink a big glass, or freeze it into popsicle molds if you need to soothe a sore throat.