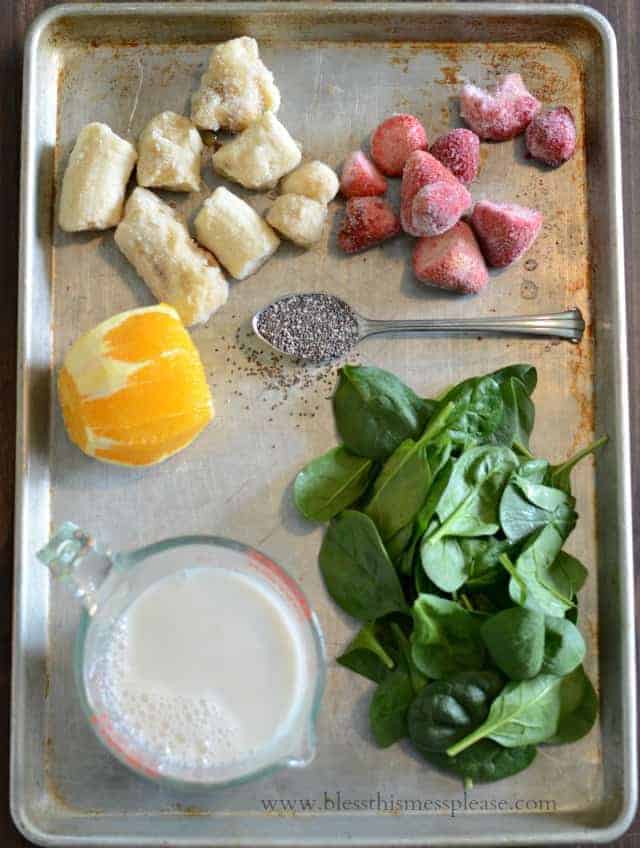 I've been making smoothies for a long, long time.
The summer after my senior year in high school I started going to garage sales with a good friend.
Being a novice, she shared all of her bargain hunting tips and tricks with me (life skill right there!). During our early Saturday morning adventures I picked up a used blender for $3. Shortly thereafter I moved to Ball State University in Muncie Indiana to live in the dorms with my best friend – taking the blender with me.
This was my first time being away from home and it wasn't without it's challenges, but making friends wasn't something I struggled with thanks to that blender. Summer, the best friend/roomie and I would save all kinds of fruit and yogurt from our meals and bring them back to our room. Then late in the evening and into the night when we needed a study break we would take our blender and all of our ingredients out into the hall to make smoothies. Yep, we'd do it in the hall outside of our dorm room. It's crazy how fast people will poke their heads out of their rooms when they heard a noisy old blender going at night.
Late night smoothie parties quickly became a tradition and other people started bringing things to blend too. When I transferred to Brigham Young University all the way out in Utah I brought the blender with me. Smoothie parties continued and new friendships blossomed. In one apartment we'd make smoothies and get in the hot tub late at night. Now that was a great tradition!
A few months ago, over 10 years after it's purchase, my trusty blender started to die. It didn't want to blend very well, it would stink if I tried to do too much with it, and then it finally died in December. What was I to do without a blender?! I asked you all about your favorite blender brands on the Bless this Mess Facebook page and pondered on what I should do. I did a lot of research after hearing your suggestions and decided that a Blendtec blender was what I wanted. I contacted them and they sent me a sleek new Blendtec in exchange for some work on their blog. Best. Decision. Ever. And you know what? They were excited to agree to a giveaway for YOU! Just enter below.
After all these years I'm still making smoothies and I feel like I've learned a lot about what works well, what tastes great, and what are the healthiest options.
A good smoothie: fruit and a little protein
A better Smoothie: Fruit, protein, a few leafy greens, and maybe one Superfood
The best Smoothie: Lots of dark greens, lots of protein, smart fruit choices, and 2-3 Superfoods
Now take those titles with a grain of salt, there's always something that could be better, but in general, I feel like this is a really great place to start for most people. No matter where you are on your smoothie journey, there's something for your in today's post. Take a look around!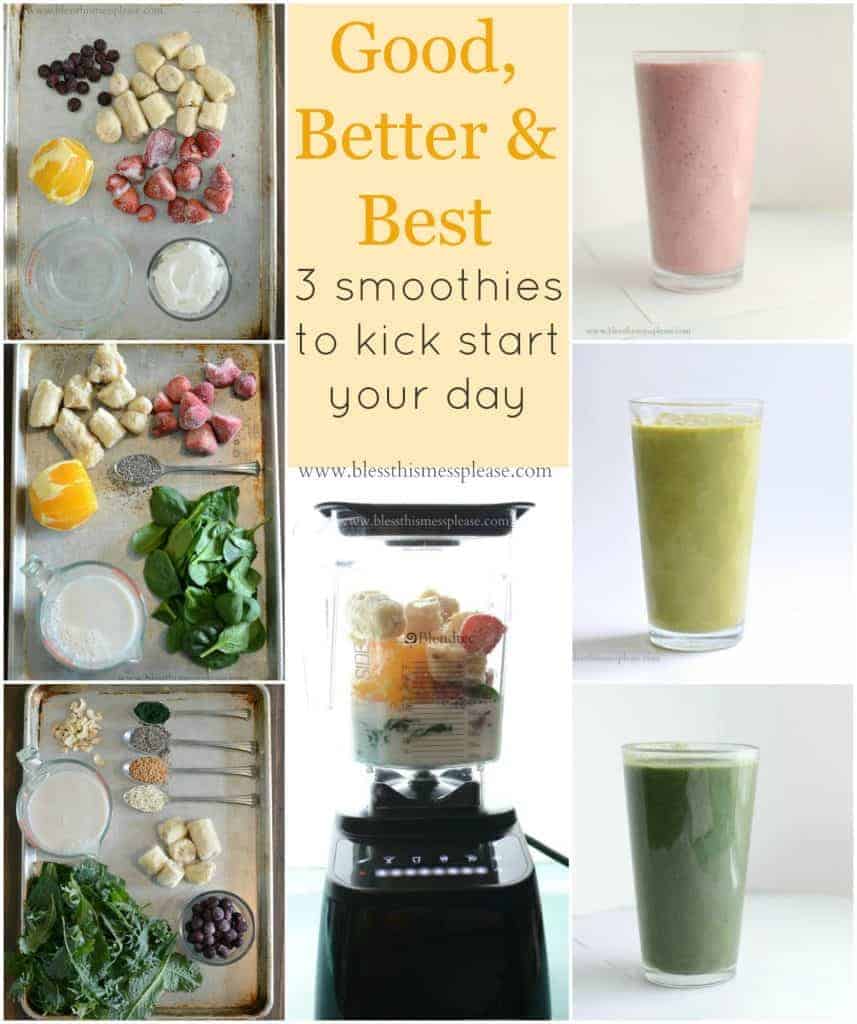 First up is a good smoothie.
This is a great place to start on your smoothie making journey. I'm always looking for ways to add a little more fruit into our diets and this is such a fun and easy way. This is generally what I make for my kids. They ask for a smoothie most afternoons, so we'll make a big batch and turn any leftovers into popsicles to be enjoyed the next day. It's time for parents to step away from the fruit snacks and Otter Pops and start feeding their little ones real food. And trust me friends, real food never tasted so good.
The serving totally depends on how much you want to drink. This makes enough for me and my 3 big kids to enjoy a cup or cup and a half and then make a batch of popsicles. I consider this smoothie a snack or a supplement to a meal. If I'm making an easy dinner of soup I might make this to go along with dinner for our serving of fruit. When we eat it for a snack I normally server air-popped popcorn with butter and salt along side it.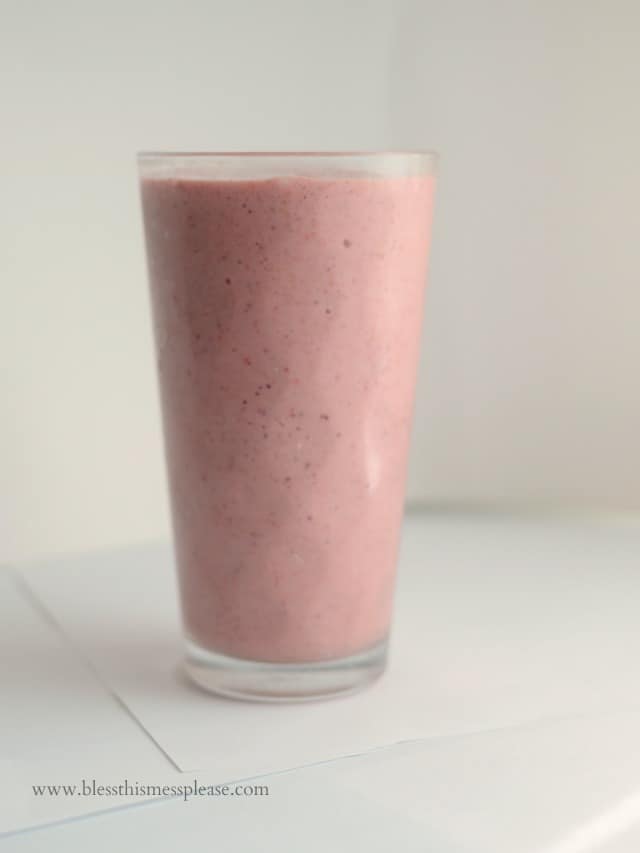 Here's one of our favorite combos: 2 frozen bananas, 1 cup frozen strawberries, 1/3 cup frozen blueberries, one whole orange peeled, 1/2 cup plain greek yogurt, and 2 cups cold water. This recipe is another favorite: clean and healthy Copycat Orange Julius.
If I'm feeling like the kids need some extra protein then I'll use milk or almond milk in place of the water. I don't often use both yogurt and milk though. And my kids are always needing more healthy calories though, so I like to add a tablespoon of coconut oil too.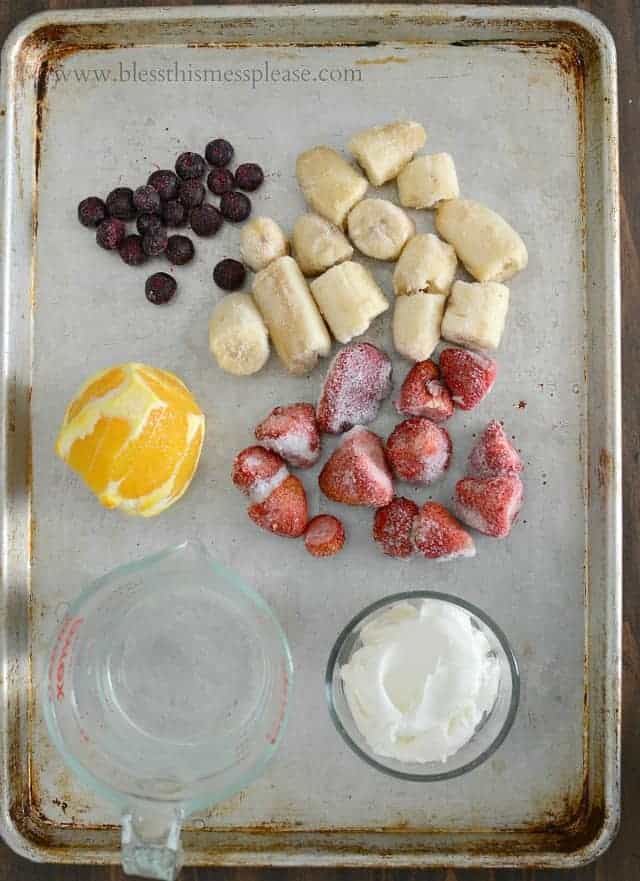 Next up, a better smoothie.
Here's where we start to venture into the world of "green smoothies." Now don't run away scared friends! I'd never post something that I didn't think you'd like. This is a super easy way to add a few more leafy greens into your diet. They have a different set of vitamins and minerals than the fruit and I think they run along the lines of "the more the merrier." If you are new to adding greens, start with baby spinach, I promise you won't taste it. If you aren't scared of a bit of an "earthy" taste then you can try normal spinach, swiss chard, or kale. And if you are really wanting to do something good for your body, add a Superfood.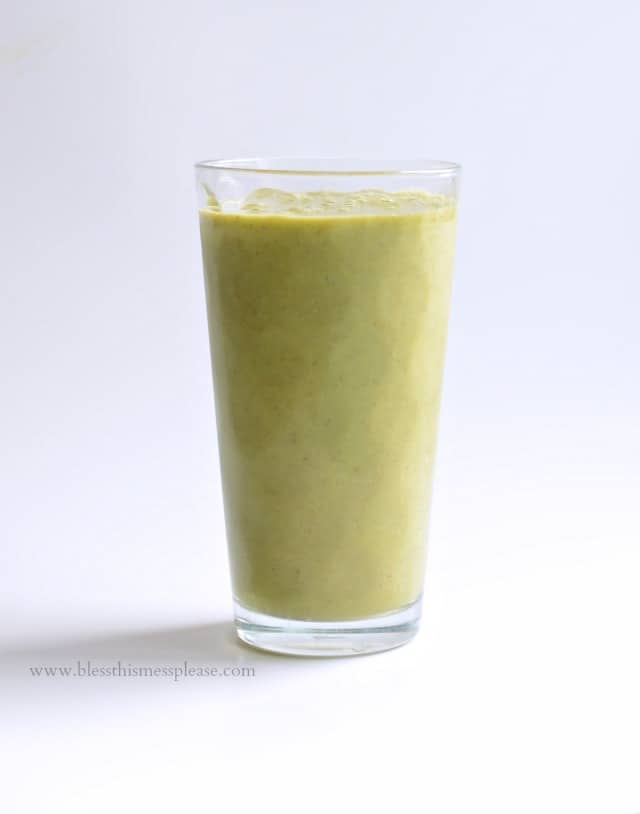 Now let's chat Superfoods for a minute. I'm sure you've heard the term before. In my mind it just means foods that have a lot more good things in them then other foods. My favorite article on Superfoods comes from the Simple Green Smoothies blog (which I love by the way). So check it out for more details. The way I see it is I'm sure I'm not getting all the nutrients my body would like, so why not give it a little extra boost. I'm the type of person that has to hear about something, take time to think about it, digest it, dip my toes in and check out the waters… you know, that kind of person. So when it came to Superfoods I bought coconut oil first. It didn't seem too strange, didn't cost too much, and I was willing to give it a go. I loved it. I use it in my homemade graham crackers, add a bit to our oatmeal in the mornings, and have recently started adding it to smoothies and use it for oil pulling too.
Next I bought chia seeds. I had heard about them off and on and decided to give them a try. They don't taste like anything really, about like a poppy seed, and they were easy to throw on top of yogurt and in oatmeal in the morning. So those two Superfoods I bought, used, ate, baked with, and enjoyed. They are a great place to start.
And then I got a Blendtec and I decided I could start adding other Superfoods to my diet via a green smoothie because it's all just chopped up in there. I currently use cacao nibs
, spirulina powder
, flax seed, and hemp seed hearts
 in addition to the coconut oil and chia seeds
. Those other 4 Superfoods are pretty much, smoothie only Superfoods for me. I'm not sure how I'd use them in anything else. They aren't detectable in the smoothie though which is great. I've yet to try any of the berries or the powder (I think it's a clay?). Have any of you? Do they have much of a flavor?
I'm a big believer that when your body has everything that it needs it works better and also doesn't hold onto things that it doesn't need. Feed it well friends! I also think that my skin is clearer, my mind is clearer, and I can focus better. I'm sure it's a combination of things that I'm doing, but I am a firm believer that the Superfoods have been worth their cost. I think we have been less sick this winter for sure and that alone is a money saver.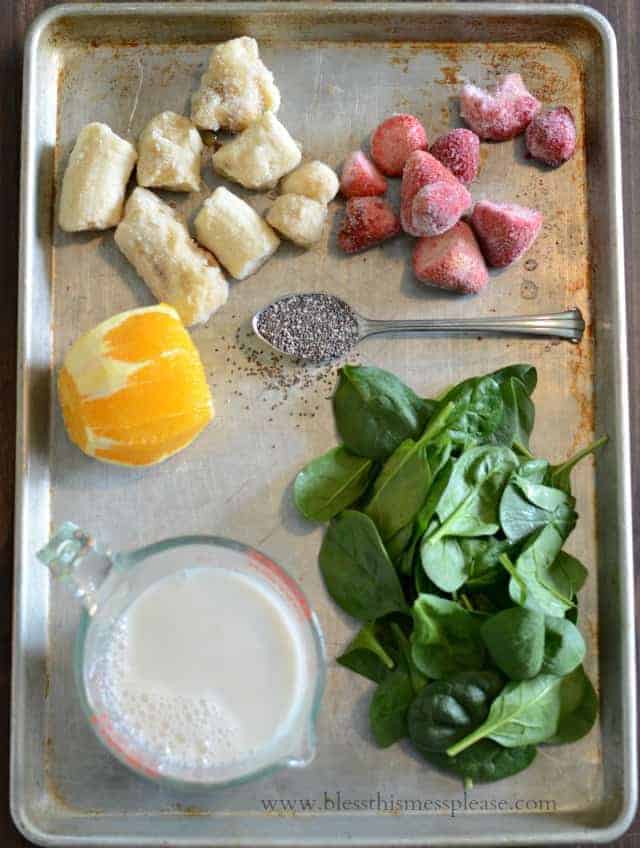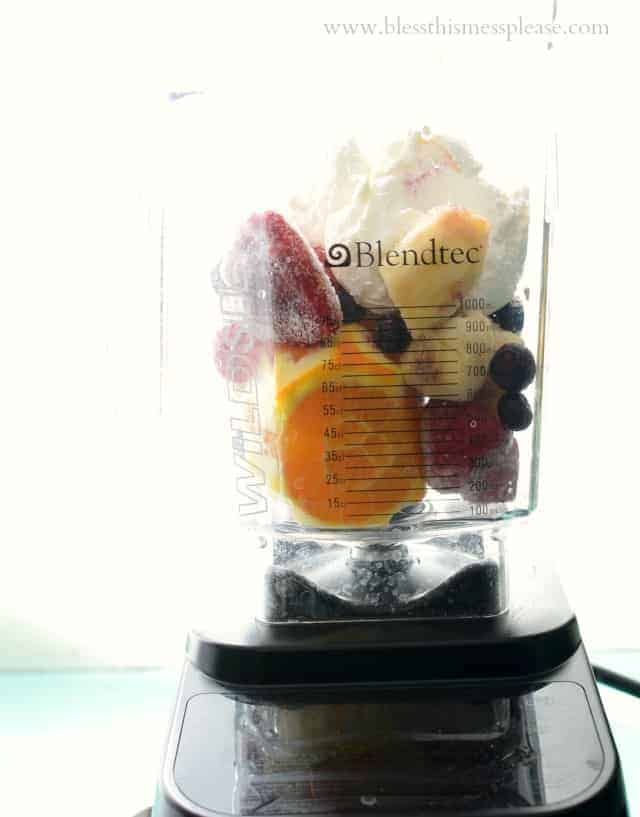 And last but not least, the best smoothie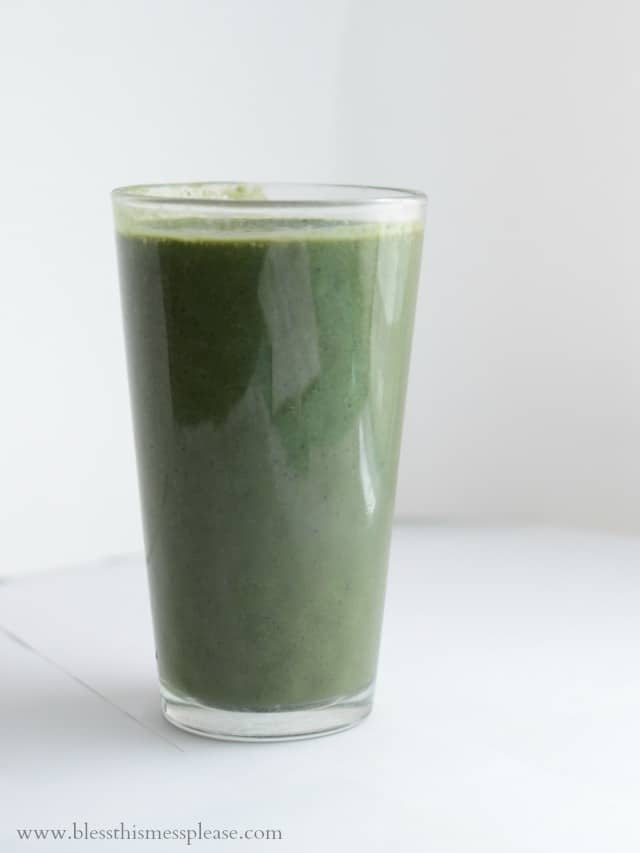 This smoothie is awesome. This is what I make for myself 4-5 days a week and I'm loving the results. This has lots of good fat, fiber, antioxidants, and is surprisingly sweet. Everyone I make this for is shocked at how great it tastes. The idea came from an employee at King Arthur Flour. We were working together on a giveaway earlier in the year over email and got to chatting about green smoothies. She let me in on some of her favorite secrets and I've really embraced the ideas.
The smoothie is heavy on the greens, has smart fruit choices (frozen banana for sweetness and improved texture, blueberries for fiber and antioxidants) but not tons of fruit to keep the calories down. Then it is sweetened and fortified with raw cashews and almond milk, and given extra love with lots of Superfoods. This is the smoothie that I go to when I'm looking to loose or maintain weight or am feeling blah after an indulgent weekend. Green smoothies for weight loss could be a post all on it's own! I love this for breakfast because it really satisfies and keeps me full (yay for protein and fat!). The only additional things that I might add are a half of an avocado or a teaspoon or so of coconut oil if I'm feeling extra hungry that morning. I will drink this entire recipe myself and use it as a meal replacement (generally breakfast of lunch).
This smoothie is my favorite! Give it a try and I know that you'll love it too.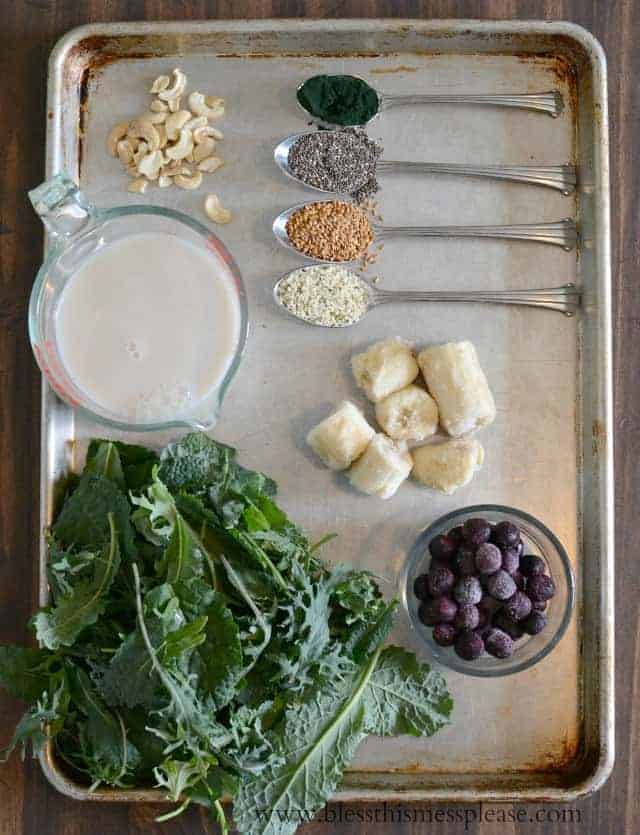 The Good, Better, and Best Smoothie Recipes
Print
Good, Better, and Best Smoothies
---
Ingredients
For A Good Smoothie
3 cups total of ripe fruit (a 50/50 ratio of fresh to frozen fruit is great)
2 cups cold liquid (milk, almond milk, cold water)
1/2 to 1 cup plain yogurt OR 1/4 cup raw nuts (cashews and almonds are my favorites)
For A Better Smoothie
3 cups total of ripe fruit (a 50/50 ratio of fresh to frozen fruit is great)
2 cups cold liquid (milk, almond milk, cold water)
1/2 to 1 cup yogurt OR 1/4 cup raw nuts
2 cups leafy greens (baby spinach is a great green to start with if you are new to adding greens)
1 serving of a Superfood
For A Best Smoothie
2-3 cups leafy greens (spinach and kale are my favorites)
1 or 1/2 frozen ripe banana
1/3 cup frozen blueberries
2 cups cold almond milk
2 tablespoons raw almonds or cashews
2-5 servings of Superfoods
Optional – 1/2 a peeled avocado OR 1 teaspoon coconut oil
---
Instructions
Choose a smoothie and then place everything in the blender for that particular smoothie and blend until smooth. If the smoothie is thicker than you like or not blending well add a splash of liquid and blend again until the desired consistency.
The goal with this smoothie is to have a lot of sweet fruit, some of which is frozen because that really improves the texture of the smoothie, some protein, and a liquid base. Try out different combos until you find what you like. The combinations are literally endless!
Notes
To determine a serving of Superfood, read the label on their packaging. (You only need to add 1 teaspoon of spirula compared to a tablespoons of chia). Reference the post for more information on Superfood recommendations.
I don't add things like carrots, beets, or other veggies to my smoothies. I've tried it and it's pretty gross and the texture is all off. Save those kinds of veggies for juicing (a whole different thing) and stick with the leafy greens when it comes to smoothies.
My smoothie life really changed when I got the Blendtec. It is just so, so powerful! The texture of the smoothie is smooth and creamy, I can add things like Superfoods without worry, and it powers through frozen fruit with no indication of slowing down. I love my Blendtec so much that I even packed it to a conference I went to this weekend and made smoothies in my hotel room. A good start to the morning meant that I didn't feel so guilty about enjoying treats later.
In my opinion, if a blender is going to help me consume ten times the good food that I would have otherwise then it is well worth the investment.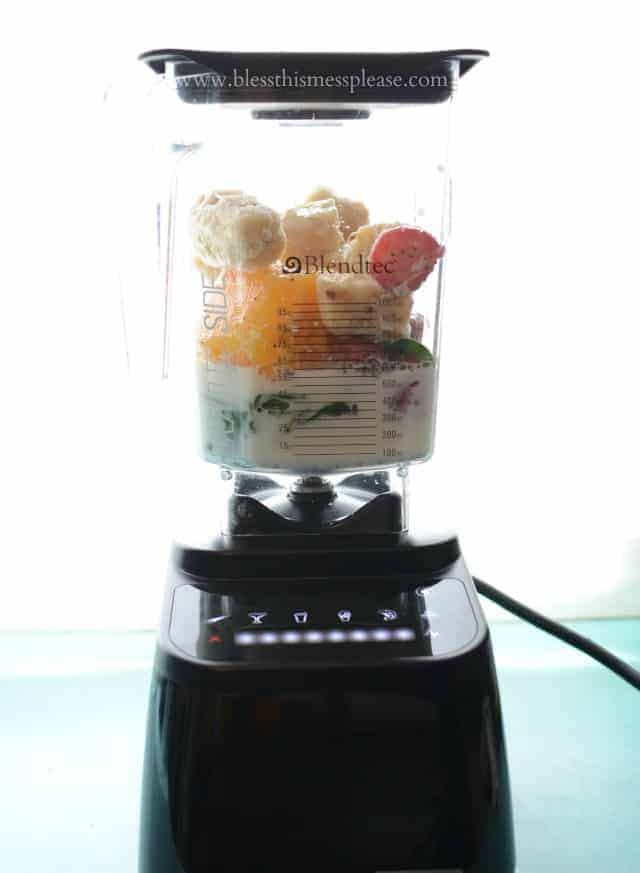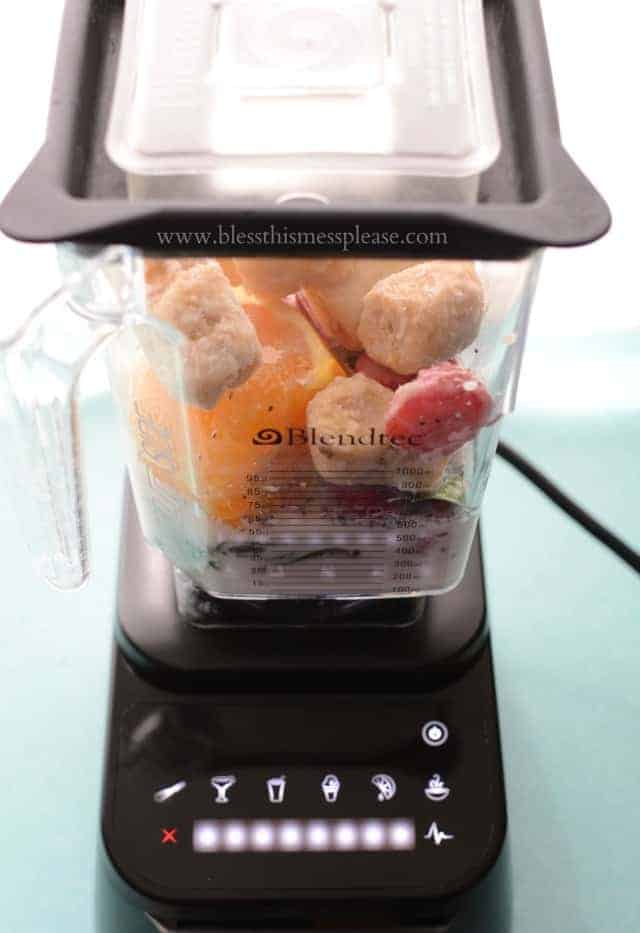 I have been working on this post for month, literally. So any love that you want to give it is welcome. Pin, share, tweet, and comment away. Or even better, make the smoothies and let me know what you think!
And tell me…
What are your favorite smoothie combos?! Any tips and tricks up your sleeve?