Red Velvet Cupcakes are moist cocoa-flavored cakes with tangy cream cheese frosting and a striking red hue.
In the realm of desserts, few treats captivate our taste buds and imagination quite like these vibrant, scarlet-hued confections. With their irresistible allure and a history steeped in culinary mystique, Red Velvet Cupcakes have become a cherished indulgence among both novice bakers and seasoned pastry artists alike.
So, what's the deal with Red Velvet Cupcakes, you ask? Well, let me tell you – they're more than just a dessert; they're a whole experience. Imagine biting into a moist, fluffy cake that's tinged with a subtle cocoa flavor, and then comes the surprise – a slight tanginess, a dash of magic that can only come from the buttermilk and vinegar combo, and a stunning shade of red. It's a flavor profile like no other – sweet, tangy, and oh-so-velvety.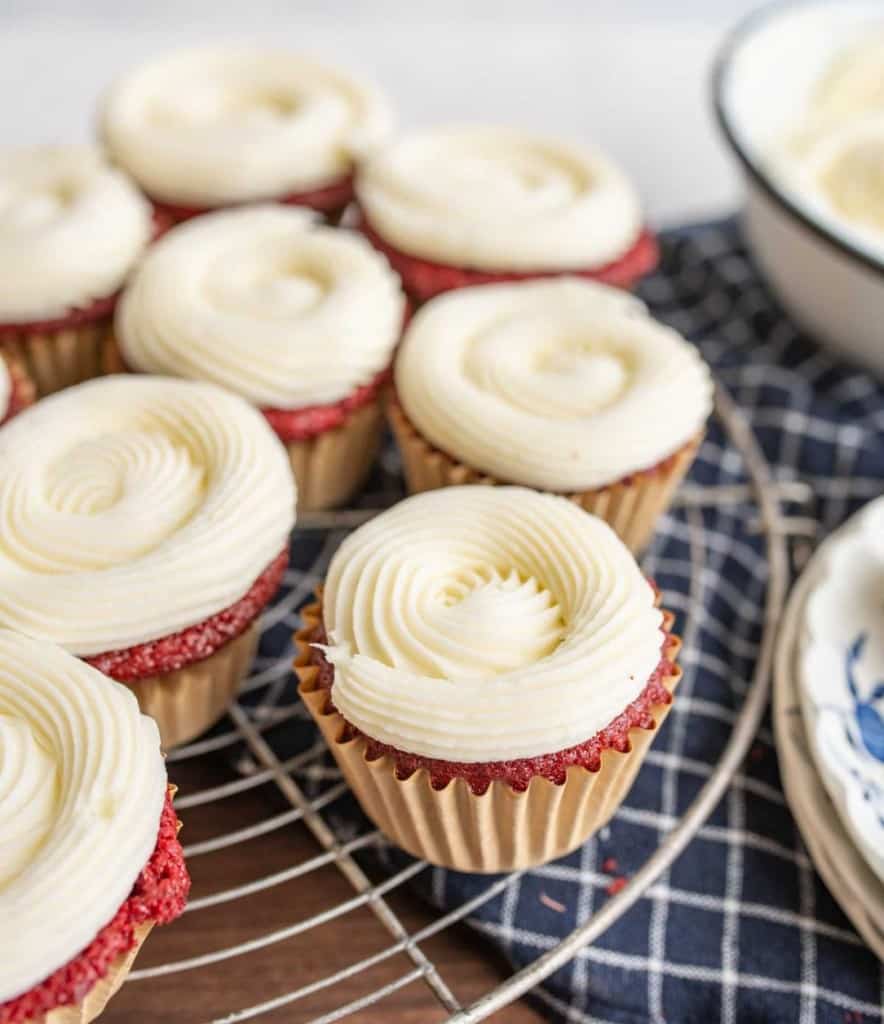 But it's not just the taste; it's the visual appeal that makes Red Velvet Cupcakes so irresistible. That deep crimson color, usually offset by a luscious cream cheese frosting, makes them a feast for the eyes as well as the taste buds. They're the perfect dessert for celebrations, holidays, or just a cozy night in with a good book and a cup of tea.
Before we jump into the kitchen, let's sprinkle in a little history. Red Velvet has a rich heritage dating back to the early 1900s, but it gained widespread popularity in the United States during the mid-20th century. Originally, the vibrant hue came from a reaction between the acidic ingredients like buttermilk and cocoa and the natural red anthocyanin pigments found in cocoa powder. Nowadays, food coloring is used to ensure that signature shade of red.
Table Of Contents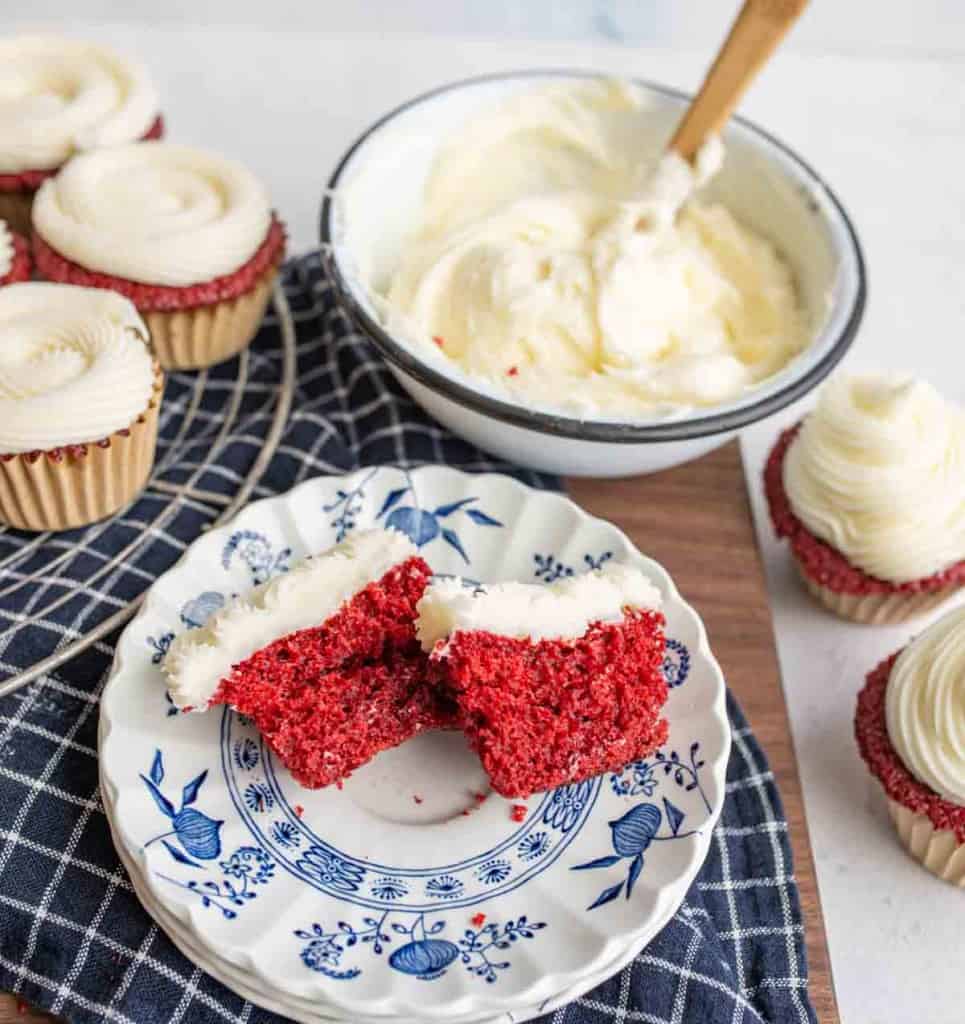 Ingredients
All-Purpose Flour: Builds structure for the cupcakes.
Granulated Sugar: Adds moisture, tenderness, and browning.
Unsweetened Cocoa Powder: Gives chocolatey flavor and iconic color.
Baking Soda: Lifts cupcakes to fluffy perfection.
Salt: Balances and enhances flavors.
Buttermilk: Infuses moisture and tanginess.
Unsalted Butter: Offers richness and even texture.
Eggs: Binders, moisture, and stability.
Vanilla Extract: Elevates overall flavor.
Red Food Coloring: Creates vibrant visual allure.
Keep scrolling to find a full, printable recipe with a detailed ingredient list.
Recipe Instructions
Prep and Mix:

Preheat your oven to 350°F (175°C) with a middle rack.
Line a cupcake pan with paper liners for easy removal.
In a large bowl, cream together butter and sugar until fluffy.
Beat in eggs, vanilla extract, and red food coloring.

Dry and Wet Ingredients:

In another bowl, whisk flour, cocoa powder, baking soda, and salt.
Gradually add the dry mixture to the wet ingredients, alternating with buttermilk. Start and end with the dry ingredients. Mix until smooth.

Fill and Bake:

Fill cupcake liners about ⅔ full with the batter to ensure even rising.
Bake for around 19 minutes or until a toothpick comes out clean.

Cool and Frost:

Let the cupcakes cool in the pan for 5 minutes.
Transfer them to a wire rack to cool completely.
Once cooled, frost with cream cheese frosting.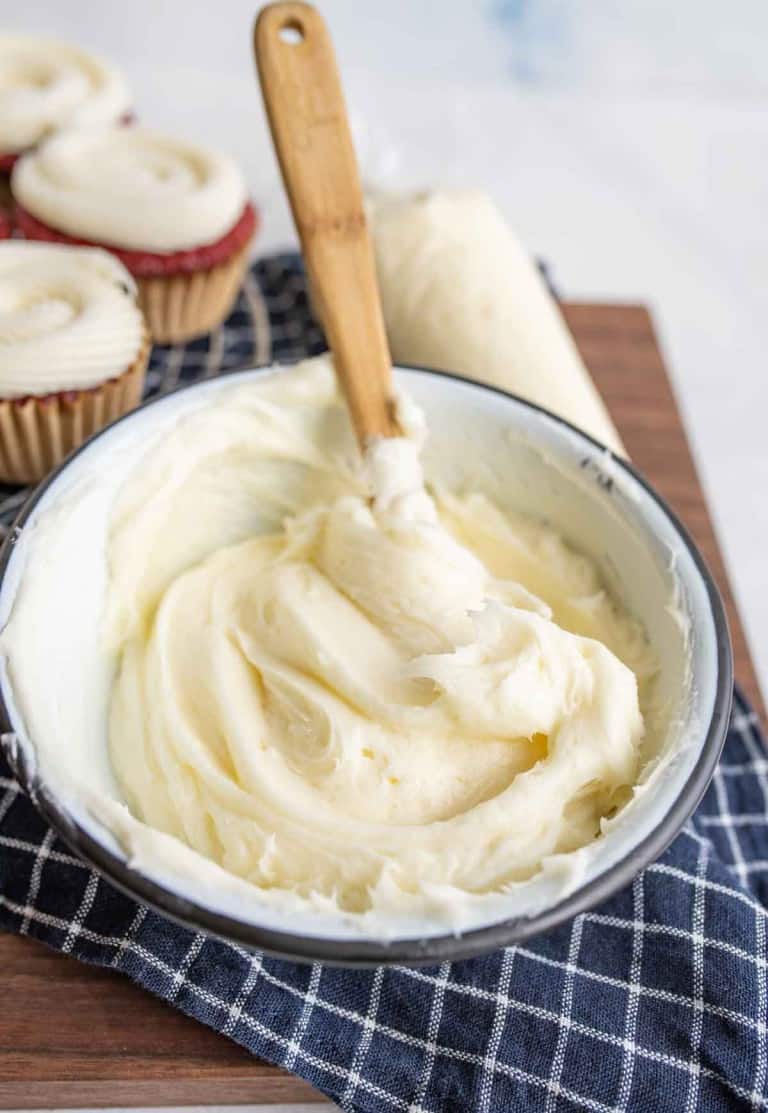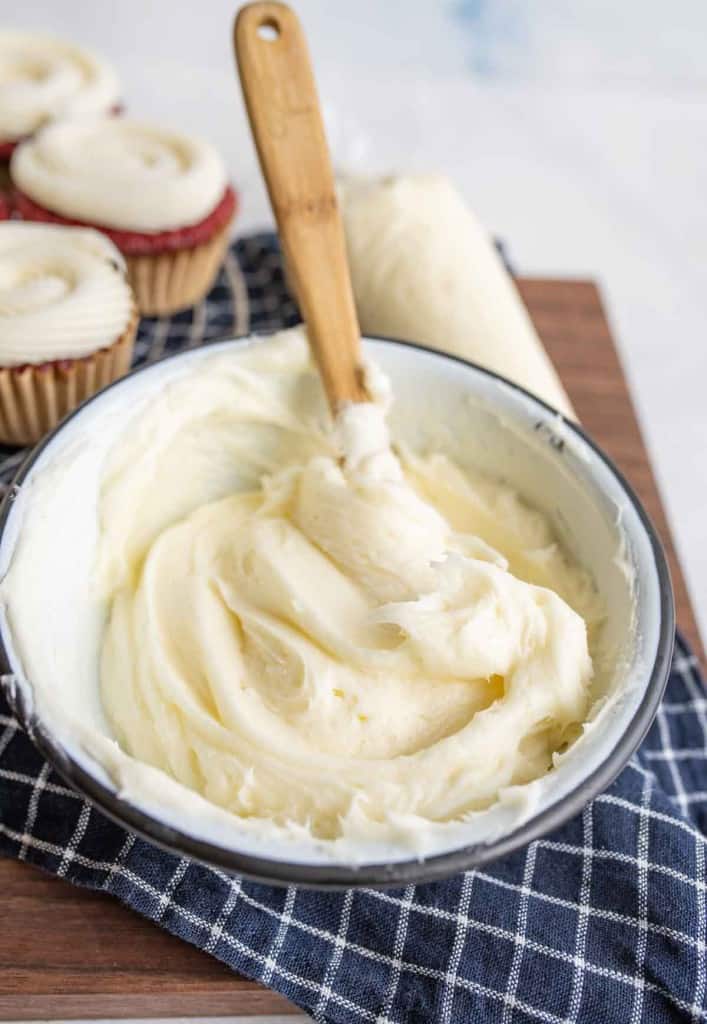 Frequently Asked Questions
What exactly is Red Velvet Cake?
Red Velvet Cake is a type of cake known for its moist, slightly cocoa-flavored crumb and vibrant red color. It's typically paired with cream cheese frosting.
Is Red Velvet Cake just chocolate cake with red food coloring?
No, it's not just chocolate cake with food coloring. While it does contain cocoa, Red Velvet Cake has a unique flavor profile, thanks to the combination of buttermilk, vinegar, and a touch of cocoa.
What frosting goes best with Red Velvet Cupcakes?
The traditional choice is cream cheese frosting, known for its tangy sweetness that complements the cake's flavor. However, you can also use buttercream or even a white chocolate ganache if you prefer.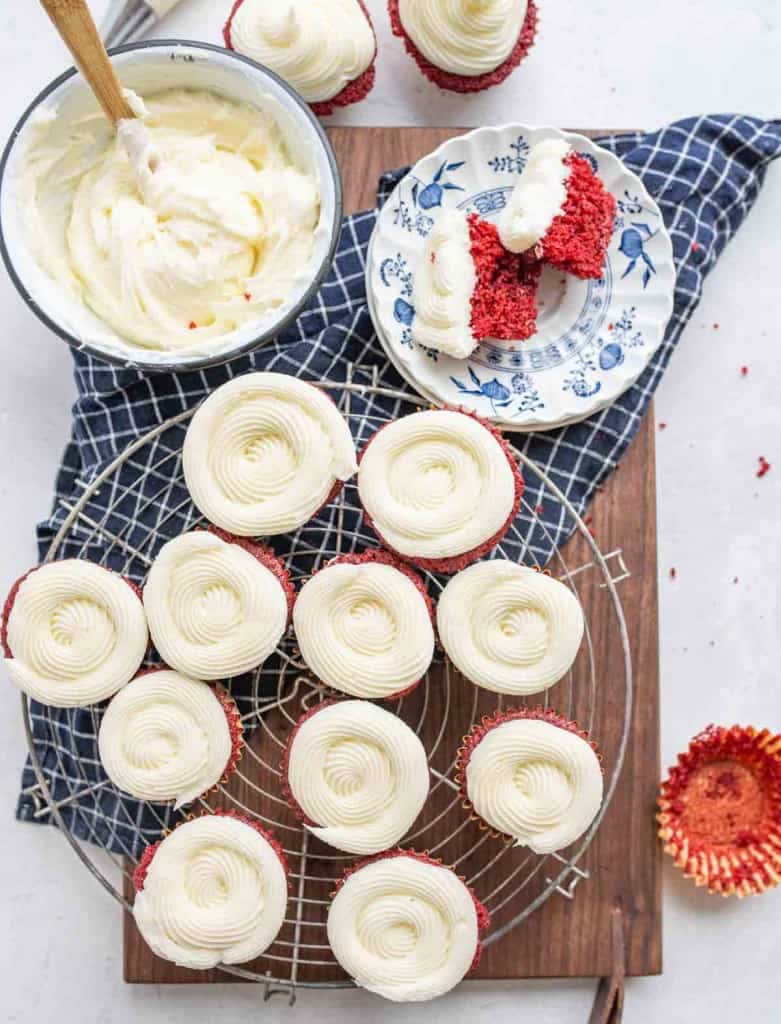 More Recipes
If you've tried this Red Velvet Cupcakes recipe or any other recipe on Bless This Mess, then don't forget to rate the recipe and leave me a comment below! I would love to hear about your experience making it. And if you snapped some pictures of it, share it with me on Instagram so I can repost on my stories.
📖 Recipe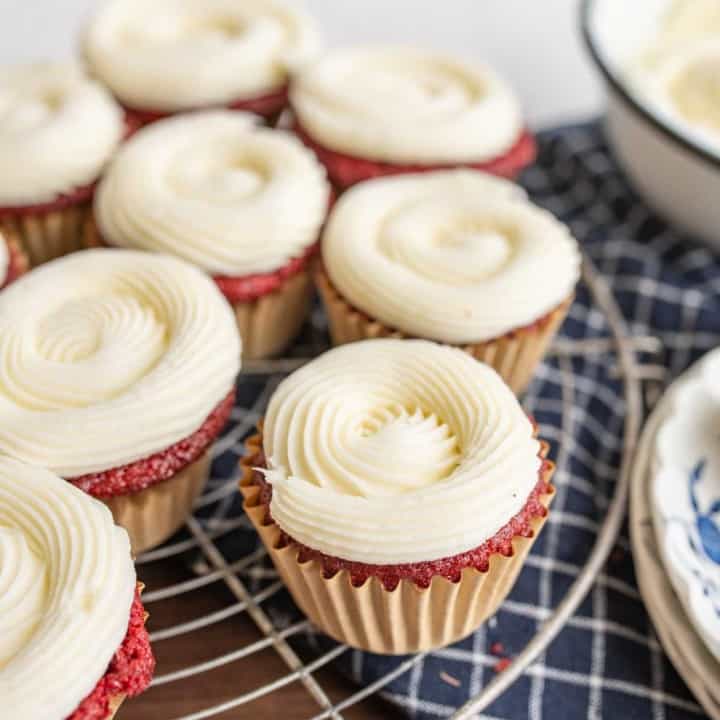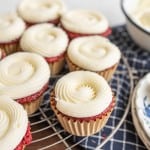 Print Recipe
Red Velvet Cupcakes
Red Velvet Cupcakes are moist cocoa-flavored cakes with tangy cream cheese frosting and a striking red hue.
Ingredients
1 ⅔

cups

all-purpose flour

1 ½

cups

granulated sugar

2

tablespoons

unsweetened cocoa powder

1 ½

teaspoons

baking soda

1

teaspoon

salt

1 ½

cups

buttermilk

½

cup

unsalted butter

at room temperature

2

large eggs

1

teaspoon

vanilla extract

1

oz.

red food coloring
Instructions
Preheat your oven to 350°F (175°C). Ensure that a rack is positioned in the middle of the oven for even baking.

Line a 24-cup cupcake pan with paper cupcake liners. This will prevent the cupcakes from sticking and make removal easier.

In a large mixing bowl, cream together the butter and sugar. Use an electric mixer on medium speed and beat until the mixture is light and fluffy. This should take about 3-4 minutes.

Gradually add the eggs into the butter and sugar mixture, beating well after each addition. Then, mix in the vanilla extract and red food coloring until well combined.

In a separate bowl, whisk together the all-purpose flour, unsweetened cocoa powder, baking soda, and salt. This ensures that the leavening agents and cocoa are evenly distributed throughout the flour.

Slowly add the dry ingredient mixture to the wet ingredients, alternating with the buttermilk. Start and end with the flour mixture. This process helps keep the batter smooth and prevents over-mixing.

Using a scoop or a spoon, fill each cupcake liner about ⅔ full with batter to ensure even rising and prevent overflow.

Place the cupcake pan in the preheated oven and bake for approximately 19 minutes. To check for doneness, insert a toothpick or skewer into the center of a cupcake. If it comes out clean or with just a few crumbs, the cupcakes are done.

Once baked, remove the cupcakes from the oven and let them sit in the pan for about 5 minutes. Afterward, transfer the cupcakes to a wire rack to cool completely. This ensures the cupcakes don't become soggy from condensation.

Once the cupcakes are fully cooled, frost them with your favorite cream cheese frosting.
Notes
Ensure all ingredients, especially perishables like eggs and butter, are at room temperature. This helps in achieving a smoother batter.
If you don't have buttermilk on hand, you can easily make a substitute by adding 1 tablespoon of white vinegar or lemon juice to a cup of milk. Let it sit for about 10 minutes before using.
Store any leftover cupcakes in an airtight container to keep them fresh.
If you'd like a less intense red color, feel free to adjust the amount of food coloring based on your preference.
Nutrition
Calories:
130
kcal
|
Carbohydrates:
20
g
|
Protein:
2
g
|
Fat:
5
g
|
Saturated Fat:
3
g
|
Polyunsaturated Fat:
0.3
g
|
Monounsaturated Fat:
1
g
|
Trans Fat:
0.2
g
|
Cholesterol:
25
mg
|
Sodium:
187
mg
|
Potassium:
43
mg
|
Fiber:
0.4
g
|
Sugar:
13
g
|
Vitamin A:
163
IU
|
Calcium:
22
mg
|
Iron:
1
mg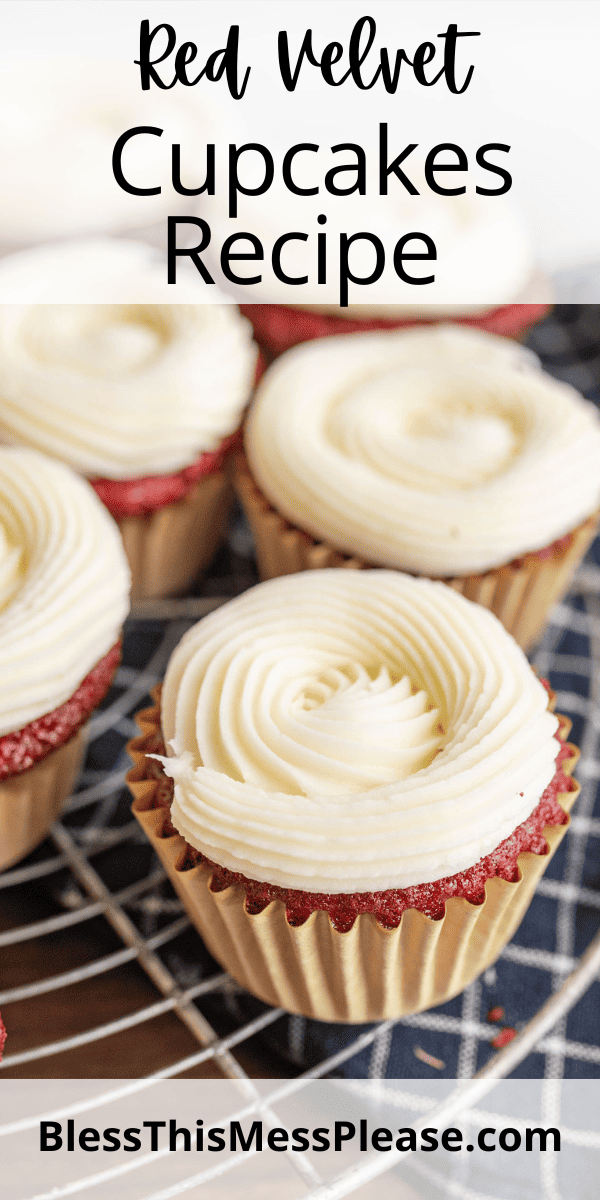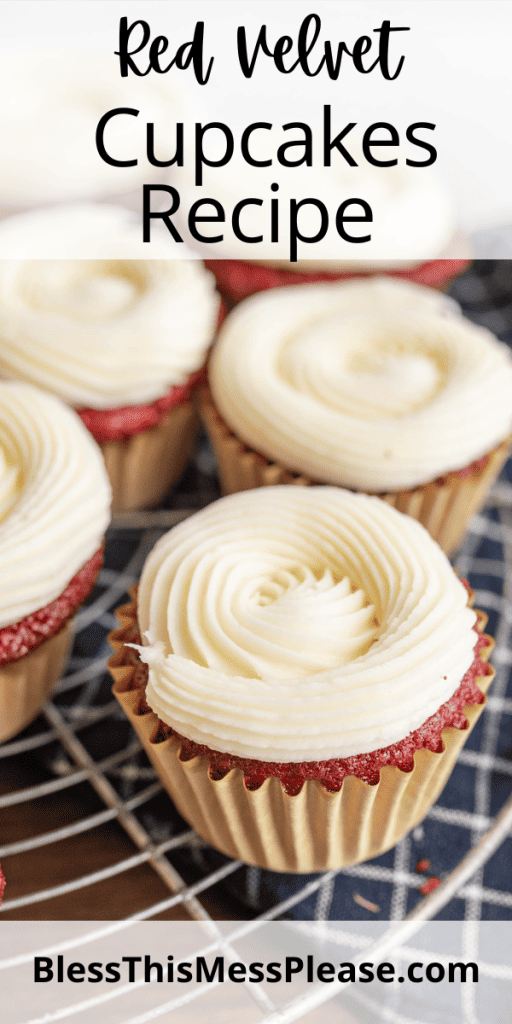 In a sweet nutshell, Red Velvet Cupcakes are pure happiness in every bite! They are so fun and delicious for every occasion.