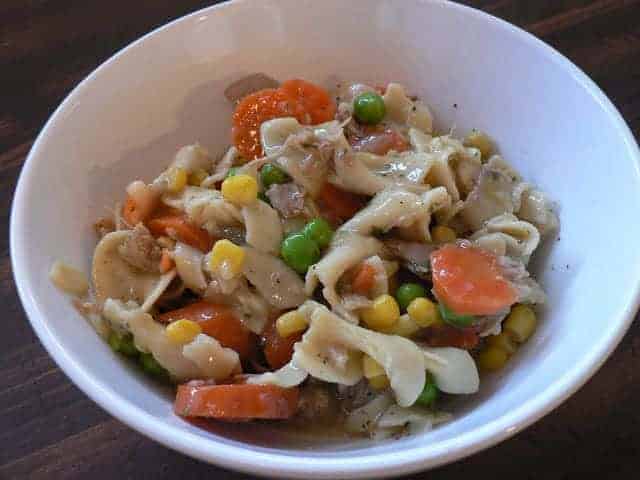 I love soup.  I love vegetable.  This is a beautiful combo of both that is super chunky; it's a meal in a bowl.  Every Thanksgiving I buy the biggest turkey I can find.  I cook it after the holiday, we eat one big turkey meal, and then I put the rest of the cooked and shredded meat into freezer bags.  I use this cooked turkey all winter for quick meals. It's convenient and economical.  I used my last bag for this meal!
Chunky Chicken Noodle Soup
1 T. oil
1 onion, chopped
2 cloves garlic, minced
2 cups cooked shredded chicken or turkey
5 cups water
5 bullion cubes
5 or 6 carrots
1 t. salt
1/2 t. pepper
1 t. parsley
3 cups egg noodles
1 cup frozen peas
1 cup frozen corn
Heat oil in a large stock pot over medium-high heat.  Add onions and garlic and saute until onions are translucent.  Add chicken, water, bullion, carrots, salt, pepper, and parsley.  Bring to a boil.  Reduce heat and simmer (covered with a lid) for 15 minutes.  Bring back to a boil and add egg noodles.  Cook for 5-7 minutes.  Add peas and corn, heat through.  Serve right away.