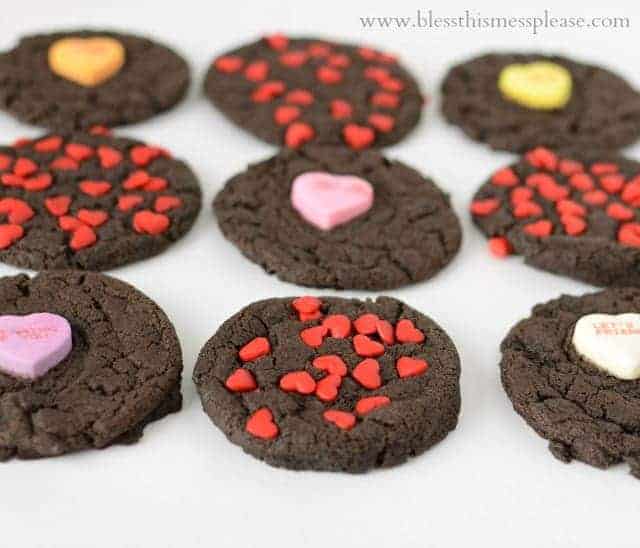 Valentine's is just around the corner and that means two things to me – sugary treats and chocolate (preferably together). As I was planning out the year for my blog I knew I wanted to do something centered around my love of chocolate for you all in February. Recipes are great but a giveaway is even better. I contacted my good friends at King Arthur Flour and they were more than willing to help me put on a giveaway for you guys. So today is not just lots of chocolate and treats to enjoy but a chance to win a Chocolate Lover's Prize Pack! Keep reading…
I am in love with these chocolate cookies. The cookie has the perfect chocolate flavor and is rich and dark in color because of dutch processed cocoa. You just can't go wrong with that cocoa! I dressed them up for the holiday with some simple sugar hearts and conversation hearts. My kids loved these cookies and they liked helping me decorate them even more. And I loved that they were pretty without having to make icing and pipe it on. I love a decorated sugar cookie but they can be such a hassle. I'm still recovering from making a million and one sugar cookies at Christmas.
So save yourself a little time and mess by making these delicious rich dark chocolate Valentine cookies. They are decorated before you even stick them in the oven!
And don't worry if you don't have the dutch-processed cocoa, King Arthur Flour has included that in the prize pack 🙂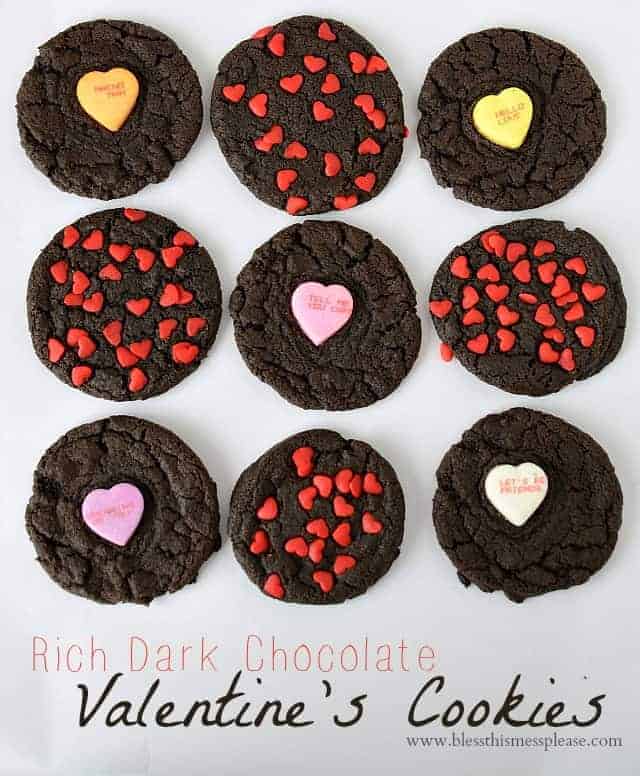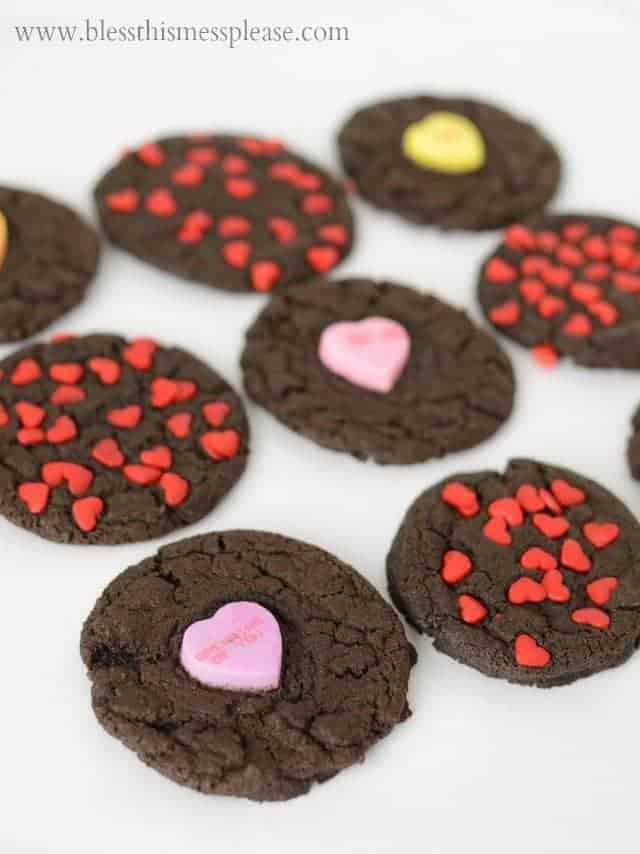 Here are all the goodies that will arrive at your door if you win!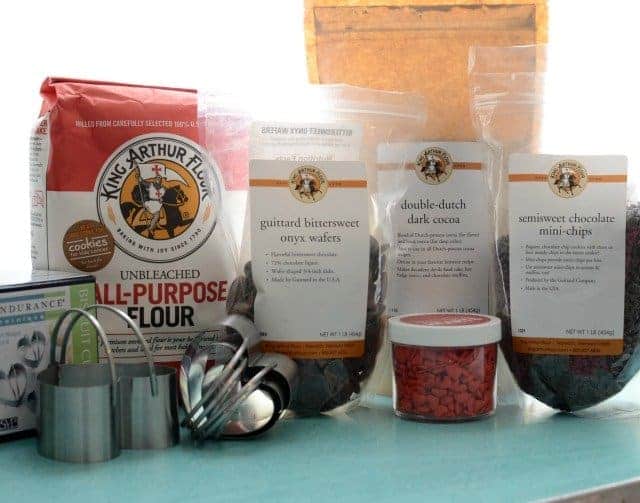 Print
Rich Dark Chocolate Valentine's Cookies
---
Scale
Ingredients
1 cup

butter, softened

1 cup

granulated sugar

1/2 cup

brown sugar

1 teaspoon

vanilla extract

2

eggs

2 1/4 cup

s all-purpose King Arthur Flour

2/3 cup

s King Arthur Flour double-dutch dark cocoa

1 teaspoon

baking soda

1/4 teaspoon

salt
Valentine sprinkles and/or large conversation hearts
---
Instructions
Preheat the oven to 350 degrees and line a baking sheet with parchment paper or a baking mat.
In a large bowl or the bowl of your stand mixer beat together the butter and sugars until light and fluffy, about 3 minutes. Add the vanilla and eggs and beat to combine well. Add the flour, cocoa, soda, and salt and stir to combine.
Form the dough into 1 to 1 1/2 inch balls. Dip the top of the ball into the heart sprinkles and then lightly press the sprinkles into place. Place on the cookie sheet. For the conversation heart cookies, form the dough into 1 to 1 1/2 inch balls and place on the cookie sheet. With the bottom of a glass of measuring cup slightly flatten the dough ball. Place a conversation heart in the center of the dough and press lightly to get it to stick into the dough.
Bake the cookies for 8 to 10 minutes until the centers are set. Let the cookies cool on the pan for 2 or 3 minutes and then place them on a wire rack.
Store extra cookies in an air-tight container.
---
Notes
It's a little hard to tell when these dark cookies are done, so set a timer!
Nutrition
Serving Size:

Makes 2 to 2 1/2 dozen cookies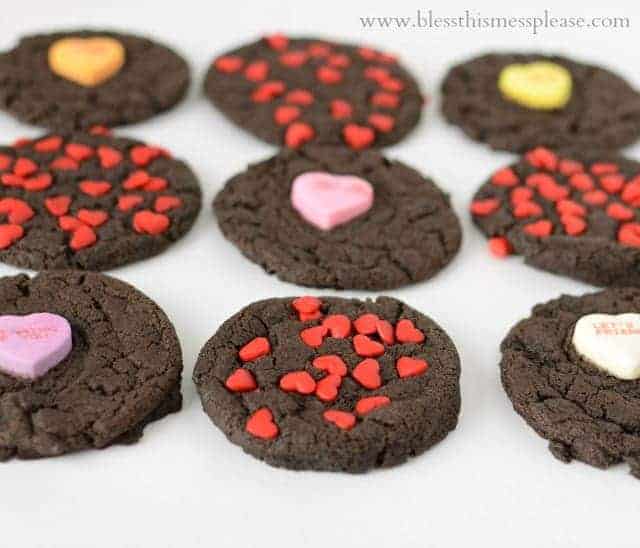 Now, when I was first in cahoots with the fine folks at King Arthur Flour they asked me to choose a recipe from their website to create and share. I did do that but I had a few hiccups making it.
I chose to make their chocolate cream roll. It was my first time making any type of cake "roll" and there was a bit of a learning curve. I used too much powdered sugar on my tea towel, I turned the cake onto the towel too soon and it broke, and I botched the ganache by burning the cream (dang Pinterest and it's distracting nature). I had no more cream in the house and so I tried used evaporated milk instead. Bad idea. The glaze tasted great but the consistency was all wrong. So after an afternoon of baking I ended up with one ugly but ridiculously tasty chocolate roll.
I picked this recipe because I knew that my husband would love it, and love it he did. The chocolate was deep and rich but was balanced perfectly by the cream all rolled up in the middle. This is definitely a recipe I'll be trying again.
You can get the chocolate cream roll recipe from the King Arthur Flour website and make it yourself too. It would be the perfect decadent treat for Valentine's Day. You might want to give it a test run before the big day though, which means you might have to make and eat that chocolate wonder twice. It would sure be a sacrifice 😉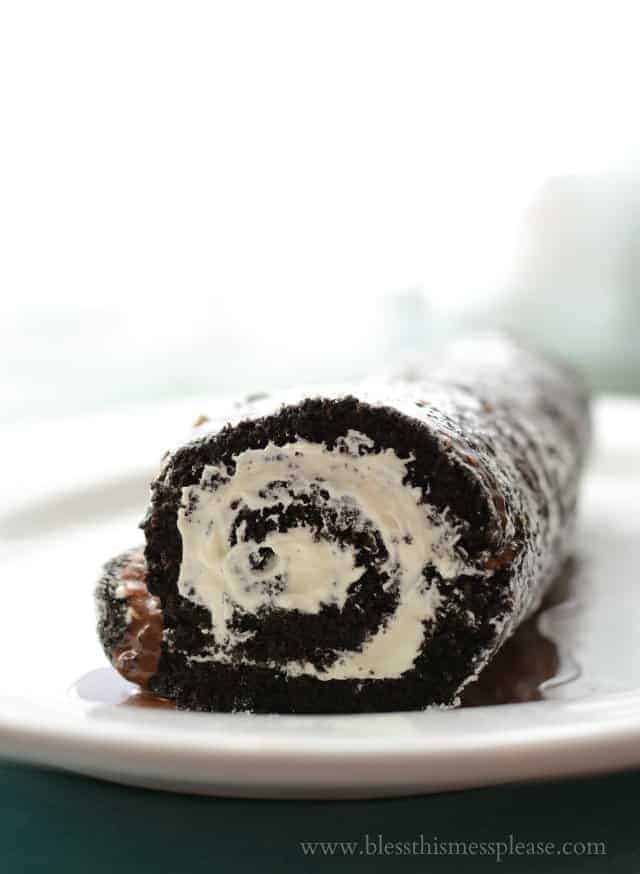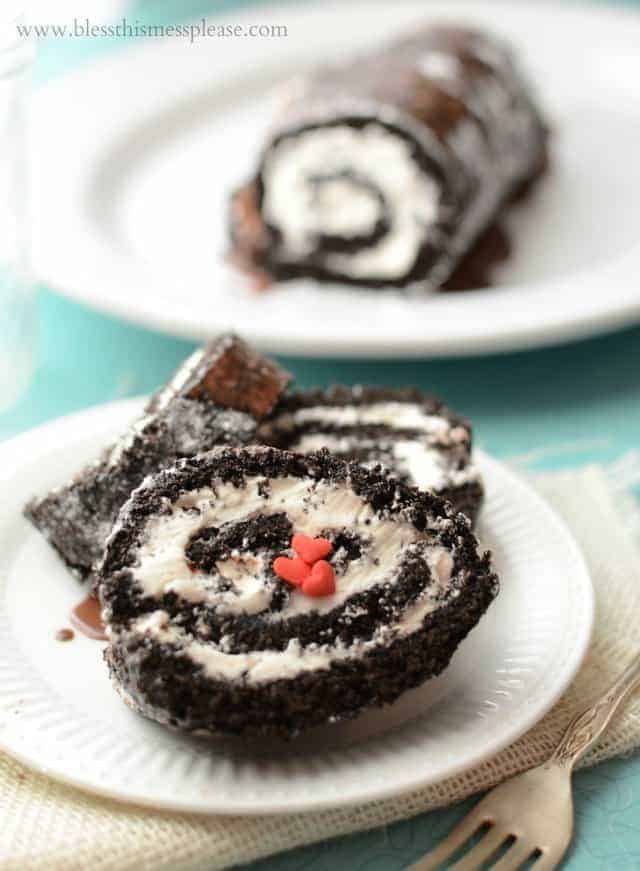 And now for that giveaway!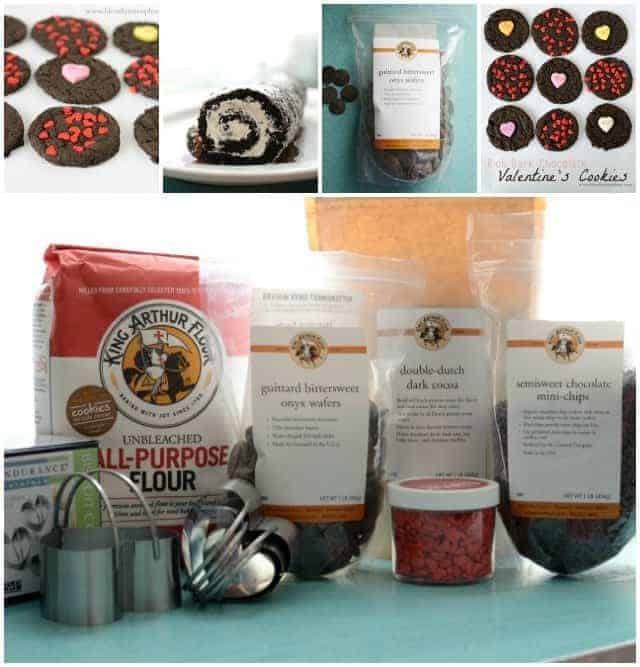 Here's what you'll get if you win:
5 pound bag of all-purpose King Arthur Flour
Double-Dutch Dark Cocoa
Guittard Bittersweet Onyx Wafers
Guittard Semi-Sweet Chocolate Mini-Chips
Set of 4 Stainless Steel Biscuit/Cookie Cutters
Small Sugar Hearts
That's just the things you'll need to make the chocolate cream roll, the cookies, and a whole lot more!
Just use the widget below to enter. Good luck and enjoy all that chocolate!
Chocolate Lover's Giveaway from King Arthur Flour