If there's one dish that never fails to satisfy hungry taste buds and bring smiles to faces, it's the ever-delightful Chicken Chow Mein. Bursting with flavors, colorful veggies, and tender chicken, this classic Chinese stir-fry dish has become a favorite among food enthusiasts worldwide.
Chow mein, which means "stir-fried noodles" in Chinese, is a classic dish that originated in China but has found immense popularity in various parts of the world. It's a harmonious blend of chewy noodles, fresh vegetables, tender chicken, and a tantalizing sauce that ties everything together.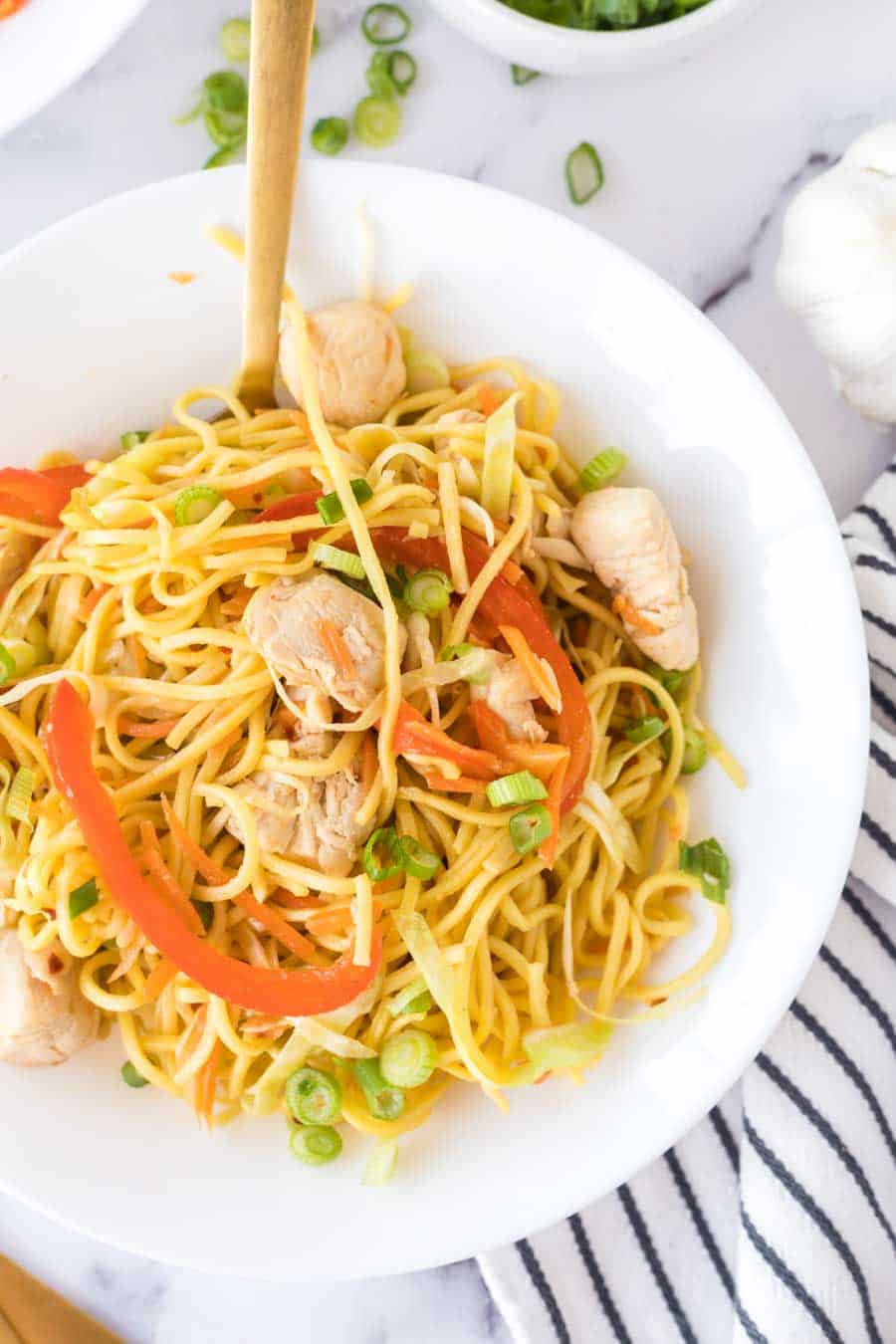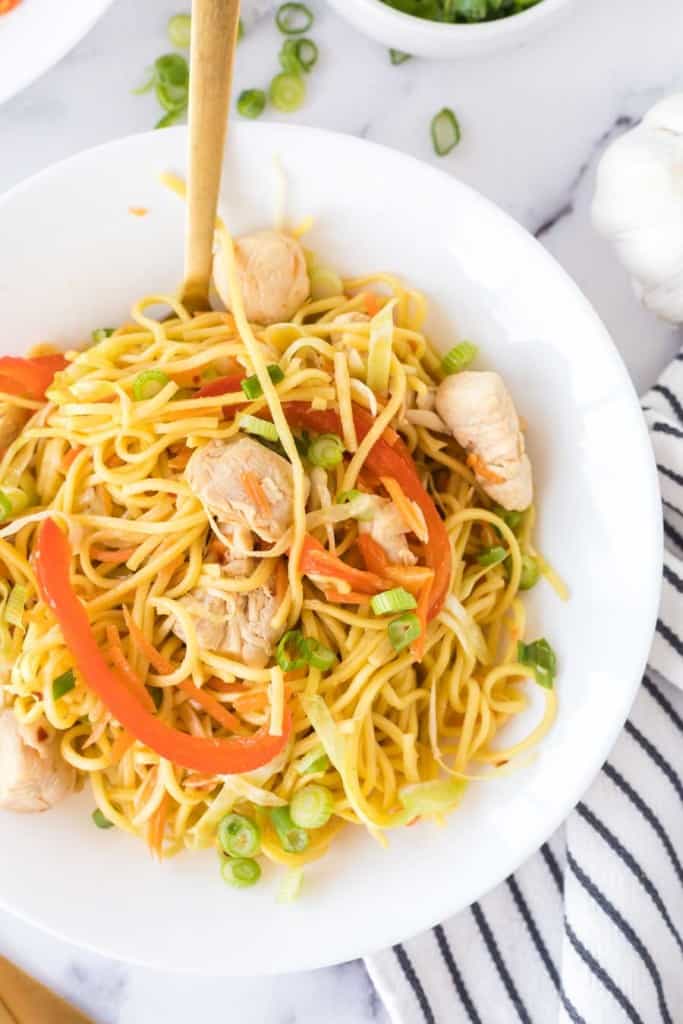 Chicken Chow Mein
The beauty of chicken chow mein lies in its simplicity and versatility. While the exact ingredients may vary depending on personal preferences and regional variations, here are some staples you can expect to find in this delightful dish:
Chicken: Succulent chicken pieces, whether breast or thigh, are often used as the protein base. They are usually marinated to infuse them with flavors before being cooked to perfection.
Noodles: Chow mein is traditionally made with egg noodles, which add a delightful chewiness to the dish. However, you can experiment with other types of noodles like rice noodles or even whole wheat noodles.
Vegetables: A vibrant medley of vegetables such as bell peppers, carrots, bean sprouts, cabbage, and onions provide a satisfying crunch and a burst of color. Feel free to add your favorites or use whatever you have on hand.
Sauce: The sauce is the soul of any chow mein dish. A combination of soy sauce, oyster sauce, garlic, ginger, and other seasonings creates a savory and slightly sweet flavor profile that coats the noodles and ingredients.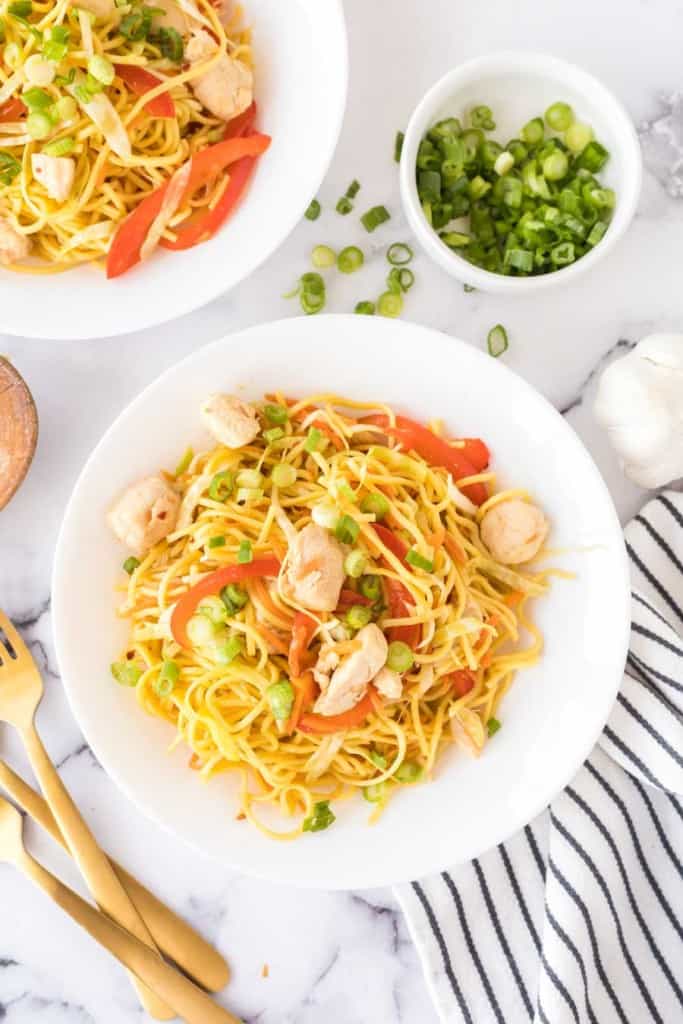 Ingredients
Chow mein noodles
Chicken breasts
Garlic
Red bell pepper
Carrots
Cabbage
Soy sauce
Rice vinegar
Ginger
Green onion
Keep scrolling to find a full, printable recipe with a detailed ingredient list.
Recipe Instructions
Cook the noodles: Begin by cooking the noodles according to the package instructions until they are al dente. Drain and set them aside.
Sauté the chicken: Heat some oil in a wok or large skillet and stir-fry the marinated chicken until it is cooked through and slightly browned. Remove the chicken from the pan and set it aside.
Stir-fry the vegetables: In the same pan, stir-fry the vegetables until they are crisp-tender. It's important to maintain their vibrant colors and retain their crunch.
Sauce it up: Return the chicken to the pan and pour the sauce mixture over the ingredients. Toss everything together, ensuring that the sauce evenly coats the chicken, noodles, and vegetables.
Combine and serve: Finally, add the cooked noodles to the pan and gently toss them with the other ingredients until they are well combined. Serve the steaming hot chicken chow mein in bowls or plates, and garnish with some spring onions or sesame seeds for an extra touch of flavor and presentation.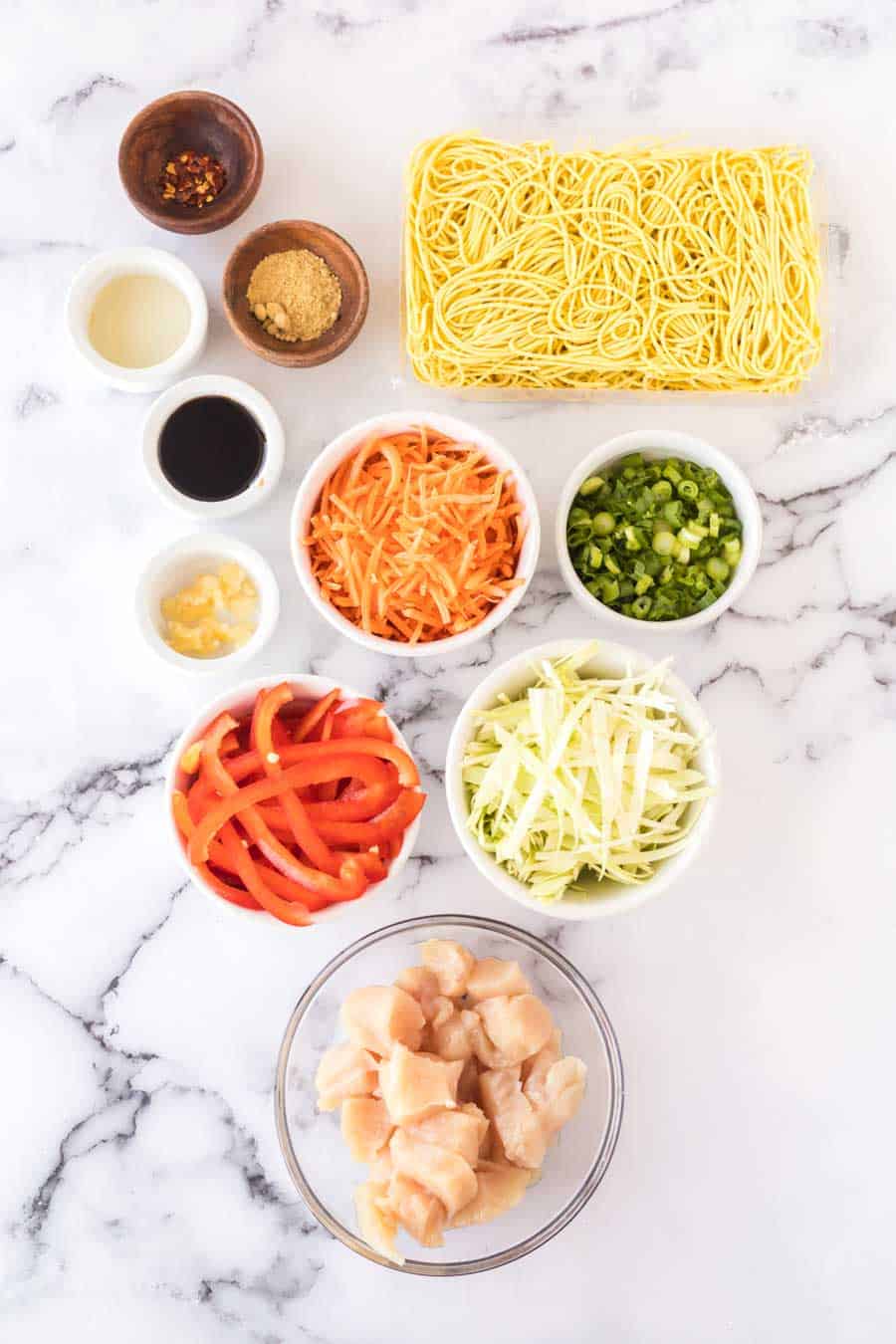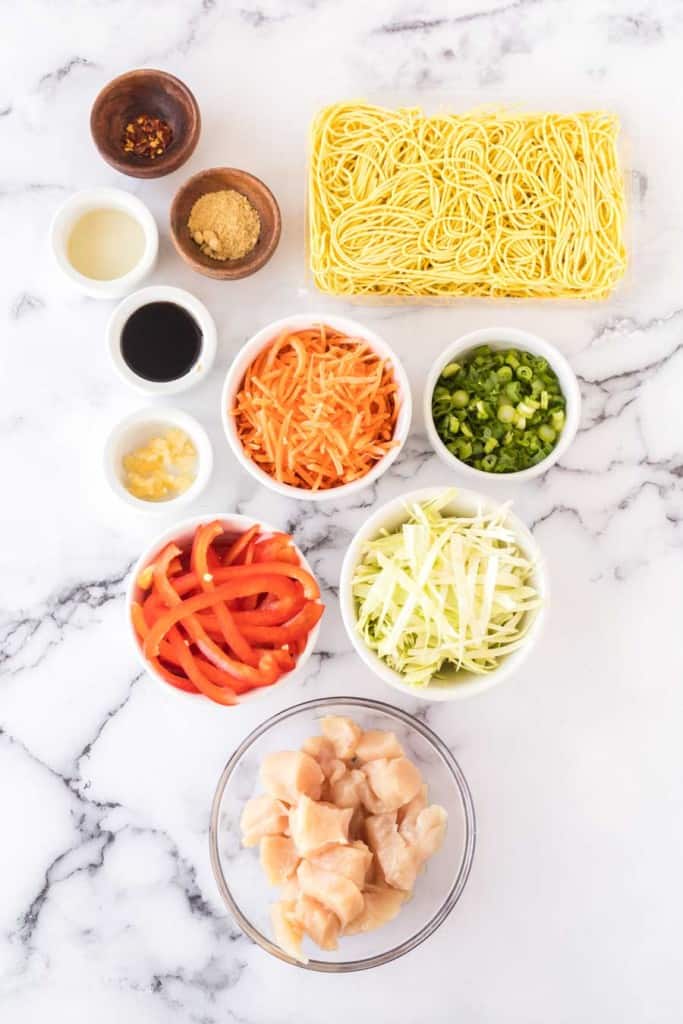 Frequently Asked Questions
What is the difference between chow mein and lo mein?
Chow mein and lo mein are both popular Chinese noodle dishes, but they have a slight difference in preparation. Chow mein noodles are typically stir-fried until they are crispy, while lo mein noodles are boiled or parboiled and then stir-fried until they are soft. The choice between the two often comes down to personal preference for either crispy or soft noodles.
Can I use different meats or proteins instead of chicken in chicken chow mein?
Absolutely! Chicken chow mein can be customized with different meats or proteins based on your preferences. You can substitute chicken with beef, shrimp, pork, tofu, or even a combination of these. Just ensure that the protein is cooked through before adding it to the dish.
How long does it take to cook chicken chow mein?
On average, it takes about 30 to 40 minutes to prepare chicken chow mein from start to finish. The actual cooking time may be shorter as stir-frying is a quick process. It's always a good idea to have all the ingredients prepped and ready before you start cooking to streamline the process.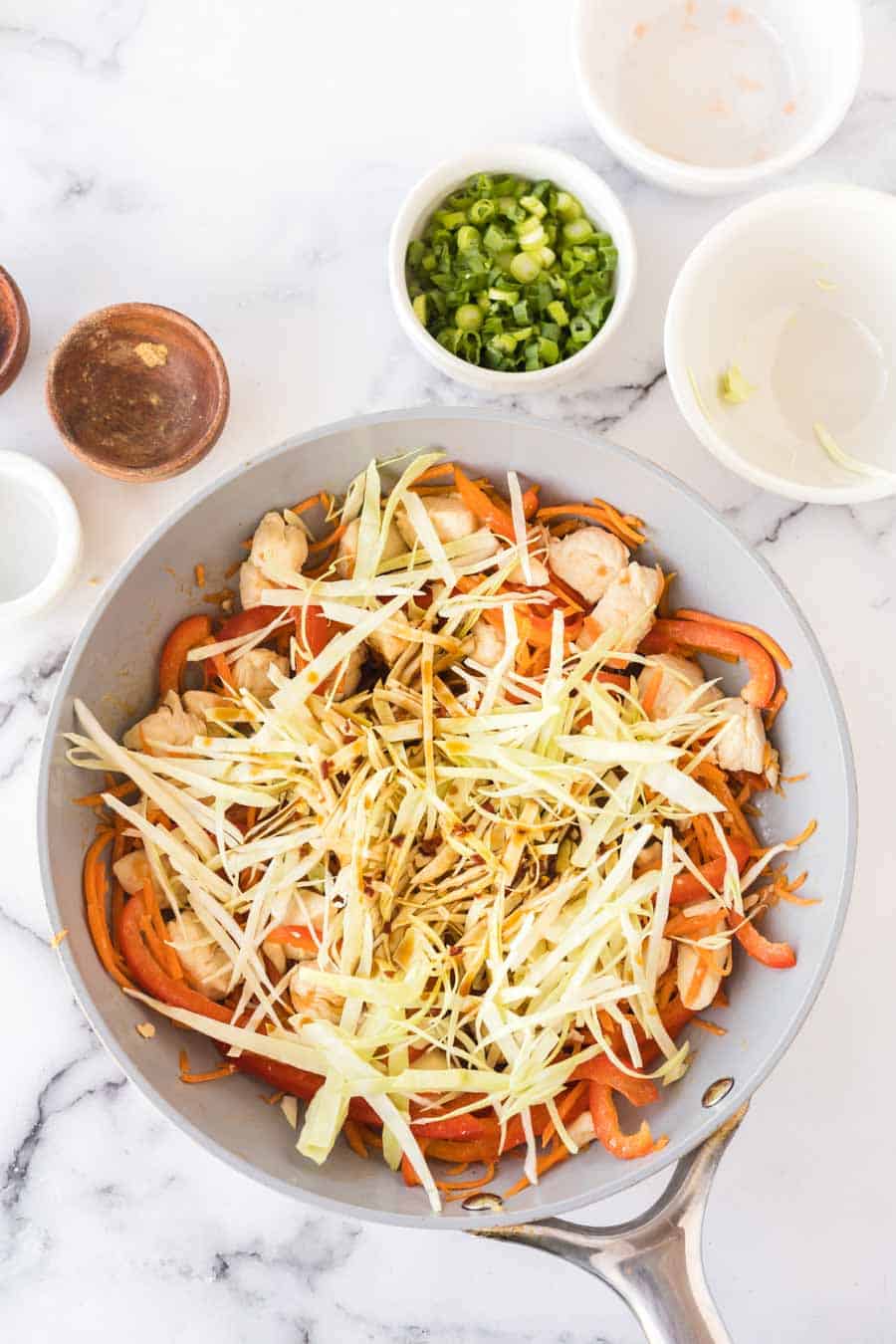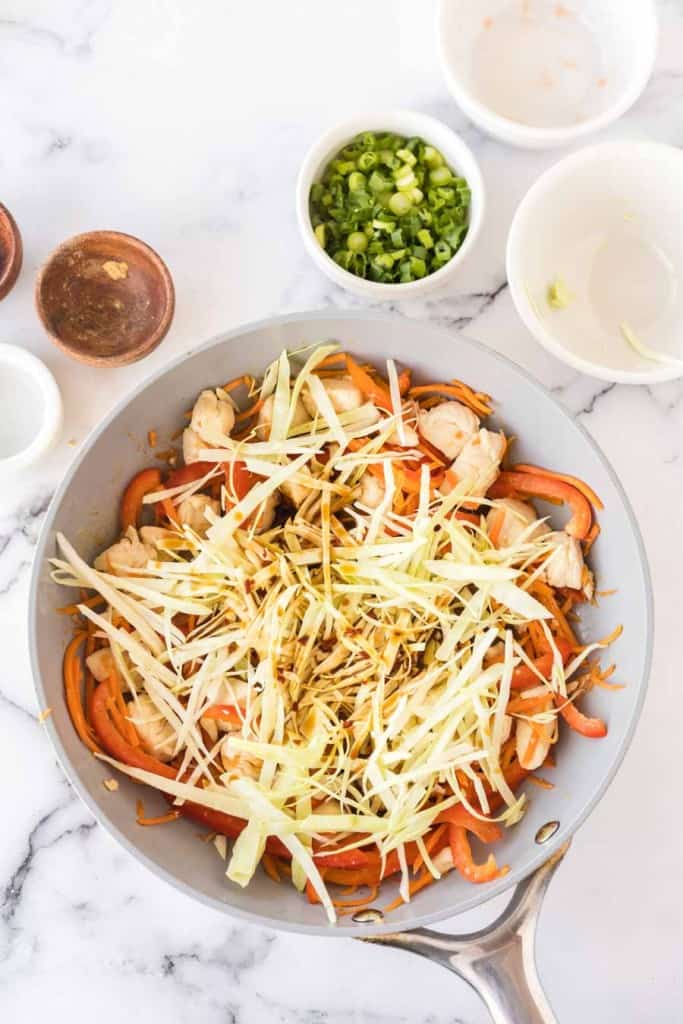 More Recipes
If you've tried this Chicken Chow Mein recipe or any other recipe on Bless This Mess, then don't forget to rate the recipe and leave me a comment below! I would love to hear about your experience making it. And if you snapped some pictures of it, share it with me on Instagram so I can repost on my stories.
📖 Recipe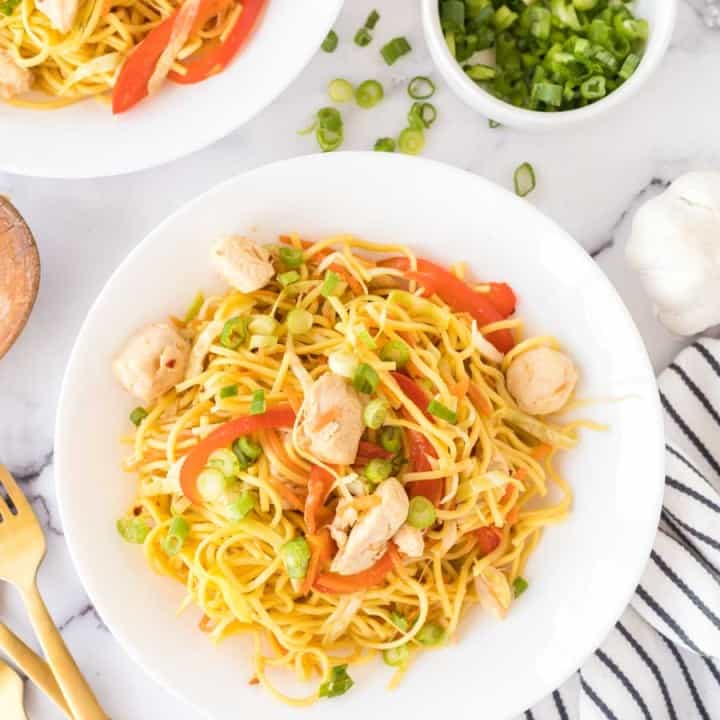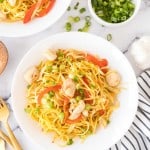 Print Recipe
Chicken Chow Mein
If there's one dish that never fails to satisfy hungry taste buds and bring smiles to faces, it's the ever-delightful Chicken Chow Mein. Bursting with flavors, colorful veggies, and tender chicken, this classic Chinese stir-fry dish has become a favorite among food enthusiasts worldwide.
Ingredients
6

oz

package of dry chow mein noodles

2

medium sized chicken breasts

diced

2

cloves

of minced garlic

divided

1

red bell pepper

thinly sliced (about 1 cup)

1

cup

shredded carrots

1

cup

shredded cabbage

3

tablespoons

soy sauce

1

tablespoon

rice vinegar

1 ½

teaspoons

ground ginger

½

teaspoon

red pepper flakes

½

cup

diced green onion

Olive oil

for coating the pan
Instructions
Cook the chow mein noodles according to the package directions and set aside.

Drizzle some olive oil in a medium sized pan or skillet over medium heat. Once the oil has been heated, add the chicken and cook until the meat is no longer pink in the middle.

Add half of the minced garlic and cook for an additional 2 minutes to help release the flavor of the garlic.

Add the sliced bell pepper and shredded carrots to the pan. Allow the veggies to cook for about five minutes, or until soft. Stir the ingredients occasionally to keep them from sticking to the pan.

As the veggies are cooking, prepare your sauce by whisking together the soy sauce, rice vinegar, ground ginger, red pepper flakes, and remaining garlic in a small bowl.

Once the bell pepper and carrots are soft, turn off the heat and remove the pan from the burner. Add the cabbage and sauce to the pan. Use a spoon, spatula, or tongs to fold the ingredients together until everything is evenly coated in the sauce.

Add the noodles and toss again.

Top your chow mein with diced green onion, serve, and enjoy!
Notes
For some extra heat, try adding a drizzle of sriracha sauce to your noodles.
For a sweeter chow mein, you can use 1 ½ tablespoons of soy sauce and 1 ½ tablespoons of oyster sauce. Oyster sauce is a little bit sweeter than soy sauce so it will add another level of flavor. However, it is also thicker than soy sauce so you may need to add a teaspoon or two of water to thin the sauce.
A little bit of this sauce goes a long way, but if you find yourself craving more, it is easy to double or 1.5x the recipe.
I like the sweetness from the red bell pepper, but you can really use any bell pepper.
We like to make this dish using Costco rotisserie chicken. We shred all of the chicken and use about a fourth of it in this dish.
Any leftovers can be stored in an airtight container in the fridge for up to 4 days. They can be reheated in the microwave for about 1 ½ minutes.
This chow mein is also great topped with a drizzle of sesame oil and a sprinkle of sesame seeds.
Nutrition
Calories:
322
kcal
|
Carbohydrates:
38
g
|
Protein:
33
g
|
Fat:
4
g
|
Saturated Fat:
1
g
|
Polyunsaturated Fat:
1
g
|
Monounsaturated Fat:
1
g
|
Trans Fat:
0.01
g
|
Cholesterol:
72
mg
|
Sodium:
1184
mg
|
Potassium:
691
mg
|
Fiber:
5
g
|
Sugar:
5
g
|
Vitamin A:
6527
IU
|
Vitamin C:
50
mg
|
Calcium:
39
mg
|
Iron:
3
mg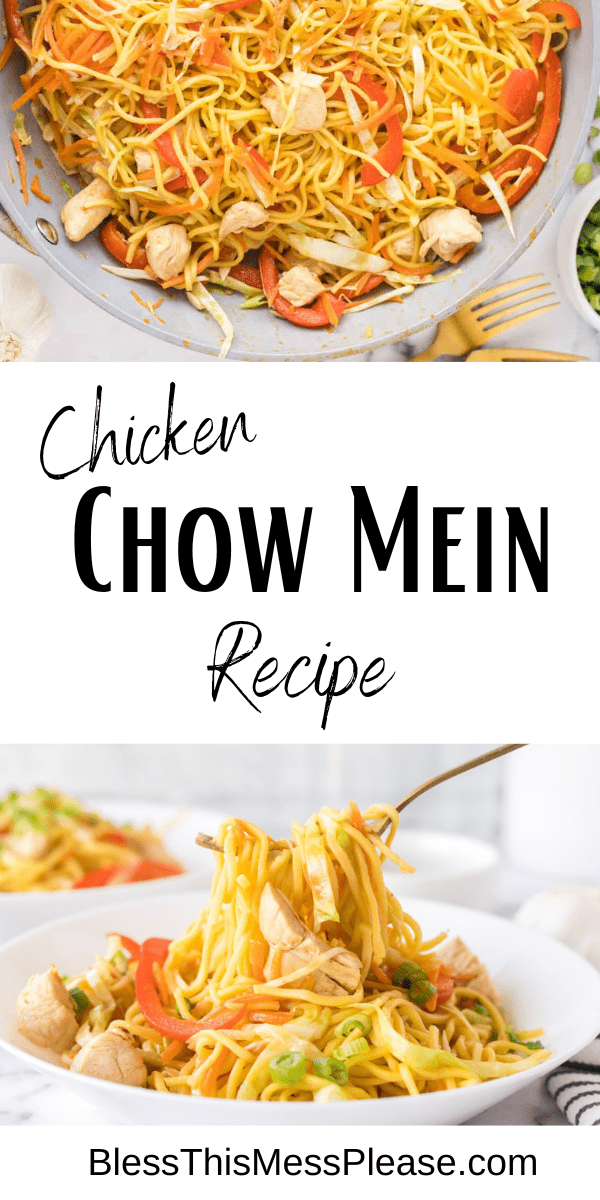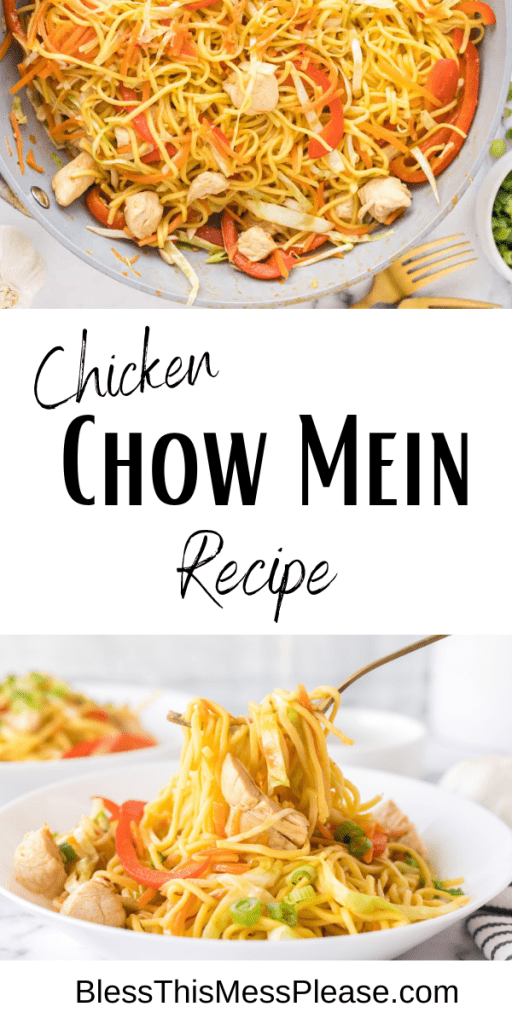 The next time you're craving a satisfying and flavorsome meal, remember to reach for chicken chow mein. Its delightful combination of textures, fresh ingredients, and a savory sauce.