Is there a more satisfying meal than Orange Chicken with Stir-Fry Veggies? I think not... With the best blend of zest, tang, and crunch, this dinner will be a favorite of your family's to make over and over again.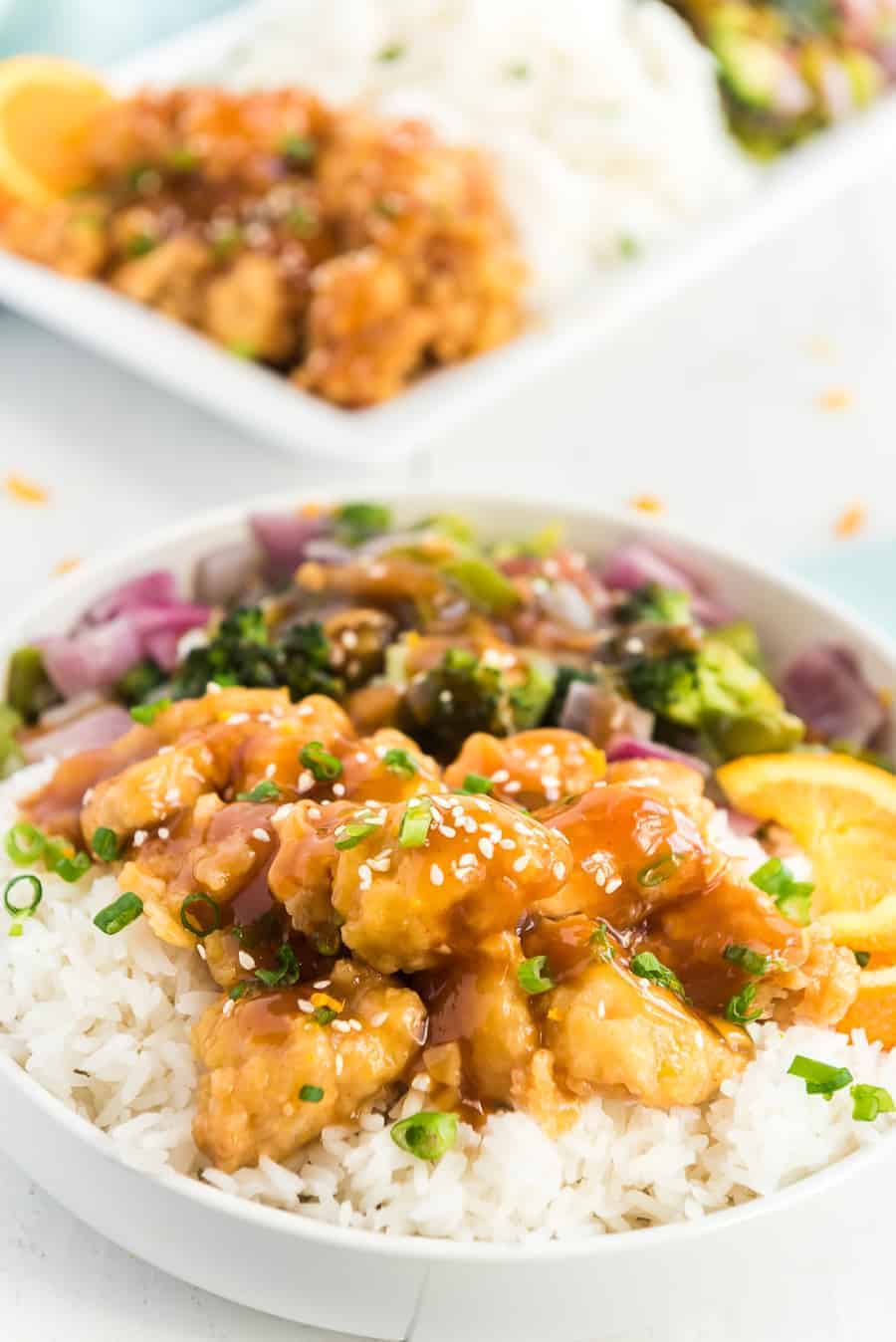 Orange Chicken with Stir-Fry Veggies
Anyone else remember hitting up Panda Express and getting their citrusy-yet-savory and so-very-addicting orange chicken? It was one of my favorite fast food options years ago, and it always made me feel very happy and very full, in the best way! Their version is decadently rich, sticky, and subtly sweet, and I made my own recipe modeling after their famous rendition.
This is one of those wonderful weeknight meals that the whole family will look forward to and adore time after time. Kids think it's super fun and delicious, just as much as adults love the rich flavors, which, as many families out there know, is the telltale sign of a quality dinner staple. Use broccoli, bell peppers, and red onion on the side like I did, or swap in any of your favorite veggie sides. Carrots, peas, cauliflower, or mushrooms are some other great options.
What is orange chicken?
Orange chicken is made of chopped boneless and skinless chicken breast or thigh that's battered, fried, and coated with a zesty, caramelized orange and soy sauce concoction. Frying it makes it somewhat crunchy, while the sauce adds an undeniable kick of fruity and salty flavor. It's a favorite of many families, especially mine, all over the country.
Where did orange chicken originate?
Orange chicken is definitely an Americanized Chinese dish. It's commonly found in North American Chinese restaurants, and variations of it became ultra famous at both Panda Express and P.F. Chang's. It's actually rarely found in restaurants in China itself, but it's known as "fresh orange peel chicken" there.
Can orange chicken be frozen?
Absolutely. If you have leftovers, store the chicken and the glaze sauce separately. Keep them in the fridge for up to 4 days or in the freezer for up to 3 months. To reheat, warm the chicken in a preheated 350 degree F oven for 15 minutes or until thoroughly reheated. Warm the glaze in a sauce pan over medium heat on the stove, stirring until it's warm enough.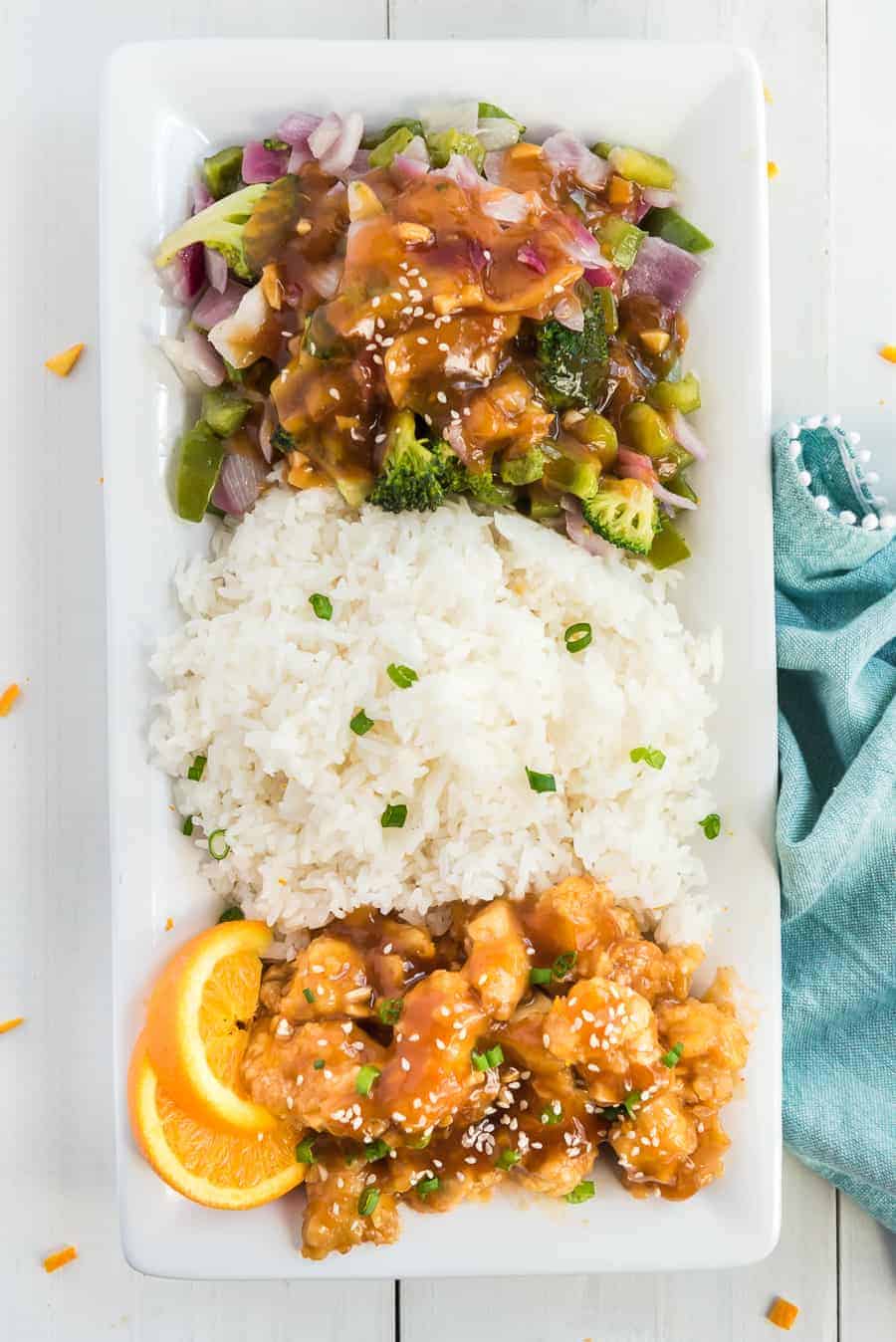 Print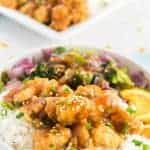 Orange Chicken with Stir-Fry Veggies
---
Author:

Total Time:

1 hour 10 minutes

Yield:

Serves

4

-6

1

x
Description
Is there a more satisfying meal than Orange Chicken with Stir-Fry Veggies? I think not... With the best blend of zest, tang, and crunch, this dinner will be a favorite of your family's to make over and over again.
---
For the marinade and sauce:
1 ½

pounds boneless chicken thighs or breasts, cut into bite-sized pieces

¾ cup

chicken broth

¾ cup

freshly squeezed orange juice

1 ½ teaspoon

finely grated orange zest

6 tablespoons

white vinegar

¼ cup

soy sauce

½ cup

brown sugar (dark or light)

3

cloves garlic, minced

1 teaspoon

cayenne pepper

2 tablespoons

cornstarch

2 tablespoons

cold water
For the coating and frying:
2

large eggs

1 cup

cornstarch

3 cups

peanut or canola oil
For the stir-fried veggies:
3

-

4

tablespoons oil

1

large head broccoli, cut into bite-sized pieces

2

bell peppers, chopped

½

red onion, thinly sliced
Hot cooked rice, for serving
Thinly sliced green onion and sesame seeds, optional garnish
---
Instructions
Place the cut pieces of chicken in a large sealable bag or bowl.
In a medium bowl, add the broth, orange juice, zest, vinegar, soy sauce, brown sugar, garlic, ginger, and cayenne pepper. Whisk to combine.
Measure out ¾ cup of the orange juice mixture, and pour it over the cut pieces of chicken. Stir to combine. Seal the bag, or cover the bowl of chicken with plastic wrap. Let the chicken marinate for 30 minutes, but no longer than 1 hour.
Place the rest of the orange juice mixture in a small saucepan.
In a small bowl (or measuring cup), combine the corn starch and cold water. Mix with a fork until smooth. Add the corn starch mixture to the saucepan with the orange juice mixture, and whisk to combine. Heat the mixture over medium-high heat.
Bring to a simmer, and allow to cook for about a minute, until the sauce starts to thicken, about 3 minutes.
Pull the sauce off the heat, and move on to fryin' up that chicken.
Preheat the oil to 350 degrees in a large skillet, pot, or dutch oven.
Beat the two eggs in a bowl until they start to get foamy.
Put the cornstarch in a shallow dish.
Dip the pieces of chicken in the egg, and then dip them in the cornstarch, making sure the cornstarch coats the chicken completely. Drop the coated chicken in the hot oil, and fry until cooked through and starting to brown, around 5 to 6 minutes. Flip the chicken half way through the cooking time.
Fry the chicken in two or three batches so that you don't crowd the pan. When the chicken is cooked, remove it from the oil, and put it on a paper towel-lined plate to drain.
To cook the veggies, heat 3 to 4 tablespoons of oil in a large pot over medium-high heat. When the oil starts to shimmer, add all of the veggies. Stir often so that they don't stick to the bottom of the pan.
Cook until the veggies are bright in color and tender-crisp.
Reheat the sauce if necessary and then pour it onto the chicken to coat. Serve the orange chicken over hot cooked rice, with the veggies on the side.
Garnish with thinly sliced green onions and sesame seeds if you'd like.
Notes
If you'd like, you can used about half of the sauce on the chicken and save the other half to serve with the vegetables. It's so delicious that way!
Don't feel like you have to stick with broccoli and bell peppers for your veggies. You can cook up any that you like or have on hand to go with this meal.
Prep Time:

45 min

Cook Time:

25 min

Category:

dinner

Method:

fry

Cuisine:

American, Asian
Keywords: orange chicken, easy chicken recipe, rice, dinner
Other Asian-inspired recipes you may like:
I love updating these old posts because I shared some of my very favorites in the beginning. Bring this oldie but goodie back from the archives was a good choice!
This post was originally published in 2012 and has been updated and rephotographed in April 2019