Lucy and I made this for my sister-in-law Sam's birthday. It's a fun diversion from your typical cake, and the cake stand was her present from me. A cake stand shouldn't be given as a gift without a cake right? Use whatever candy you like to fill in the top, we were going for a purple/favorites theme.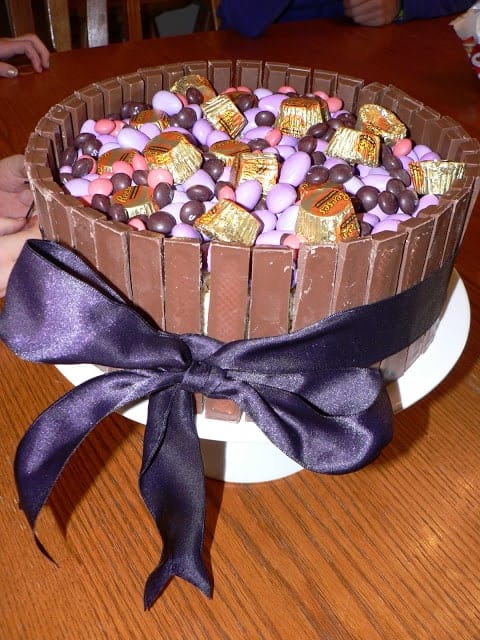 Candy Cake
1 recipe your favorite rice crispy treats
lots of Kit-Kats
Candy to fill the top (we used skittles, jordon almonds, and reese's)
Ribbon to hold it all together
Cake Stand to give it on (the stand was part of the present!)
Make up your favorite batch or rice crispy treats and but the mixture into 2 well buttered round cake pans (8 or 9 inch pans, depending on your stand… I used 8 inch for this cake). Press firmly into cake pans. Remove from pans, stack on top of each other on your cake stand. Break all of the kit kats apart and start lining the edge of the crispy cake while it is still sticky. Once you have gone around, use a big ribbon to hold the kit kats onto the cake. After I added the ribbon I went back over the kit kats and wiggled them closed together, adding a few more sticks where needed. Fill in the top of the cake with your favorite candy. Enjoy!