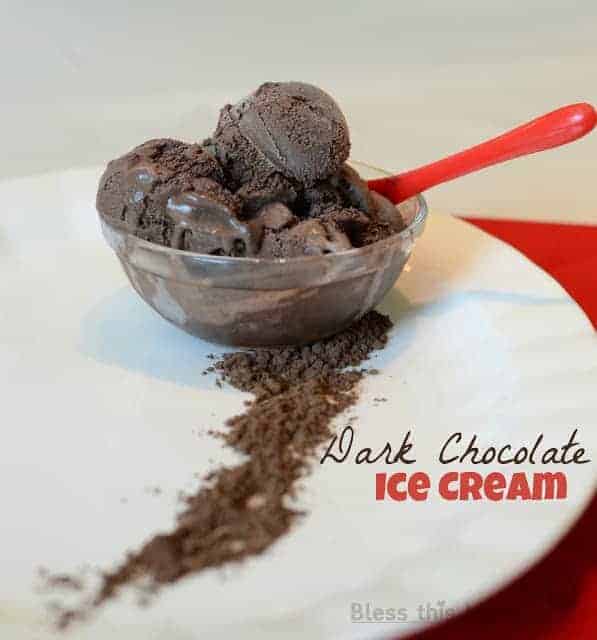 Don't be turned off by "dark" next to chocolate in the title if you are not a dark chocolate fan. The ice cream is still very sweet. The color is very dark and the flavor rich but there is no bitterness. I promise you will love this and it comes together in a flash.
This would be a fun treat to have after school with your returning kids. How are you all doing with the back-to-school madness? Do you love the return to a schedule? Glad to have some quiet or missing them to pieces?
My oldest turned five this summer but I have made a very thought-out decision to keep her at home until next year. She'll start Kindergarten at age six. I am so excited to have another year with all my babies in the nest and plan on making the most of our coming months together. She would have done fine in school this year, but I wasn't ready. Is it terrible to keep her at home for a year?
Dark Chocolate Ice Cream
Adapted from the Cuisinart recipe booklet that came with my ice cream maker
Printable Recipe
Makes 5 cups
3/4 cup dutch-process cocoa powder
1/3 cup granulated sugar
1/3 cup packed dark brown sugar
pinch salt
1 cup whole milk
1 cup heavy cream
1/2 T. vanilla extract
In a medium bowl whisk together the dark cocoa powder, sugars, and salt. While whisking add the milk and the cream. Whisk together until completely combined and the cocoa is completely dissolved with no lumps. Add the vanilla and combine. Pour the ice cream mixture in your ice cream maker and process according to manufacturer's instructions.
Notes:
Hersey's Special Dark Cocoa is what I use. It's easy to find so I'm sure you can get it, too.
I use a Cuisinart Ice Cream Maker that you just freeze the canister the ice cream is made in. It takes about 15 minutes to make ice cream with no salt and ice to mess with. I love it!
If you like a harder ice cream, put the ice cream in a freezer container and cover. Let it freeze for at least 2 hours and then let it sit for 10 minutes on the counter before serving. The ice cream straight out of the maker is just like soft-serve. Out of the freezer it is like store-bought.