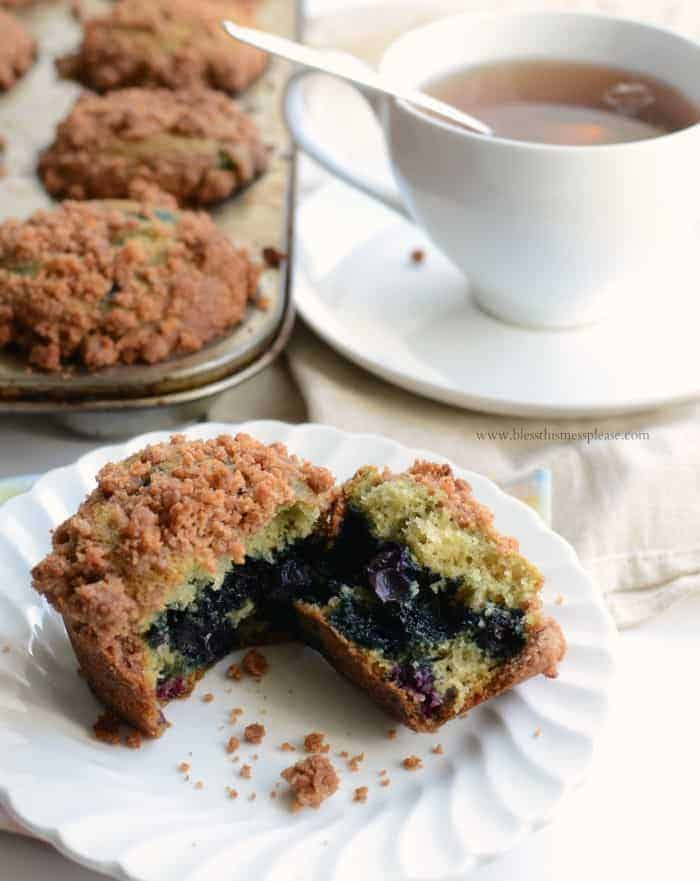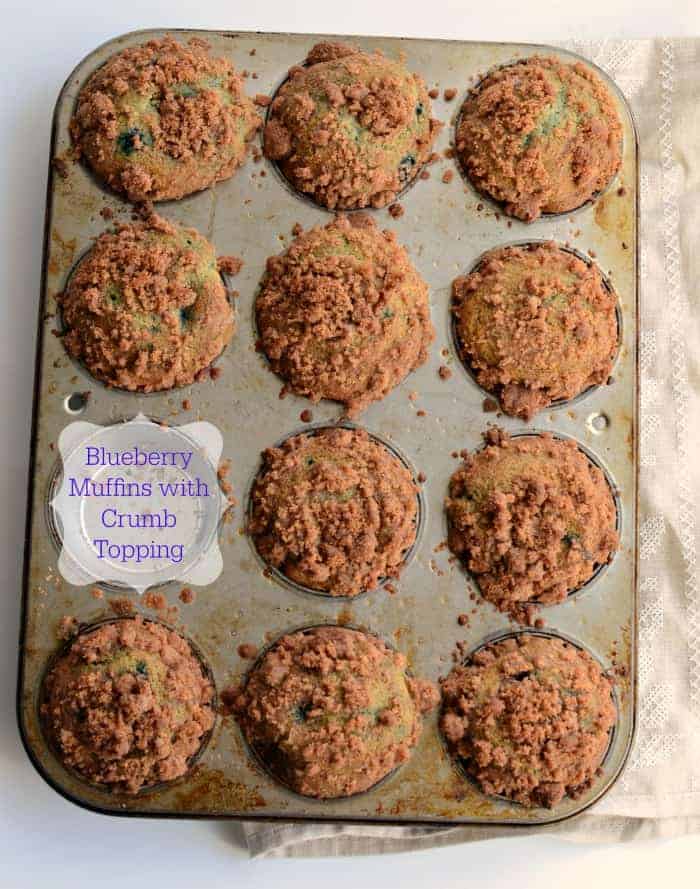 Blueberry Muffins with Crumb Topping are one of those fun recipes that you need in your life "just because." This muffin is moist, sweet, full of blueberries, and the best part? That crumb topping! You just can't go wrong with a good crumb topping that isn't all dry and floury (the secret is in melting the butter first). This one is a pretty perfect muffin if I do say so myself. I don't often make muffins for breakfast; they are more of an afternoon treat in our house. I'll let the kids eat one after baking then save the rest for dinner. These are a perfect side for just about any soup or simple egg dish. You are going to love them!
Full of blueberries, just like they should be…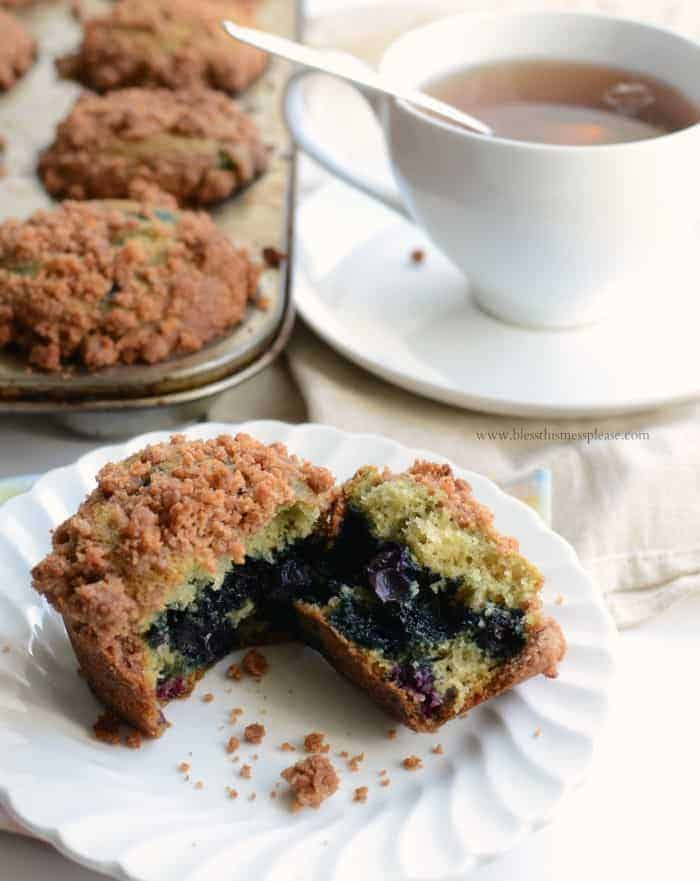 If you try these blueberry muffins with crumb topping, let me know what you think! Leave a comment, pin it, and don't forget to tag a picture #blessthismesseat on Instagram. I love to see your kitchen skills in action!
Print
Blueberry Muffins with Crumb Topping
---
Yield:

Makes 12 Muffins
Ingredients
For the Crumb Topping
1/4 cup salted butter, melted
1/3 cup packed brown sugar
1 tablespoon granulated sugar
1 teaspoon cinnamon
2/3 cup all-purpose flour
For the Muffin Batter
1/2 cup butter, softened
3/4 cup granulated sugar
1/4 cup packed brown sugar
2 large eggs
1/2 cup plain yogurt or sour cream
1/4 cup milk
2 teaspoons vanilla extract
1 and 3/4 cups all-purpose flour
1 teaspoon baking soda
1 teaspoon baking powder
1/2 teaspoon salt
1 and 1/2 cups fresh or frozen blueberries (do not thaw)
---
Instructions
Preheat the oven to 425 degrees.
For the crumb topping, add the melted butter. Stir in both sugars until smooth. Add the flour and the cinnamon and combine with a fork until a thick crumb forms, set aside.
For the batter, in a medium bowl add the butter and sugars. Beat until smooth. Add the eggs, yogurt or sour cream, and milk, stir well to combine. Add the vanilla stir to combine. In a separate bowl whisk the flour, baking soda and powder, and salt together. Add the dry ingredient to the wet ingredients and stir until just combined, don't over mix. Add the blueberries and fold to combine.
Add the batter to 12 muffin cups that have been greased well (don't use a paper liner). Evenly top each muffin with the crumb topping.
Bake for 5 minutes at 425 degrees, then, keeping the muffins in the oven, lower the oven temperature to 350 degrees and bake for an additional 23-28 minutes or until a toothpick inserted in the center comes out clean. Let the muffins rest in the pan for 10 or so minutes and then remove from the pan and let them cool slightly on a wire rack. Serve warm or at room temperature.
For this recipe, I recommend:
[asa_collection btmp]baking[/asa_collection]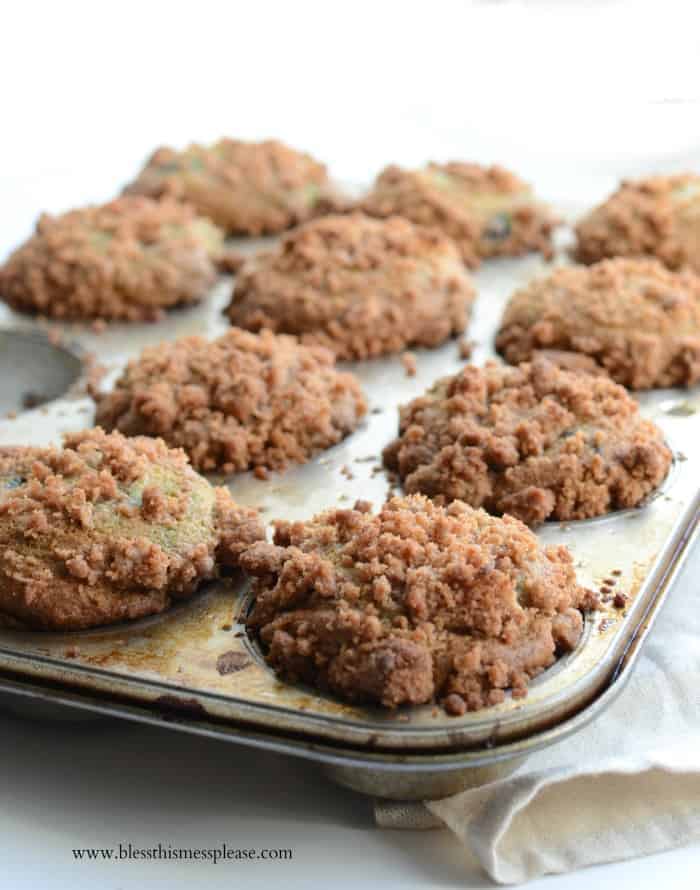 My sous chef was a big fan of the muffins.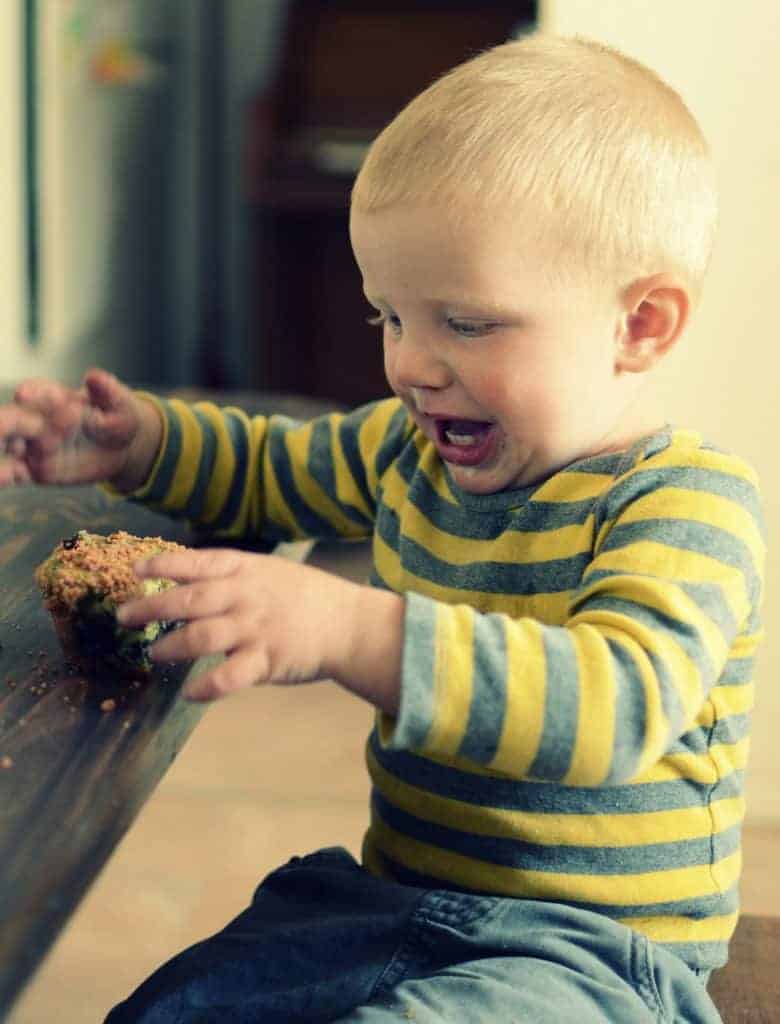 This weekend we got all kinds of things done! We made a potato tower (which I'm not convinced will work, but it's fun to try new things), planted 60 strawberry plants as well as carrots and radishes, we put a coat of paint on a kids' picnic table we're building (it's so adorable! I can't wait to show you all the details), and we planted clover seed in some of our bare spots in hopes of preventing weeds from growing. All in all it was a tiring productive weekend. Spring is grand!
What did you get done this weekend? I hope it was great. Thanks for stopping in.