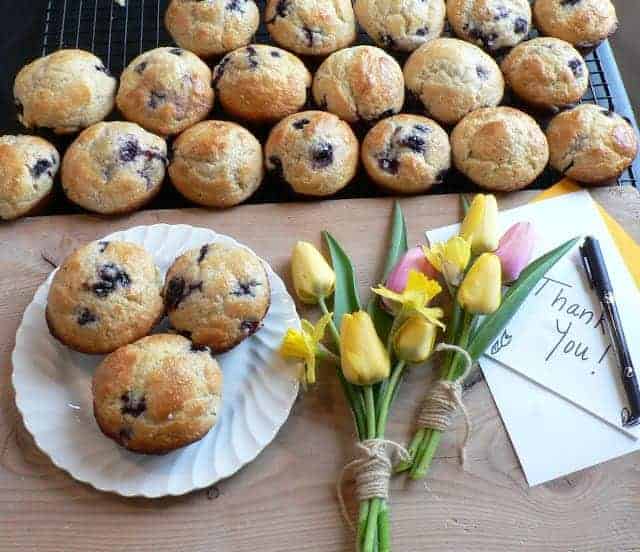 Have you ever heard about the Five Love Languages? I read the book as a newlywed and enjoyed it. I don't remember many of the details but I did learn that I show love in the form of gifts. My main gift to people is food. I make Thomas special things I know he likes as a way to say "I'm thinking of you." When my little sister was going to college and lived a few blocks from us, I fed her her favorite home cooked meals often, and when I need to say "thank you" to a friend, food and a card are how I do it.
I wanted a lemon blueberry treat to send with my thank you cards for the friends who helped me out so much while I had mastitis and Thomas was out of town. I planned on making loaves of lemon blueberry bread but realized my kids would be sad if they didn't get any; sending a cut loaf of bread is tacky. Muffins were the obvious solution to my problem. Mmm… Nothing says thank you like warm blueberry muffins.
I'm curious, how do you show love and say thank you?
Blueberry Lemon Muffins
Adapted from The America's Test Kitchen Family Baking Book
Printable Recipe
Makes 12 muffins
3 cups all-purpose or whole wheat flour (or a mix of the two)
1 cup sugar
1 T. baking powder
1/2 tsp. baking soda
1/2 tsp. salt
1 1/4 cup whole or low-fat plain yogurt
2 large eggs
1/4 cup lemon juice
2 T. fresh lemon zest
1/2 cup butter (1 stick), melted and cooled
1 1/2 cups blueberries, (do not thaw if frozen)
Adjust the oven rack to the middle and heat the oven to 375 degrees. Grease a 12-cup muffin tin. In a large bowl whisk the flour, sugar, baking powder, baking soda, and salt together. In a small bowl (or a 2-cup glass measuring cup) whisk the yogurt, eggs, lemon juice, and lemon zest together until smooth. Gently fold the yogurt mixture into the flour mixture with a rubber spatula until just combined. Fold in the melted butter. Fold in the blueberries.
Grease a 1/3-cup measuring cup and use it to portion out the batter into each muffin cup. Bake until golden brown and a toothpick inserted in the center comes out with just a few crumbs on it, 24-28 minutes. Let the muffins cool in the tin for 5 minutes and then flip them out onto a wire rack. Let them cool for 10 minutes before serving.
Notes:
-I make these with all whole wheat or half whole wheat and half white 99% of the time and they turn out perfect. I recommend trying it!
-To prevent frozen blueberries from sinking to the bottom of the muffin and discoloring the batter, toss the frozen berries in 1 T. of flour before folding them in the batter.
-I always have left over batter when making 12 muffins. I can normally get another 12 mini muffins or 3 smaller muffins out of this batch, too. I love having the mini muffins in addition to the bigger ones to give my kids who tend to eat 3 bites of the big one and destroy the rest.