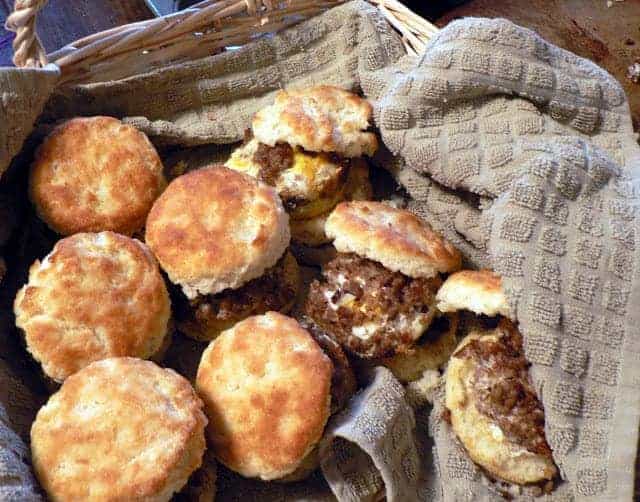 Everyone needs a good biscuit recipe, and in my opinion, this is a great one to keep on hand! Using real butter leads to a tasty biscuit that is slightly crisp on the outside while being tender and flaky on the inside. These hold up well to gravy, can be split to make breakfast sandwiches, or can be eaten all by themselves with just a little honey.
I keep a box of butter in the freezer just for this recipe. Here's why: instead of cutting the butter into the flour, simply grate the frozen butter with your cheese grater. It's quick and simple. As the little clumps of butter melt while baking, they create the flaky nature of the biscuits.
Cutting the dough into circles makes the biscuits pretty! I don't own a biscuit cutter, so I use a regular mouth metal canning ring to cut mine. No canning ring? The floured rim of a cup works well too. Be sure to bake these on a heavy sheet or baking stone, or they'll burn and let's face it: no one wants a biscuit with a burnt bottom.
Butter Biscuits
2 cups flour
4 tsp. baking powder
3 T. sugar
1/2 tsp. salt
1/2 tsp. cream of tartar
1/2 cup butter, frozen
3/4 cup whole milk
Preheat oven to 475 degrees. In a medium bowl, whisk together the flour, baking powder, sugar, salt, and cream of tartar. Grate the butter into the bowl on the largest holes of your box grater. Stir butter into flour mixture. Add the milk and stir until just combined – do not over mix. Pat dough on a floured surface until it's 3/4 inch thick. Cut into biscuits using a biscuit cutter, a metal canning ring, or a floured rim of a cup.  Place on an ungreased cookie sheet or baking stone. Bake for 8 to 10 minutes until golden brown.
Makes 10 biscuits.