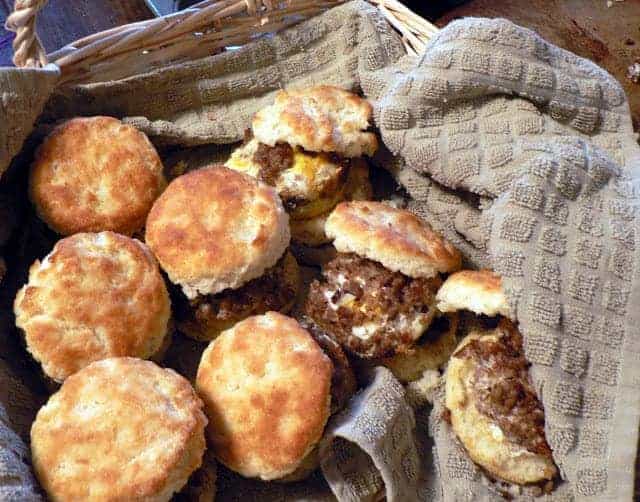 This is more of a method than a recipe…eggs and sausage on a biscuit isn't much of a recipe if you ask me. The beauty behind this post is the secret in the preparation. The eggs and precooked sausage are baked in the oven in a muffin tin! This is a great way to make lots of eggs that are the perfect size to turn into a biscuit sandwich! Not only does it make multiple sandwich middles at once, but the sausage doesn't fall off the sandwich; it is baked into the egg! You don't even have to press out sausage patties by hand.
Breakfast Biscuit Sandwiches
Printable Recipe
9-12 biscuits, cooked fresh
9-12 eggs, depending on the number of biscuits you have and the number of sandwiches you want to make
1 pound ground sausage, cooked and crumbled
Salt and pepper, to taste
Cook the biscuits according to the recipe or can directions. While biscuits are cooking, generously coat a muffin tin with cooking spray. Break one egg into each cup. Lightly salt and pepper each egg. Top the egg with the crumbled, cooked sausage (fill the cups evenly until you don't have anymore sausage). Remove the biscuits when they are done, adjust the oven temperature to 350 degrees, and put the muffin tin filled with eggs and sausage in the oven. Bake for 10-15 minutes until the egg is cooked though. Cook it a little less if you like a runny yoke and a little more if you like the yolk firm. I prefer a firm yoke when it comes to a sandwich – I don't want to be wearing it. When the eggs are cooked to your liking, remove them from the oven and allow them to cool for 2 or 3 minutes.
To make the sandwich, split the biscuit in half, remove the egg and sausage by running a butter knife around the edge, and then stack them together. Easy!  Feed a crowd without breaking a sweat.