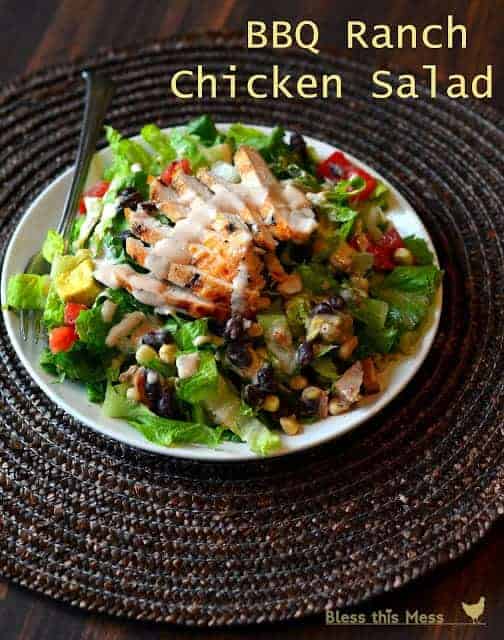 Confession #1: I tried BBQ ranch for the first time last month. The combo just sounded gross to me; why would you ever put barbecue sauce on a salad? I tried a bite of my cousin's salad while we were out and loved it (thanks Brandy!). The sweet smokey with all that cool goodness of vegetables paired much better than I expected. How have I been living without this for so long? 
Confession #2: I have never served a salad as a main dish to my family for dinner before this very recipe graced our table. My kids don't eat lettuce super well, Thomas is a man (sure some men eat salad for dinner, others do not…), and my momma never served main dish salads to my family growing up. They are a bit foreign to me I guess. As healthy as we eat, salad as a main dish just didn't sound like it would fly at my house. 
This recipe is wonderful. My kids ate it so well which I attribute to the divine dressing, and no one complained about it as a main dish because the beans, corn, and chicken really make it a satisfying salad. I hope you try it because it is delicious!
Barbecue Ranch Chicken Salad
Slightly adapted from One Lovely Life
Makes one large salad:
Dinner for 4-6
or side for a crowd
For the Barbecue Ranch Dressing:
1/2 cup sour cream
1/2 cup mayonnaise
1/4 cup buttermilk
1/3 cup barbecue sauce
1/4 tsp garlic powder
1/4 tsp onion powder
1/4 tsp dried dill
salt and pepper to taste
For the Salad:
2-3 hearts romaine lettuce, chopped
1 cucumber, diced
1 cup frozen or canned corn, thawed or drained
1 cup fresh tomatoes, diced
1 avocado, diced
1 (14.5oz) can black beans, drained and rinsed
2 green onions, diced
1-2 cup grilled chicken, sliced thin
Additional barbecue sauce for serving
For the dressing, simply add all of the ingredients to a medium bowl and whisk until smooth.
For the salad just add all of the veggies and beans to a large bowl and toss to combine. Add the chicken on top. Lightly dress and toss right before serving. Serve with additional dressing and barbecue sauce to fit individual tastes.
Notes:
To quickly thaw frozen corn just rinse it in a sieve under warm water until it is thawed, about 30 seconds.
I used original-style Sweet Baby Ray's BBQ Sauce and loved the level of sweet it had. Plus, it was on sale.
The leftover dressing is amazing as fry sauce and on about anything else you can think to put it on.