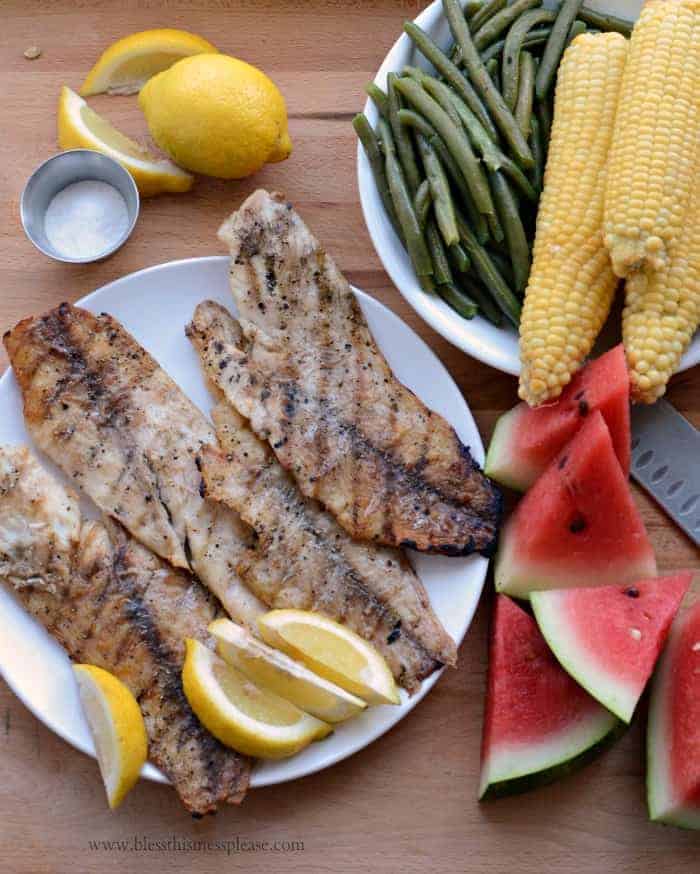 Welcome summer! When you combine a few pounds of beautiful fish fillets, amazing seasonal produce, and the grill, you are in for one simple yet perfect dinner. My desert-dwelling family loves all things seafood and I have such a hard time finding a good source for it here in Southern Utah. I jumped at the chance to work with
Louisiana Seafood
and I'm so excited to tell you about them today! Plus this recipe for simple grilled fish fillets is amazing. It takes about 5 minutes to prep, 7 minutes on the grill, and you are done. I can't wait for you to try it. Add a side of watermelon, some corn on the cob, and fresh green beans and you'll have dinner done in about 30 minutes with little to no effort! This is one of my ideal healthy simple meals and I could eat it once a week for the rest of my life and die a happy woman.
I grew up vacationing with my family on the Gulf of Mexico and some of my best memories are of all the seafood we would buy fresh and enjoy! My uncle lived in Louisiana until Hurricane Katrina and he makes some of the best food around. Chances are good you don't live right next to the ocean like I do. Even if you do, finding a good source for seafood is no easy task, but look no further.
Louisiana Seafood
is the kind of industry we can all get behind. If you can't vacation in Louisiana, you can still enjoy its amazing seafood. Domestic seafood is far better than any import, Gulf seafood is the best in the nation, and Louisiana Seafood is the best in the Gulf. Don't just take my word for it – you've got to try some for yourself!
Louisiana Seafood's Direct To Consumer page
lists suppliers who will ship small orders to consumers.
Louisiana is known for its shrimp, crawfish, and alligator, but that's not all they have to offer. Don't forget the fish. They have so many kinds! Louisiana has hundreds of varieties of fish which includes everything from Black Drum (which is what I cooked up), catfish, and tuna, to Mahi Mahi and Red Snapper. This high quality seafood is really something to celebrate, so plan on having company over. You just can't go wrong with beautiful Louisiana seafood on the menu.
Black Drum was a new kind of fish to me and I was really nervous about cooking with it. I'm a little boring when it comes to buying fish because I just don't know tons about it. I was so beyond pleased with how these grilled fish fillets turned out, how simple they were to cook, and how perfect the flavor was. Black Drum is a firm white fish (that has some red in the meat too, but it cooks up white) that isn't oily or dry. It's often purchased with its scales still on one side of the fillet (and when you cook it this way, it's called "on the half shell"). It's simple to cook and has a mild very pleasant flavor and a great texture that doesn't fall apart. My whole family LOVED these grilled fish fillets, including the 18 months old. I highly recommend finding yourself some Louisiana Black Drum. From what I can tell it would also be excellent breaded and fried… that's next on my to-make list!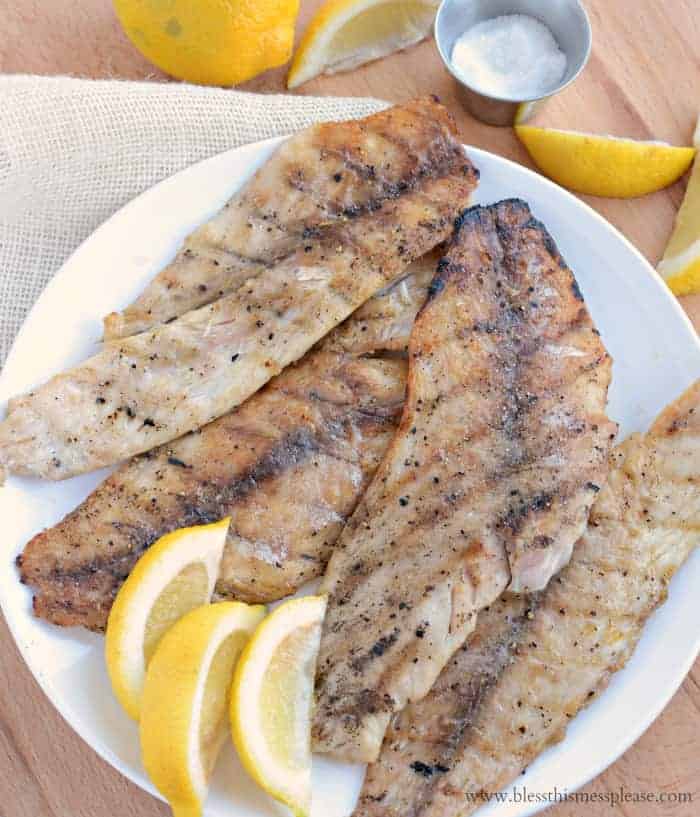 I was asked to recreate a recipe from the Louisiana Seafood website, so here's my delicious version!
If you try this recipe, let me know what you think! Leave a comment, pin it, and don't forget to tag a picture #blessthismesseat on Instagram. I love to see your kitchen skills in action!
Print
Perfect and Simple Grilled Fish Fillets
Ingredients
1 Pound Louisiana Drum (about 4 large fillets)
1 ½ teaspoon Kosher salt
1 teaspoon freshly ground black pepper
Good quality olive oil, about ½ cup
Additional coarse sea salt
1 or 2 lemons cut into wedges
½ cup chopped parsley, optional
Instructions
Rinse the fish and lay it onto paper towels. Use the paper towels to pat the fish dry and place the fillets on a wire rack (a baking or cooling rack placed inside of a baking sheet works great to catch any drips and spills).
Sprinkle half the salt and half the pepper over the fish. Carefully drizzle half of the olive oil over the seasoned fish. Using a pastry brush or your fingers, evenly distribute the oil all over that side of the fish. Flip the fish over on the rack and repeat with remaining salt, pepper, and oil. Let the fish rest and marinade while you fire up the grill.
Turn your grill on to high and allow it to heat for 5 to 10 minutes until the grill is very hot. Carry the fish out and open the lid to the grill, it should be very hot. Use a brush to scrap the grill grate clean and then lower the temperature to low. Place the fish on the grill, close the lid, and leave the fish to cook with the lid closed, without turning for 7 to 10 minutes (chances are really good your fish will be done right at 7 minutes unless it is very thick, check it 7 minutes!).
The fish should be white and flakey when you test it with the end of a paring knife. Using a metal spatula remove from the grill.
Sprinkle with additional sea salt and lemon juice before serving and then serve with additional lemon slices and chopped parsley to suit individual tastes (the first squeeze of lemon isn't optional, it makes it amazing, but additional lemon and parsley are up to you or your guests. I didn't feel like this tasty dish needed anything extra because it was excellent as it was).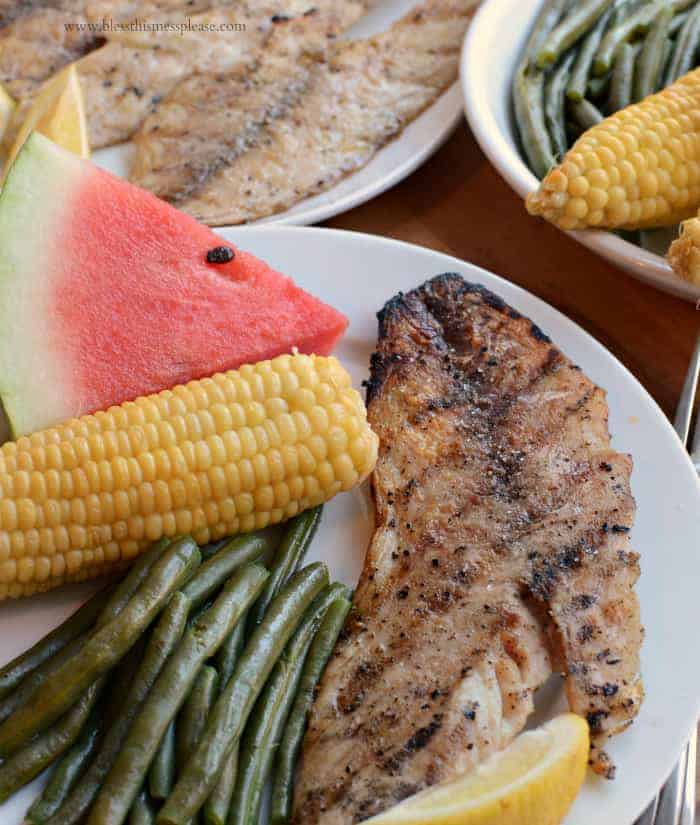 I can't wait to hear how this simple grilling method turns out for you. I have done all kinds of things to fish from frying it (always tasty but a little labor intensive) to baking and cooking it in foil. These grilled fish fillets were by far the simplest and best tasting fish I have made. I can't wait to make it again and plan on putting this into my meal rotation ASAP. Long live the simple and fool-proof yet crazy delicious recipes! You can find even more
Louisiana Seafood recipes on their website
too. Take a look around and dinner might just find you.
INGREDIENTS
6 (7 oz.) fillets of Louisiana black drum, skin and scales on, with pin bone removed
1 1/2 tsp. kosher salt Scant
1 1/2 tsp. ground black pepper Scant
1 1/2 tsp. red pepper flakes
4 garlic cloves, very thinly sliced
1/2 cup good quality extra-virgin olive oil
1 tbsp. coarse sea salt
1/2 cup chopped Italian parsley
Two large lemons, halved
DIRECTIONS
1.) Rinse the fish fillets and pat them dry with paper towels. Place the fillets on a baking sheet season with the salt, pepper and red pepper flakes.
2.) Top the fillets with the sliced garlic and drizzle with half of the oil. Use your fingers to distribute the oil and seasonings evenly over fish, and then set the fish aside to marinate while you heat the grill.
3.) Fire up your grill to a medium-high setting. (If you are using charcoal, the coals should be mostly white.)
4.) Place the fillets scale side down on the hot grill.
5.) Cover the grill and cook the fish without moving for 7 to 10 minutes, until it is just cooked through; it will flake easily when tested with a paring knife. (You can also cook the fish "on the half-shell" on an oiled baking sheet in a 475°F oven for 6 to 8 minutes.)
6.) Using a metal spatula, transfer the grilled fish fillets to serving plates and top with sea salt and parsley, a little extra olive oil, and lemon juice.
What is your favorite seafood recipe? Leave a comment on this post with your favorite seafood recipe to be entered for a chance to win a $100 Visa Gift Card! Entry Instructions: No duplicate comments. You may receive (2) total entries by selecting from the following entry methods:
1. Leave a comment in response to the sweepstakes prompt on this post
2. Tweet (public message) about this promotion; including exactly the following unique term in your tweet message: "#SweepstakesEntry"; and leave the URL to that tweet in a comment on this post
3. Blog about this promotion, including a disclosure that you are receiving a sweepstakes entry in exchange for writing the blog post, and leave the URL to that post in a comment on this post
4. For those with no Twitter or blog, read the official rules to learn about an alternate form of entry. This giveaway is open to US Residents age 18 or older (or nineteen (19) years of age or older in Alabama and Nebraska). Winners will be selected via random draw, and will be notified by e-mail. The notification email will come directly from BlogHer via the sweeps@blogher email address. You will have 2 business days to respond; otherwise a new winner will be selected. The Official Rules are available
here
. This sweepstakes runs from 6/10/15 – 6/28/15. Be sure to visit the
Louisiana Seafood
brand page on BlogHer.com where you can read other bloggers' posts!