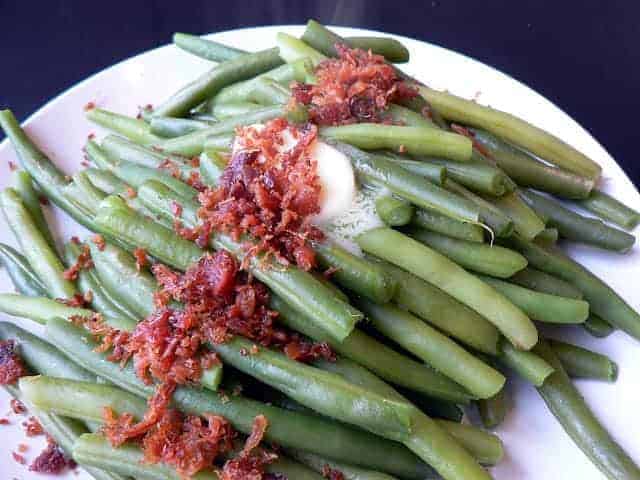 I hope you all have a glorious Easter weekend filled with chocolate bunny ears, 5am waking times because of excited kids, and some time to think about why we are celebrating this Spring holiday. And just in case you are in charge of the green beans for dinner, I am sharing the proper (and best) way to cook them.
This is how my momma and my grandma cook fresh green beans, so obviously this is the correct way to cook green beans. Now, do I really call my mom "momma"? Well, yes! It's how I greet her. I don't reference her as such, but I call her Momma when I talk to her.
Growing up we had a huge garden. Dad grew lots of strawberries, tomatoes, and green beans. Mom grew the weeds. She was good at growing them, too. They grew other things, but they grew LOTS of green beans. I can remember picking them in 5 gallon buckets and filling the buckets to the top. We played outside all summer long, but were allowed to come in and watch a movie when it was time to break beans. Breaking beans involved snapping off both ends and breaking them into bite-sized pieces so that Mom could can them.
All of us kids and Mom could break beans for hours and still have some left to do. I had a love-hate relationship with the process. I loved being able to watch a movie in the air-conditioned house in the middle of the muggy Indiana summers and I loved eating my fill of beans, cooked fresh, that night for dinner. I didn't love the actual breaking though, it was long and tedious. Now when I only have a pound or two of beans to break it seems like such a quick and easy task.
Green Beans with Butter and Bacon
Printable Recipe
Serves 4-6 as a side
1 pound fresh green beans
4 slices of bacon
2 T. salted butter
Salt
Start by breaking the beans. Snap off the little tales at both ends of the bean. You can leave the bean whole (as pictured) or break them into bite-sized pieces. It's up to you. Wash the beans in cold water. Place all of the beans in a medium sauce pan and cover completely with water. Add 2 slices of bacon to the beans and water and bring the pot to a boil. Simmer for 25-45 minutes, checking for doneness along the way.
While the beans are cooking, fry up the last 2 slices of bacon until very crisp. Allow the bacon to cool and chop it well, set aside. When the beans are cooked to your liking, discard the boiled bacon (or feed it to your 4 year-old) and drain. Put the beans on your serving dish, top with butter and the crumbed bacon and a heavy sprinkle of salt. Serve while pipin' hot.
Notes:
This is a great way to spruce up canned and frozen green beans too.
Dirtying a pan for 2 slices of bacon is a shame. I normally fry a whole pound of bacon at a time and keep extras in the fridge for things like this. Just re-crisp the refrigerated bacon in the microwave.
The cooking time has a wide range. I have found that store-bought fresh green beans don't cook as long as garden fresh green beans. Yours will vary too.