Green beans with butter and bacon is a hearty and flavor-filled side dish that takes green beans from plain to irresistible with just a handful of ingredients.
For the green bean and veggie fans out there, or just people with overflowing gardens right about now (I see you!), you've got to try these 13 Simple Recipes for Fresh Green Beans, my favorite Simple DIY Hummus Platter, and The Life Changing Magic of the Veggie Box. They're all great ideas to use up those extra veggies in your garden or fridge!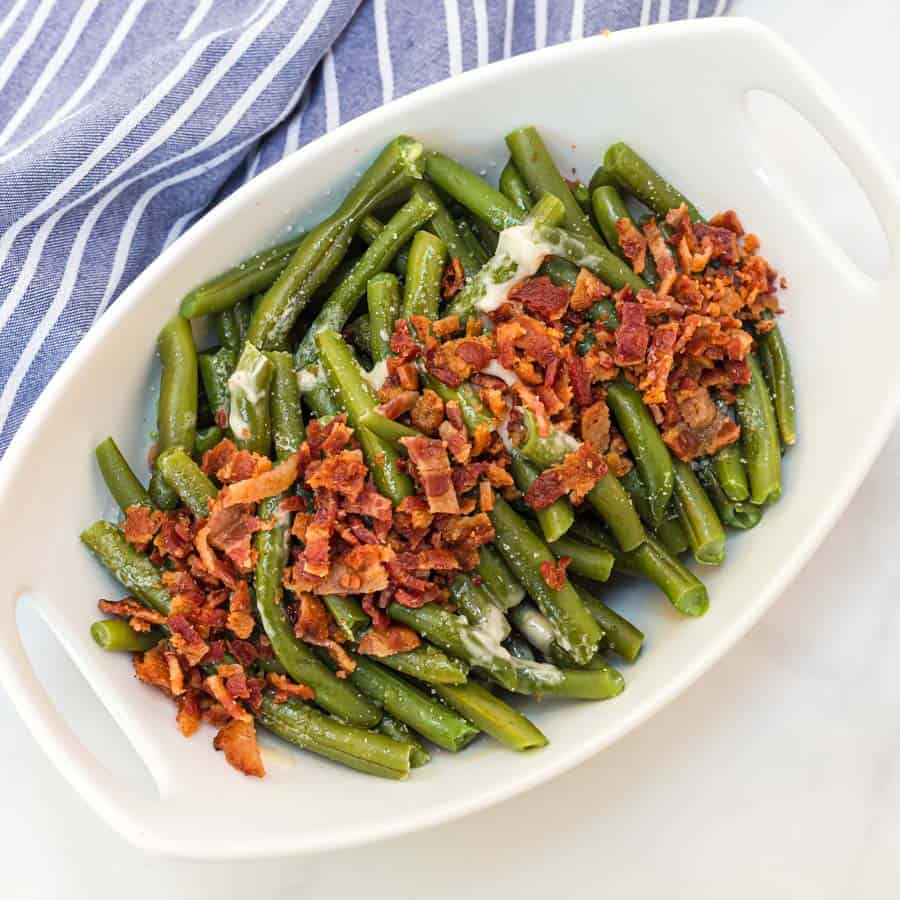 Green Beans with Butter and Bacon
Growing up, we had a huge and luscious garden. Dad grew lots of strawberries, tomatoes, and green beans. Mom grew the weeds. She was good at growing them, too. They grew other things, but I mostly remember they grew LOTS of green beans. I can remember picking them in 5-gallon buckets and filling the buckets to the top.
We played outside all summer long, but we were allowed to come in and watch a movie when it was time to break beans. Breaking beans involved snapping off both tail-ends and breaking them into bite-sized pieces so that Mom could can them.
Mom and all of us kids could break beans for hours and still have some left to do. And as you could probably guess, I had a love-hate relationship with the process. I loved being able to watch a movie in the air-conditioned house in the middle of the muggy Indiana summers, and I loved eating my fill of beans, cooked fresh, that night for dinner. I didn't love the actual breaking, though. It was a long and tedious process.
Now, when I only have a pound or two of beans to break, it seems like such a quick and easy task. So, this recipe is basically a treat anytime I get to whip it up! Not only is the bean breaking simpler than it used to be when I was a kid, but it only requires a few simple ingredients and a simpler cooking process. And the end result gets you super-flavorful beans with crunchy bacon bites on top! That's a win, if you ask me.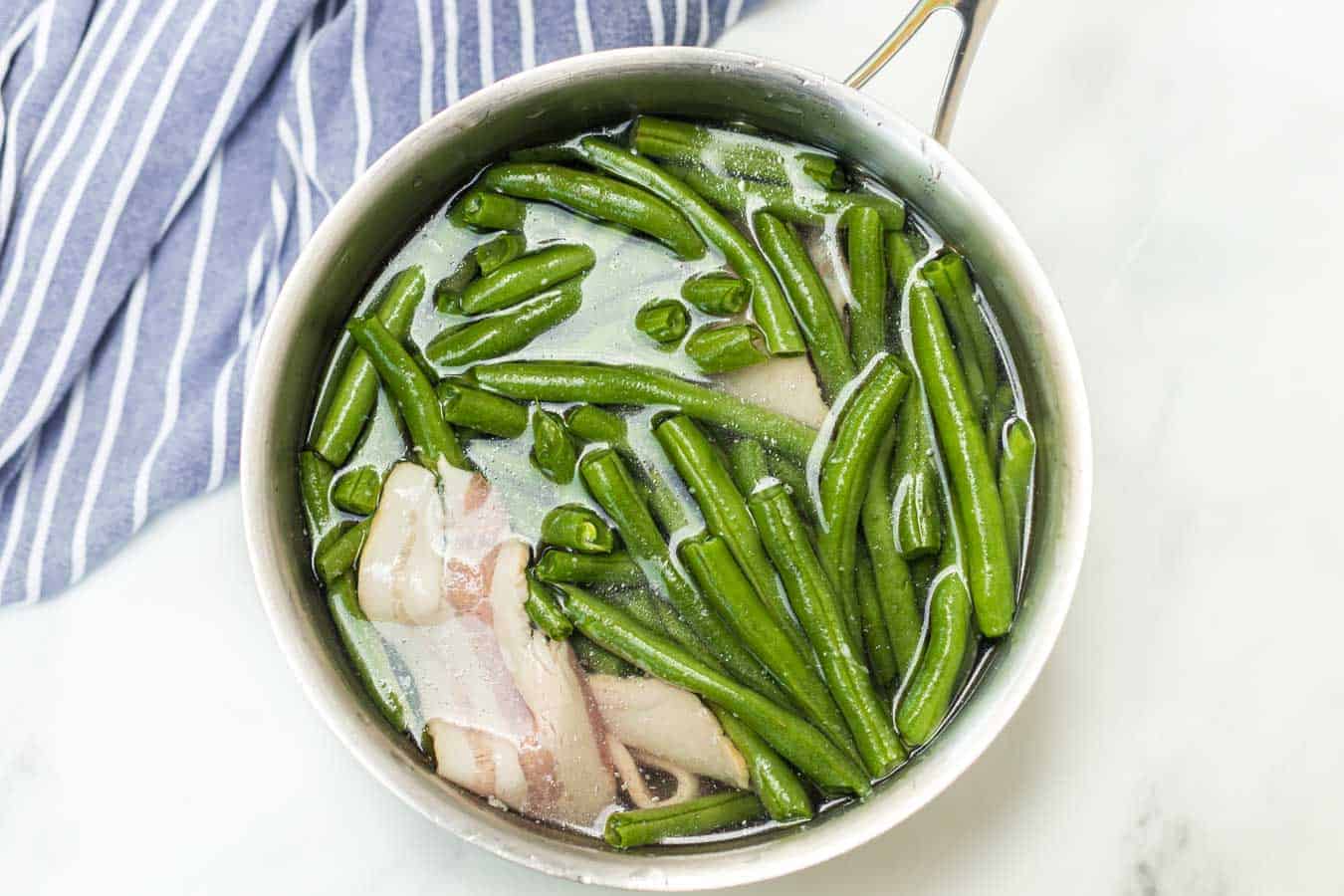 How long do you boil green beans?
This really depends on your beans. I've found that homegrown green beans need to be cooked longer than store-bought ones. Generally, it should take between 25 to 45 minutes, so just keep an eye on it!
Why are my green beans tough?
Beans might be tough, stringy, and fibrous if they're picked after they're ripe. If they're overripe, they begin to harden and get a less crunchy and more chewy and tough texture. It's best to pick beans when their pods are still young and tender.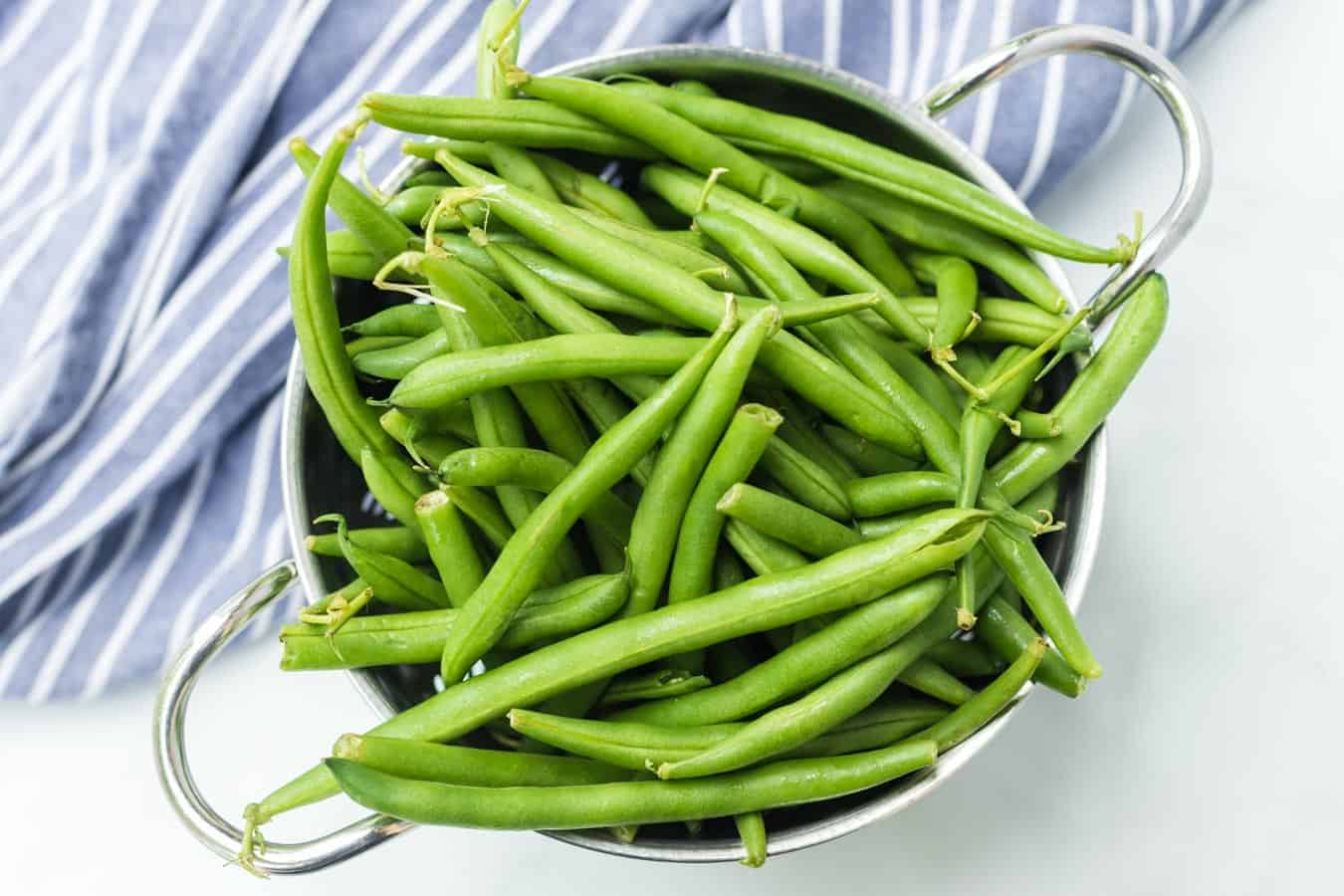 What pairs well with green beans?
Green beans with bacon and butter are a perfect side dish for SO many meals! Pretty much anything that needs a vibrant and green side dish will go well with these. Traditionally, a lot of Southern food dishes, like fried chicken and mashed potatoes or pulled pork sandwiches, pair nicely with a side of hearty green beans.
Can you over-cook green beans?
Yes! You'll be able to tell if your green beans are over-cooked. They get limp, soggy, and mushy, and they lose a lot of their bright green color and turn more of a moss green. Just keep an eye on yours as they boil to check that they don't over-cook.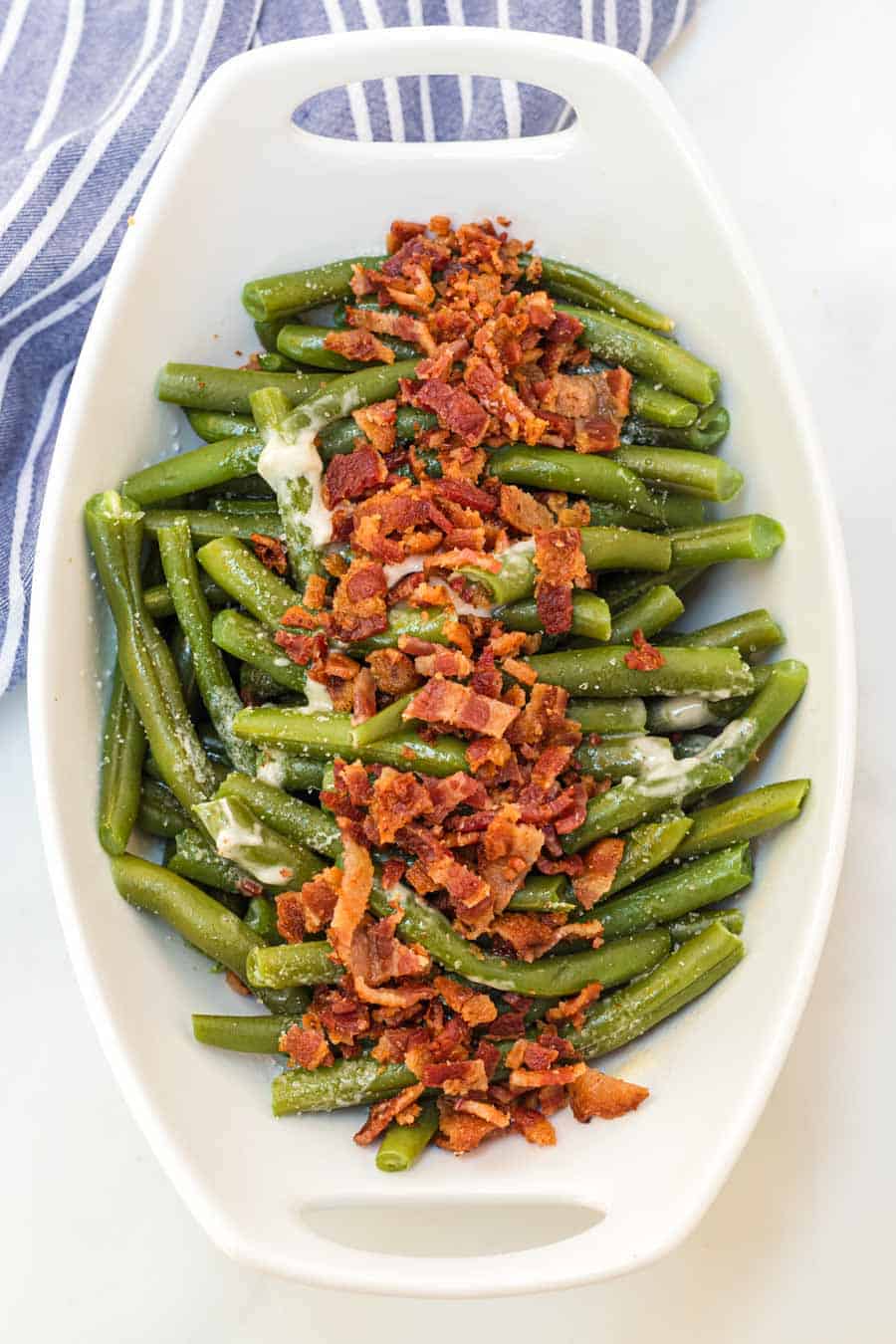 Other great vegetable sides:
If you've tried this green bean recipe or any other recipe on Bless this Mess, then don't forget to rate the recipe and leave me a comment below! I would love to hear about your experience making it. And if you snapped some pictures of it, share it with me on Instagram so I can repost on my stories.
Print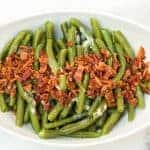 Green Beans with Butter and Bacon
---
Author:

Total Time:

45 minutes

Yield:

Serves 6
Description
Green beans with butter and bacon is a hearty and flavor-filled side dish that takes green beans from plain to irresistible with just a handful of ingredients.
---
1

pound fresh green beans

4

slices of bacon

2 tablespoons

salted butter
Salt and pepper to taste
---
Instructions
Start by breaking the beans. Snap off the little tails at both ends of the bean. You can leave the bean whole (as pictured) or break them into bite-sized pieces. It's up to you.
Rinse the beans in cold water.
Place all of the beans in a medium saucepan, and cover completely with water. Add 2 slices of bacon to the beans. Make sure you use enough water to cover the beans, and bring the pot to a boil.
Simmer for 25 to 45 minutes, checking for doneness along the way.
While the beans are cooking, fry up the last 2 slices of bacon until very crisp. Allow the bacon to cool, chop it well, and set aside. When the beans are cooked to your liking, discard the boiled bacon (or feed it someone who will eat boiled bacon), and drain.
Put the beans on your serving dish, top with butter, the crumbed bacon, and a heavy sprinkle of salt.
Serve while pipin' hot.
Notes
This is a great way to spruce up canned and frozen green beans, too.
Dirtying a pan for 2 slices of bacon is a shame. I normally fry a whole pound of bacon at a time and keep extras in the fridge for things like this. Just re-crisp the refrigerated bacon in the microwave.
The cooking time has a wide range. I have found that store-bought fresh green beans don't cook as long as garden fresh green beans. Yours will vary, too, so just keep an eye on them.
You can add a couple of fat slices of onion to the beans while they are cooking if you like, too. It adds some great flavor.
Prep Time:

10 min

Cook Time:

35 min

Category:

side

Method:

stove top

Cuisine:

American
Keywords: beans, green beans, garden, bacon, butter, vegetable, side, summer, easy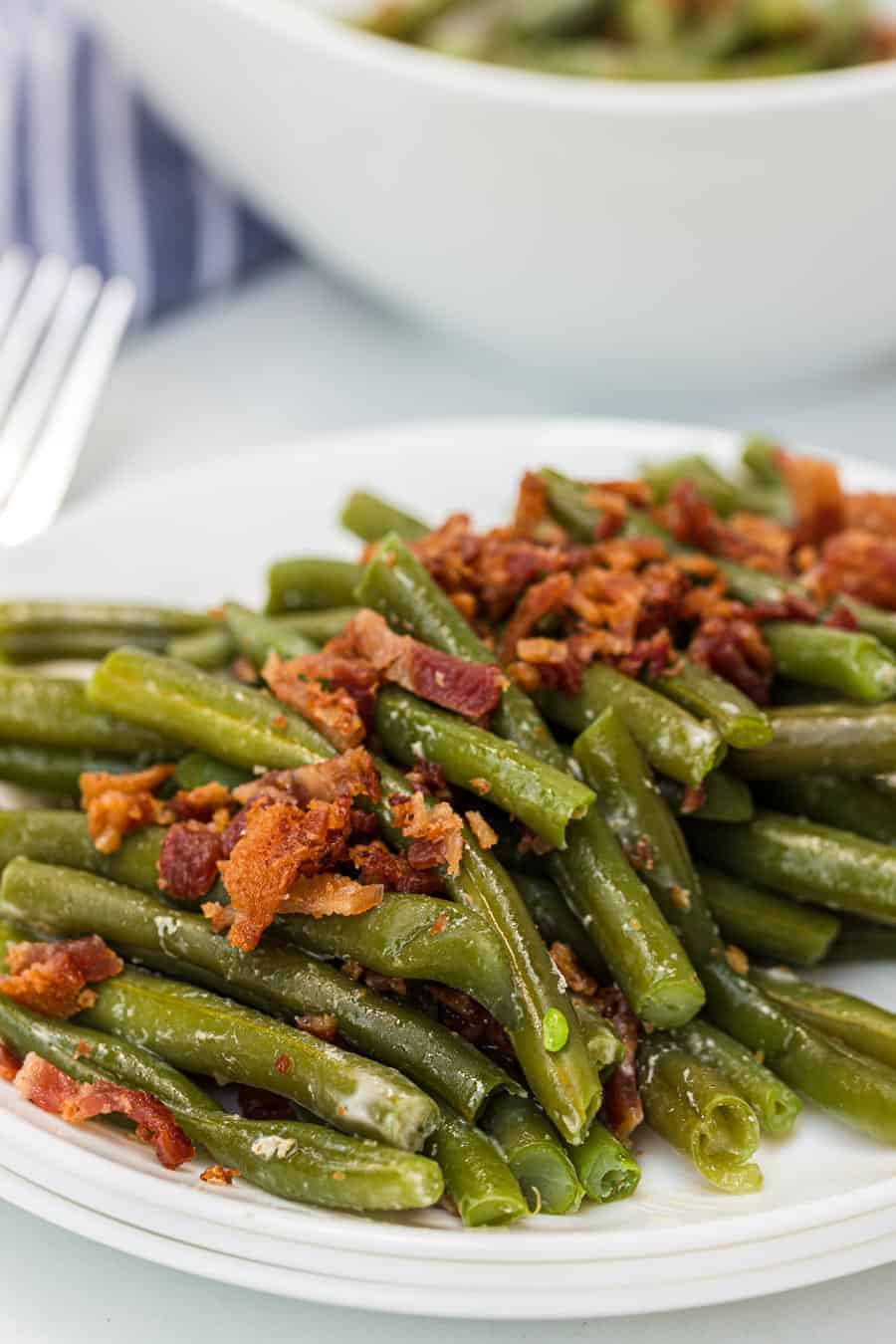 Green beans with bacon and butter dress up a simple veggie to make it a rich, decadent, and flavorful side to any meal!