Some people get excited about new movie releases or album debuts, but what gets this girl is new America's Test Kitchen cookbooks, and boy do they have a new cookbook! I've been a longtime fan of America's Test Kitchen. My husband got me two of their books back in 2010 for Mother's Day and I've been hooked ever since; I've been adding to my ATK (America's Test Kitchen) collection for years and I have to tell you about their newest book that just came out yesterday! And because I like you, you can win a copy for yourself. Keep reading!
I thought ATK did a great job explaining their new book, The Make Ahead Cook
. Here's what they have to say about it.
During the extensive testing for The Make Ahead Cook, we developed 8 different strategies that provide solutions for the time-pressed cook who appreciates the ease of make-ahead meals, but demands great taste. Each chapter focuses on a different path in make-ahead cooking, taking into account a variety of needs, budgets, and lifestyles, adding up to what is essentially eight cookbooks in one. With one chapter dedicated to "Shopping Smart: One Grocery Bag Makes Three Dinners," you'll have the power to plan 8 different menus of 3 dishes each from 1 single grocery bag. Another genius chapter is our "The Sunday Cook: Big Roasts Plus Creative Second Meals" which makes use of one big roast for 3 pre-planned meals—think two roast chickens on Sunday transforming into chicken bread salad or penne with roasted chicken the next night. Whichever route, this book is here to help busy cooks along the way.
These are all of the chapters:
Make-Ahead 101
Prep Ahead: Ready-to-Cook Meals
Reheat and Eat: Make-Ahead Stews and Braises
Bake and Serve: Oven Ready Casseroles
From Fridge to Table: Ready-to-Serve Entrees
Shop Smart: One Grocery Bag Makes Three Dinners
The Sunday Cooke: Big Roasts Plus Creative Second Meals
Come Home to Dinner: Easy Slow-Cooker Favorites
Stock the Freezer: Big Batch Summers
You guys! I'm in love! ATK is so great about using real ingredients very smartly. You aren't going to find a can of "cream-o-anything" here, which I love. Every recipe takes up two whole pages. Each one has a large paragraph before the recipe about why it works, what they tried and didn't work, and why they eventually went with the method they did. I think this is why I love their books so much; I get an education every time I open them and I really love that.
I found myself spending a lot of time in the "Stock the Freezer" section and I've picked a homemade frozen chicken nuggets recipe from the book to share with you today!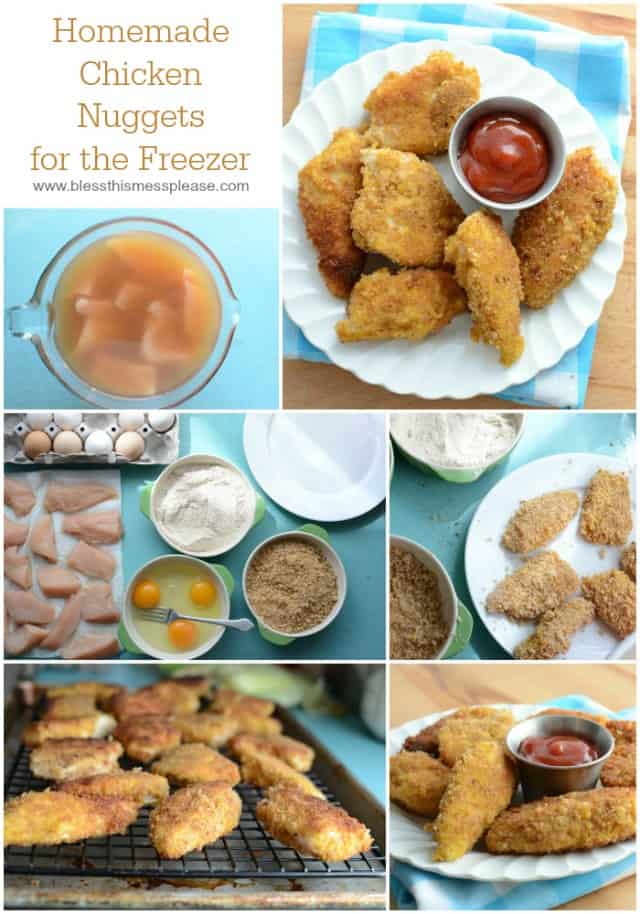 Continue reading →