This Shrimp Noodle Stir Fry is full of veggies and done in under 30 minutes making it a perfect weeknight meal!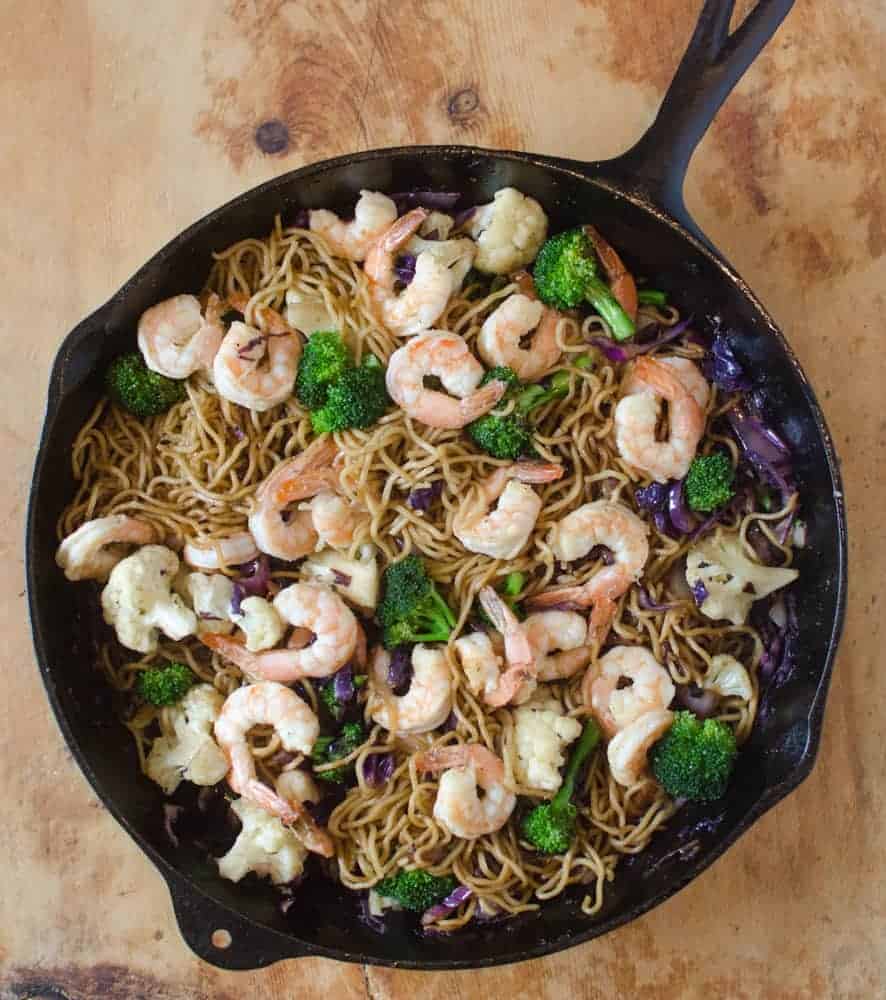 For the past few months, my kids have had a major bee in their bonnets about ramen noodles. On different occasions they tried them at friends' houses and decided that they need those simple little noodles in their life. Ramen is something that I stopped buying years ago when we stopped eating things with MSG in them. When it came to cleaning up our diet, I would generally replace a store-bought item with ingredients I didn't want with a homemade version. That never really happened with ramen though – I just stopped buying it and never made it at home.
When my kids started taking a liking to it, I thought it high time to figure out a simple way for them to get some of those delicious noodles in their lives. A few weeks ago, I was shopping at a larger grocery store in another town and noticed some noodles in the refrigerated section that looked a whole lot like ramen. The noodles were called "yakisoba" noodles and were located near wonton wrappers and salad dressings in the produce section. I grabbed two packages and thought I'd make the kids "ramen" at home. We ended up really liking the simple dish, so I made it a few more times and decided to share it with you all today.
I'm sure that you can buy uncooked Asian noodles, but I don't know much about them. This precooked refrigerated noodle option was nice because it was easy to find and cost less than $2 per package. Plus, it makes this dish very quick and easy to prepare. I didn't use the seasoning package that came with them though because I wasn't sure how it would taste and it had more sugar in it than I wanted. I made this dish with shrimp, but you can substitute just about any protein that you like (chicken, steak, or crispy tofu would all be great). It's seasoned with some simple ginger, garlic, and soy sauce and I added lots of vegetables for good measure. It was delicious and I know your family is going to love it too.