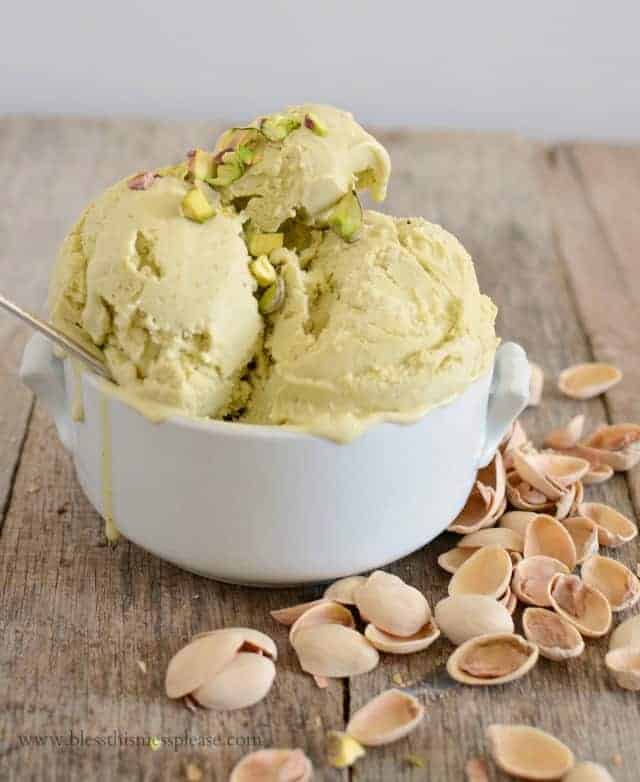 It's the twelfth of the month already! Where, oh where, has the time gone? But do you know what that means? The 12 bloggers group!
All year long on the twelfth of each month 12 bloggers are  bringing you 12 recipes with 12 ingredients or less. This month's theme was just perfect for St. Patrick's Day: green desserts and drinks. I've been eyeing the other recipes and they look delicious! You can find the links to all of the other participating blogs at the end of this post.
I like to try to stick with naturally colored foods when I can, so when I heard the theme for the month I stared dreaming up naturally green desserts. I'll be honest, not may came to mind. And then I remembered a green(ish) pistachio gelato that I had ages ago and loved; I knew instantly that that is what I would make. The recipes research began, testing commenced, and beauty resulted.
Pistachio gelato is phenomenal.
It is sweet, has a complex flavor full of roasted salty nuttiness, is amazingly smooth and creamy, and is just as addicting as the nuts used in the making. Why are pistachios so fun and delicious to eat? I have no idea, but they are no less wonderful swimming in creamy sweetness either. Plan on having double the pistachios that the recipes calls for on hand because I guarantee you'll pop plenty in your mouth while shelling them.
You can check out 10 naturally green foods that I blogged about last year and don't forget to see what all of the other ladies are up to this month too!
Here's a little sneak peak:

And behold the beauty also know as pistachio gelato: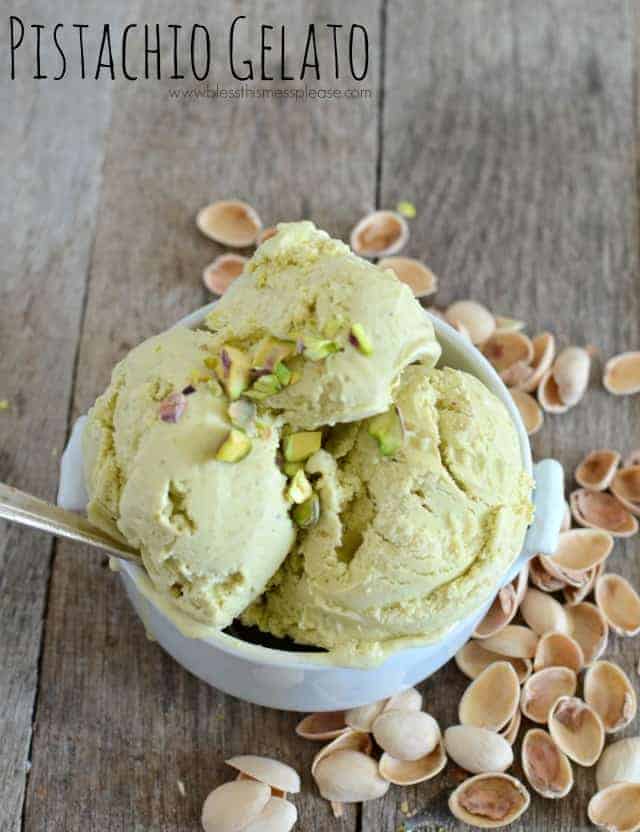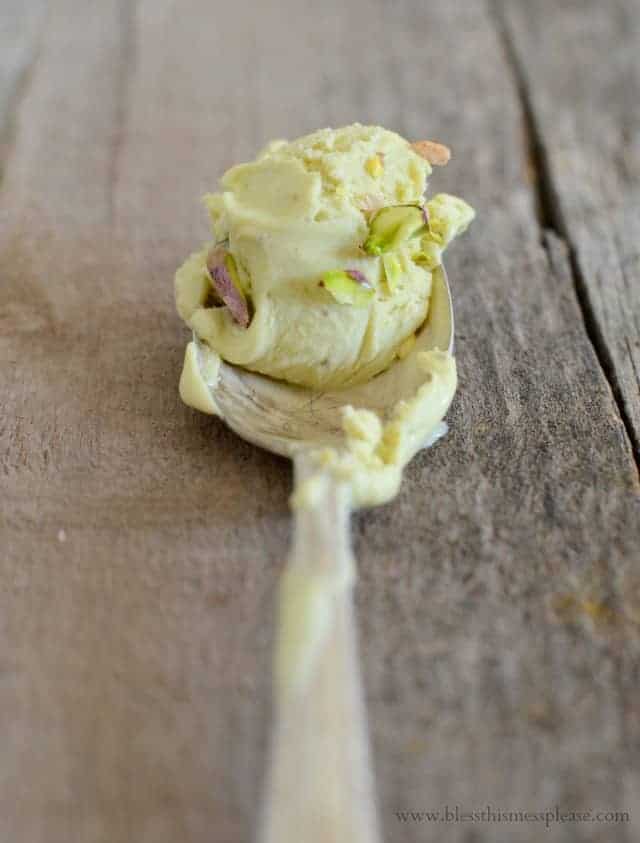 Print
Pistachio Gelato
---
Yield:

6 servings
Ingredients
1 to 1 1/2 cups shelled roasted and salted pistachios
2 cups whole milk
2 cups cream
1/2 teaspoon vanilla extract
2/3 cups sugar
4 large egg yolks
---
Instructions
In a food processor or blender coarsely grind the pistachios.
In a medium sauce pan over medium low heat, heat the milk and cream until steaming, stirring often. Don't let the mixture boil or the milk will curdle and don't forget to stir often because the milk will burn on the bottom of the pan. When the milk and cream are very hot, remove from the heat and stir in the ground pistachios and the vanilla. Cover the pan with plastic wrap and refrigerate overnight.
The next day drain the pistachio mixture through a fine mesh sieve into a bowl. Use the back of a spoon to really press out the extra moisture left in the pistachio chunks. Discard the pistachio pulp/pieces (or eat it by the spoonful!). Rinse and dry out the pan. Return the milk mixture to the pan.
In a separate bowl beat the eggs and the sugar until lighter in color and thick, about 3 to 5 minutes on a medium speed.
Heat the milk mixture over medium heat until it is again steaming but not boiling.
Carry the bowl of egg yolks and sugar over to the stove and pour just a little of the warm pistachio milk mixture in and stir to combine. Slowly add the rest of the beaten egg yolk mixture to the pan, stirring constantly with a wooden spoon. Cook until the mixture forms a custard that thickly coats the back of your spoon (this will be about 175 to 180 degrees).
Cool the gelato mixture completely before processing in an ice cream maker according to the manufacturers directions.
Once the gelato has finished churning, quickly place it in an airtight container and freeze for at least 2 hours or until you are ready to serve. Enjoy with a few additional chopped pistachios on top if you like.
Notes
This is very light and natural in green color… don't expect neon green 🙂
If you like a less sweet dessert reduce the sugar by 1/4 of a cup.
My recipe was adapted from and inspired the most by this gelato recipe.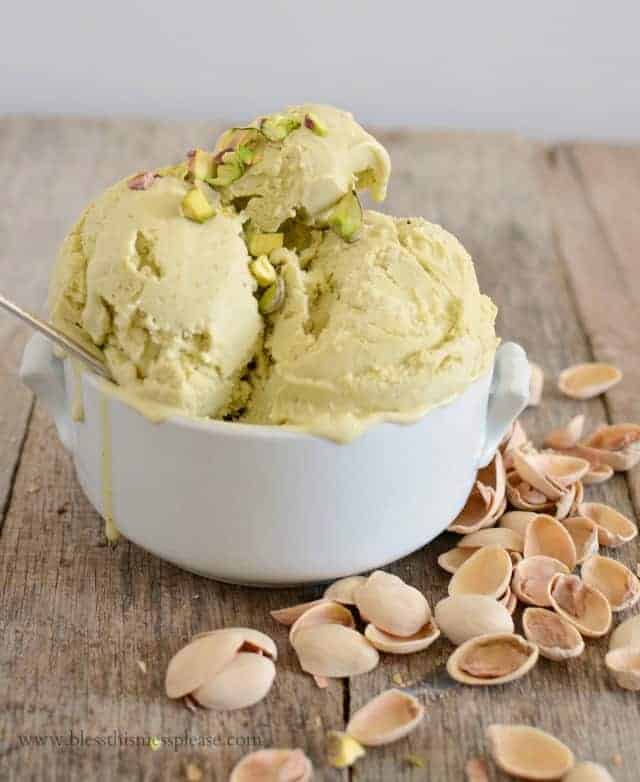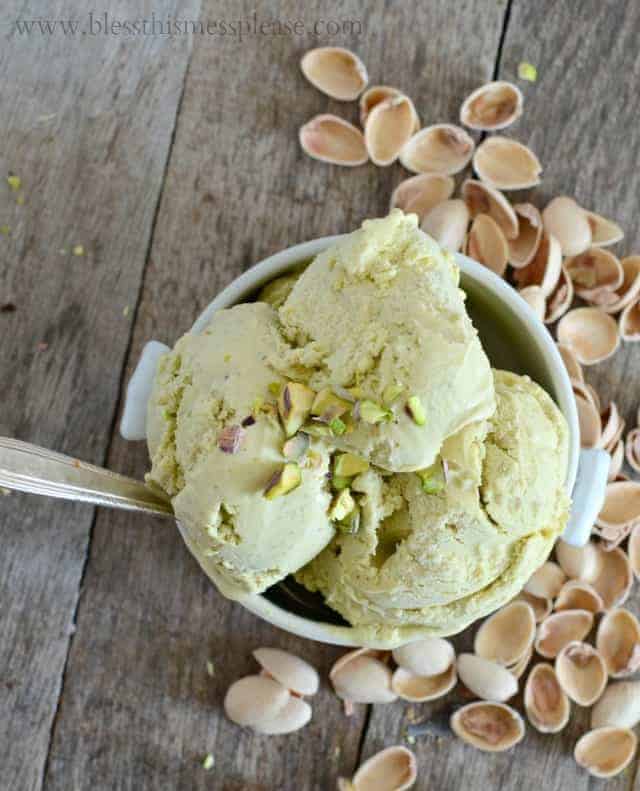 And here are the bloggin' beauties I have the pleasure of working with:

Leprechaun Coolers by Around My Family Table
Minty Oreo Leprechaun Bark by Million Moments
Grasshopper Pie Pizookie by A Night Owl Blog
Coconut Lime Bars by Eat Your Heart Out
Mint Chocolate Pudding Parfait by See Vanessa Craft
Lime Basil Ice Cream Sandwiches by BetsyLife
Mint Tea Marshmallows by Home Cooking Memories
Baileys Irish Cream Chocolate Truffles by A Little Clairification
Saint Patrick's Day Dipped Strawberries by The Rebel Chick
Irish Cream Mint Shake by Plugged In Family
Irish Flag Trifle by Mom Endeavors
Have a great day and thanks so much for stopping in.