Easy, healthy vegetable lasagna made in the slow cooker. So much to love!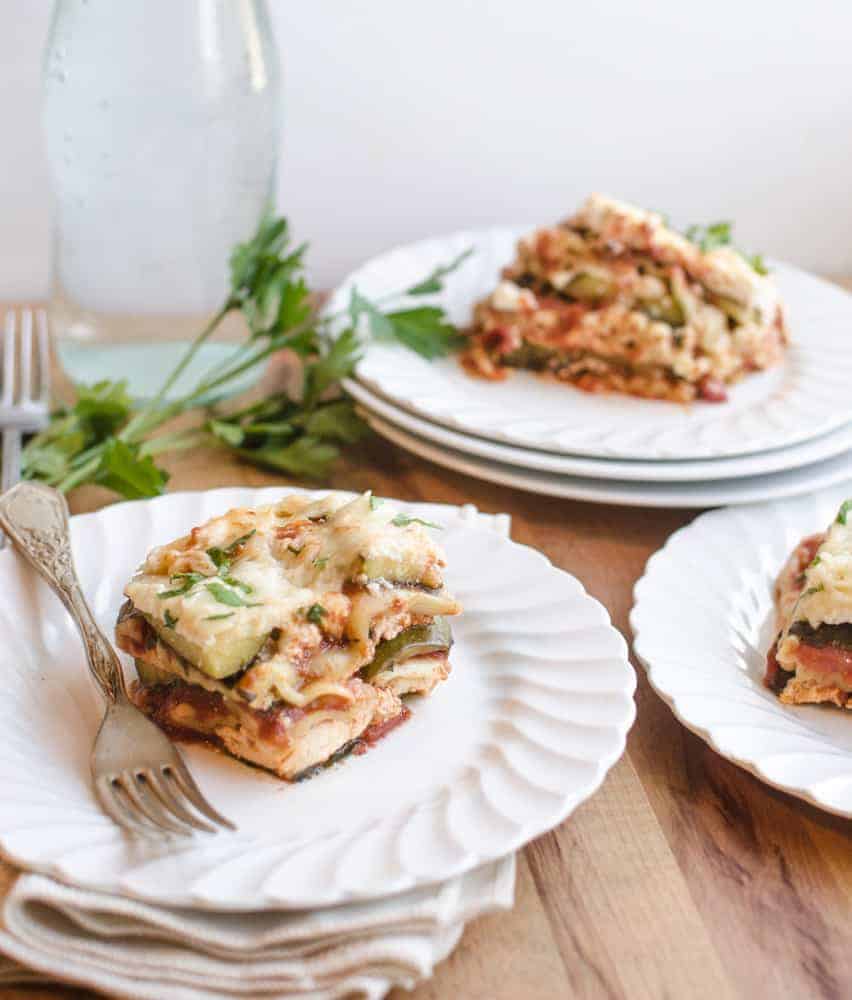 I can remember the first time that I had lasagna cooked in the slow cooker. My older sister was blessing her new baby in church in Idaho, and my little family (we had 3 kids at the time) drove up to celebrate the day with them. The problem and benefit of having so many people show up at your door to celebrate a new baby is that you have a new baby and you have company. My sister thought ahead and made two slow cookers of lasagna for us all to eat after church. I brought up bread and salad, and we made it a meal. I'm pretty sure my brother-in-law, who is an excellent baker, made some kind of giant iced cookie for dessert, too. With a little forethought and some planning, my sister made a meal that fed lots and lots of people without too much work on her own part; she's smart like that.
I had no idea that lasagna made in the slow cooker could be so, well, normal. And it's easy! You don't even have to cook the noodles ahead of time. This version is a veggie + noodle-filled heaven that cooks itself, and you are going to love it. Don't mistake vegetable lasagna for the kind that uses vegetables in place of noodles, because that isn't the case here. It's the best of both worlds – carb-y wonderful noodles included. You can use just about any vegetable that you like. I really love the zucchini + fresh spinach combo. I have also made this with a variety of things like mushrooms, kale, shredded carrots, and even bell peppers. Use what you like and what you have on hand. The mushrooms were the only thing I cooked ahead of time because I wasn't sure what they would do in the slow cooker (though I'm fairly certain they would be just fine going in raw like everything else).
This dish is hearty, filling, easy, and delicious. Perfect for all things busy school night or weekend filled with activities. Make it soon.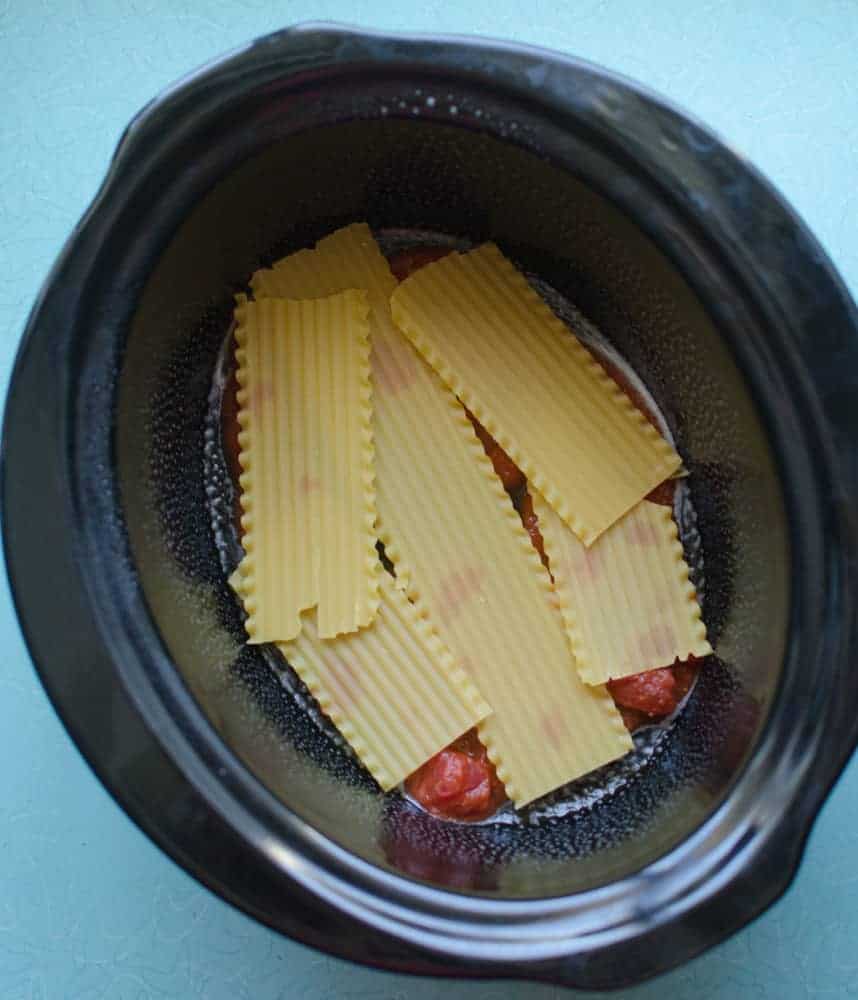 I think the key to getting this to cut and serve like a traditional baked lasagna is to let it sit in the slow cooker for an hour after the cooking time. I didn't realize my slow cooker was on warm and it was still cooking the vegetable lasagna I have pictured (it's a little dark around the edges because I cooked it on warm for too long). So yours shouldn't be that dark if you unplug the slow cooker completely. I really like that it only takes 3 hours to cook on high (perfect for going to church and coming home to dinner or getting it ready right before school gets out), but if you are going to be gone for the afternoon you can make this at lunch and cook it for 5-6 hours on low before dinner. I feel like this is a great flexible recipe that the whole family will love. I can't wait for you to try it.
I'm in love with this programmable slow cooker. I think the best feature is that the lid locks on. After I lost a whole slow cooker of meatballs in the back of my suburban on the way to a party, I'll never go back to one without a clamp-on lid. I didn't realize how often I take my slow cooker places! For under $50, it's a great option (and makes a great gift too).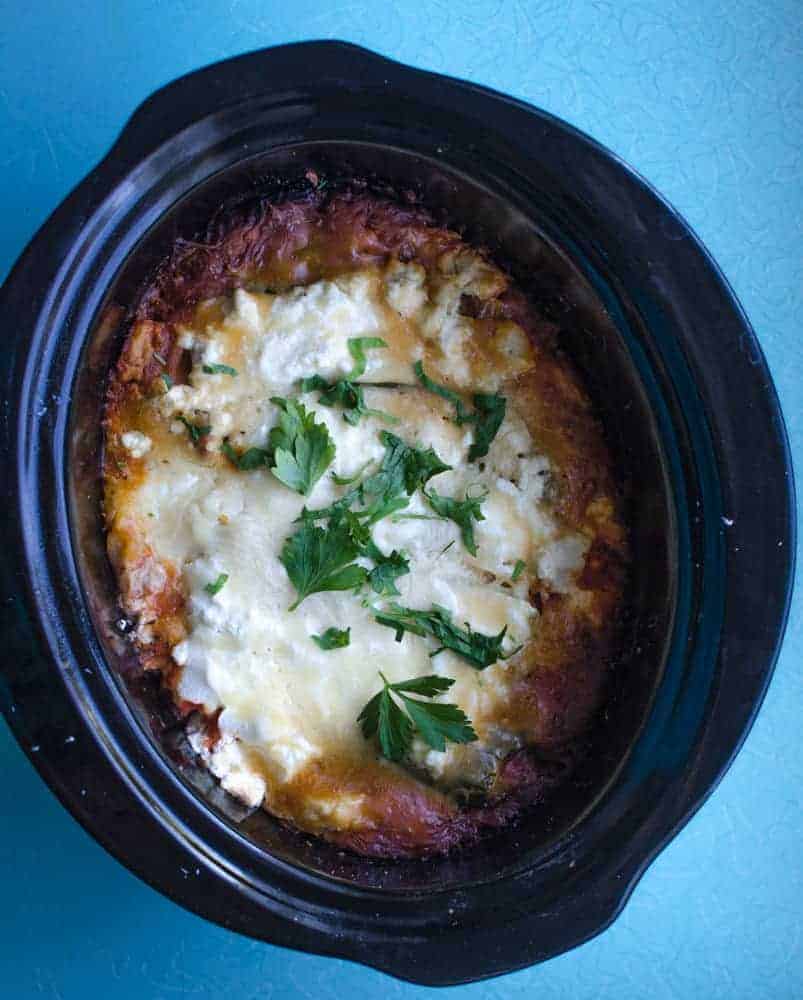 There was an issue loading your exit LeadBox™. Please check plugin settings.