Homemade yellow cake is popular for good reason! Sweet vanilla flavor, moist and you get creative with toppings and fillings.
Do you love cakes that are soft, moist, and oh-so-yummy? Well, you're in for a treat! Homemade Yellow Cake is a classic dessert that people of all ages adore.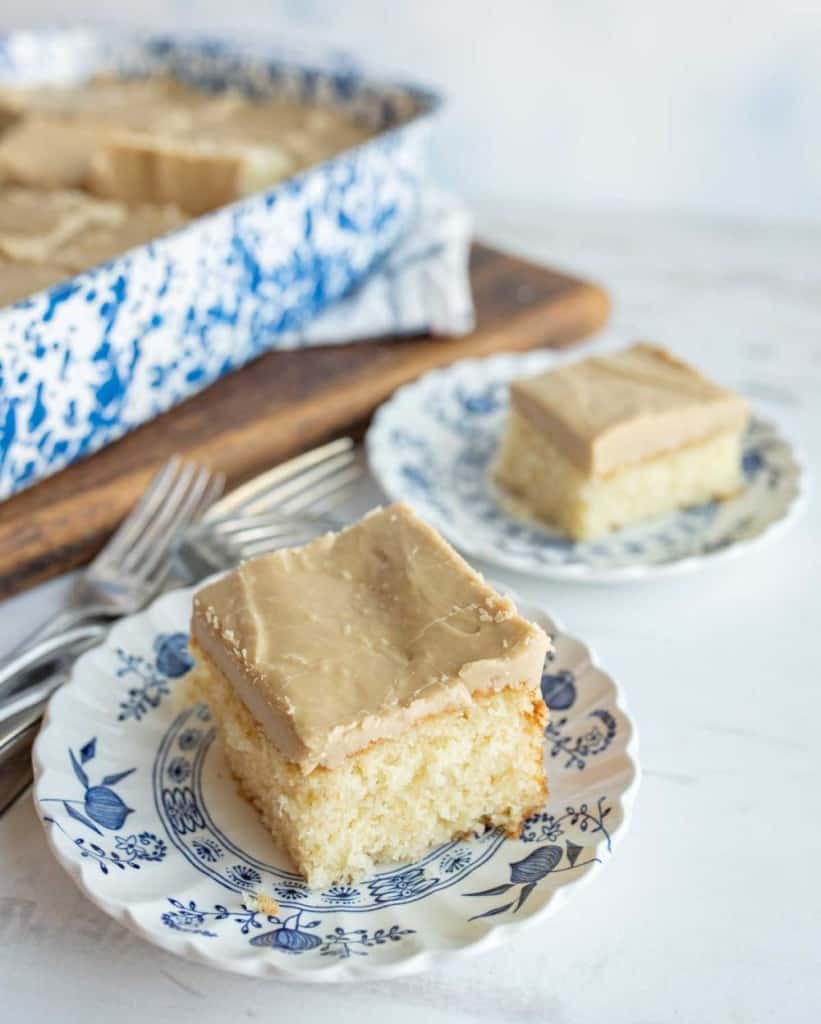 Homemade yellow cake is famous for its incredible taste. It's sweet but not overly so, with a hint of vanilla that makes it simply irresistible. The texture is soft and fluffy, like biting into a delicious cloud.
Yellow cake is a go-to choice for birthdays, celebrations, and gatherings. It's a crowd-pleaser that brings smiles to everyone's faces. Plus, it's super easy to decorate with colorful frosting and candles.
Table Of Contents
Why You'll Love This Recipe
Simplicity. It comes with easy-to-follow instructions and uses everyday ingredients, making it a perfect choice for both seasoned bakers and beginners, boosting their kitchen confidence.
Delightful Flavor: Homemade yellow cake is adored for its sweet, vanilla-infused taste. It strikes the perfect balance between sweetness and richness, making it a universally loved dessert.
Versatility at Its Best: Yellow cake's versatility is a big hit. You can savor it plain, jazz it up with diverse frostings and toppings, or get creative with unique flavors and fillings, ensuring it suits any taste and occasion.
Recipe Ingredients
Granulated Sugar: This sweet ingredient adds the perfect amount of sweetness to the cake.
Unsalted Butter : Softened butter lends moisture and richness to the cake while allowing for easy mixing.
Eggs: Eggs act as binders and provide structure to the cake. They also contribute to its moist and tender crumb.
Vanilla Extract: Vanilla extract brings a lovely, fragrant flavor to the cake, enhancing its overall taste and aroma.
Flour: Think of flour as the cake's foundation. It's like the glue that holds everything together.
Baking Powder: Baking powder is a leavening agent that makes the cake rise, giving it its characteristic light and fluffy texture.
Milk: Milk adds moisture and helps create the ideal cake batter consistency, ensuring a moist and delicious final product.
Popular Substitutions and Variations
For those who can't resist chocolate, you can transform your yellow cake into a chocolate delight by adding cocoa powder to the batter. Voila! You have a scrumptious chocolate yellow cake.
Want to make your cake even more exciting? Try adding chopped berries, diced peaches, or canned pineapple chunks to the batter for a fruity twist. It's like a surprise in every bite!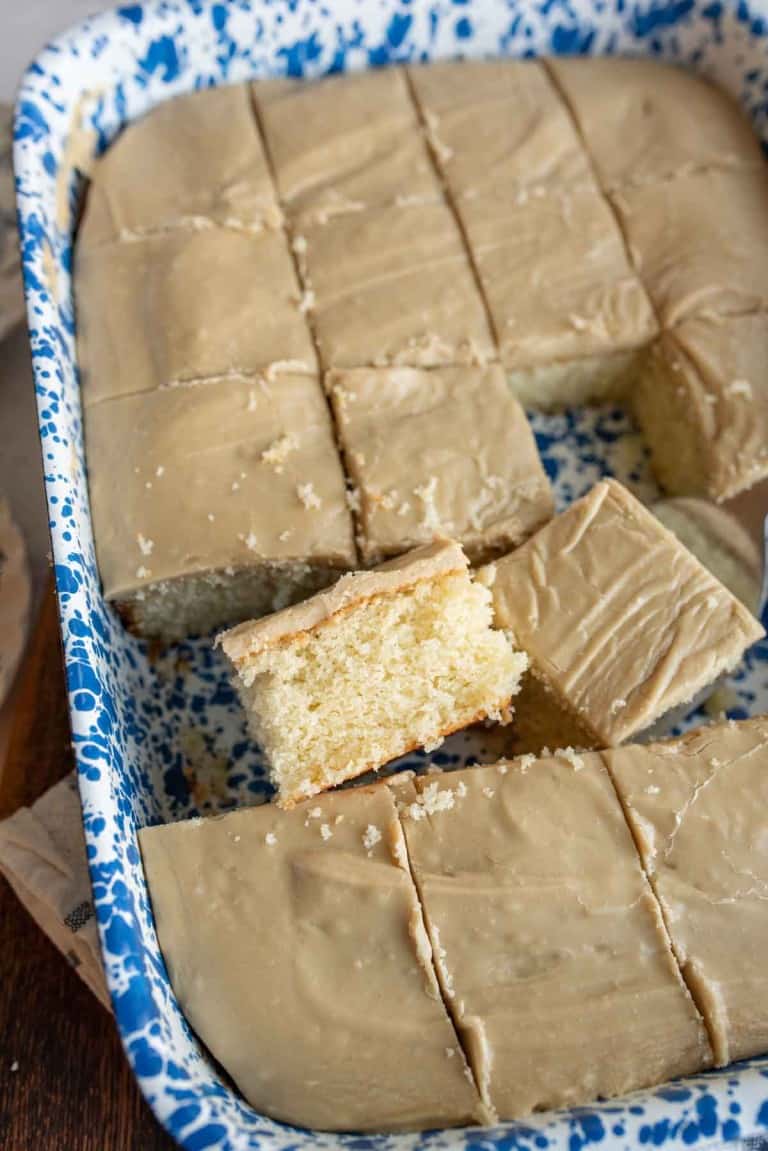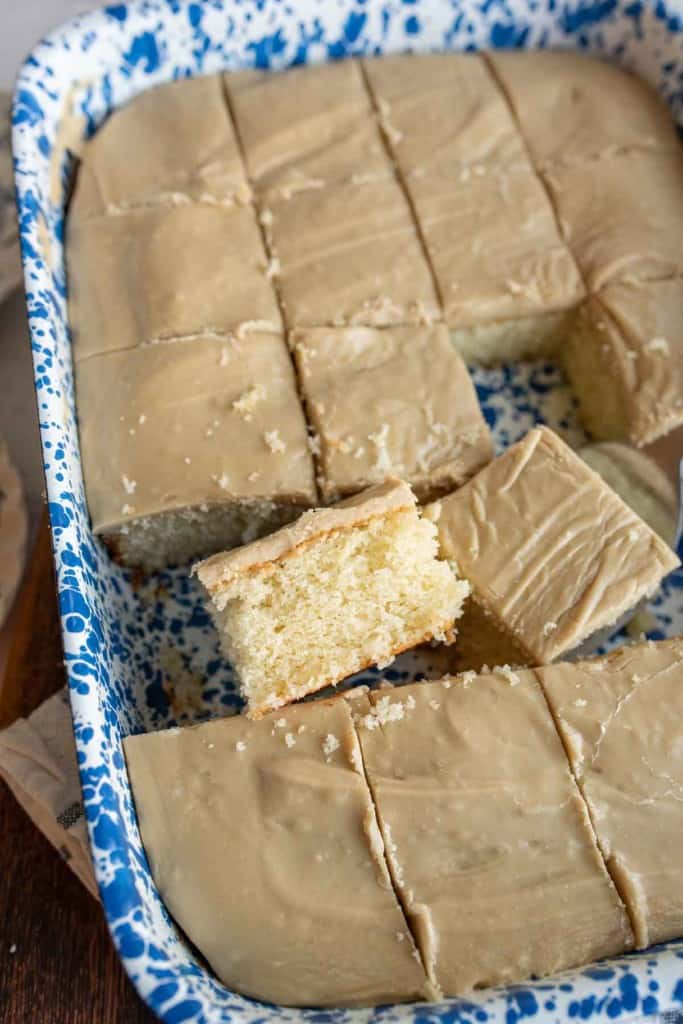 How To Make Yellow Cake
Preheat your oven to 350°F and prepare your cake pan by greasing and flouring them.
In a bowl, sift together flour, baking powder, and salt to remove lumps.
In a larger bowl, cream butter and sugar until fluffy. Mix in eggs one by one and add vanilla extract.
Gradually add dry ingredients and milk to the butter mixture, alternating and mixing well.
Pour the batter into the pan and bake at 350°F until a toothpick comes out clean (about 40-45 minutes for a 13x9-inch pan or 30-35 minutes for 8-inch round pans).
Let the cake cool for 10 minutes in the pan before transferring them to a cooling rack to cool completely.
Frequently Asked Questions
Can I use a cake mix instead of making homemade yellow cake from scratch?
Yes, you can! Cake mixes are convenient and easy to use. Just follow the instructions on the box, and you'll have a yummy cake in no time. However, making it from scratch allows you to control the ingredients and flavors better.
How do I keep my yellow cake moist?
o keep your cake moist, make sure not to overbake it. Follow the recipe's recommended baking time and check for doneness with a toothpick. You can also store leftover cake in an airtight container or wrap it in plastic wrap.
What's the best frosting for yellow cake?
There are many frosting options, like chocolate, vanilla, cream cheese, or buttercream. Choose the one you like best! Some people also enjoy a simple dusting of powdered sugar for a light, sweet touch.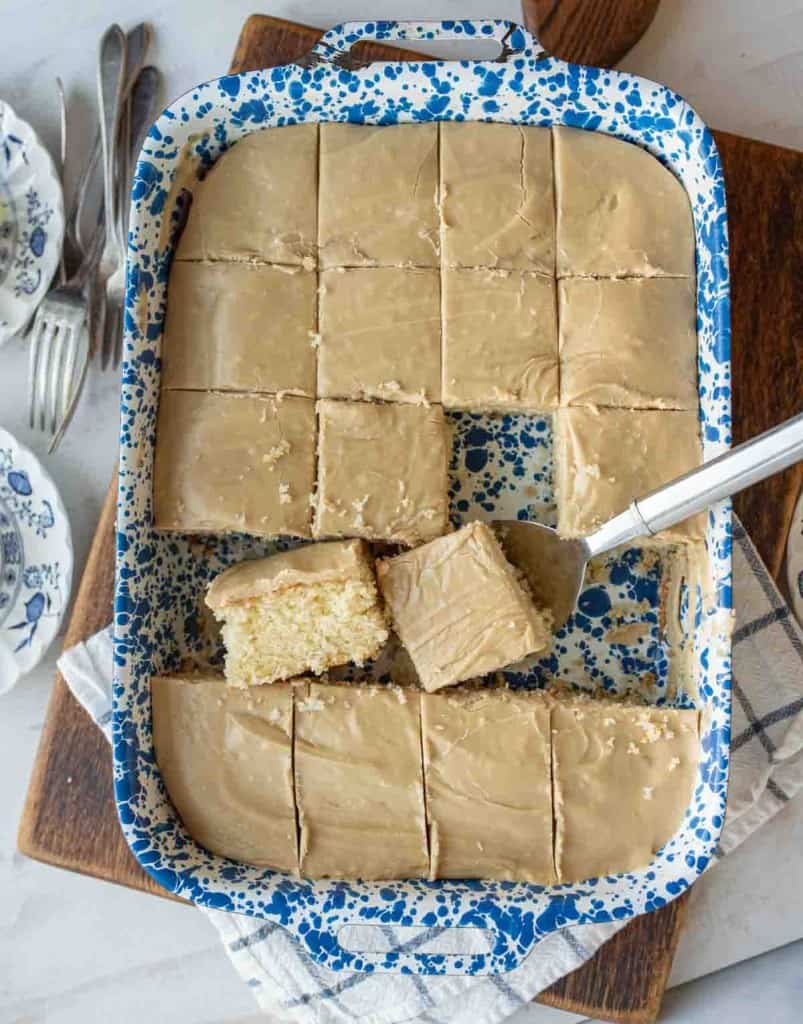 Expert Tips
Room Temperature Ingredients: Let your butter, eggs, and milk come to room temperature before using them. This ensures a smoother batter.
Mix Gradually: Add dry ingredients to wet ingredients in stages, mixing gently. This prevents overmixing, which can make your cake tough.
Patience is Key: Allow your cake to cool completely before frosting. A warm cake can melt the frosting and make it messy.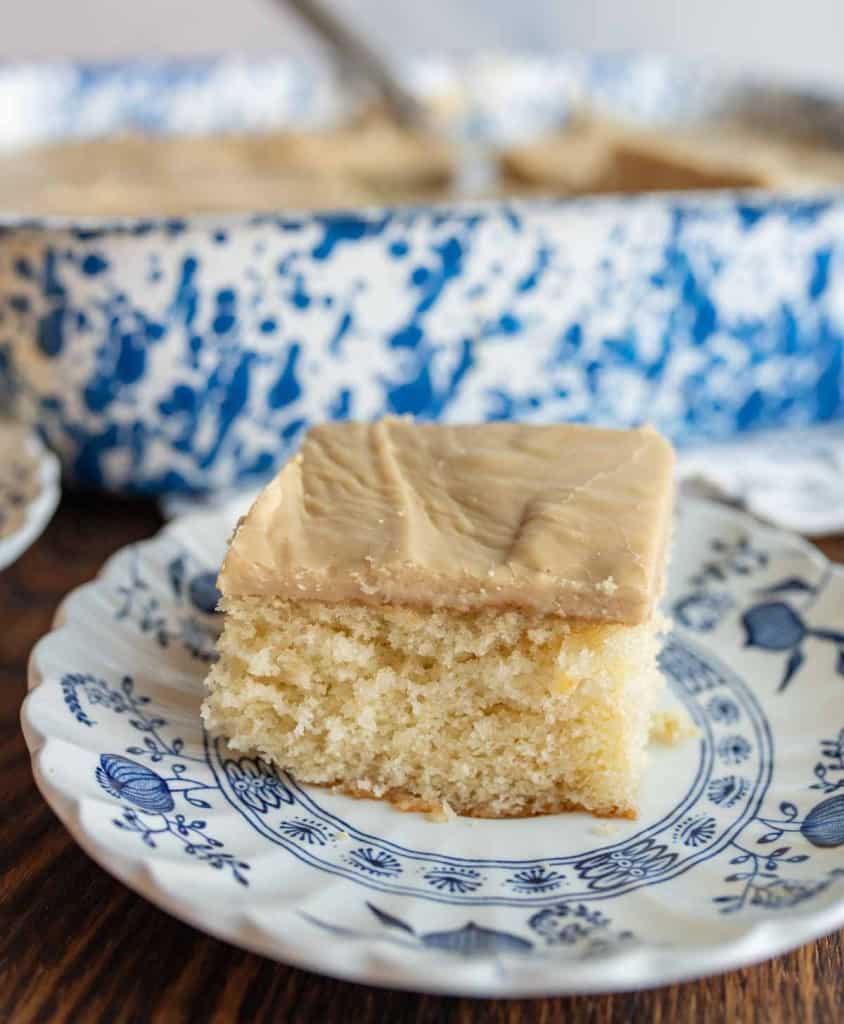 How To Store Yellow Cake
To properly store a yellow cake, ensure it has cooled completely before storing. For short-term storage (1-2 days), wrap it tightly in plastic wrap or aluminum foil. If you plan to keep it for up to a week, use an airtight container, or wrap it and place it in the refrigerator for longer periods (more than a week or if it has perishable fillings/frostings). To freeze for extended storage (up to three months), wrap it well and label it with the date before placing it in the freezer. Always thaw a frozen cake in the refrigerator when you're ready to enjoy it. Avoid storing it near strong-smelling foods to prevent flavor absorption. Proper storage helps maintain the cake's freshness and deliciousness.
Did you try this recipe? Leave a ⭐️ rating below and share it on Instagram, Facebook, and Pinterest!
📖 Recipe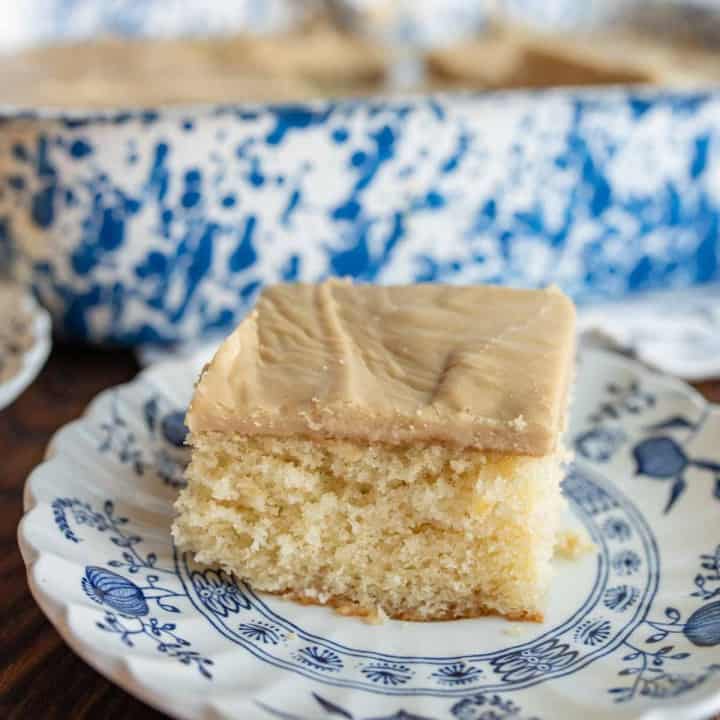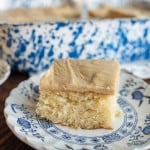 Print Recipe
Easy Yellow Cake
Homemade yellow cake is popular for good reason! Sweet vanilla flavor, moist and you get creative with toppings and fillings.
Ingredients
1 ¾

cups

granulated sugar

⅔

cup

unsalted butter

at room temperature

2

large eggs

1 ½

teaspoons

pure vanilla extract

2 ¾

cups

all-purpose flour

2 ½

teaspoons

baking powder

1

teaspoon

salt

1 ¼

cup

milk
Instructions
Start by preheating your oven to 350°F (175°C).

Depending on your preference, either grease and flour a 13x9-inch baking pan or three 8-inch round cake pans. This prevents the cake from sticking to the pans after baking.

In a medium-sized mixing bowl, sift together the all-purpose flour, baking powder, and salt. This ensures a lump-free mixture and incorporates air for a lighter cake.

In a large mixing bowl, cream together the room temperature butter and granulated sugar. Beat the mixture until it's light and fluffy, which typically takes around 3-5 minutes.

Crack the eggs into the creamed mixture one at a time, mixing well after each addition. After the eggs are incorporated, stir in the vanilla extract until it's well combined.

Begin by adding about one-third of the sifted dry ingredients to the butter mixture and blend until just combined. Follow this with roughly one-third of the milk. Continue this process, alternating between the dry ingredients and milk, and end with the dry ingredients. Ensure you mix well after each addition but be cautious not to overmix.

Pour the prepared cake batter into your chosen pan(s), spreading it out evenly using a spatula.

If using a 13x9-inch pan, bake for about 40-45 minutes. If you've opted for the 8-inch round cake pans, they should be baked for approximately 30-35 minutes. The cake is done when a toothpick or cake tester inserted into the center comes out clean or with a few crumbs (not wet batter).

Once baked, remove the cake(s) from the oven and let them cool in the pan for about 10 minutes. Afterward, transfer the cakes to a cooling rack to cool completely.
Notes
Room temperature ingredients, especially the butter and eggs, ensure a smoother batter and a more even bake.
Be cautious not to overmix the batter, as this can result in a denser cake.
This yellow cake serves as a fantastic base for a variety of frostings and fillings, including the caramel frosting mentioned earlier.
Nutrition
Calories:
251
kcal
|
Carbohydrates:
39
g
|
Protein:
4
g
|
Fat:
9
g
|
Saturated Fat:
5
g
|
Polyunsaturated Fat:
1
g
|
Monounsaturated Fat:
2
g
|
Trans Fat:
0.3
g
|
Cholesterol:
43
mg
|
Sodium:
228
mg
|
Potassium:
63
mg
|
Fiber:
1
g
|
Sugar:
23
g
|
Vitamin A:
297
IU
|
Calcium:
69
mg
|
Iron:
1
mg