You just can't beat a perfect vanilla cupcake with out of this world vanilla icing. Let me introduce you to the Sweet Tooth Fairy's VaNIElla Squared Cupcake Copycat. The cupcakes used to be called Vanilla Squared until the shop decided to change the name to honor one of its biggest fans - Stephanie Nielsen from Nie Nie Dialogues.
I'm a lover of all things cupcake. Try these yummy treats too: Pink Lemonade Cupcakes, Cherry Chip Cupcakes and Pumpkin Cupcakes with Whipped Cinnamon Icing.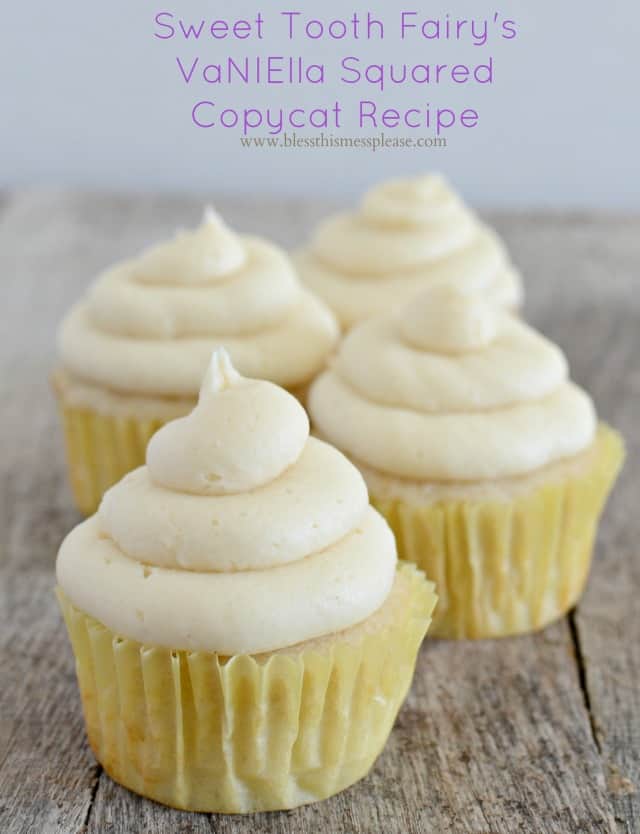 Sweet Tooth Fairy's VaNIElla Squared Cupcake Copycat
If the title Sweet Tooth Fairy's VaNIElla Squared Cupcake Copycat Recipe doesn't mean much to you, let me explain. Sweet Tooth Fairy is a cupcake shop in Utah (the owner was on Cupcake Wars and won!) and the VaNIElla Squared cupcakes are one of their most delicious (and popular) cupcake flavors ever.
Stephanie Nielsen has an incredible story. Her blog bio sums it up well. "My blog began in 2005. I write daily about whatever I am doing, mostly about my five children, my husband Christian (Mr. Nielson), my struggles, my blessings and my strong Mormon faith. In 2008, Christian and I were in an airplane crash. I was burned over 80% of my body. I am living a beautiful life despite pain and challenges."
I've been reading her blog since 2008 and I just love that woman. She is strong, kind, feminine, and a mother. She's inspired me in ways that she'll never know. To prove how much I enjoy her, here are some fun little fact. When she hiked the Y for the first time in 2009 I went to support her and met her for the first time. Later in 2010 while we were living in Provo I actually just lived a few blocks from her home. In a blog post she mentioned that she was having a bad day so I made her a pumpkin roll, took it to her house with a note, was too embarrassed to knock, and just left it on the door step. If I were her I would have thrown that food from a stranger away! Can you tell my love language is food though? When her book came out I read it and decided I liked her even more. The book, Heaven Is Here
, is amazing and I highly recommend it. She has such a painful yet inspiring story! Being burned alive and living to tell the tale with truth and grace really is a testament to who she is.
When I found out that she was going to be the keynote speaker at the Women's Forum in Kanab this spring I got so very excited! I bought a few copies of the book for her to sign and decided that I need a gift to take. Her favorite cupcakes were an obvious choice. Recipe testing commenced and about a month later I had created a nearly perfect copycat of her favorite VaNIElla Squared cupcakes from Sweet Tooth Fairy. These are SO good! The crumb of the cupcake is moist and sturdy and that icing will change your life. I can't wait for you to try these.
How high do you fill cupcake liners?
You will want to fill the cupcake liners ⅔ to ¾ of the way full. If you fill them liners to the top, the cupcake will overflow and you'll have a big mess on your hands.

Do you spray cupcake liners?
A little non- stick spray on the cupcake liners is never a bad idea. You don't want the cupcake sticking to the paper because you need every last bite!
How long do cupcakes need to cool before frosting them?
Let the cupcakes cool completely before attempting to frost. This is usually 30-45 minutes.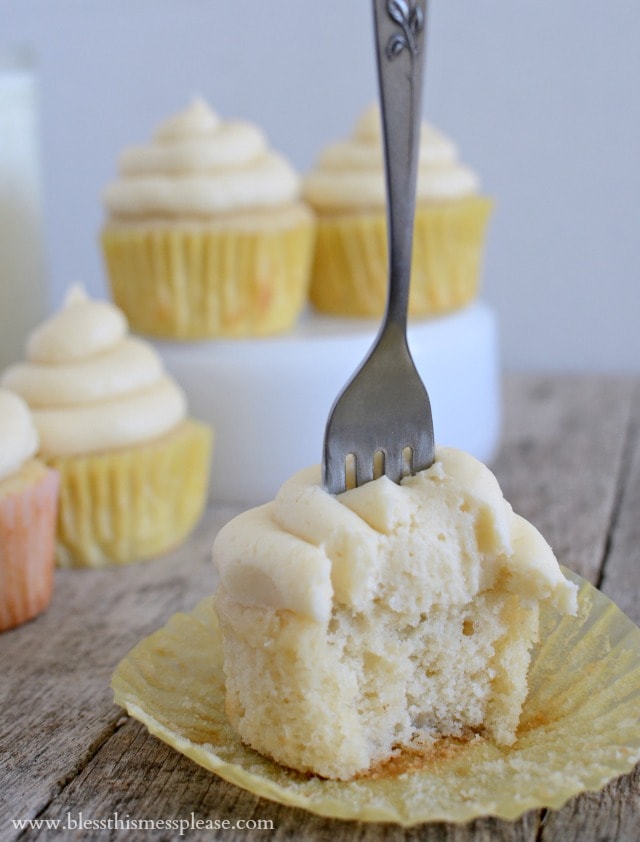 Print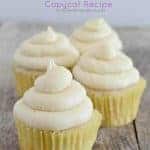 Sweet Tooth Fairy's VaNIElla Squared Cupcake Copycat Recipe
---
Author:

Total Time:

30 minutes

Yield:

Makes

12

cupcakes

1

x
Description
You just can't beat a perfect vanilla cupcake with out of this world vanilla icing!
---
For the Cupcakes
1

and ⅔ cup all-purpose flour

½ teaspoon

baking powder

¼ teaspoon

baking soda

½ teaspoon

salt

1 cup

granulated sugar

½ cup

unsalted butter, melted

2

egg whites

¼ cup

plain greek yogurt or sour cream

¾ cup

2% or whole milk

1 tablespoon

vanilla extract
For the Frosting
1 cup

unsalted butter, softened to room temperature

¼ cup

heavy cream

4

-

5

cups powdered sugar

1 teaspoon

vanilla extract

⅛ teaspoon

coconut extract

⅛ teaspoon

almond extract

¼ teaspoon

salt
---
Instructions
For the cupcakes:
Preheat the oven to 350 degrees and line a 12-cup muffin tin with paper liners.
In a medium bowl combine the flour, baking powder, baking soda, and salt. Use a whisk to combine them. In a separate medium bowl add the melted butter and the sugar. Stir to combine (will be gritty). Add the egg whites, yogurt, milk, and vanilla extract to the sugar mixture and stir to combine. Add the flour mixture all at once and stir until just incorporated. The batter will be thick.
Divide the batter evenly among the 12 lined cups. Bake for around 20 minutes until a toothpick inserted into the center of a cupcake comes out clean. Remove from the oven. Let the cupcakes rest for 5 minutes before removing them from the pan. Allow to cool before frosting.
For the frosting:
Add the butter to the bowl of your stand mixer. Mix on medium speed with the whisk attachment until the butter is light and fluffy, 3 to 5 minutes, Add cream, extracts, salt, and 2.5 cups of the powdered sugar. Mix on low until combined and then increase speed to medium and whip for 3 to 5 minutes. Add the icing ½ to a ¼ cup at a time to until you reach the desired consistency.
The constancy of the icing is important if you are going to pile it high on a cupcake. It should be a medium consistency. If you mix the batch of icing with a metal teaspoon (the kind you use for dinner) it should stand up straight in the middle of the bowl when it is in the icing. So, you should be able to stir it with a spoon by hand but it should also be sturdy enough to hold the spoon up. If the icing is too thick, add a little cream. If it needs to be a little thicker add a ¼ cup of powdered sugar and whip to combine until it's sturdy enough.
Place in an icing bag and pipe on the cool cupcakes with tip 2A
Notes
I don't normally use a lot of different extracts but they are the secret to the Sweet Tooth Fairy Copycat. They add just a subtle difference that you hardly notice but make this icing amazing. And if you aren't coconut fans, don't worry, it doesn't taste "coconuty".
Prep Time:

10min

Cook Time:

20

Category:

Dessert

Method:

Oven

Cuisine:

American
Keywords: Sweet Tooth Fairy copycat recipe, vanilla cupcake recipe, Dessert, Frosting, Cupcake
Try these other tasty cakes and cupcakes:
I know you will just love this Sweet Tooth Fairy's VaNIElla Squared Cupcake Copycat Recipe. You just can't go wrong with the perfect cupcake and this delicious icing.