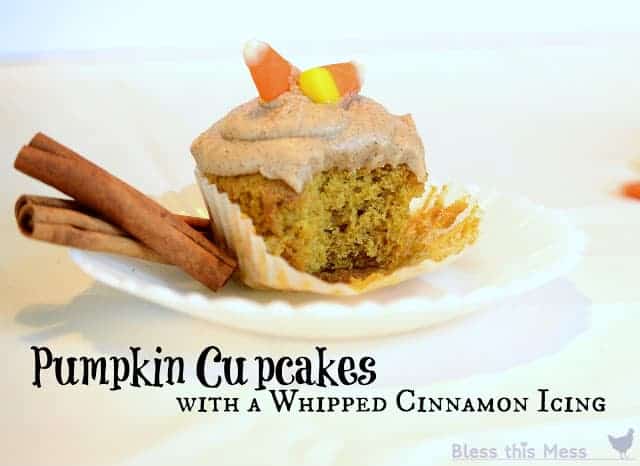 Pumpkin Cupcakes with Whipped Cinnamon Icing
Adapted from Joy of Baking
For the cupcakes:
1/2 cup unsalted butter, room temperature
1 cup granulated white sugar
2 large eggs
1 teaspoon pure vanilla extract
1 cup canned pumpkin puree
1 1/2 cups all purpose flour
1 tsp baking powder
1/2 tsp baking soda
1 tsp ground cinnamon
1/4 tsp ground ginger
1/4 tsp ground cloves
1/2 tsp salt
For the filling:
1/2 cup (1 stick) salted butter, softened
1/3 cup whipping cream, at room temperature
1/2 tsp cinnamon
1 tsp vanilla bean extract
2 1/2 to 3 cups powdered sugar
For the cupcakes: Preheat the oven to 350 degrees. In a large bowl or the bowl of a stand mixer mix the butter and sugar together on medium speed until light in color and fluffy, about 3 minutes. Add the eggs, vanilla, and pumpkin and mix until well combined. Sprinkle the flour on top of the butter mixture and then sprinkle the baking powder, soda, cinnamon, ginger, cloves, and salt over the top of the flour. Mix on low until everything if combined and you have a thick cake batter. Fill 12 muffin tin cups, lined with a paper liner, two-thirds full and then bake for 16-18 minutes until the cake springs back when touched and a toothpick inserted in the center comes out clean. Remove from the oven and let the cupcakes cool to room temperature out of the pan.
For the filling: Use a stand mixer or electric hand mixer to beat the butter, whipping cream, cinnamon, and vanilla bean extract with the wire whisk attachment.. Beat at medium-high speed until very light and fluffy, about 5 minutes. Add the powdered sugar and beat for another 3-5 minutes. The filling will be very fluffy and a medium-thin consistency. If the icing is too thick, add a touch of cream and beat again. If it is too thin add a little more powdered sugar and beat again.
Pipe the icing into the cooled cupcakes using an 2A tip.